David Bruckner Tried To Get A Doug Bradley Cameo In Hulu's Hellraiser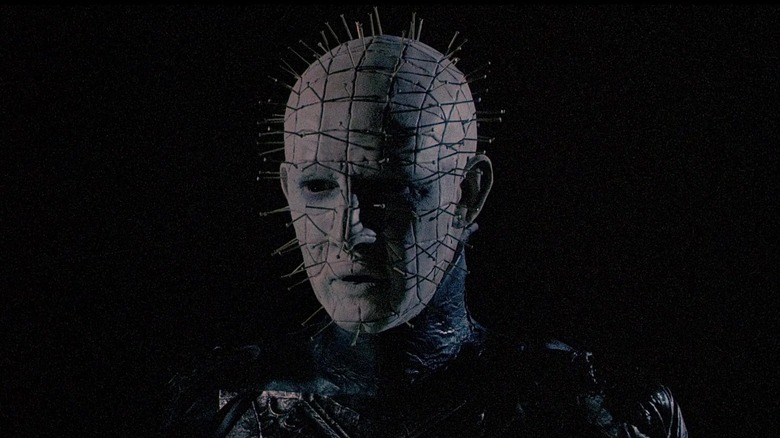 New World Pictures
If the event you've ever played with a Rubix's Cube and thought you'd prefer more of a challenge, then Jamie Clayton has quite the contraption to share with you. After a string of movies based on Clive Barker's 1986 novella "The Hellbound Heart," most of which aren't that stellar, a reimagining of "Hellraiser" from director David Bruckner ("The Night House") will be streaming exclusively on Hulu within the coming weeks.
Although specific details on what Bruckner's film is going to be about, the film's synopsis indicates that whoever gets their hands on the Lament Configuration this time around is in for a very bad time with the hell demons known as the Cenobites:
In the all-new "Hellraiser," a young woman struggling with addiction comes into possession of an ancient puzzle box, unaware that its purpose is to summon the Cenobites, a group of sadistic supernatural beings from another dimension.
The film stars Jamie Clayton as the new Pinhead, surrounded by a cast that includes Hiam Abbass, Odessa A'zion, Adam Faison, Brandon Flynn, Aoife Hinds, Selina Lo, Drew Starkey, and Goran Visnjic. Even though little has been shown beyond a few dark still images and a pretty awesome teaser trailer, this "Hellraiser" is shaping up to be a bloody return to form, accentuating Bruckner's ingenuity as a horror filmmaker.
And while it might have been fun to have original Pinhead Doug Bradley return somewhere in this reboot, Bruckner says he couldn't make the cameo work. 
Leave it to the new blood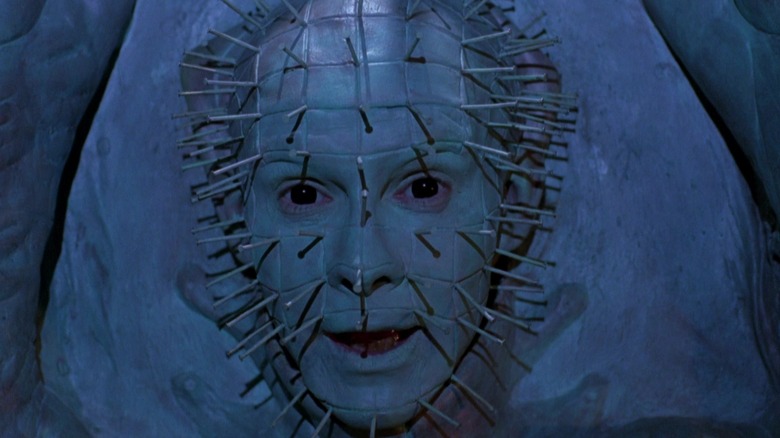 Miramax
"Hellraiser" has always had its bumps in the road as a horror film franchise, but the one constant throughout, at least those with the actor in it, is Doug Bradley as Pinhead. The makeup, the voice, the posture, the confidence, all of what makes this character terrifying is based on what Bradley brought to his performance. Much like Tony Todd's "Candyman," when you hear that booming voice of a thousand souls, you know you're done for.
With that said, from the little we've seen and heard, I'm excited to see Clayton leading the charge as the hell priest baddie.
In an interview with Jake's Takes, Brucker mentioned that while he tried to put Bradley in the movie somewhere, it ultimately didn't work out:
"We really wanted to have him cameo in some way in the movie. But, in the middle of a pandemic, I don't know. I also think he respectfully wanted to leave his legacy with the character, and you know, you can't argue with that."
Horror reimaginings are no stranger to cameos from former creative forces, whether it be Stephen King in "It: Chapter Two" or PJ Soles as a voice cameo in David Gordon Green's "Halloween." While it would have been cool to involve Bradley in some capacity, I think it's wise here to let Clayton run the show, especially since folks can be really cruel when it comes to recasting their favorite characters. Bradley may not be making an appearance, but in a delightful turn of events, he's already interacted with Clayton, saying that not only does he fully support her casting, but is also a fan of her work in "Sense8" as well.
"Hellraiser" will premiere on Hulu on October 7, 2022.