How The Night House Helped Prepare David Bruckner For Hulu's Hellraiser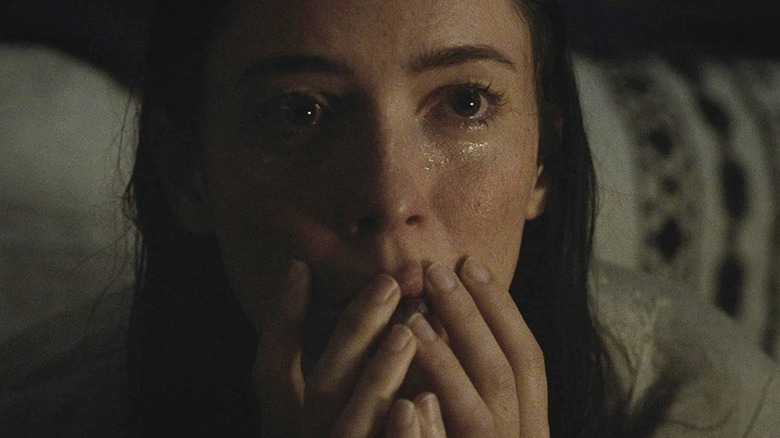 Searchlight Pictures
Director David Bruckner's "The Night House" wasn't buried at the box office so much as it had the misfortune of arriving at a point in 2021 when theaters were struggling to continue their recovery from their pandemic-era lows one year prior. However, it's a horror film that very much merits your attention, all the more so if you're curious about what to expect from Bruckner's incoming "Hellraiser" movie.
Rebecca Hall, who's exceptional as ever here, stars in "The Night House" as Beth, a high school teacher who's reeling in the wake of her husband Owen's (Evan Jonigkeit) death by suicide. The movie begins as a tale of existential despair as Beth grieves the loss of Owen and is left to wonder if the life she thought they had was just one big lie. But as eerie stuff starts to happen around her house and she discovers her husband may have been hiding some dark, disturbing secrets from her, Beth gradually comes to suspect it's not just the idea of "Nothing" that's haunting her.
If you're seeing some parallels between the mood of Clive Barker's 1987 "Hellraiser" movie and the pervasive sense of dread and despair in "The Night House," you're not alone. Bruckner touched on this in an interview with The Playlist, noting there are "certain similarities" between the two:
"You know, Ben Collins and Luke Piotrowski, who wrote 'The Night House,' took inspiration [from 'Hellraiser'] for the draft. In some ways, they called 'The Night House' the 'Hellraiser' movie they would never get to make, in that it had certain parallels – tonal if nothing else. There's a certain synergy between all these ideas, and there's a mind-bending quality to 'The Night House' that translates well to 'Hellraiser.' In some ways, it's treading familiar terrain, but it's also completely new."
A genuinely frightening script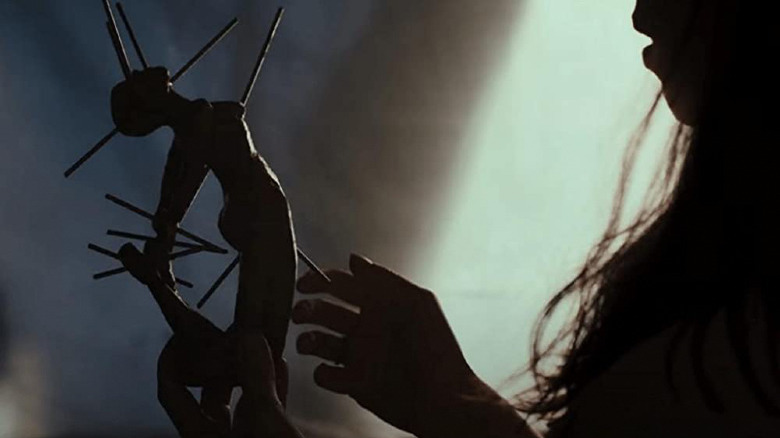 Searchlight Pictures
Besides a rich sense of atmosphere, "The Night House" benefits from Bruckner's eye for memorable, unnerving visuals. Some of its scariest imagery uses the interior architecture of Beth's home to powerful, inventive effect, and one can even spot a little of Pinhead's influence in an almost sadomasochistic statue that ends up being a key plot point. However, much like Barker's "Hellraiser" film, "The Night House" is just as creepy in its concepts as it is for what you see on-screen.
Bruckner, it seems, would agree with that sentiment, stating he found the movie's script "genuinely terrifying" the first time he read it. He noted this is pretty rare for him, too, as he's come to see through "the artifice of [horror] films" more and more as he's gotten older and started making his own horror projects (including his well-received 2017 occult horror movie "The Ritual" and the "Amateur Night" segment of the first "V/H/S" anthology film). He explained:
"['The Night House'] script really tapped into something that was unresolved in myself and just genuinely scared me. This character is reckoning with meaninglessness in a way that is real, and spoken about in the film with such stark frankness by Beth. I was troubled by the script after reading it. And over time, I realized that really had to be a reason to make it."
Bruckner added this led to "lots of philosophical conversations about confronting nothing, confronting the essence of meaning, and asking tough questions about life, death, and the afterlife" on the film's set during production. Those discussions would not only go on to feed into the actual movie, but are probably about as useful prep for tackling the "Hellraiser" property as one could ask for.
"Hellraiser" begins streaming on October 7, 2022, on Hulu.