Hellraiser Trailer: Greater Delights Await In David Bruckner And Hulu's Reboot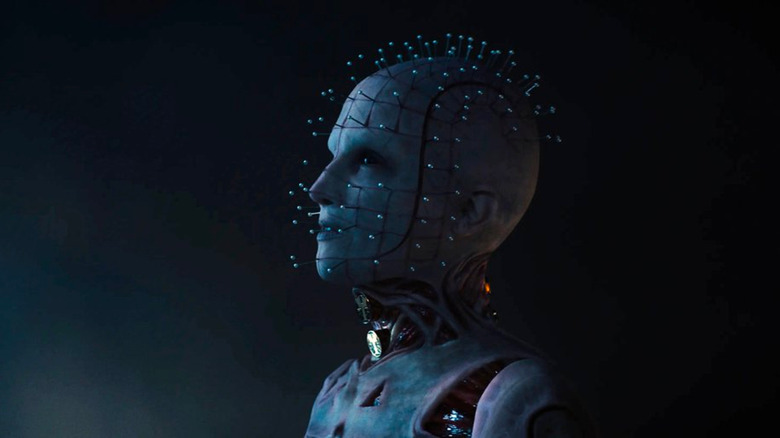 Walt Disney Studios
What is it you pray for? For some of us here at /Film, we've been praying for the first trailer for the latest "Hellraiser" film for some time now, and thankfully, the Cenobites have answered. "The Night House" director David Bruckner has taken on the influential franchise started by Clive Baker for its first mainstream entry since 1996's "Hellraiser: Bloodline." With Jamie Clayton at the helm as the menacing Hell Priest, we are about to be treated to another bloody exploration into pleasure and pain this October on Hulu.
The trailer gave us the first look at what happens when people manage to solve the Lament Configuration. While it wisely cuts away from any of the assuredly grotesque results, we do get to see a hearty helping of bloodletting. Fans are also treated to glimpses of the film's redesigned Cenobites, the inner workings of Hell, and most importantly, the figure begrudgingly known as Pinhead and her spine-chilling voice.
Check out the Hellraiser trailer below
While this film might not have Kirsty Cotton, it does have a new protagonist in Riley (Odessa A'zion), who becomes the Cenobites' newest target after encountering the Lament Configuration. Not much else is known about the film's characters, but we do know that its cast is stacked: Adam Faison, Drew Starkey, Brandon Flynn, Aoife Hinds, Selina Lo, Goran Visnjic, and Hiam Abbass also star alongside Clayton and A'zion.
"The Night House" screenwriters Ben Collins and Luke Piotrowski wrote the script for the film, with story contributions from David S. Goyer. Franchise architect and acclaimed horror novelist Barker serves as a producer on the film, marking his return to the franchise since regaining the rights to it in 2020. Needless to say, his involvement and that killer trailer should wipe away any potential doubts fans had.
"Hellraiser" will premiere on Hulu on October 7, 2022. Check out the film's official synopsis below:
"In the all-new 'Hellraiser,' a young woman struggling with addiction comes into possession of an ancient puzzle box, unaware that its purpose is to summon the Cenobites, a group of sadistic supernatural beings from another dimension."