The Brad Pitt-Sandra Bullock QVC Comedy That Tragically Never Got Made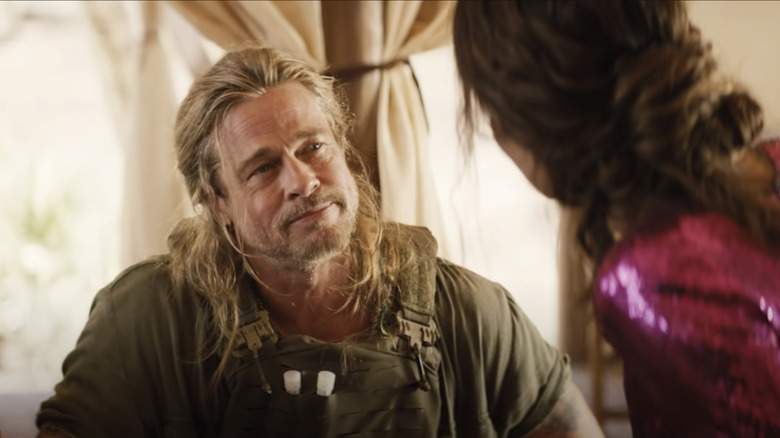 Paramount Pictures
Just when you think you know everything about one of the most famous celebrities in the world, they always find a way to surprise us. The Academy Award-winning actor/producer has spent his entire life finding different hobbies and side projects to keep himself occupied when he's not being a movie star, including winemaking, sculpting, and apparently now, owning his own genderless skincare line. Brad Pitt has made the decision to let his product speak for itself, instead of turning himself into a spokesmodel in addition to a wellness virtuoso. During an interview with Vogue UK regarding the new product line, Pitt admitted that he was very close to playing a QVC-type host in a romantic comedy years ago, and would have starred alongside Sandra Bullock had the project moved forward. The two both made cameo appearances in their respective films "The Lost City" and "Bullet Train," but surprisingly have never headlined together on screen.
"Sandy [Sandra Bullock] and I did once try to develop a whole idea of a husband and wife team, who were QVC's most successful salespeople, but we're getting a divorce, we hate each other, and we're taking it out on air as we sell things," Pitt confessed. "That's as far as we got." It's likely that this idea came about sometime in the early aughts when both Bullock and Pitt were unstoppable forces on screen, but based on the concept, there isn't a bad time to imagine the two as bickering QVC salespeople. Hell, I'm sure if they revisited this idea today, they'd be able to bring in a massive audience of folks lamenting the rom-com boom.
It's okay, we have I Love That For You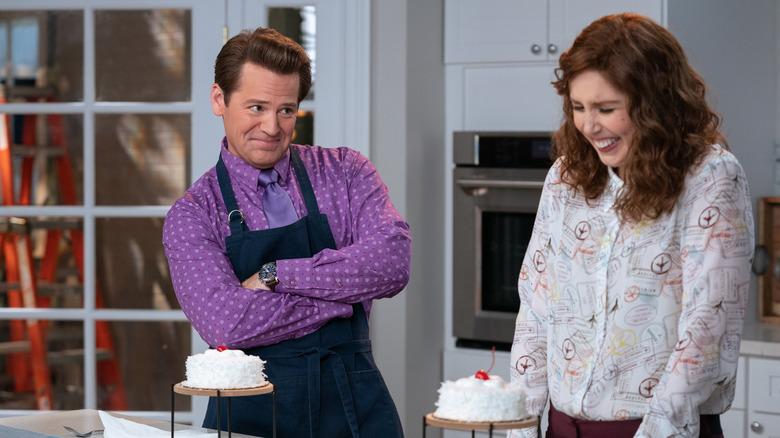 Showtime
It's a shame that we're likely never going to see the rom-com Bullock and Pitt pitched all those years ago, but fortunate that Showtime has a Home Shopping Network-based series well worth watching. Loosely based on series creator, producer, and star Vanessa Bayer's personal history of overcoming childhood leukemia, "I Love That For You" sees her as a woman named Joanna Gold who dreams of becoming a host on SVN. As she attempts to pursue her dream, she makes a royal mistake at work but blurts out "I have cancer" in an attempt to keep her job.
Bayer's joined by an impressive cast featuring Molly Shannon ("Saturday Night Live," "Wild Nights With Emily," "Other People") as Joanna's idol, Jackie, the star of the SVN shopping network, and Jenifer Lewis ("Poetic Justice," "The Preacher's Wife," "Black-ish") as Joanna's boss Patricia, the no-nonsense founder and CEO of the popular channel. "I Love That For You" is a hilariously fascinating examination of workplace culture and how often we mask our true selves for the approval of others — something that would have absolutely been tackled in the never-made Pitt/Bullock comedy vehicle. So while we'll never quite get the rom-com of our dreams, there's a perfect series to help fill the void.