I Love That For You Trailer: Vanessa Bayer Stars In A Showtime Series Inspired By Her Own Life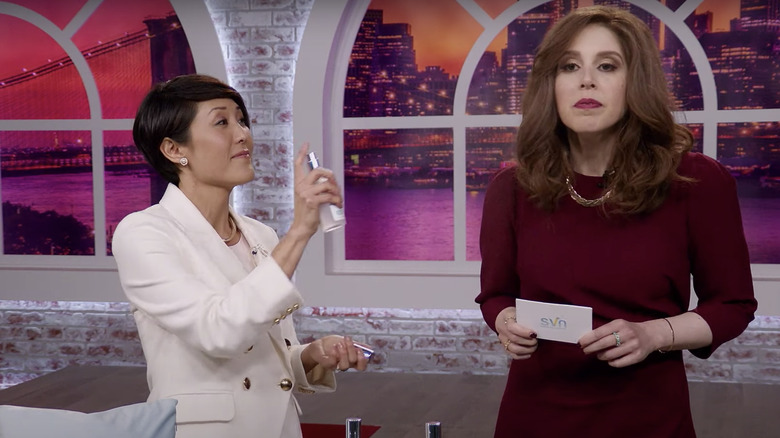 Showtime
Vanessa Bayer first made waves as a series regular on "Saturday Night Live" from 2010-2017, even nabbing a Primetime Emmy nomination for Outstanding Supporting Actress in a Comedy Series. In the years since, Bayer has been seen in guest and supporting roles in film and television like "Barb & Star Go To Vista Del Mar," "Brooklyn Nine-Nine," "Shrill," "What We Do In The Shadows," and "Trainwreck." Now, the comedienne is set to star on her very own series for Showtime called "I Love That For You." The half-hour comedy series is inspired by Bayer's personal history with overcoming childhood leukemia. Here, Bayer is playing the fictional Joanna Gold, a woman desperately trying to shed her image as the "cancer girl" by moving away from her parents, finding romance, and pursuing her dream of becoming a host on SVN, a home shopping channel.
Taking a page from the Sky One series "Sick Note," things get complicated when Joanna blurts out "I have cancer!" as a means to prevent being fired after committing a huge blunder at work. The lie saves her job, but forces Joanna into a whirlwind of lies to keep up the charade while still trying to find success in her super competitive workplace.
"I Love That For You" will premiere on streaming and on-demand platforms on Friday, April 29 before making its on-air debut on Sunday, May 1 at 8:30 P.M. ET/PT. The eight-episode season will continue to drop a new episode every Friday via streaming and on-demand platforms before appearing on air Sunday night. Watch a trailer below. 
I Love That For You trailer
Joining Bayer in the main cast is comedic icon Molly Shannon ("Saturday Night Live," "Wild Nights with Emily," "Other People") as Joanna's idol, Jackie, the star of the SVN shopping network, and 'The Mother of Black Hollywood' herself, Jenifer Lewis ("Poetic Justice," "The Preacher's Wife," "Black-ish") as Joanna's boss Patricia, the no-nonsense and enigmatic founder and CEO of the popular channel. 
Series regulars include Paul James ("Soundtrack"), Ayden Mayeri ("Homecoming"), Matt Rogers ("Haute Dog"), Punam Patel ("Special"), and Johnno Wilson ("Curb Your Enthusiasm"). Co-created and executive produced by Bayer and Emmy nominee and two-time Peabody winner Jeremy Beiler ("Saturday Night Live"), Emmy and Peabody winner Jessi Klein ("Inside Amy Schumer") will serve as showrunner and executive producer along with Michael Showalter ("The State," "The Dropout," "The Eyes of Tammy Faye"). Megan Ellison and Sue Naegle of Annapurna, Jordana Mollick of Semi-Formal and Allyce Ozarski also serve as executive producers.
Based on the trailer, "I Love That For You" looks to meld Bayer's quirky sensibilities with heartfelt moments about honesty and finding oneself. Molly Shannon and Jenifer Lewis look to be firing on all cylinders, and Bayer's physical comedy is well on display. As a cancer survivor myself, I'm very curious to see how the "my cancer has returned" lie angle is going to play out, but knowing Bayer was so intimately involved in the show's creation, it feels safe to assume that she's got the complexities under control.