How Mad God Got Revived After Decades On The Shelf
Shudder
Phil Tippett is one of the unsung heroes of modern cinema. Though not everyone knows his name, everyone knows his work: the AT-AT in "Empire Strikes Back," the titular dragon from "Dragonslayer," the robot sequences in "RoboCop," and some of the dinosaurs in "Jurassic Park." 
Tippett helped revolutionize visual effects and stop-motion, as we recently saw in the excellent ILM doc "Light and Magic." That documentary series shone a light on the artists behind the scenes that made the biggest movies of the past 40 years by mixing old-school techniques with cutting-edge technology, innovating at every turn. Though the documentary follows many people over the course of decades, one narrative stands out — that of Phil Tippett, his rise to the top, and then his fall once CGI starts dominating the visual effects industry.
Though we haven't seen Tippett's name featured prominently in movie credits for a while, he finally made the comeback he was due. Earlier this year, Tippett's theatrical feature directorial debut, "Mad God," was released. This is a bizarre, gnarly, confusing, existential, plain awesome feature and a marvel of animation that is as hard to properly describe as it is hard to watch, but the payoff is incredible. And yet, it was not an easy road to the screen.
In her review of "Mad God," /Film's own BJ Colangelo said Tippett's film "isn't a movie, it's an experience," and it's true. This is far from the kind of commercial, easily-marketable and consumed films we are flooded with today. Instead, Tippett graces us with a frenzy of horrific, quasi-religious, gory, gnarly imagery and pure spectacle, a film about being a filmmaker messing with your own little world (the film set) and the messes, successes, and horrors thereof.
A mad god's mad journey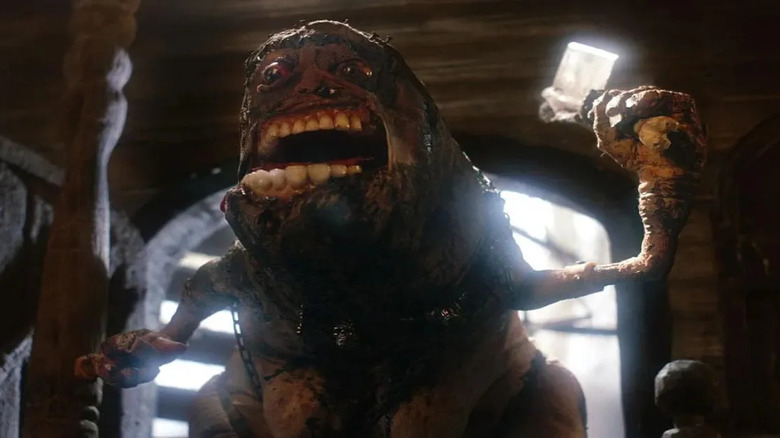 Shudder
In some ways, "Mad God" plays like both a response to Tippett's career and a response to the long journey to get the film made.
That's because Tippett worked on the film on and off for 30 years. The idea originally came to Tippett while working on "RoboCop 2" in the late '80s. As Tippett told Observer, "had a crew and we shot on 35 millimeters film, about three minutes of it," but it quickly became clear that the scope of the story was too big to be made as a feature. Then, to make matters worse, it quickly became clear in the 1990s that CGI was on the way in, and stop-motion heading out — it is well documented how "Jurassic Park" all but killed the stop-motion industry, including in the great "Light and Magic" doc.
Tippett told Fangoria that the CG revolution, combined with his responsibilities as the head of a studio occupied all his time. "We were going out on location, attending production meetings, and doing the visual effects, so it soaked up a lot of my time." Indeed, an independent film in one of the most time-consuming mediums out there for film, does take a lot of time, which Tippett didn't have. 
But that didn't stop him from developing the idea in his head the next few years. "I would spend the evenings or days off working on 'Mad God,' out of a 15-page outline, and I just spent the next 20 years plugging away at it," Tippett said in the Observer interview.
Back from the dead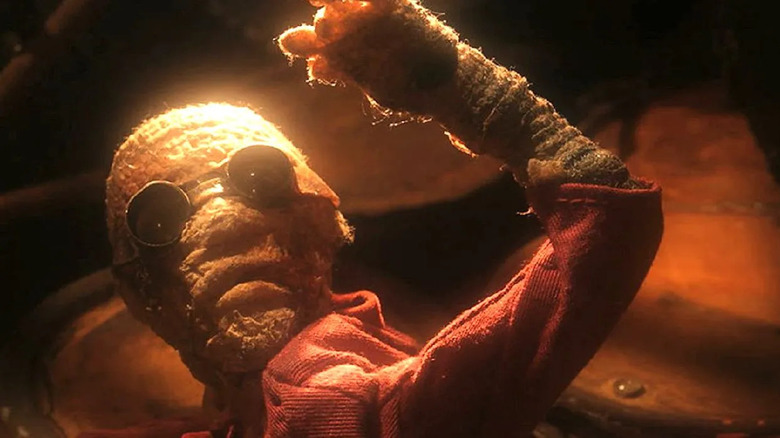 Shudder
The way Tippett tells it, it was happenstance that brought "Mad God" back from the dead, as 20 years after he first started working on the film, Chris Morley and Randy Link over at Tippett Studio saw him archive the test footage Tippett had shot in the '80s. "They looked over my shoulder, thought it was an old Czechoslovakian movie from the '40s, and asked what it was," he told Fangoria. "I told them that it was just a failed project, but they were very intrigued with what they saw."
What started as a 3-minute bit of test footage evolved into a 12-minute movie with the help of Kickstarter in 2012. After that campaign's success, more crowd-funding campaigns were started over the years, culminating with "Mad God (Part 3)," the final chapter of what became a full feature-length film that made its world premiere at the 74th Locarno Film Festival. 
"Mad God" is a true testament to the power of resilience, to the power of stop-motion filmmaking and the genius of Phil Tippett. A singular film that shows why stop-motion is such a special and unique medium, why independent cinema is vital to the industry, and why you shouldn't give up on your mad, mad dreams.
"Mad God" is available on Shudder.