The Great North Made A Big Bet By Writing A Role For Alanis Morissette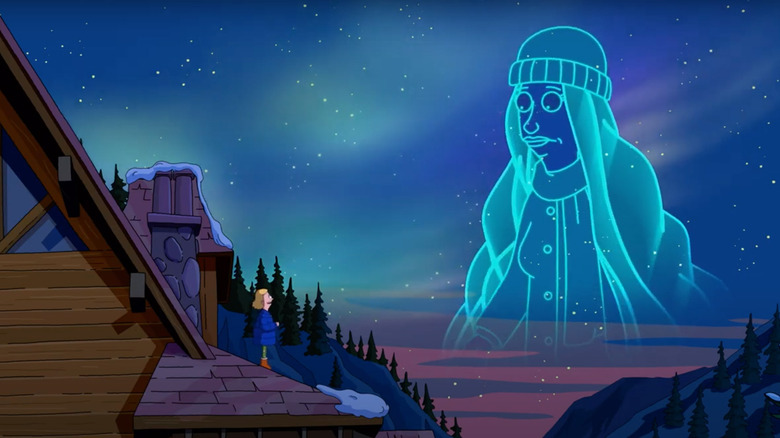 Fox
Lizzie Molyneux-Logelin, Wendy Molyneux, and Minty Lewis made something special with "The Great North," an animated sitcom about the adventures of Tobin family from Lone Moose, Alaska. Patriarch Beef Tobin (Nick Offerman) is a single dad raising his children Ham (Paul Rust), Judy (Jenny Slate), and Moon (Aparna Nancherla), while his adult son Wolf (Will Forte) and his wife Honeybee (Dulcé Sloan) live in the guest house on site. With teenage Judy coming of age without the presence of her mother, who left the family years ago, she looks for a feminine guidance from an unlikely source — her imaginary friend in the stars, Alanis Morissette.
Late at night, Judy often sits on the roof and talks to a sentient constellation in the form of the "Jagged Little Pill" scribe, who is also voiced by the actual Alanis Morissette. "Because she is such a musical legend, people forget that she's really funny," said Molyneux-Logelin in an interview with Esquire. She was very open to people who saw her as really funny because she's definitely a foil for Jenny Slate, and that's been really fun. Any joke we give her she's game to try and it's just been really thrilling for us to work with her." 
Morissette's presence on the show wasn't a lucky coincidence, it was by design. The Molyneux sisters admit that Morissette was a huge influence on their lives as tweens, with Molyneux-Logelinn even admitting that "You Oughta Know" is her husband's karaoke song.
Isn't it ironic?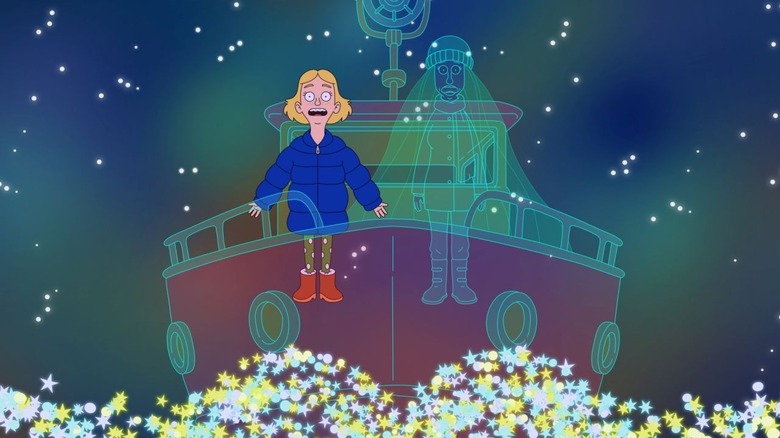 Fox
"Coming from being a super fan at, you know, age eleven or whatever, and looking back, and just being able to say that I could work with her now? I think it's just been really fun and special," said Molyneux. "We're just so glad that she read it and did it."
In speaking with Salon, Molyneux also said that Morissette was perfect due to her proximity to the Tobin family in Alaska. "We thought it should be someone who's from the northern parts [Morissette is originally from Ottawa, Canada], we eventually hit on Alanis because she was part of our childhood and adolescence, and it just clicked right away." The team wrote the script with Morissette in mind and hoped that she would say yes, which as Molyneux admitted in the interview "is not usually a great strategy, but in this case it worked out."
Alanis Morissette has played herself plenty of times before, but is also known as "God" in the View Askewniverse of Kevin Smith. According to the Molyneux sisters, Morissette has a great sense of humor regarding how her work is incorporated into Judy's story, and is always down to bring the laughs. "It's been just so much fun and she's really, really funny," Molyneux-Logelin said. "Sometimes we're taking pieces of her music or her life and using it as advice to help Judy. You never know exactly how someone is going to react to that, and she's just been so phenomenal."