The Great North Wanted To Feature A Different Kind Of Coming Out Scene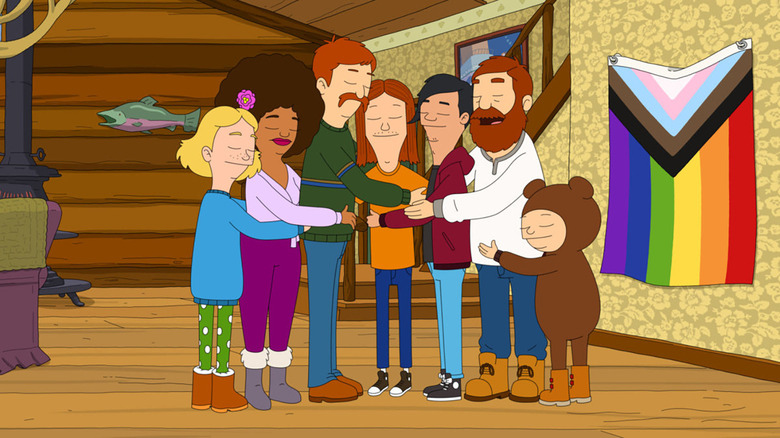 20th Television
We're currently living in a heyday of adult animation, with shows like "The Simpsons," "Bob's Burgers," "Central Park," "Family Guy," "Rick and Morty," "Arcane," "Big Mouth," "Love, Death & Robots" and countless others delivering the goods. In 2021, Fox delivered a pandemic saving gift in the form of "The Great North," a family comedy from the always hilarious Wendy Molyneux, Lizzie Molyneux-Logelin, and Minty Lewis. Featuring a dynamic voice cast including Nick Offerman, Jenny Slate, Will Forte, Paul Rust, Aparna Nancherla, Dulcé Sloan, and Alanis Morissette (no, seriously), "The Great North" centers on the Alaskan adventures of the Tobin family, headed by single dad Beef, his lovably weird kids Wolf, Judy, Ham, and Moon, and Wolf's fiancé, Honeybee.
Given the fact "Bob's Burgers" and "Central Park" creator Loren Bouchard serves as an executive producer and the show shares a similar animation style, the comparisons between the series were inevitable, but "The Great North" deserves to be viewed, enjoyed, and appreciated for its uniqueness. The ways in which "The Great North" shares DNA with the aforementioned other series is wonderful, but it's where the show differs from its predecessors that makes it something special. In particular, the way "The Great North" handles the openly gay identity of Ham Tobin (Paul Rust) is a masterclass is queer representation.
Ham is affirmed without question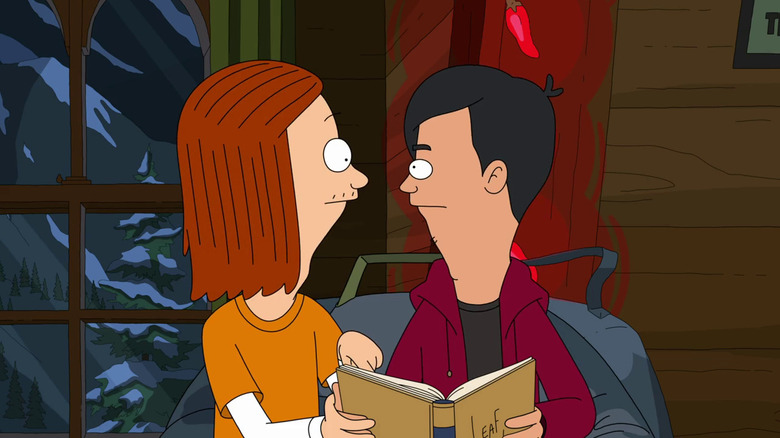 20th Television
One of the major themes throughout "The Great North" is how patriarch Beef (Nick Offerman) is terrified that his only daughter Judy (Jenny Slate) will want to leave their Alaskan life of the outdoors in favor of more artistic pursuits. Beef is a ball of rugged masculinity distilled into a single person, with his deep affinity for the wilderness and manual labor. A character like Beef seems like one that would feel some kind of way about his son being gay, but Beef accepts Ham without question. As we learned thanks to an interview in Esquire, this was by design.
"We felt like it would just be great to hit the ground running in the first episode — just to have it sort of established that Ham is gay, everyone's totally happy with it, and that he's a character already sure of himself," Molyneux-Logelin said. "It was just important for us just to get his character established, and let it be part of his character, but not be the whole focus of an episode or having that be that drive for his story." While Ham's queerness absolutely impacts some of his growing pains in the show, he is in no way defined by it. "It's just a part of who he is already," said Molyneux-Logelin. By introducing Ham as openly gay at the start, "The Great North" avoids the trope of treating a coming out story like a Very Special Episode, or as a catalyst for another character to "learn something about tolerance," or whatever Ryan Murphy thought he was doing by letting Finn Hudson be openly homophobic to Kurt Hummel at the start of "Glee."
No need to tokenize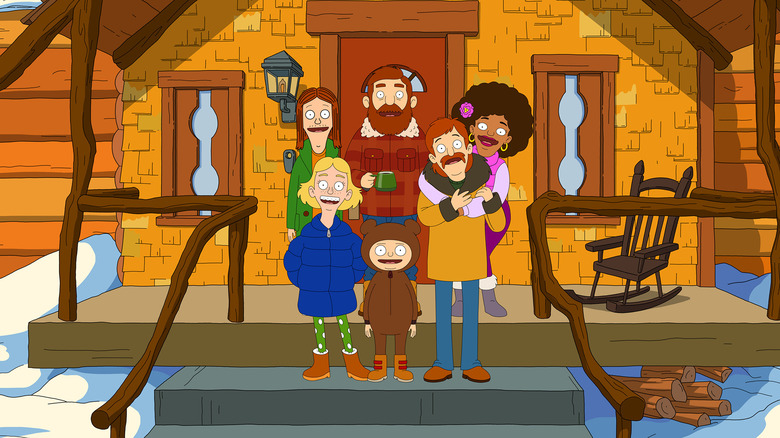 20th Television
Ham Tobin's sexuality is like the fifth most notable aspect of his personality behind his absent-mindedness, delirious optimism, trademark trash 'stache, and cake decorating skills. At the same time, however, "The Great North" doesn't treat his gay identity as something that doesn't sincerely impact his lived experience, with the episode "Pride & Prejudance Adventure" centering on Ham's first big crush and how it impacts his relationship with his sister Judy when he realizes the two have a crush on the same boy, Crispin (Julio Torres).
Ham's family supports him so much, there's even a season 2 episode where he wants to "re-do" his coming out. "You guys did everything right," Ham says of his first time out. "You didn't make a big deal out of it." His boyfriend Crispin echoes the sentiments, "Yeah, you did it too right, he's looking for just that little bit of drama that he missed out on." It's such a hilarious episode and one that is only possible if the Tobins loved Ham as he is from the start. By allowing Ham to just be gay without his character being a gay, audiences are now able to see (and hopefully model) how effortlessly easy it is to love and affirm your kids unconditionally, even if they're completely different from their parents.