Every Kevin Smith Movie Ranked Worst To Best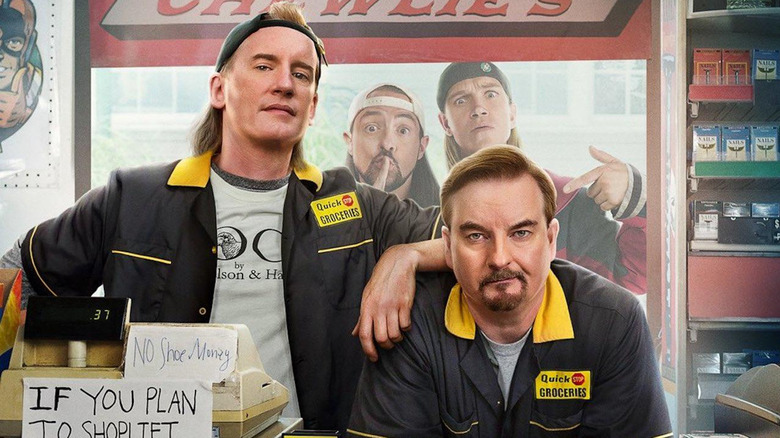 Lionsgate.
After his heart attack in 2018, Kevin Smith isn't even supposed to be here today — but boy, are we glad he still is! The New Jersey native with the gift of the gab has spent the better part of the past three decades willing his whimsy into reality. They say write about what you know, and Smith has made a solid career out of doing precisely that, much to the adoration of his die-hard fans across the globe.
It's more than that though. As one of the original indie filmmakers of the early '90s, Smith proved that anyone could make a movie. While Quentin Tarantino splattered us with blood and Wes Anderson perfected immaculate shots, Smith seemed like one of us — just a regular guy, with a regular life, who loved dissecting the big issues of the day like movies, TV, and the logistics of building a Death Star.
Cut to 2022 and both Smith and his work have not only endured, they feel more relevant than ever. As comic books and "Star Wars" dominate our downtime, mainstream audiences have finally caught up with Smith's meta mindset. Still, some of us were here from the beginning, and while each of his films holds a special place in our celluloid-loving hearts (if we have to choose), here's our rundown of every Kevin Smith movie, ranked from worst to best. Snoogans.
14. Yoga Hosers
If we had to pick the Kevin Smith movie that holds up the least, it'd have to be "Yoga Hosers." Part two of Smith's as-yet-incomplete "True North" trilogy (sandwiched between 2014's "Tusk" and the yet-to-film "Moose Jaws") takes its cues from a throwaway gag made by Smith's former producing partner and the co-host of his SModcast podcast, Scott Mosier.
The titular phrase caught fire with fans, and after Smith noticed the chemistry between his daughter Harley Quinn and Lily-Rose Depp during their time on "Tusk," he delved deeper to give the pair their own movie. They play convenience store clerks, musicians, and yoga enthusiasts who get embroiled in an evil nazi plot involving a crazed Canadian Führer and an army of demonic SS sausages known as "Bratzis."
Ironically, Smith's worst-reviewed movie also boasts one of his biggest stars. Lily-Rose's father, Johnny Depp, plays oddball French-Canadian detective Guy LaPointe, delivering a larger-than-life performance. Although you'd hardly know it's him thanks to his accent and excessive make-up. While it sounds promising, things quickly devolve into a mess of nazis, bratwurst, and showbiz impressions, led by Smith's pal and voice-man Ralph Garman. Clearly the creative force behind the duo's podcast "Hollywood Babble-On," Garman seems at odds with the film happening around him. Still, the fact that a movie this weird exists remains undeniably impressive.
13. Cop Out
Warner Bros.
If there's a trend running through Smith's work, it's that the films in which he's forced to play in someone else's sandbox usually tend to connect with his fans the least. That's certainly true for 2010's buddy-cop comedy "Cop Out." Starring Bruce Willis and Tracy Morgan, the film marked Smith's first attempt at directing a screenplay he didn't write, a bit of a milestone given the strength of his writing and knack for crafting distinct character voices.
Originally titled "A Couple of Dicks," "Cop Out" went through a few censorship-induced title changes, but these proved to be the least of its worries. The story is simple. Willis plays a hot-shot cop who loses a valuable baseball card that he was going to use to pay for his daughter's wedding. With his loudmouth partner (Morgan), he sets out to retrieve it, only to get embroiled in a case involving a memorabilia-loving gangster.
Taking a pay cut to direct a childhood hero, Smith's dreams were quickly squashed thanks to Willis' apparent difficult behavior on set. Over the years, the ever-talkative Smith hasn't shied away from recounting the experience — warts and all. According to reports, at one point he ended up punching a wall out of frustration. Smith later told "WTF" host Marc Maron the experience was "soul-crushing," but he seems to have since found peace following Willis' recent aphasia diagnosis.
12. Jersey Girl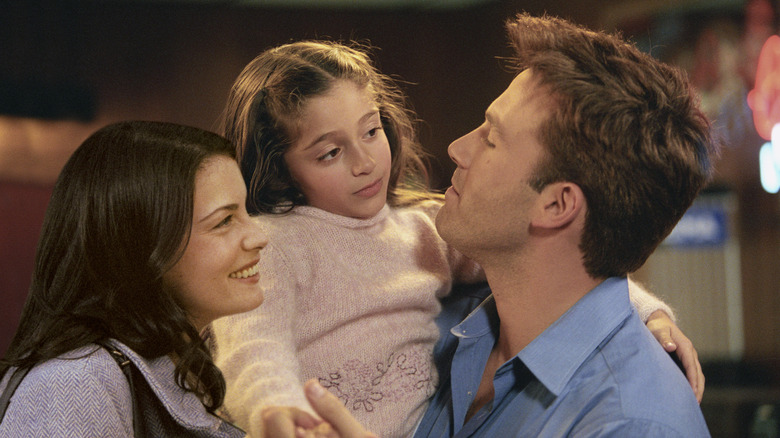 Miramax Films
The end credits of 2001's "Jay and Silent Bob Strike Back" sees God Herself (aka "Dogma"'s Alanis Morissette) close the book on Smith's View Askewniverse. This connective tag for the director's onscreen world linked all his projects up until that point, something that began more than a decade before Marvel normalized interconnected stories. However, with the mid-noughties looming, Smith was seemingly ready to try something new and potentially more mature.
The result was mixed. While "Jersey Girl" became Smith's punching-bag movie — often used self-deprecatingly by the filmmaker to reference his worst work — the final product isn't as terrible as he'd have you believe. It's essentially a small-time story of a guy (Ben Affleck) forced to balance a hectic career with the equally demanding job of raising a daughter (Raquel Castro) and starting a new relationship (Liv Tyler) after his wife (Jennifer Lopez) tragically dies during childbirth.
"Jersey Girl" could arguably be described as another victim of Smith attempting to be someone he's not. Despite being undeniably linked to the text (Smith's daughter would've been around 4 at the time of shooting), it was his priciest film to make and only just broke even. To make matters worse, Affleck and Lopez's real-life split in early 2004 overshadowed what's essentially one of the sweeter entries into Smith's catalog.
11. Zack and Miri Make a Porno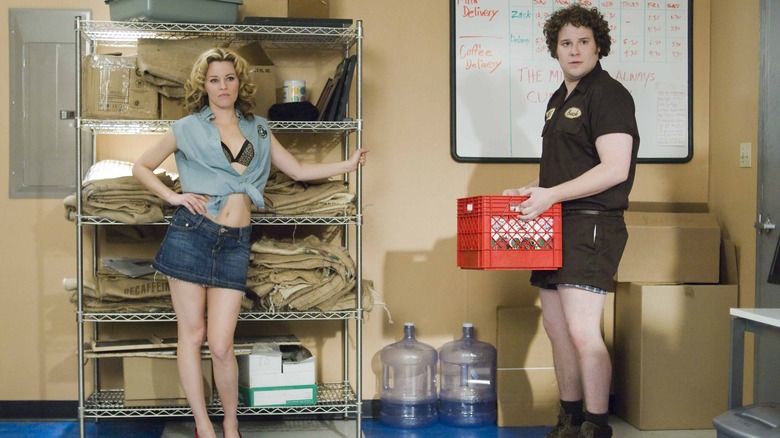 The Weinstein Company
Despite arguably inspiring the frat-pack scene that dominated comedy following Judd Apatow's "The 40-Year-Old Virgin," these comparisons ultimately came back to haunt Smith during one of his non-Askewniverse efforts. Released in 2008, "Zack and Miri Make a Porno" splices the director's trademark irreverent humor and love of pop culture with the world of pornography as lifelong pals Zack (Seth Rogen) and Miri (Elizabeth Banks) attempt to shoot their very own raunchy movie to make ends meet.
"Zack and Miri Make a Porno" mixes a great cast, featuring Apatow-alums Rogan, Banks, and Craig Robinson, with Smith's own View As-crew members like Jason Mewes and "Clerks" star Jeff Anderson. He even throws in a few real-life pornstars, with Traci Lords and Katie Morgan delivering some of the film's more risqué sequences. Overall, it remains a solid entry into Smith's filmography. However, it wasn't enough to continue Rogen's box-office joyride, ultimately earning him his lowest opening. Smith later eulogized things by saying, "That was supposed to be the one that punched us through to the next level. Everyone thought it would do $60 to $70 million, and it wound up doing Kevin Smith business."
10. Jay and Silent Bob Reboot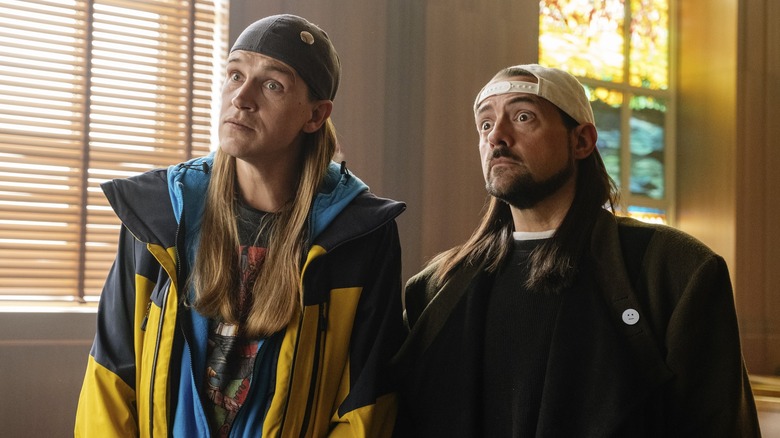 Saban Films/Universal Pictures Home Entertainment
Jay (Jason Mewes) and Silent Bob (Smith) have long been the connective tissue of Kevin Smith's output, and while they finally got their own movie with 2001's Hollywood spoof, "Jay and Silent Bob Strike Back," Smith saw an opportunity to poke fun at the neverending remake craze with 2019's "Jay and Silent Bob Reboot."
Things are as meta as Jay and Bob's previous outing, which saw them visit Hollywood to stop Miramax from creating a movie based on the weed-toking heroes they were the basis for, Bluntman and Chronic. Almost 20 years later, Jay and his hetero life-mate Silent Bob make a similar pilgrimage when they discover those superhero-obsessed studios are making a new movie — directed by Kevin Smith, no less.
There's other stuff going on like Jay discovering he has a kid and a nefarious plot to destroy comic cons. However, the real magic comes in its cameos, which may overwhelm and baffle the uninitiated but play like magic to longtime Smith fans. In this sense, there's almost too much to love as Silent Bob and Kev Smith's realities collide. The whole thing culminates in a truly heartwarming re-welcoming of Ben Affleck into both the Askewniverse and Smith's circle. Forget "Phantoms," it's here that Affleck is truly the bomb.
9. Jay and Silent Bob Strike Back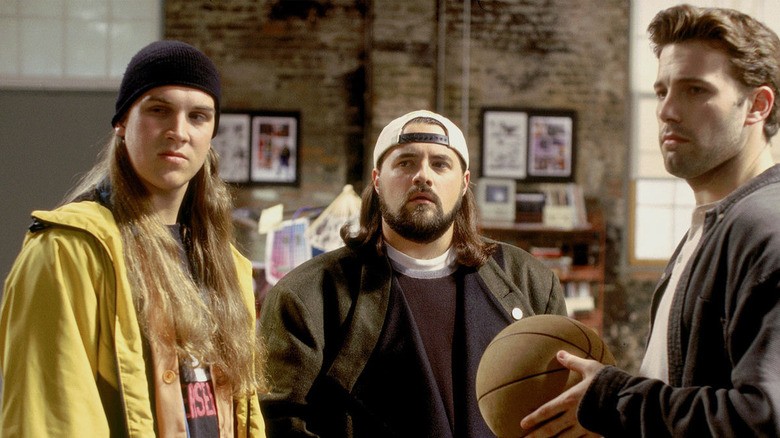 Miramax Films
Kevin Smith's universe comes full circle in this road trip fueled by pot smoke, fart jokes, and more self-referential humor than you can fit inside Silent Bob's trenchcoat. Upon hearing that Miramax is making a cash-in superhero flick of the Bluntman and Chronic characters they're the basis for (and after witnessing the hate their bong-hitting heroes receive online), Jay and Bob make for Los Angeles to stop the production and clear their good names.
Plenty of goofy action happens along the way, from a run-in with a gang of sexy jewel thieves and a stolen monkey to the duo evading Will Ferrell's rubbish federal wildlife marshal. However, like "Reboot," "Strike Back" really wins because of its guest roles. Alongside satisfying returns from various "Clerks," "Chasing Amy," and "Mallrats" faces, it's also full of genuinely hilarious moments that give the film irresistible fourth-wall-breaking energy, which was extra fun in a pre-"Deadpool" world.
We have "Strike Back" to thank for Jay's now-iconic expletive-filled rap alongside Holden McNeil's (Ben Affleck) razor-sharp takedown of online movie trolls. However, both pale in comparison to its stellar cameos, including Chris Rock's white-guy-hating director, a dollar-counting Gus Van Sant, and the piece-de-resistance, Ben Affleck and Matt Damon's sublime "Good Will Hunting 2: Hunting Season." Remember: "Lion face! Hmmm. Lemon face! Argh!"
8. Tusk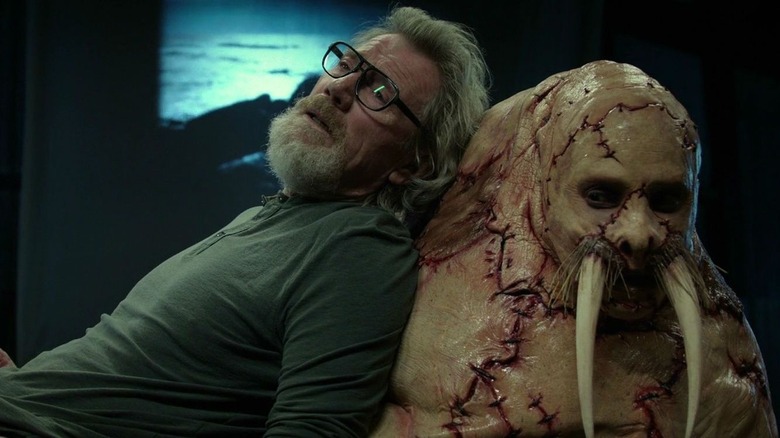 A24
Inspired by a SModcast episode in which Kevin Smith and co-host Scott Mosier discover a bizarre Gumtree ad from someone promising free board for a tenant who agrees to dress and act like a walrus, the director used this tantalizingly messed-up notice as a muse for mayhem.
In "Tusk," we meet Wallace (Justin Long), a podcaster specializing in viral videos. When his guest falls through during a trip to Canada, he finds a replacement in former seaman Howard Howe (Michael Parks). However, when Wallace mysteriously passes out during their meeting, he wakes to discover that Howe's history with a walrus that once saved his life is far from over. He's hoping to rekindle the friendship by turning Wallace into a deformed beast via a series of horrific medical procedures. Cue the screaming.
Say what you will about Smith's later output, but you can hardly say it's boring. To some, "Tusk" probably seems like a hand-break turn from the guy who made "Clerks," but it features enough Smith humor to lure even his most lax fans into its dark corners.
7. Mallrats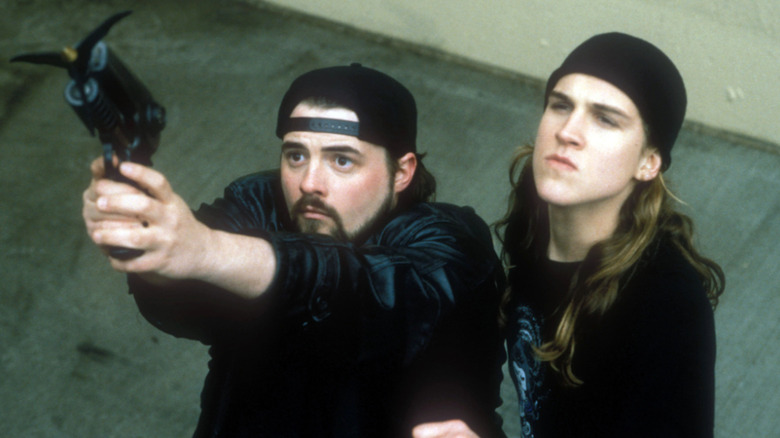 Gramercy Pictures
After taking Sundance by storm with "Clerks," everyone was eager to see what this checkout boy turned filmmaker would do next. It turns out that he kept things local by replacing a tiny convenience store with a huge mall for another adventure in retail.
"Mallrats" is a day-in-the-life tale following two friends hanging out at the mall while trying to forget that they've both been dumped. Despite only being Kevin Smith's second film, he wastes no time cementing much of the lore that's since become the cornerstones of his brand. 
Smith also elevates Jay and Silent Bob, transforming them from the drug dealing drop-outs of "Clerks" to larger-than-life comic book characters. The film's hero-heavy storyline (which even boasts an appearance from the OG true believer, Stan Lee) has helped it rewrite its troubled history. When "Mallrats" debuted back in 1995, it was considered a down-and-out flop. Cut to the hero-obsessed culture of 2022, and it's damn near prophetic.
6. Chasing Amy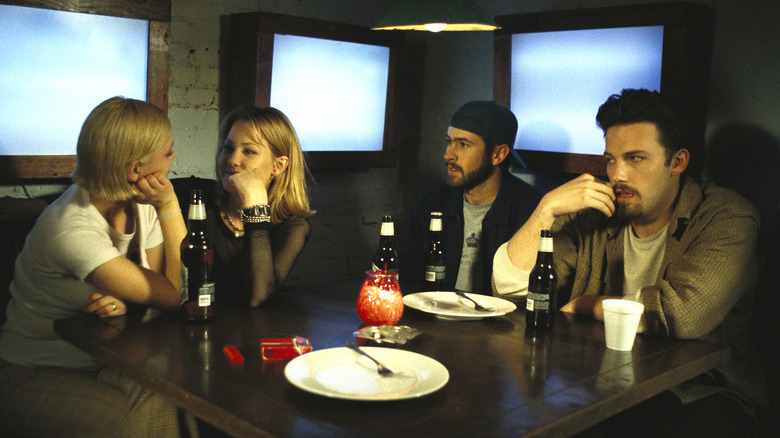 Miramax Films
If "Mallrats" was the movie that nearly killed Smith's career, "Chasing Amy" is the film that saved it. What's more, like "Mallrats," this third outing also feels startlingly ahead of its time thanks to its considered depictions of love, sexuality, and LGBTQ+ relationships.
After the critical pounding of his second feature, Smith took things back to basics to do something that'd become a staple of his career: He surprised people. "Chasing Amy" is a love triangle between comic book creators Holden McNeil (Ben Affleck), Banky Edwards (Jason Lee), and Alyssa Jones (Joey Lauren Adams), the lesbian third party that McNeil falls for. After hearing about her raucous sexual past, Holden's paranoia threatens to ruin everything before love finds a way of guiding them to a bittersweet conclusion.
"Chasing Amy" encapsulates the self-discovery of your 20s and also the beginnings of a more sexually open era of storytelling. Ultimately, it was enough to resuscitate Smith's career, winning two Independent Spirit Awards and going on to become one of his most loved films. It features probably Silent Bob's most iconic monologue, and in true Smith fashion, it also boasts a stellar sexual war wound spoof of the "Jaws" scar scene.
5. Red State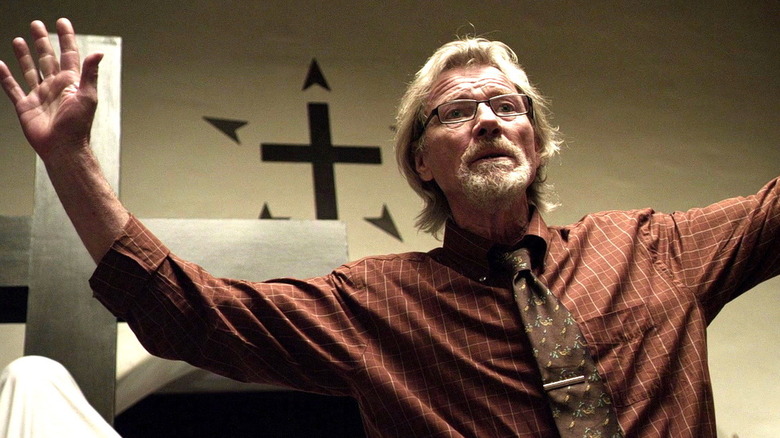 SModcast Pictures/Lionsgate
The disparity between "Red State" and the rest of Smith's work is startling and alluring in equal measure. When word first got out that the guy behind "Clerks" was taking a stab at horror, interests were piqued. When Tarantino fave Michael Parks was announced as its lead, and the always-dependable John Goodman joined, fans were downright champing at the bit to see what he was up to.
Smith's genre segue follows three teens who stumble upon the terror dwelling inside a fundamentalist church, the patrons of which are eagerly awaiting the rapture. Its aces in the hole are Parks and Goodman, who transform Smith's typically bawdy to something Coen brothers-esque. The only thing more alluring is the suggestion that Smith originally toyed with all the way and ending his religious cult movie with the Four Horseman of the Apocalypse. Fortunately (or unfortunately?), cooler heads prevailed.
Feathers were ruffled when a faux-auction saw Smith sell "Red State" rights to himself and touring it under his own SModcast Pictures label. Looking back, it not only marks a ballsy gamble on Smith's part but also a turning point where he ditched expectation and embraced his weirdness.
4. Clerks III
"I see myself more like retail's Richard Linklater," deadpans Randal (Jeff Anderson) part-way through Smith's full-circle threequel, "Clerks III," just after being labeled a budget Steven Soderbergh by a frustrated patron. In a moment of life imitating art, Quick Stop's fast-talking clerk has decided to make a movie based on his own life after suffering a massive heart attack. Sound familiar?
Following his brush with death, Smith returns to the well to conclude a story that he started 28 years ago and set him on the path that made him an indie film icon. This satisfying final chapter delivers all the elements you'd expect from another "Clerks" movie. After relocating his workers to fictional fast-food joint Mooby's in "Clerks II," Smith returns his day-job duo to their beloved convenience store for more pop-culture chatter — this time with an added meta element, as Randal replicates familiar moments from Smith's 1994 original while indulging his filmmaking dream.
However, what audiences might not be expecting is the emotional gut punch that "Clerks III" packs. While part one was a study of the meandering nature of youth and part two took a long look at the sweaty panic of mid-life, "Clerks III" offers a candid yet touching message about legacy, mortality, and being happy with your lot in life — even if you've spent most of it behind a counter.
3. Clerks II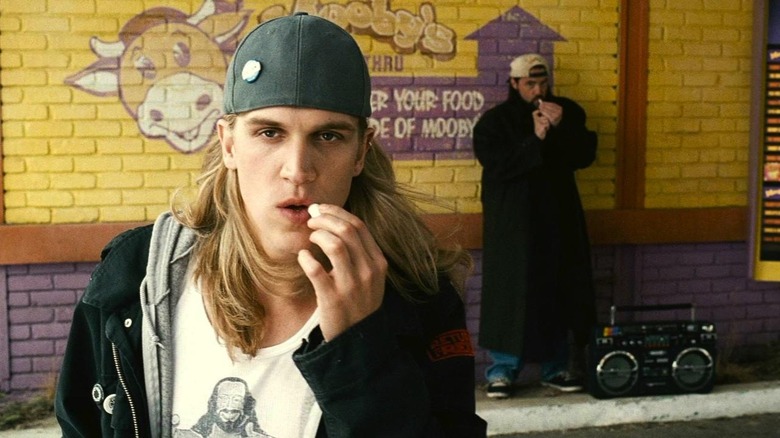 MGM
On the surface, creating a sequel to something as influential and zeitgeisty as "Clerks" seems like a terrible idea. However, instead of trying to recapture the same magic, Smith's follow-up, set a decade after his 1994 original, takes his regular joes somewhere new while keeping their problems meaningful and relatable.
After Randal (Jeff Anderson) accidentally burns down the Quick Stop, he and Dante (Brian O'Halloran) go to work at fake fast-food chain Mooby's. With their weird subordinate Elias (Trevor Fehrman), they quickly return to doing what they do best: moaning about life and chatting. While his heroes try to figure out if "The Lord of the Rings" is a better trilogy than "Star Wars," Kevin Smith weaves something deeper into the mix: ideas of maturity, male friendship, and love.
"Clerks II"'s biggest success is its ability to move its characters forward, elevating it from a cash-in sequel to a film with something to say. Smith doesn't limit the character development to his protagonists either. "Clerks II" also features a newly reformed Jay and Silent Bob embracing sobriety (they were arrested for driving with a deployed airbag, something Mewes actually did in real life) while managing to retain their edge. It also might be the only movie to feature a donkey show as a key third-act plot point — which is highly impressive.
2. Clerks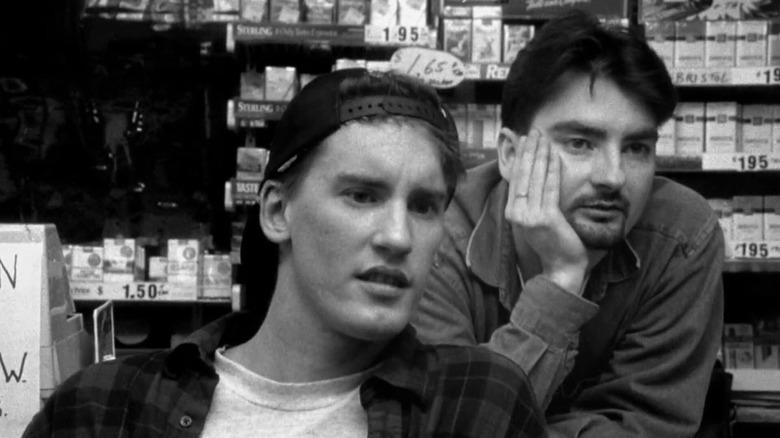 Miramax Films
Okay, we know what you're thinking and yes, it goes without saying that without "Clerks," Kevin Smith wouldn't have had a career. However, placing Smith's breakout in the top spot on a rundown of his best movies surely implies he's never managed to top it. With an IMDB director list full of rich and quotable fun, it feels like a crime to suggest Smith peaked right out of the gate.
Still, that's not to say "Clerks" isn't one of the most culturally important works he's ever created. The story behind the story is enough to inspire any budding artist stuck in a dead-end job and harboring a dream. After seeing Richard Linklater's "Slacker," Smith struck out for Vancouver Film School where he met future producing partner Scott Mosier. Dropping out, he decided to take matters into his own hands and make a movie based entirely inside the convenience store where he worked, shooting at night while the store was closed and writing a broken shutter into his script to aid the illusion.
Paying for the production with credit cards, Smith put it all on the line and was rewarded with his dream career. Winning big at both Sundance and Cannes, Smith's little movie about two store clerks (one of whom wasn't even supposed to be there) remains one of the most influential indie films ever made.
1. Dogma
Smith's fourth film manages to perfectly harness everything that makes his movies great while also marking the most ambitious outing of his early career. Packed with lore, "Dogma" feels like something ripped straight from one of Smith's beloved comics. It follows Loki (Matt Damon) and Bartleby (Ben Affleck), two disgraced angels who get booted from heaven only to find a rare religious loophole that could get them back in.
In addition to featuring some of Smith's best dialogue (Bartleby and Loki casually discussing the exhaustiveness of mass genocide and Jay's gloriously meta John Hughes rant are particular faves), it also has a jam-packed cast. Chris Rock delivers one of his most memorable roles as Rufus, the 13th apostle (cut from the bible because he's Black), Jason Lee sizzles as demon Azrael, George Carlin sleazes it up as Cardinal Glick, and Salma Hayek dazzles as Serendipity. Meanwhile, Alan Rickman turns in one of his most enjoyable performances as the cynical Metatron (aka the voice of God). 
That said, the star of the show has to be Jason Mewes, who not only steps up to the plate to carry much of the movie as Jay but does so in a way that redefined the role moving forward. With "Dogma," Smith mixes realness with a big budget without losing any of his cool.
KillRoy Was Here
This final Kevin Smit film is an added extra. "KillRoy Was Here" takes itself out of competition due to its groundbreaking method of distribution. After completion in October 2018, Kevin Smith released his most recent horror film (with a title inspired by the popular World War II graffiti slogan) as 5,555 unique non-fungible tokens distributed by Legendao, the NFT mining platform of Secret Network. 
While we can't offer a review of the finished film, we do know that it has its roots in "Anti Clause," the Krampus-themed holiday horror that Smith was working on before the similarly themed "Krampus," released in 2015, forced him to change direction. Despite a theatrical release being teased, distribution rights were ultimately sold off through Jay and Silent Bob's Crypto Studio before a limited run of NFTs were created. Consequently, we may never know how "KillRoy Was Here" stacks up alongside the rest of Smith's work.