22% Of Kevin Smith Fans Think This Is His Best Movie — Here's Why They're Right, Mostly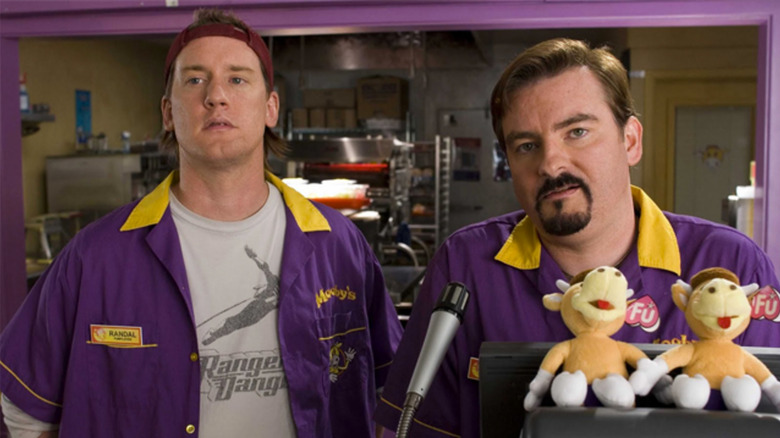 MGM
(Welcome to Survey Says, a feature where we conduct a movie-related survey for a random group of people and explain why they're completely right, completely wrong, or somewhere in-between.)
It's survey time again, folks, and this time we asked 588 human beings in the United States of America to pick which Kevin Smith movie they thought was the best. The filmmaker has a documentary about him, "Clerk," coming out in November, and he recently finished filming the long-awaited sequel to his "Clerks" series, "Clerks III." The New Jersey-born Smith rose to fame after making "Clerks" after hours at the convenience store where he worked. He went on to create the "View Askewniverse," a series of loosely connected movies set in New Jersey that featured profane dialogue, losers down on their luck, and a surprising amount of heart. 
We asked our survey-takers to pick the best Kevin Smith flick out of some of his best, though "Jay and Silent Bob Strike Back" and "Red State" didn't make the cut. That's okay, because there's still plenty of great Smith stuff to choose from, from "Clerks" to the "Jay and Silent Bob Reboot."
He Wasn't Even Supposed to Be Here Today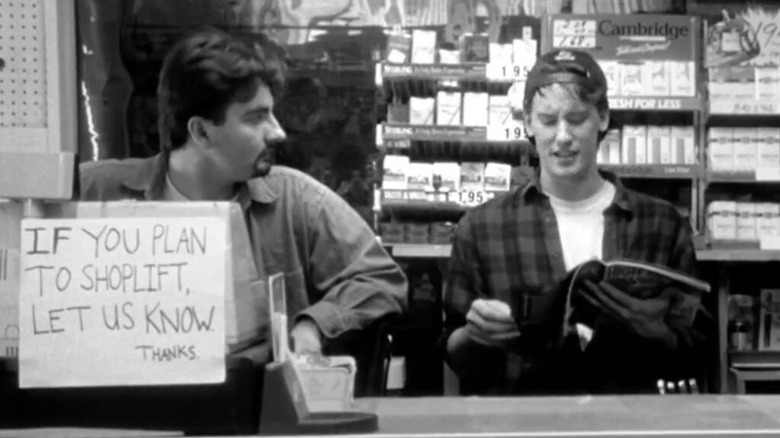 Miramax
It's not a huge surprise that "Clerks" was the runaway favorite with 22% of votes, if only because Smith's first film made such a big splash. Smith maxed out his credit cards to film the little indie flick on black-and-white 16mm cameras, focusing on the dialogue over cinematography or aesthetics. Brian O'Halloran stars as Dante Hicks, who gets called in on his day off to work at the Quick Stop, a convenience store in Leonardo, NJ. Over the course of his day, we're introduced to all of the strange characters in Dante's life, like his best friend/chief annoyance Randal Graves (Jeff Anderson), drug dealers Jay and Silent Bob (Jason Mewes and Smith), and his girlfriend Veronica (Marilyn Ghigliotti). 
Despite being shot for less than $30K, "Clerks" grossed over $3 million in theaters and was selected for preservation in the National Film Registry by the Library of Congress in 2019, deeming it "culturally, historically, or aesthetically significant." So it's no wonder that more people voted for "Clerks" than any of the other movies in his filmography. "Clerks" is a comedy cult classic for a reason. It's hilarious, the dialogue is refreshingly real, and the friendships at the center of it are genuinely sweet.
The Dogma of It All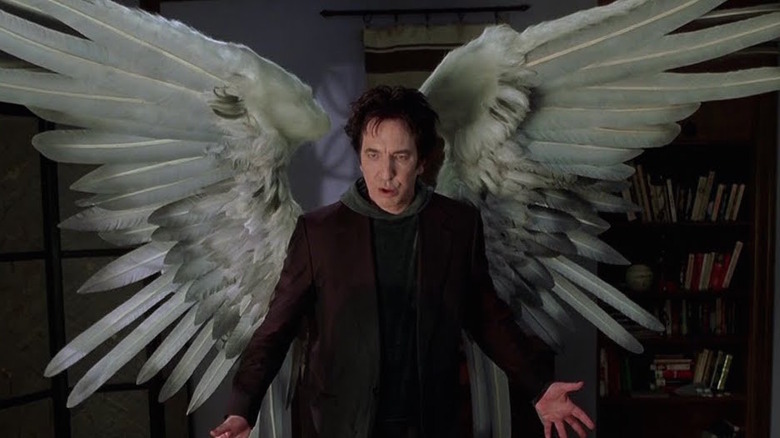 Miramax
Here's the thing: "Clerks" is great, but so is "Dogma." Smith's twisted tale of Catholic dogma gone wrong placed third in the survey, just after the LGBTQ-tinted rom-com "Chasing Amy." "Chasing Amy" has a complicated legacy, because it helped pave the way for conversations about being queer in mainstream movies, but it's also pretty dated. Its heart is in the right place, but some jokes can be read as homophobic. "Chasing Amy" is in the Criterion Collection, though, which means some people are going to automatically hold it in higher prestige. 
"Dogma" comes in nipping at the heels of "Chasing Amy" with 0.34% fewer votes. Smith's fourth film, about two angels cast out of heaven who plan on using a loophole in Catholic dogma to get back past the pearly gates, is a religious comedy gem. It was protested by the Catholic League and Smith, incognito, joined them in the protests and ended up on the local news. "Dogma" isn't streaming anywhere, and it's just about impossible to find on Blu-ray due to the rights being owned by human dumpster stain Harvey Weinstein. So maybe being unable to see it is why people didn't vote for "Dogma," which stars Ben Affleck and Matt Damon as the angels. Chris Rock plays Christ's 13th apostle! Alan Rickman plays the most powerful of all angels! Salma Hayek is a pole-dancing muse named Serendipity! Alanis Morrissette is God (in a tutu)! It's a star-studded and deeply funny meditation on faith that deserves way more love.
The Rest of Smith's Best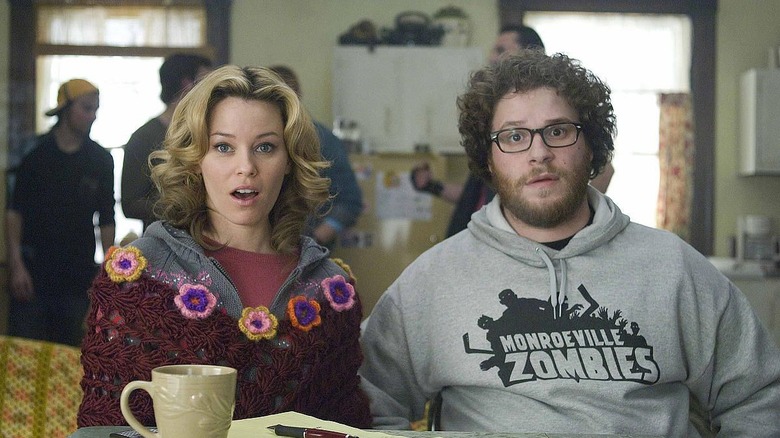 MGM
Following "Chasing Amy" and "Dogma" is "Mallrats," Smith's 1995 comedy about a guy trying to stop his girlfriend from going on a dating show at the local mall. "Mallrats" features a very young Affleck, along with Mewes and Smith in their Jay and Silent Bob personas. It also features "Guardians of the Galaxy Vol 2." and "The Walking Dead" star Michael Rooker as the producer of the dating show. It's fun, but it's crass, vulgar, and even more dated than "Chasing Amy."  
Rounding out the bottom are "Zack and Miri Make a Porno" with 11% of votes, "Jay and Silent Bob Reboot" with 8% of votes, and "Clerks II" with only 7% of votes. All three are unfairly derided for various reasons, but they have their merits. "Zack and Miri" is a Kevin Smith movie with the cast of a Judd Apatow flick, which makes for great ad-libbing and a unique twist on the rom-com format. (It's my all-time favorite romantic comedy!) "Reboot" is sweet and gave Smith a chance to correct some of the mistakes he made, especially with "Chasing Amy." "Clerks II" is hilarious and has a "Jackson 5" dance sequence and a donkey show. 
Regardless of where they fall on this list, these Kevin Smith movies all rank at the top of my heart.