Where Else You Might Know The Welcome To Raccoon City Zombies From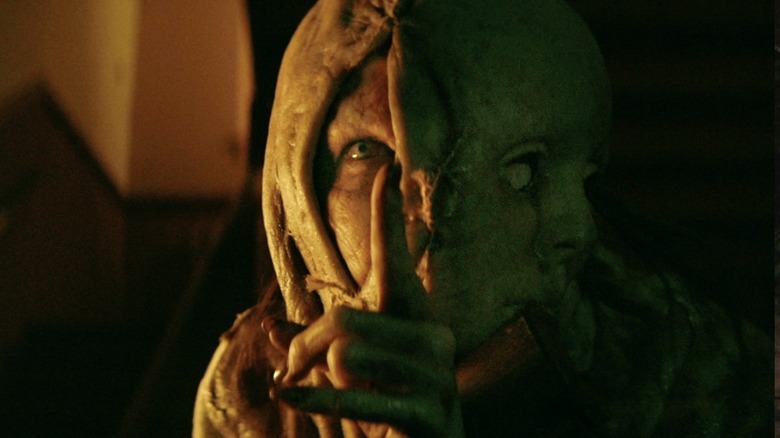 Sony
Before Netflix's reboot series Resident Evil set the internet on fire, director Johannes Roberts crafted an alternate take on the beloved video game. With "Resident Evil: Welcome to Raccoon City," Roberts ignored Paul W.S. Anderson's popular film series adaptation and took the story back to its roots — focusing on Shinji Mikami's groundbreaking survival horror tone in "Resident Evil" and "Resident Evil 2." Roberts has described his film as a love letter to the games, as his film chronicles the last days of the fictional Raccoon City. Once a booming company town, the declining town suffers a devastating outbreak of the T-virus — thanks to the Umbrella Company — that turns its residents into cannibalistic zombies.
Roberts' protagonists, the S.T.A.R.S. Team, are directly inspired by playable characters from the video games, including Claire Redfield (Kaya Scodelario), her brother Chris (Robbie Amell), Jill Valentine (Hannah John-Kamen), Albert Wesker (Tom Hopper), and Leon S. Kennedy (Avan Jogia). "Resident Evil: Welcome to Raccoon City" is filled with memorable monsters. From the shrouded girl who claims to be from "below" to the monstrous Birkin-like creature that haunts the film's final frames. There is a plethora of zombies haunting the streets of Raccoon City, many with some familiar faces. Let's round up all the sub-human monsters and figure out why they look so recognizably human — even in their zombified form.
Marina Mazepa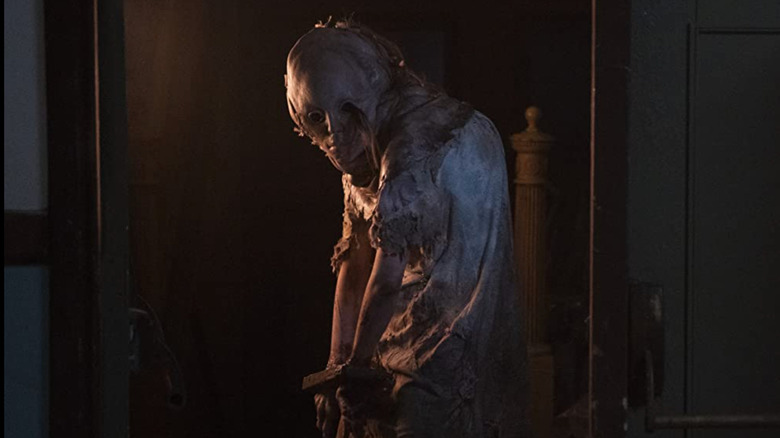 Sony
One of the most exciting monsters in "Welcome to Raccoon City" is Lisa Trevor (Marina Mazepa). Debuting in the 2002 remake of "Resident Evil," the video game character is one of the first test subjects to be injected with the Progenitor virus. After losing her parents — along with her grip on reality — Lisa gained superhuman strength and developed a habit of murdering and then wearing the faces of her female caregivers. Having escaped execution, Lisa wanders the abandoned Racoon City orphanage, shackled and searching for her mother.
Lisa is a fascinating character, making her first on-screen appearance in Roberts' film. She's brought to life by an equally unique performer: Marina Mazepa is a Ukrainian contortionist who first appeared on televised competition shows like "So You Think You Can Dance" and "America's Got Talent." But a more impressive performance was heading her way. In 2021, James Wan's "Malignant" took the horror world by storm with its jaw-dropping twist and explosive action scenes. Mazepa plays Gabriel...Well, we don't want to spoil it for you! Suffice it to say, Mazepa is the human behind some of the craziest action horror moments in "Malignant." Mazepa's talent for speaking through movement is on display in both films — adding heartbreaking humanity to Lisa and Gabriel.
Nathaniel McParland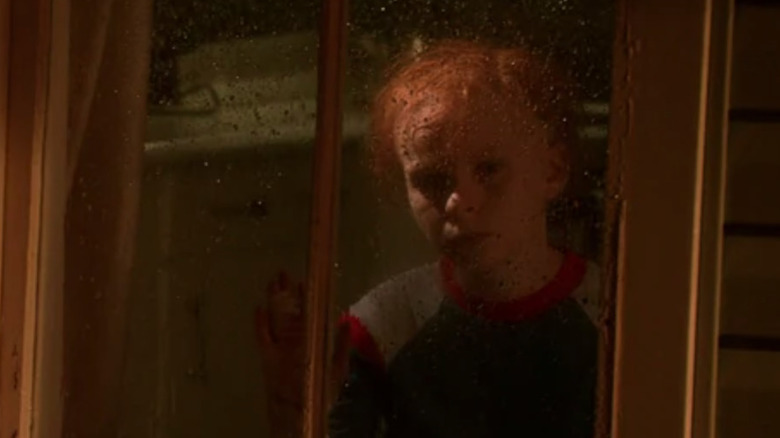 Sony
The town of Raccoon City may be on the decline, but it's still home to families. Lisa Trevor is not the only child to fall victim to the Umbrella Corporation's carelessness. After breaking into her brother's house, Claire sees a sickly young boy (Nathaniel McParland) staring at her from the window of the house next door. Concerned, she enters the seemingly abandoned home and finds the boy hiding under a table. Claire is too late to help him, as the T-virus (in the town's water supply) infected him. The boy tries to warn Claire that she needs help. Moments later, a sickly woman (Stephanie Hawkins) smashes through the house and rushes to attack Claire.
Sharp-eyed viewers will recognize McParland from the sci-fi series "The Expanse." The Canadian actor plays Chike, an orphan Belter-child from Ganymede. Portraying another sickly child, Chike is a harbinger of the Green Blindness that will soon spread through First Landing. Though not as devastating as Raccoon City's T-virus, Chike is the first to experience blurry vision followed by a dominant green hue and then total blindness. McParland is also in Netflix's short film "Forgive Us Our Trespasses," showcasing children with disabilities becoming targets for Nazi hunters.
Stephannie Hawkins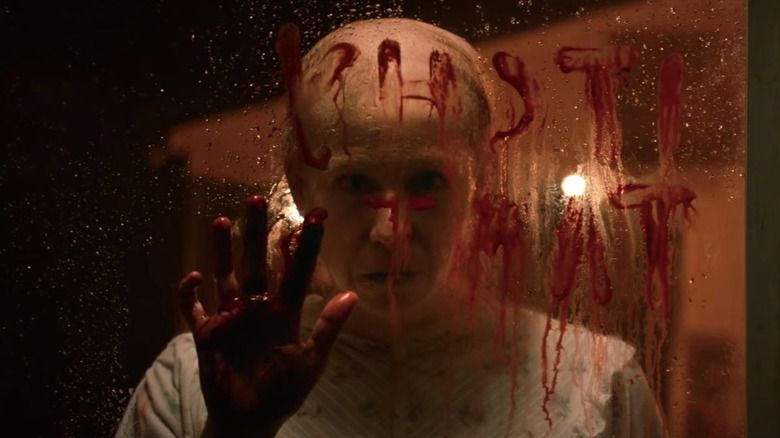 Sony
Stephannie Hawkins is an industry veteran. The former boxer booked her first major film credit in "Cinderella Man" and recounts enjoying on-set conversations with the great Rance Howard. As a stunt double, she's worked with some of the biggest names in the industry, including Bruce Willis and Mary-Louise Parker in "RED," Sophie Turner in "X-Men: Apocalypse," and Tatiana Maslany in the mind-bending series "Orphan Black." She's also booked some impressive roles in the horror genre, doubling for Cate Blanchett in "Nightmare Alley," Amy Seimetz in 2019's "Pet Semetary" and Anya Taylor-Joy as Thomasin in Robert Eggers' breakout hit "The Witch."
In "Resident Evil: Welcome to Raccoon City," Hawkins plays a woman infected by the T-virus. She writes the ominous words "itchy tasty" in blood on a window before bursting through the glass door to attack Claire. She then proceeds to writhe on the floor and claw at her skin with hooked fingernails. It's one of the first zombie attacks of the film and effectively sets the tone for the horror to come.
Pat Thornton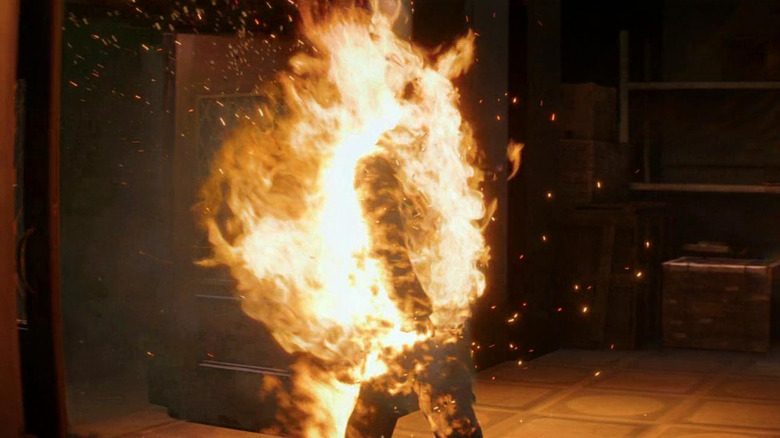 Sony
We meet Claire as she's hitchhiking to Raccoon City. She's been picked up by a nefarious trucker (Pat Thornton) and has dozed off in the passenger seat. While kind enough to offer Claire a ride, the trucker tries to sexually assault her. In the process, he runs over a woman on the road. Fortunately, she shuffles into the woods — the first of many zombies we meet in the ill-fated city. Thinking he's gotten away with his crime, the trucker doesn't notice his dog eating the gore the woman left behind. Later, he's infected by his faithful companion before meeting an awful fate at the Raccoon City Police Department.
This isn't Thornton's first time playing a controversial character. After starring in the short-lived sci-fi sketch show "Hotbox," Thornton played Mayor Tom Hogg in "Filth City." Loosely based on the life of Rob Ford, the Canadian film follows a crack-addicted mayor in his bid for reelection. The late Ford's brother, Councilman Doug Ford, was disgusted by the film. He accused creator Andy King of exploiting his late brother's illness and warned King about crossing the street while he drives. Though he hasn't mentioned Thornton, the two films contain eerie parallels involving vehicular violence.
If you or anyone you know is struggling with addiction issues, help is available. Visit the Substance Abuse and Mental Health Services Administration website or contact SAMHSA's National Helpline at 1-800-662-HELP (4357).
If you or anyone you know has been a victim of sexual assault, help is available. Visit the Rape, Abuse & Incest National Network website or contact RAINN's National Helpline at 1-800-656-HOPE (4673).

Jenny Young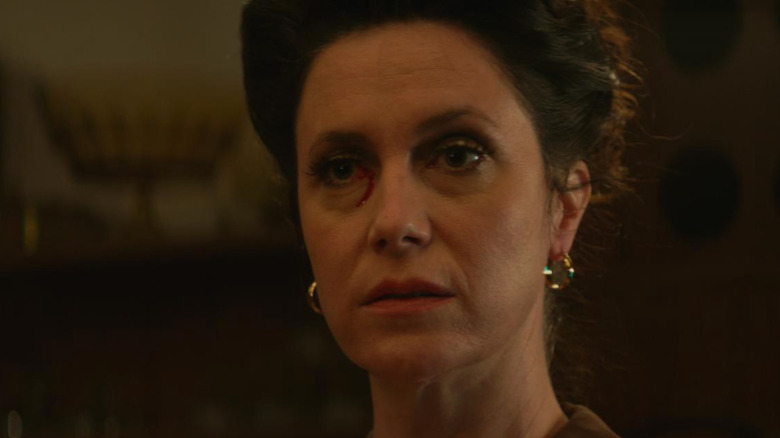 Sony
Of all the victims in Raccoon City, few are as tragic as Louise (Jenny Young). The diner waitress spends her nights serving residents, including members of the Raccoon City Police Force, with a cheerful smile and a pot of hot coffee. She notices her eye oddly bleeding. But a busy schedule and fear of a devastating diagnosis have kept her from going to the doctor. We learn Louise is one of many citizens infected by the T-virus. Her condition worsens, and Louise later stumbles around the RPD gates with other zombified residents.
In addition to a brief appearance as Rosemary Locke on Netflix's adaptation of Joe Hill's comic series "Locke and Key," Young starred in HBO's "Station Eleven." Currently, she stars in "The Lake," a Canadian comedy about a man determined to reconnect with his biological daughter. However, the veteran actress is perhaps best known for her voice. Young starred as Sergeant Patricia "Coach" Kinsella on the critically acclaimed "Afghanada," an award-winning CBC radio drama about three Canadian soldiers serving in Afghanistan.
Kalie Hunter & Andrea Ciacci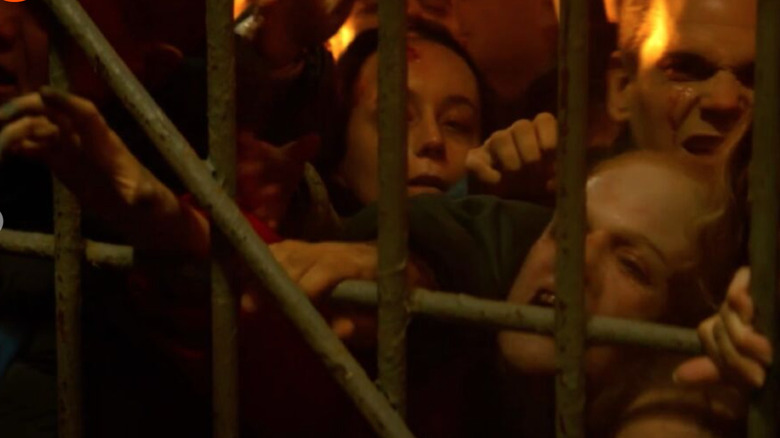 Sony
There's no doubt that the zombies of Raccoon City are terrifying. But adding to the horror is how distinctly familiar they feel. Inspired by real-life victims of radiation sickness, Roberts intentionally gives his zombies a heartbreaking ere of humanity. Several of the once-human cannibals roaming the Spencer Mansion got their names from 1986's Chernobyl Disaster – when a nuclear reactor exploded, releasing radioactive materials into what was then known as the U.S.S.R. and surrounding parts of Europe. Chernobyl Zombies #1 (Kalie Hunter) and #2 (Andrea Ciacci) were Raccoon City Residents before an outbreak of the T-virus plunged their dying town into an apocalyptic nightmare. They now stalk the Arklay Mountains indiscriminately, attacking anyone who crosses their path.
Stunt workers Hunter and Ciacci have previously worked together under less horrific circumstances. They are interpretive dancers in the Amazon Studios revival of the Canadian comedy sketch show "The Kids in the Hall." Hunter also appears as a mannequin in Netflix's "Locke & Key" and Ciacci is a dancer in FX's hilarious "What We Do in the Shadows."
Matthew MacCallum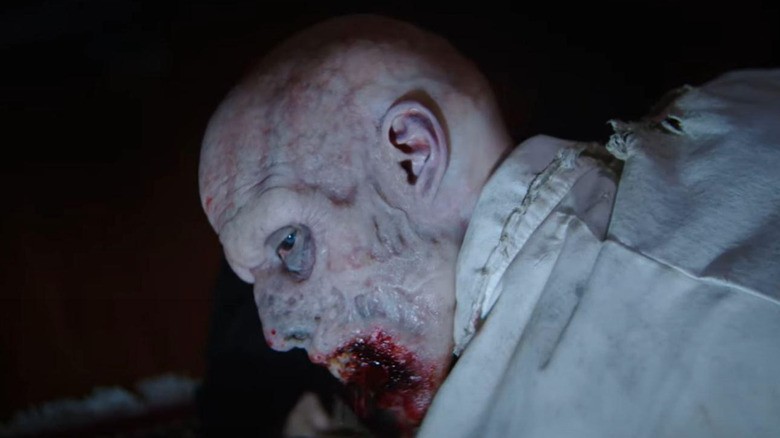 Sony
As a fan of the original video games, Roberts ensured to include one iconic scene from "Resident Evil." The first zombie encountered in the Resident Evil world has been dubbed the "Turning Around Zombie" by game director Shinji Mikami. Players first approach an unknown figure with his back to the player as he quietly feasts on human flesh. The zombie slowly looks over its shoulder at the player, setting the tone for the game's horrific visual language. "Welcome to Raccoon City" star Matthew MacCallum lobbied to bring this moment to life by playing the monster credited in the film as "Labcoat Zombie." MacCallum also appears as an infected resident at the RPD gates and in the Spencer Mansion — credited as Dining Hall Chernobyl Zombie #1. 
While he may play one of Resident Evil's first zombies, this is not MacCallum's first appearance in the franchise. His first feature film credit was as a Russian Army Zombie in Paul W.S. Anderson's "Resident Evil: Retribution." He's also worked with acclaimed director Guillermo Del Toro as a shoe-store owner in "The Shape of Water" and a human-skeleton in "Nightmare Alley."
Jason Lee Bell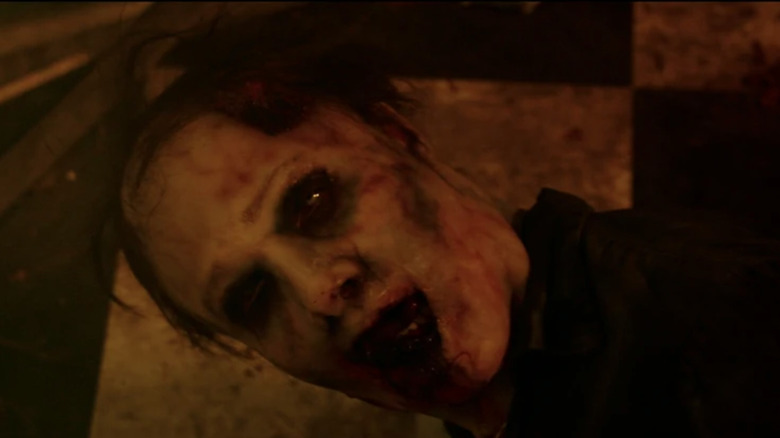 Sony
Jason Lee Bell portrays two victims of the T-virus. He joins MacCallum as Dining Hall Chernobyl Zombie #2 and stars as a Raccoon City citizen named Evan. A former Umbrella employee, Evan drinks contaminated water and turns into a zombie. During a confrontation, another zombified employee tore his lips off — earning him the nickname "Lipless Zombie."
Bell has an impressive career as a stunt performer, accumulating over 50 on-screen credits in eleven years. He's appeared in high-profile television shows like "The Handmaid's Tale" and "Station Eleven." He's also previously shared the screen with two of his "Resident Evil: Welcome to Raccoon City" co-stars — Nathan Dales in "Letterkenny" and Tom Hopper in "The Umbrella Academy." Many of his credits include serving as the stunt double for actors like Gabriel Macht of "Suits," Steven Strait of "The Expanse," and Kyle Chandler in "The Mayor of Kingstown." Bell also doubles for Kyle Mac as an exploding man in the ultra-gory Prime Video series "The Boys."
Avaah Blackwell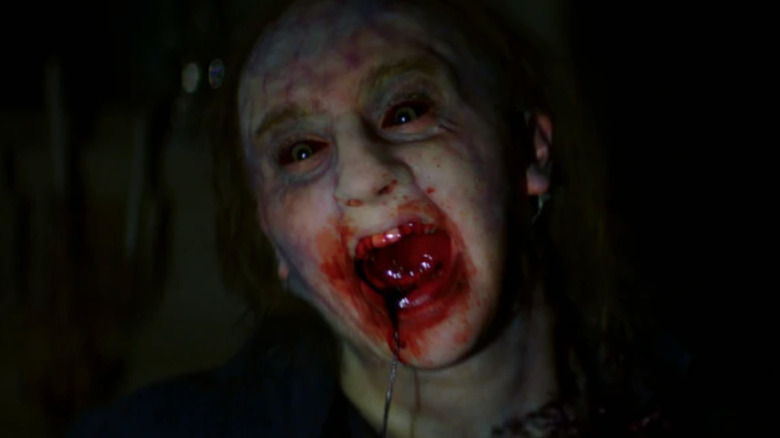 Sony
Rising star Avaah Blackwell is another actor portraying multiple zombies ravaging Raccoon City. She is the third Dining Hall Chernobyl Zombie the group encounters in the Arklay Mountains and plays a zombified-RPD officer. While searching for a body near the Spencer Mansion, officer Kevin Dooley (Dylan Taylor) and his partner are attacked by the infected. Unable to locate the duo, Chief Brian Irons (Donal Logue) sends the S.T.A.R.S. Team into the Spencer Mansion to rescue them. Chris Redfield eventually finds a zombified Dooley in the mansion, alluding to a horrendous attack occurring offscreen.
Blackwell is building a name for herself in the world of "Star Trek." After filling in as a replacement on "Star Trek: Discovery," this one-day booking led to multiple roles on the series, including a Kelpien Council Member, Lt. Ina, and Osnullus (via Medium). In addition to performing stunts on "The Expanse," Blackwell currently stars in "Star Trek: Strange New Worlds" as Rebecca Romijn's stunt double and a Linnarean Guard.
Aleks Alifirenko Jr.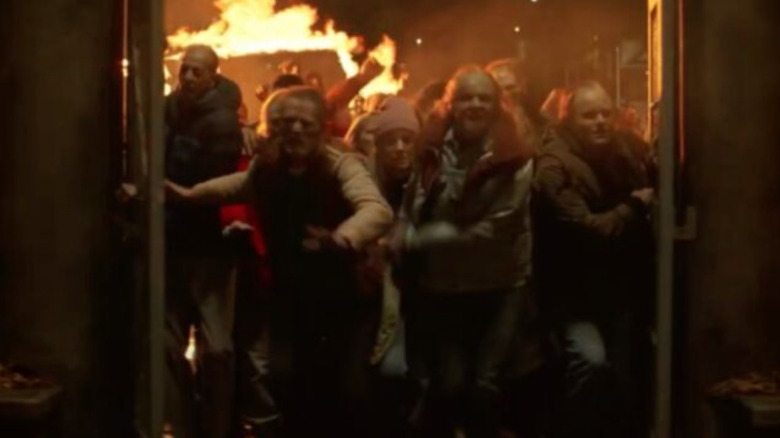 Sony
The halls of the Spencer Mansion are full of undead cannibals searching for their next meal. One of these hungry beasts, credited as "Zombie," is played by Aleks Alifirenko Jr. The New Jersey native is a martial artist, boxer, and UFC fighter. No stranger to the supernatural realm, Alifirenko Jr. plays himself in the series "Parahunters." As a ghost hunter, he wanders the cemeteries of Savannah, Georgia, searching for beings like the zombie he portrays in the "Resident Evil" film franchise.
Alifirenko Jr. has also appeared in many high-profile action and horror franchises. He plays another zombie roaming a post-apocalyptic Las Vegas in Zack Snyder's "Army of the Dead." In Mike P. Nelson's "Wrong Turn" reboot, he plays a different kind of mindless killer — a cult member and Foundation Citizen propagating a primitive utopia in the rural mountains of West Virginia. He is one of the many neighbors hunting the legendary Michael Myers in "Halloween Kills," and he appears as a tourist in "Jurassic World: Dominion." Alifirenko Jr. has entered the Marvel Universe with an upcoming role as a warrior in "Wakanda Forever," the highly anticipated sequel to "Black Panther." With such an impressive resume, we will likely see the stunt performer wandering many cinematic halls in the years to come.
Amy Szoke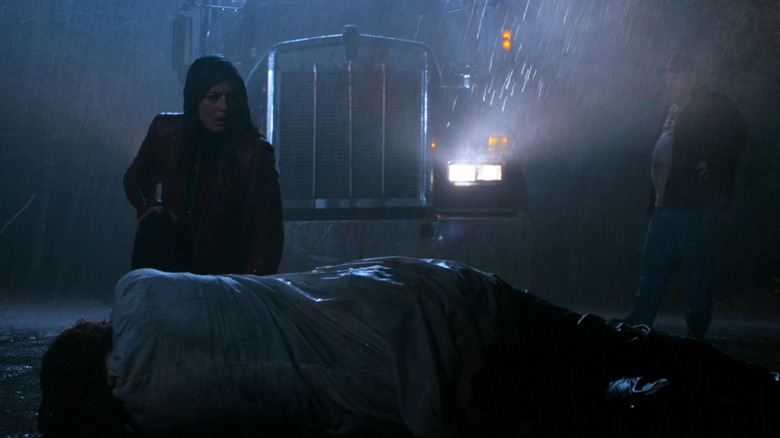 Sony
Credited as Corridor Zombie #1, Amy Szoke plays a former Umbrella employee now doomed to roam the halls of the Spencer Mansion. She also appears as a mysterious "Female Figure" haunting the town in the wake of the Raccoon City Destruction Incident. Szoke also portrays characters on the other side of the human/zombie conflict — serving as a stunt double for Scodelario and doubling for Holly de Barros, the ill-fated Mrs. Birkin.
Szoke is a bit of a jack of all trades in the stunt world. She's performed utility stunts in "The Boys," "It: Chapter Two," and "Shazam!" She's also done driving stunts in three episodes of the Starz series "American Gods." In addition to her work on "Resident Evil: Welcome to Raccoon City," Szoke has served as stunt double for Nadine Nicole on "The Expanse," Claire Forlani in "Departure," Amber Heard in the new adaptation of Stephen King's "The Stand," and Natasia Demetriou as Nadja in "What We Do in the Shadows."
Alex Armbruster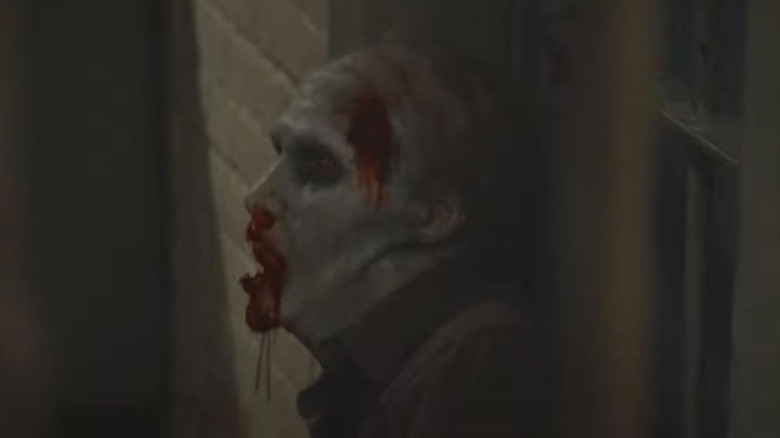 Sony
Another actor performing as zombies and humans in "Resident Evil: Welcome to Raccoon City" is Alex Armbruster. The Canadian extreme sports enthusiast serves as the stunt double for Avan Jogia and portrays one of the most revolutionary creatures in the horror gaming world. The Crimson Head Zombie is a particular subset of undead cannibals. After a player kills a zombie, this iteration of the monster resurrects with a distinctive red appearance. Crimson Head Zombies also have long, sharp claws and can move at faster speeds than their infected counterparts.
When not portraying a speedy undead cannibal, Armbruster is busy doing stunts elsewhere in the horror realm. He's appeared in "It: Chapter Two," 2015's "Poltergeist," Kimberly Peirce's "Carrie," "Jigsaw," and the 2022's reimagining of Stephen King's "Firestarter." He's also no stranger to Hannibal Lecter's world, appearing in the CBS series "Clarice" and serving as Hugh Dancy's stunt double on "Hannibal."
Neal McDonough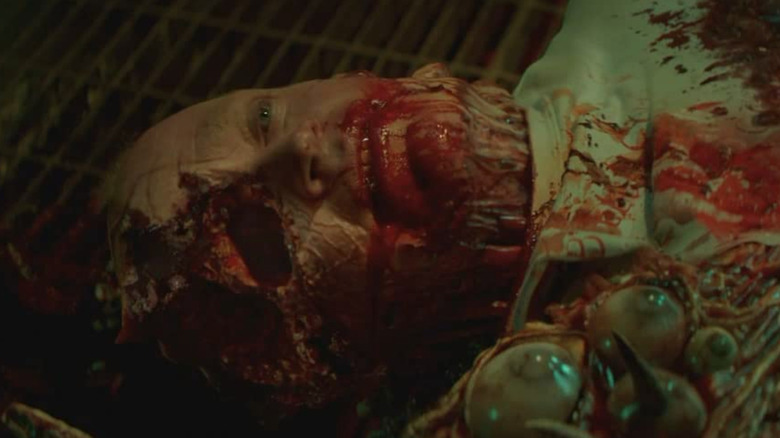 Sony
The final monster the S.T.A.R.S team fights in "Resident Evil: Welcome to Raccoon City" is a mutated version of Umbrella Corp's duplicitous virologist, Dr. William Birkin (Neal McDonough). After being denied a promotion, Dr. Birkin turns against his employers and causes the contamination that devastates the town. He's gunned down in a standoff with Albert Wesker over vials of the G-virus and dies — but not before injecting himself with a sample of it! His altered body reanimates and mutates — sprouting horns, massive veins, and eyes popping out from enlarged muscles. However, his final transformation is hideous. Armed with glowing red eyes, sharp fangs, and the remnants of Birkin's face peering from its chest, the massive monster rampages through the tunnels of Spencer Mansion.
McDonough has a long history in the sci-fi/horror/comic realm. His first screen credit is as Dockworker #2 in Sam Raimi's "Darkman." He voiced Dr. Bruce Banner in the animated series "The Incredible Hulk" and starred as the overzealous Pvt. Reich in the cult-favorite "Ravenous." In season 10 of "American Horror Story," he portrayed Dwight 'Ike' Eisenhower. After recurring roles in "Justified," "Suits," "Yellowstone," and "Desperate Housewives," McDonough became known for his turn as Damien Darhk in "Arrow" and "Legends of Tomorrow." With several projects in production, we'll be seeing more of the veteran genre actor soon!