How The Goodnight Mommy Remake Differentiates Itself From The Original [Exclusive]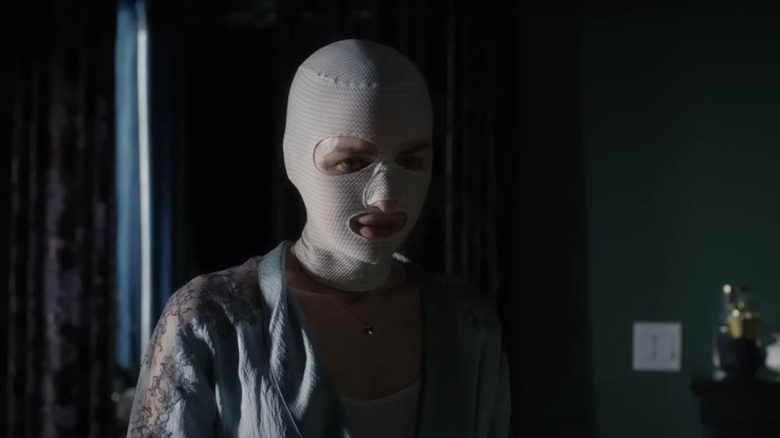 Prime Video
"Goodnight Mommy" is now streaming on Prime Video — no, not the original 2014 Austrian film, but the 2022 American remake or "reimagining," starring Naomi Watts, Cameron Corvetti ("The Boys"), and Nicholas Crovetti ("Big Little Lies"). The film, per the official synopsis, tells the story of twin brothers who "arrive at their mother's country home to discover her face covered in bandages" and begin to suspect that "the woman beneath the gauze isn't their mother at all." Director Matt Sobel is at the helm of this new version, and he knows you may have questions about it, chief among them being, "Why remake it at all?"
In an exclusive interview with /Film's Danielle Ryan, Sobel explained that he had a similar line of thinking when he was first approached about the possibility of spearheading an English-language version of "Goodnight Mommy." The director, whose previous credits include the film "Take Me to the River" and two episodes of last year's Netflix miniseries "Brand New Cherry Flavor," said:
"Actually, it was not my idea to remake ['Goodnight Mommy']. And the first thing that happened is I passed on it. But yeah, I was an appreciator of the original film. I saw it when it came out. And then when this project was brought to me by the producers at Animal Kingdom, I said, 'Good luck, God speed. Hit me up next time. Not for me.' Because I'm really not a fan of remakes that are made for the sole purpose of catering to people who don't want to read subtitles. And I didn't yet have an idea of why a remake of this film would justify its existence."
A re-staging, like Shakespeare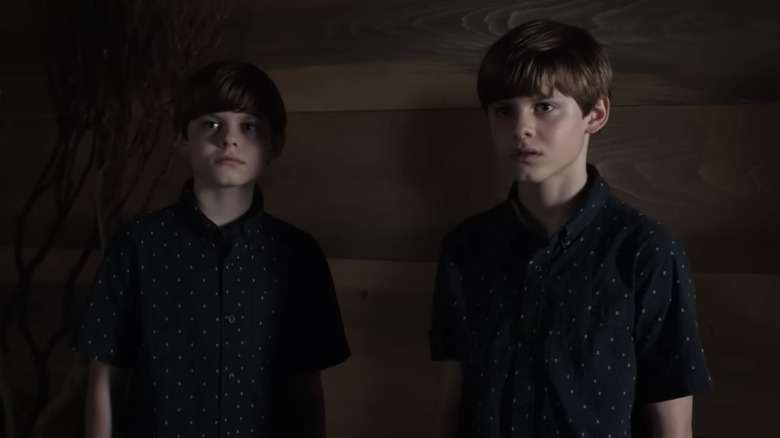 Prime Video
Linking up with Kyle Warren, the screenwriter who adapted Veronika Franz and Severin Fiala's script for this new film, helped Sobel conceive of a "Goodnight Mommy" remake that "was less about translating literally what happened [in] German into English," and was "more about, I'll use the word 'transcribing,'" he said.
"I think it's kind of more like the way in which a melody could be transcribed into a different key," Sobel continued, "and given all sorts of different emotional valances in the process of taking the kind of basic elements of the story in the original film and then reshaping them to give the story a new theme and perhaps even a different genre than the original film." He further likened "Goodnight Mommy" to a sort of theatrical "re-staging" in the tradition of Shakespeare's plays, which have been performed and re-performed and filmed and re-filmed countless times over. As he put it:
"That's something that I'd see done in theater constantly because you have to re-stage things. And a re-staging of 'Taming of the Shrew' that switches the genders of every character gives the original text a whole different meaning. But I don't see it done a lot in film. So I called back the producers and said, 'I have an idea. Can we call it a re-imagining and can the story be about this theme?' Which is really most interesting to myself and Kyle, and that is the human tendency to try and always see ourselves as the heroes or the victims of our own stories and to avoid seeing ourselves as the villains and all of the ways in which we'll lie to ourself, or lie to other people, or change the way that we see the world, so that can always be true."
'A boy who can't bear to be at fault'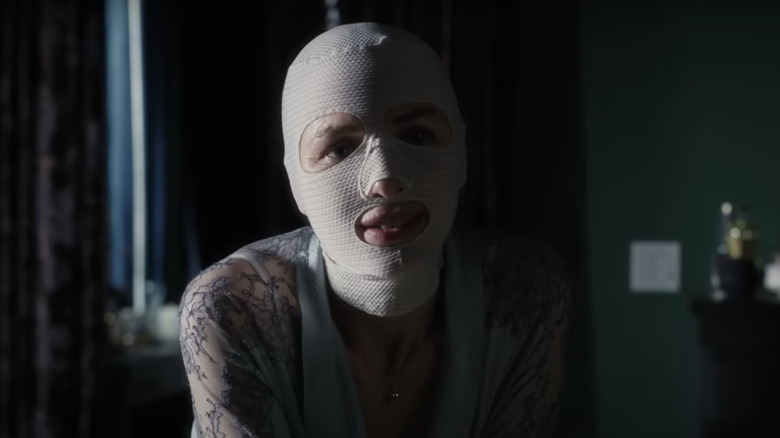 Prime Video
So how exactly does Sobel's "Goodnight Mommy" differ from Franz and Fiala's? Answering that question might verge on spoilers, so if you haven't seen either version, look away now.
Sobel broke it down this way:
"Where the theme of the original film, I would say, is about a boy who cannot bear to be alone, our film's a story about a boy who can't bear to be at fault. All of the differences between the films sprung out of this idea, and the original film is really about three characters. Everyone is shot at arm's length, observational, cold, austere, wonderful for that movie kind of way. Our film is much more about one boy and his perception of the world, and it's shot so as that we're seeing the world through his eyes. And that all came from this same idea of we want to see the movie playing in Elias' mind for the first 80% of the film. And he's imagining this situation to be a dark, twisted fantasy. Then only when he's shoved out of that story does he see that the reality is potentially even more horrifying than that."
This sounds like a genuinely interesting take on "Goodnight Mommy." I say that as Sergeant Subtext, someone who skips straight to the "Themes" section on Film Wikipedia. What Sobel says about the "tendency to try and always see ourselves as the heroes or the victims of our own stories" carries insight into human nature, which has me willing to give this remake, reimagining, or re-staging the benefit of the doubt. Add to that the presence of Watts and the Corvetti twins, and you might have a good movie night recipe.
"Goodnight Mommy" is now streaming on Prime Video.