She-Hulk Finally Addresses A Long-Unanswered Question In The MCU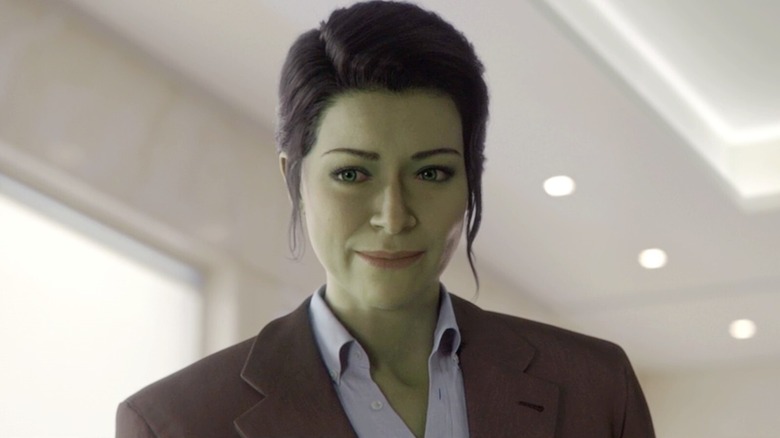 Disney+
This article contains spoilers for the fifth episode of "She-Hulk: Attorney At Law."
At the halfway mark of its first season, it's become clear that "She-Hulk: Attorney at Law" prides itself on being a down-to-earth approach to the grandest parts of the Marvel Cinematic Universe. While other projects tend to play on a much bigger canvas, the latest Disney+ series attempts to paint a clear picture of what life is like for the average person in this dense superhero world, giving the MCU an opportunity to fill out the details we'd never get to see otherwise. And in the latest episode of "She-Hulk," the series finally explores a question that has been on the minds of many MCU fans since its inception.
We may be familiar with how some of the Avengers have gotten their superhero suits, but what about other, smaller heroes in the MCU? Do they all go to one person to get their costumes made? The answer to that question has just arrived in "She-Hulk." When it's time for Jennifer Walters and her friends to look for clothes that fit her shape-shifting powers, the show introduces an all-new character to the MCU.
The ultimate costume designer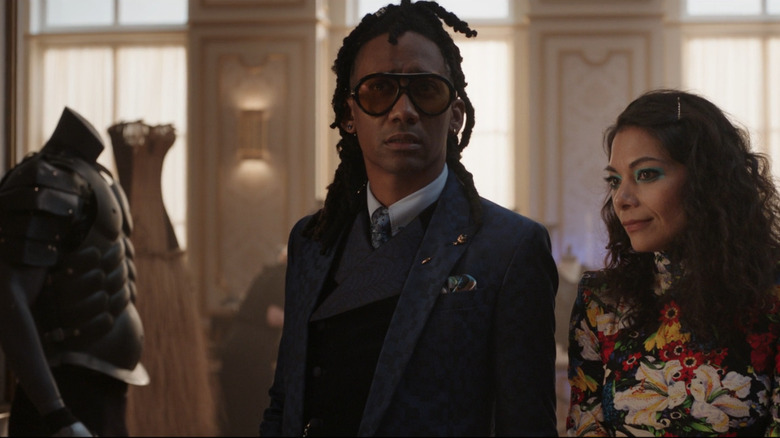 Disney+
During the fifth episode, Pug and Nikki venture off from the main plot line to find a person to design clothing for She-Hulk. As they make their way through the backside of a coffee shop, the lawyer duo eventually gain entry into a secret room where a renowned super suit maker operates. Griffin Matthews plays Luke Jacobson, a fashion designer whose work is meant for those in the superhero business. The eccentric fashionista is initially hesitant to work for She-Hulk, but Luke finds the appeal in creating a suit for an Avengers-level hero (or so he thinks). 
It's not only clear that he has a rich history in designing superhero wear in the MCU, but judging by the last scene, he's pretty dang good at it. The show reveals that Luke has been working on a new Daredevil suit for Matt Murdock. Yes, this is how the series plans to segue into the character's re-introduction to the MCU. But it also speaks to just how influential Luke might just be in the greater scheme of things.
Who has gotten their super suit from him?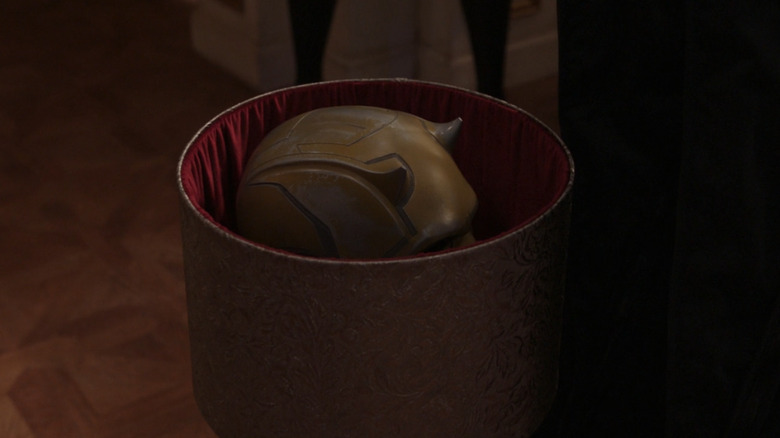 Disney+
Outside the confirmation of Daredevil's new red and yellow suit, the show does not confirm who else the sassy and fashionable Luke has created costumes for over the years. However, if the New York native would go across the country to California for his new threads, then we have to assume that Matt is not the only relatively prominent hero Luke has served.
Most MCU projects explicitly state how their heroes get their suits, but there are a few exceptions. A few, for example, could include key members of the Thunderbolts team. Although it is presumed to be a government-funded endeavor, it is totally possible, and even logical, that Luke was contracted to create suits for characters like Yelena Belova or U.S. Agent. Another potential customer could have been a fan-favorite veteran superhero. Despite his status as an Avenger, it's possible that Hawkeye got his Ronin suit from Luke when the superhero group disbanded after "Infinity War."
Maybe we'll get even more details on Luke's work as "She-Hulk" continues. After all, we're still waiting to see what that other garment bag contained that She-Hulk seemed to like so much. Stay tuned.
A previous version of this article misidentified Luke Jacobson as The Drip Broker, but they are two different characters. This mistake has been corrected.