What Is Bix Caleen Fighting For In The Morally Gray Star Wars Setting Of Andor? [Exclusive]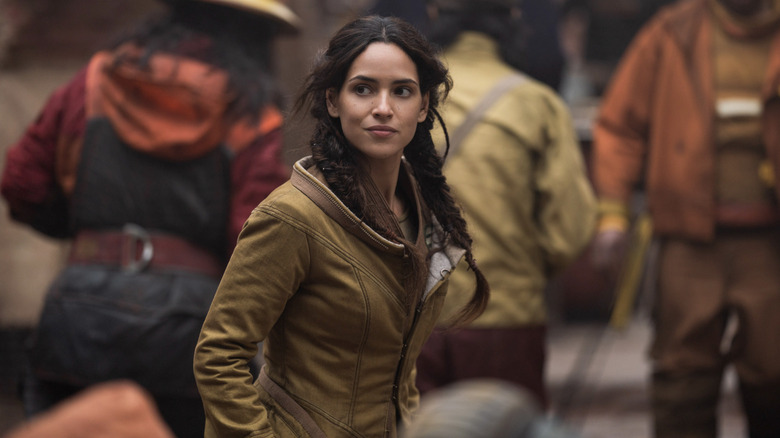 Disney+/Lucasfilm
"Andor," the latest "Star Wars" show set to stream on Disney+, will explore the life of rebel spy Cassian Andor (Diego Luna) before the events of "Rogue One: A Star Wars Story." Given the darker nature of that "Star Wars" spin-off film, it only makes sense that "Andor" will explore a similar tone. While the journey of Cassian to becoming the soldier and spy seen in "Rogue One" is the main focus of the show, there is also a plethora of supporting characters going through their own journeys as well.
One such character is Bix Caleen (Adria Arjona), a potential love interest for Cassian who is also struggling with the weight of the morally gray world in "Andor." The series takes place at the height of the Empire's reign and about five years before the events of the original "Star Wars" movie, making it a pretty dark period for the show's cast. 
Speaking with /Film, Adria Arjona spoke about her character's place in the show and Bix's struggle with wanting normalcy and stability in the wake of a growing revolution. Of course, such dramatic conflicts between the Empire and the growing rebellion will change a character's perspective on things.
'At a cusp of revolution'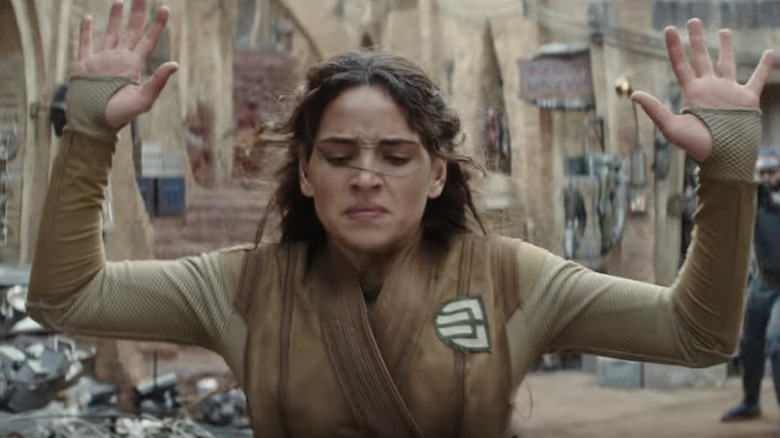 Disney+/Lucasfilm
In an interview with /Film's Ryan Scott, Arjona was asked what Bix Caleen wants in the show, providing an in-depth preface to her answer by talking about the murky nature of "Andor" and its settings and characters:
"Well, I think it's a fair question. I think in this show, everyone is, like I said, at a cusp of a revolution. And I think all these questions are valid. I think no one really knows. I think everyone's moral compass is being questioned and is being pulled in different directions. And I think everyone, even an audience member, will realize quickly that no one lives within black and white, and every character lives in this murky gray area. No one's good, no one's bad. So what does she want?"
Moving to the question, Arjona gave a practical answer: stability and normalcy. However, such things become far-reaching when her character crosses paths with one Cassian Andor. At that point, Bix's desires and perspectives begin to change. Like any character answering a higher calling in "Star Wars," perspectives on life in a galaxy far, far away change, and with Bix specifically, it's about finding out what bravery really means.
A shift in moral compass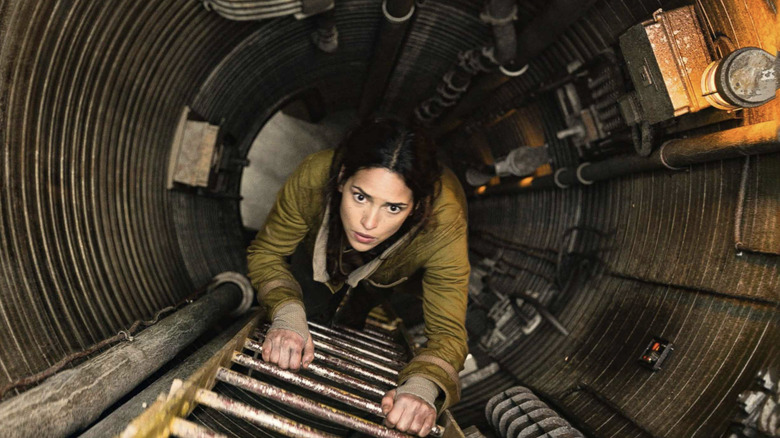 Disney+/Lucasfilm
Arjona talked about Bix's life at the start of "Andor" and how events in the series cause massive changes for her character:
"I think at the beginning of the show, she wants to have a stable job. And she has ownership of the salyard and is excited by it. She's almost in a relationship where she cares about this person, but it isn't quite for her... And in comes Cassian, and shifts her compass completely. I think Bix is also exploring what is bravery? And bravery means standing up for someone you love, someone that you care about, and someone that needs your help. And that is something that she's exploring as well. And I think what she wants will change completely after episode one, and it will completely keep changing."
Bix Caleen looks to be a character fighting for those she cares about the most, in typical "Star Wars" fashion. How the character will keep changing as "Andor" airs remains to be seen, but the darker tone and shifts in moral compasses all make for complex television that's not usually expected from a "Star Wars" show.