Diego Luna Was Ready To 'Move On' From Star Wars Until He Was Offered Andor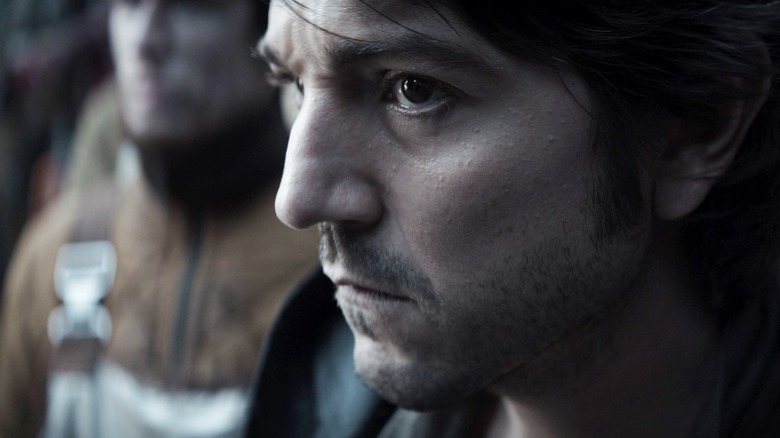 Lucasfilm
In the "Star Wars" universe — the cinematic one, not the literal one — standalone projects have become popular storytelling tools, and with good reason. If done right, they can be really effective, both at adding context to an unexplored event and informing a period of a beloved character's life. But what happens when a standalone leaves behind more questions than it answered? When one-off characters introduced to propel a story actually become fan favorites?
When it comes to "Rogue One: A Star Wars Story" — the film that famously killed off most of the characters it introduced — it can feel almost foolish to hope for more. Even Diego Luna, who played Rebel spy Cassian Andor in the film, treated "Rogue One" like a one-and-done project. The self-proclaimed "Star Wars" fan didn't expect much in terms of a spin-off (and short of some kind of supernatural loophole, a sequel was pretty much out of the question). 
Luna made peace with his time in that galaxy far away; he later told Entertainment Weekly that he was "ready to move on" from "Star Wars" altogether. That was, at least, until a spin-off for his character became a genuine possibility.
'I had so much more to say and do with this role'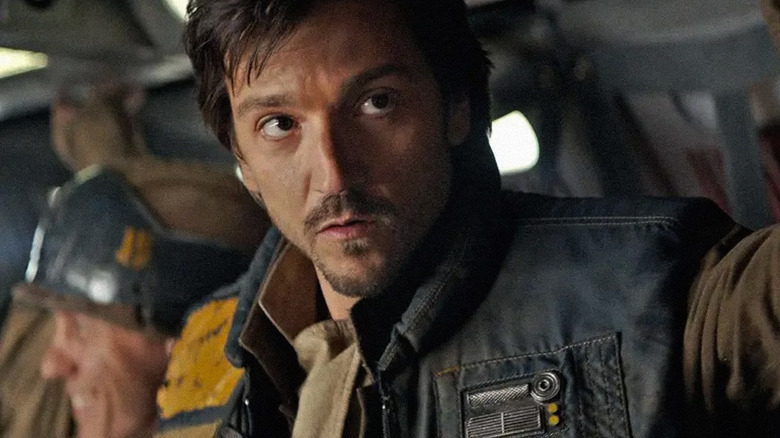 Lucasfilm
Throughout the process of filming "Rogue One," Luna was determined not to get attached to "Star Wars" — or even his character Cassian: 
"I remember living every day as if it was the last. I mean, I never thought of being part of this universe at all. I was just a fan, and one day I got a call. I thought it was going to be a one-time thing in my life, and I shared it with my kids, and I saw it."
Of course, that wouldn't really be enough for the actor: Luna would later admit to feeling "haunted" by the things Cassian said in "Rogue One," and the dark past that the character alluded to. Fortunately, he wasn't the only one curious about Cassian's backstory, and that interest merited a spin-off in "Andor."
When Luna got the offer to reprise his role for the Disney+ series, it made "complete sense." The fact that "Andor" would cover five years of the characters life across two 12-episode seasons only added to the appeal. "I had so much more to say and do with this role," Luna continued. "I just wanted to explore many things that I thought about while I was shooting that a film would never allow you to explore."
A new hope for Mon Mothma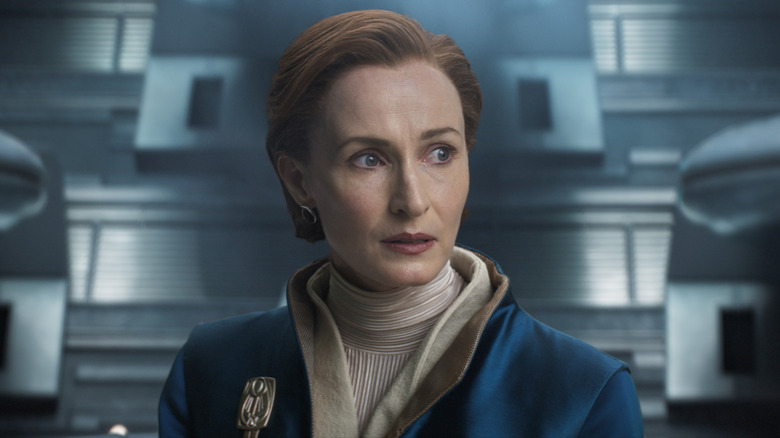 Lucasfilm
Luna wasn't the only actor on the "Andor" set who had unfinished business with their character. He found a kindred spirit in Genevieve O'Reilly, who first appeared as Mon Mothma in the 2005 prequel "Revenge of the Sith." O'Reilly unfortunately was cut from the theatrical version of the film, but her deleted scene hints at the beginnings of the Rebel Alliance that she'd go on to lead in "Rogue One." It was in the 2016 film that O'Reilly got a chance to portray Mon Mothma a second time, but even then her role was more or less a copy of Caroline Blakiston's exposition-heavy appearances in "A New Hope" and "Return of the Jedi."
O'Reilly was well aware of the enigma surrounding Mon Mothma in the films, as well as in animated series like "Star Wars: Rebels." As the leader of the Rebellion, Mon Mothma is more or less there to explain missions, reiterate the role of the council, or to set up the arrival of fan faves (like Princess Leia in "Rogue One"). In the films, there's never time to understand what makes Mon Mothma tick, or to understand her purpose for building the Rebellion. O'Reilly hopes that "Andor" will change that trend for the better:
"The idea of learning about this character — for me, as much as for anyone else — through a long-form narrative was really interesting. We have now the chance to get to know the woman. Previously, she was a bit of a pillar, or maybe a statue. I love that now we get to excavate that a little bit and learn about the human being — the woman behind the gown, if you will."
"Andor" premieres on September 21, 2022, on Disney+.