Genevieve O'Reilly On Returning To Star Wars To Flesh Out Mon Mothma In Andor [Exclusive Interview]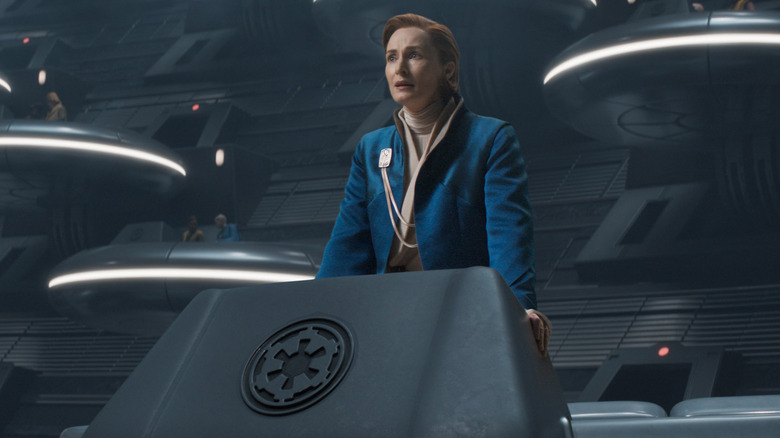 Lucasfilm
If there's one thing hardcore "Star Wars" fans love, it's taking to characters with relatively little screen time. There is perhaps no better franchise out there consistently ending up with these kind of results. Just look at Boba Fett, who had but a few minutes of screen time between "Empire Strikes Back" and "Return of the Jedi," and yet, he went on to become one of the most beloved characters in the history of the franchise. But the nice thing about the Disney+ shows is that they have allowed room for some of these characters to grow (for better or for worse). Next up to bat? Mon Mothma.
That name is surely familiar to longtime devotees of a galaxy far, far away, as she was one of the leaders of the Rebel Alliance in "Return of the Jedi," famously delivering "many Bothans died" line. Genevieve O'Reilly played the character in both "Revenge of the Sith" and "Rogue One," inheriting the role from Caroline Blakiston. Now, the actress is getting a chance to flesh out the character in a much more significant way in the upcoming series "Andor." Serving as a prequel to "Rogue One" that largely focuses on Cassian Andor and the formation of the Rebellion, the episodic nature of the series will allow for O'Reilly to get some meaningful screen time.
In anticipation of the show's release on Disney+ next week, I recently had the good fortune of speaking with O'Reilly during a press event that /Film attended to talk about bringing Mon Mothma to life in greater detail. 
'We meet her steeped in the Empire'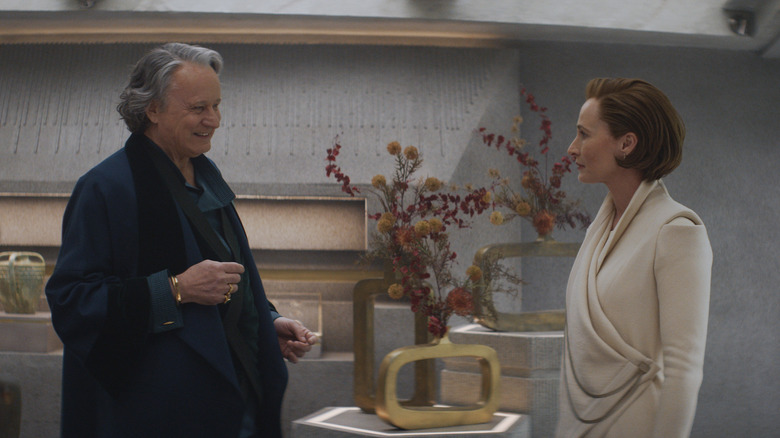 Lucasfilm
So just to start, I'm a gigantic "Star Wars" fan, and this is a character that has been part of "Star Wars" for a very long time. What does it feel like for you to finally get to be the person to actually flesh Mon Mothma out in a long more robust way?
I'm so grateful that I have the opportunity to explore her, but also that fans actually get to discover this woman in a way that they haven't previously. It's wonderful that both Tony Gilroy and Disney are interested in investing time and story in this woman, because I think she's really interesting.
When you first played the part briefly in the prequels all those years ago, did you ever think that you'd be coming back?
Never. It was such a wonderful opportunity when I was a very young actor to step into the shoes of Caroline Blakiston, who originated her with George Lucas. And I felt honored to be able to do that back then. So it's a bit of a dream to now, all these years later, to get the opportunity to flesh her out and to stand up for her, to stand up for  Mon Mothma, and to be excavating story about her.
I don't want to get too ahead of things, but we've got a couple of seasons of this show on the way. But with "Star Wars," it feels like stories are almost never done, and there's always more to explore. Do you think this is the last time you're going to play Mon Mothma, or do you think that there's more to explore with her down the road?
History has proven to me that it's always a surprise and it's always a joy to step back into her. So I don't know. And yes, always. I think she's a deeply interesting woman. George Lucas created a female leader of a rebel alliance back in the 1980s. I think that deserves a platform and storytelling, and I'm happy to stand up for her.
I couldn't agree more. Just real quick as we're wrapping up here, we've seen this character a bit before, specifically in "Rogue One." How would you describe the difference in this version of Mon Mothma versus who we've seen before?
We've never seen Mon Mothma like this, which is usually in a bunker or in a war room, surrounded by rebels, surrounded by like-minded people. This time we meet her in a very different place. We meet her steeped in the Empire. We meet her working and navigating the shadowy world of Imperial politics within the Imperial Senate. We meet her living as an Imperial Senator. We know from those deleted scenes in "Revenge of the Sith" that she was there at those very early conversations about trying to affect change within the Empire. Well, I think when we meet her in "Andor," she's come to the end of the hope that she can do anything from within, and she must risk everything that she's worked for her whole life, and step outside into quite a dangerous and shadowy world of standing up for what she really believes in.
"Andor " premieres on Disney+ on September 21, 2022.