House Of The Dragon's Emily Carey Was Reluctant To Join The Show For An Understandable Reason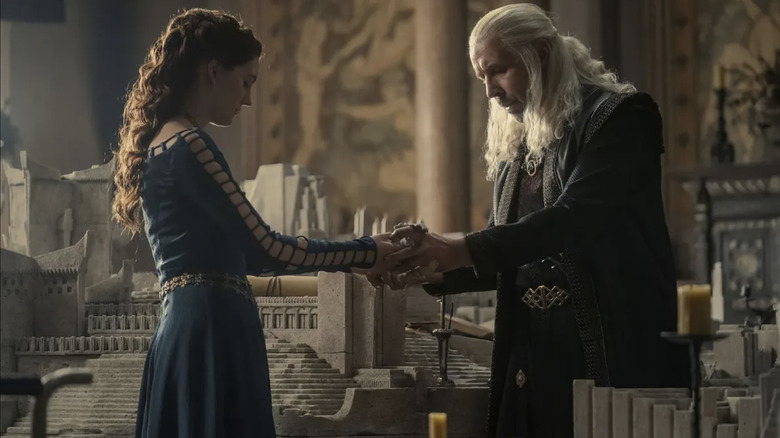 HBO
As the first season of "House of the Dragon" finally develops into a show that can stand on its own outside of the massive shadow cast upon it by "Game of Thrones," one of the standout performances has belonged to Emily Carey, the young bride of King Viserys Targaryen, and the dear friend of Princess Rhaenyra Targaryen. Carey's turn as Alicent Hightower has provided some of the best scenes of the season thus far, but considering the morally questionable circumstances that align Alicent with the Targaryen king, Carey was understandably apprehensive to take on the challenging role.
At the time of reading the script for "House of the Dragon," Carey was only 17. They were 18 by the time filming started, but the age gap between Carey and 47-year-old Paddy Considine, who plays Viserys, is considerable. According to an interview with Newsweek (via Variety), Carey noted that this age gap almost kept them from pursuing the role, considering the two are to share simulated sex scenes on screen.
"At that point I still hadn't met Paddy, I didn't know how much of a joy he was and how easy he was going to make [the scene], and all I saw was, you know, a 47-year-old man and me," they said. "I was a bit concerned." Performing intimacy in front of others can be extremely challenging on its own, but to add in a nearly three-decade age gap, it's understandable why the young actor would feel a bit reluctant.
All hail intimacy coordinators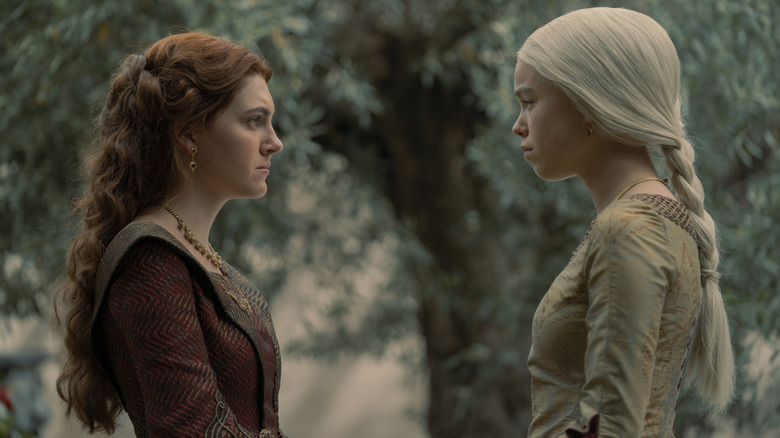 HBO
In 2018, HBO announced that they would be hiring intimacy coordinators for all of their productions, which includes "House of the Dragon." Their inclusion on set was a welcome addition according to Carey. "Having that outlet of the intimacy coordinator, to be able to talk everything through and not be shunned, or not feel awkward, or not feel like 'Oh, this isn't your job. I don't want to make you feel uncomfortable but can I ask you...' It was never any of that, it was just that open dialogue," they said. "In the rehearsal room she was a massive help, and on set she was a massive help ... it was a lot easier than I thought it was going to be."
Before Carey started production on "House of the Dragon," a watch of "Game of Thrones" was in order. It may be hard to imagine there being people who still haven't seen the show, but keep in mind Carey was still an elementary schooler when the series debuted. "Of course the first season, even just the first episode of 'Thrones,' there's a lot of violence upon women," they said. "There's a lot of violent sex, and it made me nervous, I was like, 'Oh God, what am I gonna have to do in this show?'"
Fortunately, Carey has felt comfortable and affirmed on the set, and even highlighted showrunners Ryan Condal and Miguel Sapochnik for allowing the space to have an "open conversation," and for making the cast "feel incredibly secure and safe."