HBO Hires Intimacy Coordinators To Oversee Sex Scenes In All Of Its Productions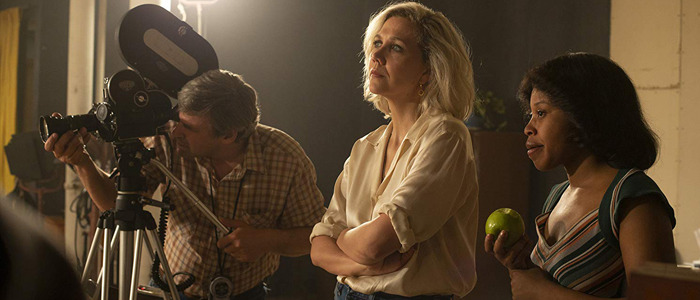 Systemic problems in Hollywood can be so widespread that they feel too big to overcome. But sometimes, change can be sparked by just one person speaking up.
The Deuce actress Emily Meade has inspired HBO to hire intimacy coordinators on all of its productions to serve as an intermediary between the actors, directors, producers, and crew during intimate scenes and ensure a safe and protected working environment. Previously, actors could often be left to their own devices while filming sex scenes, but at HBO, there will now be an advocate on set with them to make sure everyone is on the same page about what's going to happen when the cameras roll.Rolling Stone reports that Meade, who plays Lori on The Deuce, went to HBO executives and demanded that someone should be on set to help her during uncomfortable sex scenes. So the network hired Alicia Rodis, their first-ever intimacy coordinator, to fill that role. Rodis speaks to the director on actors' behalf, relaying concerns about a scene that would have otherwise gone unspoken.
Actors – especially women – have long suffered through emotionally and physically uncomfortable moments when they're exposed in front of a crew. But with someone like Rodis on set with them, they have someone who, as Rolling Stone explains, "reviews scripts, facilitates group discussions about the sex scenes they're going to film and meets with actors individually. When new or tweaked sex scenes are added to a day's shoot, [Rodis] is often the one to break the news to an actor, checking in to clarify what their personal boundaries are — to make sure, as she puts it, 'consent is informed and certain before we move forward.'" Here's more:
"Even I didn't understand the scope of just how much this had been ignored, and for how long," Rodis says of the need for intimacy coordinators. "There is such a power dynamic on sets, so much pressure and this sense that [as an actor] you just suck it up and do it."
Rodis, a former actor with a background in movement, fight scenes, and stunt performance, also uses her training to help actors fake sex scenes more convincingly:
"With intimate moments, from kissing to intense sex scenes, it's been the practice [for directors] to just say 'Whatever you're comfortable with, just go for it,'" Rodis says. "But if you're not giving someone a map or an exit or a voice, just asking actors to roll around and get off on each other, are you asking your actors to do sex work? Or tell a story with their movements?" She adds, "If your set doesn't have an intimacy coordinator, at best, you might not be able to tell the story you wanted to tell. At worst, you have actors who are being physically assaulted."
The network not only hired her for The Deuce, but has altered their policy so that every HBO film or TV production going forward that involves sex scenes will now have an intimacy coordinator on set. Rodis herself is overseeing Crashing, Damon Lindelof's new Watchmen show, and the Deadwood movie, and she's training others to work on upcoming productions like Jett and Euphoria.
HBO's sci-fi series Westworld found itself in hot water a few years ago when background actors were presented with consent forms that asked them to agree to "genital-to-genital touching" and to pose "on all fours while others who are fully nude ride on [their] back." The network blamed Central Casting for the incident at the time, but it's safe to say that in this cultural climate, the entertainment industry is on red alert when it comes to anything involving sex – simulated or otherwise.
But a year after the #TimesUp and #MeToo movements first arrived in Hollywood, it can sometimes be difficult to identify tangible, specific changes the industry has made to address some of the concerns of those movements. Thankfully, HBO has now set a standard that other networks should follow.