New She-Hulk Trailer Teases The Rest Of The Season, Gives Us A New Look At Charlie Cox's Daredevil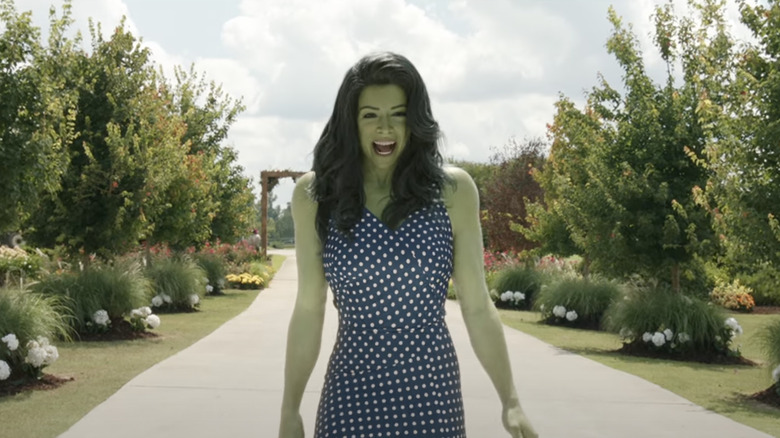 Disney+
If you're willing to look past the spoilers for "The Sopranos," there's a lot of exciting things coming up in the remaining episodes of "She-Hulk: Attorney At Law." For example, it looks like the Devil of Hell's Kitchen will be paying the Jade Giantess a visit as Jennifer Walters comes face-to-face with fellow superhero/lawyer Matt Murdock. But ahead of their meeting in an upcoming episode, Disney+ has dropped a new preview for their latest mighty Marvel series and it features a new look at that highly anticipated guest star.
In the latest teaser for the Marvel Cinematic Universe's breakout sitcom, Tatiana Maslany's hulking hero has to deal with a social media influencer trademarking the She-Hulk name for her own use. Jen tries to justify not trademarking the name herself by saying that Thor and Doctor Strange didn't have to do that, but her GLK&H co-worker Mallory Book, who is played by "Girls5eva" and "Hamilton" star Renée Elise Goldsberry, reminds her that those are actually their real names.
But we all know the real reason you came here. It's time to shout at the (dare)devil. Check it out in the video below.
Strength is beauty
As our hero continues to share some benefits of hulking out (which can also be hilariously described as "putting on your green suit" or "jolly greening yourself" according to some people, apparently), we see flashes of what's to come, such as another fight with Jameela Jamil's Titania, more Abomination action from Tim Roth, and even Frogman. But the highlight of the preview comes when Charlie Cox reprises his role as Matt Murdock once again after appearing in "Spider-Man: No Way Home." Although, this time he's suiting up as Daredevil for the first time since the Defenders' corner of the MCU switched streaming services and moved to Disney+.
Out of costume, Matt tells Jen that she can help people as a lawyer when society fails and again as She-Hulk when the law fails. Then, after a few quick flashes of Cox in his new red and yellow suit, She-Hulk says, "This guy is really kinda doing it for me." Girl, same. We're all here for more Charlie Cox/Daredevil.
Does this mean that the Man Without Fear could be Miss Walters' next love interest? Murdock has been a bit of a womanizer in a past life, so could that carry over into this new one ahead of "Daredevil: Born Again"? It might be hard since he's a New Yorker and she's in LA, but long distance relationships are a little easier these days thanks to technology. Either way, we'll see how this plays out as new episodes of "She-Hulk: Attorney At Law" premiere every Thursday.