Ant-Man And The Wasp: Quantumania Is 'Bananas,' Will Lead Directly To Avengers: Kang Dynasty [D23]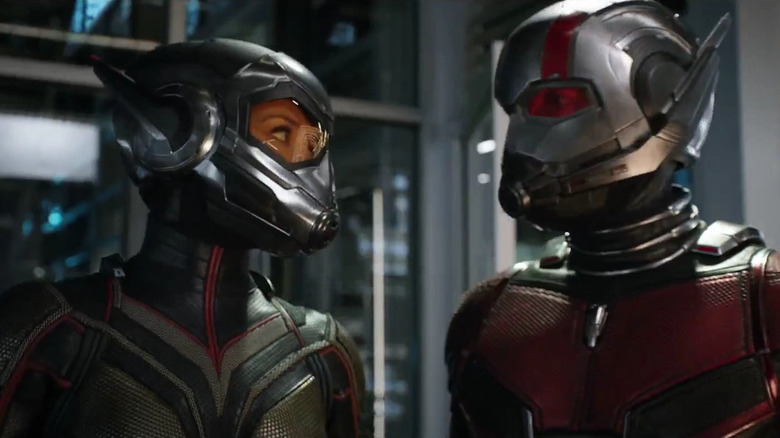 Marvel Studios
While some True Believers may view Ant-Man and the Wasp as a small part (pun intended) of the Avengers' story so far, they would be wrong. Not only have their movies delivered heartfelt moments and unforgettable comedy, but it was also Hank Pym's quantum technology that saved the day in "Avengers: Endgame" by making time travel possible. But now, the size-shifting heroes are about to play a large role in the future of the Marvel Cinematic Universe. In fact, it's been said that "Ant-Man and the Wasp: Quantumania" will have serious consequences for the future of the MCU. And though fans in Hall H were able to see what that could possibly mean at this past San Diego Comic-Con, we were finally able to learn what extent of those consequences at Disney's D23 Expo is happening in Anaheim, California.
/Film's Ethan Anderton was on the ground at D23, where he learned that "Ant-Man and the Wasp: Quantumania will not only kick off the Marvel Cinematic Universe's Phase 5, it will be a direct line to the next big team-up film, Avengers: Kang Dynasty. After his introduction in "Loki" on Disney+ as He Who Remains, Kang is being positioned to be the big bad of the ongoing Multiverse Saga, especially with Destin Daniel Cretton's "Avengers: The Kang Dynasty" on the horizon. However, before he can build that dynasty, the legendary villain has to get through Scott Lang and Hope Van Dyne first in director Peyton Reed and writer Jeff Loveness' upcoming film.
'This thing is bananas'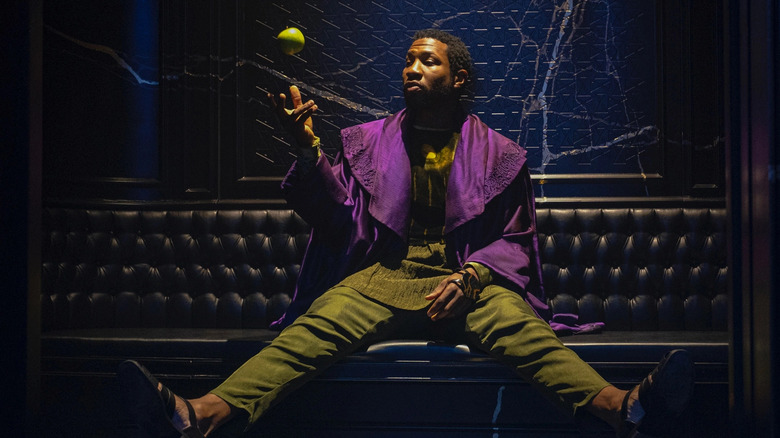 Disney+
Ant-Man himself, Paul Rudd, took to the D23 Expo stage today along with his "Ant-Man and the Wasp" co-star Evangeline Lily and Jonathan Majors, whose Kang the Conquerer will apparently play a role in the new film. According to /Film's reporting from Ethan Anderton, Rudd singled out Majors, who made his debut as "He Who Remains" in the Disney+ series "Loki" last year, as a highlight of the new film. "That guy," he said, pointing to the actor, "he's incredible. [Kang] throws this whole thing into such new territory."
Rudd also confirmed that "Ant-Man and the Wasp: Quantumania" will begin a direct line into phase 5 that leads to the Kang Dynasty plotline, which in turn will culminate with "Avengers: The Kang Dynasty" in 2025. The latter film was announced at San Diego Comic Con this year as a part of Marvel's massive phase 5 slate of projects, but this is the first confirmation that "Quantumania," which Rudd says is a very big movie that's unlike any other Ant-Man, will kick off the long-haul storyline that will play out throughout phase 5.
"This thing is bananas," Rudd said before footage from the film screened for the D23 audience. The sneak peek shared today apparently closely resembles the footage dropped at Comic-Con, while Marvel president Kevin Feige says we'll have to wait a while longer for a full trailer from the film.
Paul Rudd and Evangeline Lily return for the third film in the "Ant-Man" series as they reprise their roles once again as the titular heroes. They will star alongside a star-studded cast that also includes Majors, Michael Douglas, Michelle Pfeiffer, Kathryn Newton, and Bill Murray.
"Ant-Man and the Wasp: Quantumania" premieres in theaters on February 17, 2023.