Blonde Review: Ana De Armas' Powerhouse Performance Tries Hard To Save An Ambitious Mess [Venice]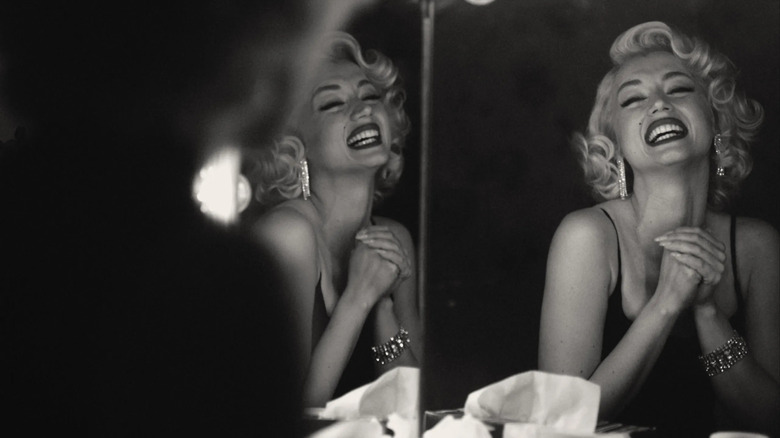 Netflix
Revisionist history can, in the right context, be quite fun. Movies like "Inglorious Basterds" come to mind: exciting, surprising, and bold works that expand on — and in some cases, make better — the reality of our world and history. As for Andrew Dominik's latest feature, "Blonde," it could've been a masterpiece in the same vein, but the film (adapted from Joyce Carol Oates' 2000 novel of the same name) comes off as a half-baked fever dream that asserts a lot of good ideas and solid performances without the strength of the cinematic flair it needs behind it. Ana de Armas is a marvel as Marilyn Monroe, embodying her mind, body, and soul — but it's not enough to pull this film out of the mess it makes of itself. It's one of those movies that has a decent amount of great elements, but when they're smashed together, it becomes more of a car crash than an expressionist work of art.
"Blonde" follows the somewhat fictionalized story of one of America's greatest stars of the screen, Marilyn Monroe. The film explores her early life, when she was simply Norma Jean Baker, through her well-known shot to stardom — and the subsequent downfall she faced throughout several relationships, marriages, movies, and attempts to have a child.
An audacious biopic attempt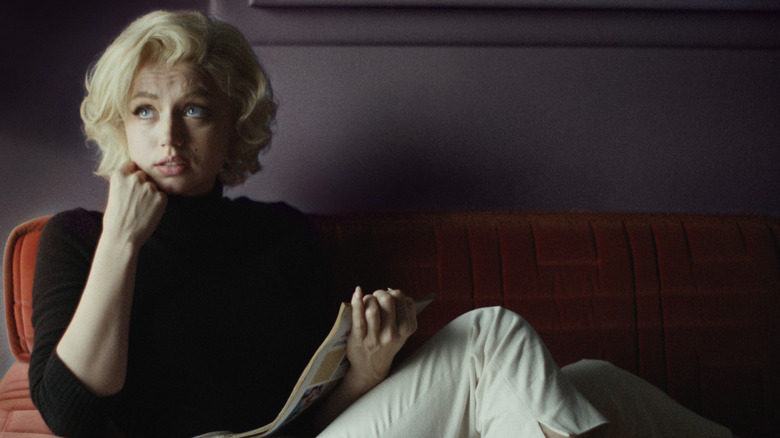 Netflix
Let's start with this: The film is undoubtedly audacious, but not necessarily in a good way. Dominik's direction plays out quite disjointed on screen, and it becomes obvious that he has a lot of interesting ideas, but his execution leaves something to be desired most of the time. I love a bold, unapologetic film, but in order for that boldness to hit home, the movie needs to not only achieve a sophistication that removes any cheapness — it also has to be saying something it hasn't already said. "Blonde" certainly doesn't tell us anything we don't know about Monroe, and it doesn't — at least not consistently throughout the film — give her story the carefully crafted treatment it deserves. It feels as though Dominik had a lot of ideas, and wasn't exactly willing to kill any of his darlings. It's not easy to do, but it would have served the story, and shortened an unnecessarily long film.
The first 20 minutes of the film, during which we meet young Norma and delve into her fraught relationship with her disturbed mother (Julianne Nicholson), aren't well acted or written, which sort of sets the audience up with a sour taste in their mouths from the beginning. I'm quick to give actors the benefit of the doubt; most times, they're doing the best with the tools they're given, but I was disappointed with the way the film tried to raise tensions through the subpar performance of Norma's mother. After the film segues into the actress' 20s, it bleeds into something a lot more fun, and naturally, de Armas' performance seems to bring out the best in everyone. In fact, during a scene where the now-semi famous Norma visits her mother in a hospital after 10 years, Nicholson does some of her best acting in the film — and de Armas gives that level of performance quality right back to her. It's a heartbreaking scene, and it leaves you wondering why everything in the film's opening scenes had to be so heightened when Nicholson, and by extension de Armas, are so good at small, powerful gestures and glances.
The film's visual strengths and weaknesses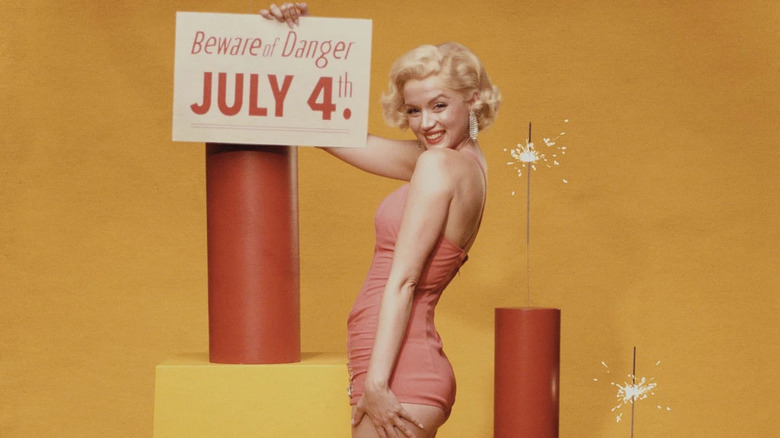 Netflix
One of the film's greatest strengths were its striking visual flairs. I deeply enjoyed some of the metaphors being presented via images, one of my favorites being a scene where Monroe walks a red carpet for one of her film premieres. As she walks toward the theater, the camera pans along the crowd of men waiting and cheering for her, but something feels off. It takes a few seconds to realize that their mouths are enlarged, comically long and wide in a way that is deeply unsettling. It's a beautiful yet nasty nod to how Monroe has been devoured by men in all aspects of her life — the theme of her absent father, whose identity she does not know, is a constant throughout the film — and career for as long as she can remember.
Later, there is a scene in which Monroe is in and out of a catatonic, potentially drug-induced state on a flight. As she weaves in and out of the seats, stumbling on other passengers and their beverages, the film pulls us from the plane to the movie theater and back again, making a comment about how Monroe's profession is haunting her, and despite loving the craft, the business element of the job — which, to her, is the most distasteful part — is always lurking around every corner. 
A lack of nuance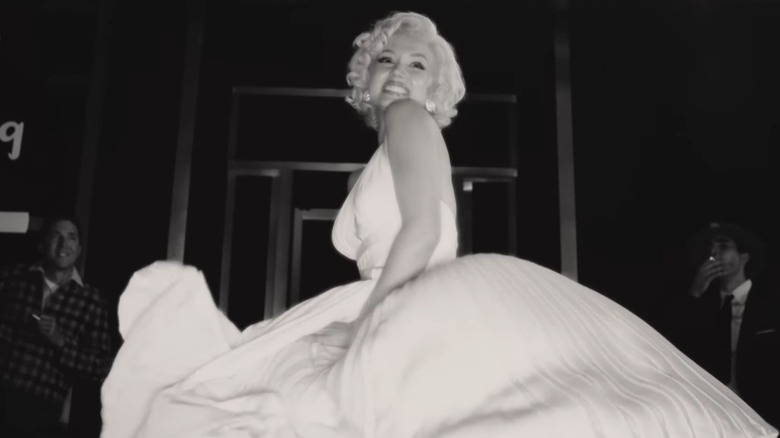 Netflix
I wanted more of these layered, nuanced moments, but was met instead with hollow visual gimmicks. For example, Dominik used POV shots several times in the film, focusing the camera on his actor's faces and letting their movements dictate how the background image would be presented on screen. During one such shot with Bobby Cannavale, who plays Monroe's short-lived husband and retired baseball player Joe DiMaggio, the erratic camera movements — which could be very telling in regards to his character's abusive tendencies — come off very amateur and out of place in the rest of the film. Dominik focused more on making this film a hodgepodge of ideas and visual representations rather than building something cohesive; the only thing that is cohesive is the throughline of Monroe's story — despite the fact that we as audience members can't really tell exactly what is truth and what is fiction. 
De Armas was incredible in the role, there's absolutely no denying that fact. But neither the direction nor the script actually served her performance. It was an impression of Monroe, which in and of itself was the real Norma Jean Baker's impression of what she thought a bombshell movie star was. Paired with the film's incredible costuming, make-up, and de Armas' — let's be real — nearly identical face, de Armas' dazzling screen presence is inarguable. But with a disjointed directorial eye and a messy script, de Armas is simply doing the best she can within the chaotic world of Monroe's life, but also the chaotic world the film itself forces her to be a part of.
/Film Rating: 5.5 out of 10