Lyle, Lyle, Crocodile Trailer: Shawn Mendes Becomes A Singing Crocodile Who Is Allegedly Friendly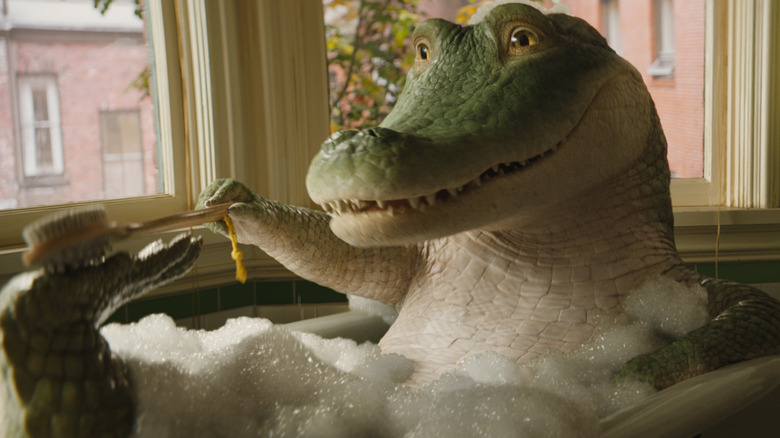 Sony Pictures
The complicated world of Hollywood is always a-changing, but if there's anything in this world that we can count on, it's talking animals befriending lonely children. In the vein of "Clifford The Big Red Dog," "Paddington" and maybe even "Detective Pikachu," comes "Lyle, Lyle, Crocodile." Based on the best-selling book series by Bernard Waber, the film tells the story of a friendly crocodile who loves baths, singing, and his local community. Oh, and Lyle is voiced by pop-singing sensation Shawn Mendes.
Obviously, you have some questions: will there be an in-universe explanation for why Lyle the crocodile can sing? How many of Shawn Mendes' actual songs will be in the movie? Will it ever get less weird to hear the pop star's voice come out of a CGI crocodile? I can answer absolutely none of these questions but here's what we do know — "Lyle, Lyle, Crocodile" involves lots of hijinks and hilarity going down in NYC. Here's the synopsis:
When the Primm family (Constance Wu, Scoot McNairy, Winslow Fegley) moves to New York City, their young son Josh struggles to adapt to his new school and new friends. All of that changes when he discovers Lyle – a singing crocodile (Mendes) who loves baths, caviar and great music-living in the attic of his new home. The two become fast friends, but when Lyle's existence is threatened by evil neighbor Mr. Grumps (Brett Gelman), the Primms must band together with Lyle's charismatic owner, Hector P. Valenti (Bardem), to show the world that family can come from the most unexpected places and there's nothing wrong with a big singing crocodile with an even bigger personality.
"Lyle, Lyle, Crocodile" comes from directors Will Speck and Josh Gordon, and is set to arrive in theaters later this year. Today, Sony released a new trailer to get everyone hyped about Lyle's big debut!
Watch the Lyle, Lyle, Crocodile trailer
Society will try to convince you that "Lyle, Lyle, Crocodile" isn't a horror movie, but don't take the bait — this is obviously the scariest film you'll see in a theater all year. Just look at the facts: it's coming out in October and it features a singing crocodile. Evidently, the story kicks into gear when the Primm family settles into their new home only to discover that a crocodile lives in the attic (that's the sort of thing that should be disclosed pre-mortgage, so someone has clearly committed a crime). Said crocodile not only refuses to leave but befriends their young son and at one point, joins him on the back of a motorcycle to wreak havoc on New York City. If you swap out the upbeat pop music for some haunting violin strings, I'm pretty sure Lyle will give you nightmares.
But judging by the featured music, I doubt that's a real concern: the movie musical includes original music from songwriting duo Benj Pasek & Justin Paul, whose work you'll recall from "The Greatest Showman," "La La Land" and "Dear Evan Hansen" (which is its own kind of horror movie). Other songwriters who worked on the film include Ari Afsar, Emily Gardner, Xu Hall, Mark Sonnenblick, and Joriah Kwamé. The film itself hails from "How to Train Your Dragon" writer Will Davies and stars Constance Wu, Scoot McNairy, Javier Bardem, Winslow Fegley, and Brett Gelman.
"Lyle, Lyle, Crocodile" comes to theaters on October 7, 2022.