How Justin Roiland And Dan Harmon Each Approach Rick And Morty Differently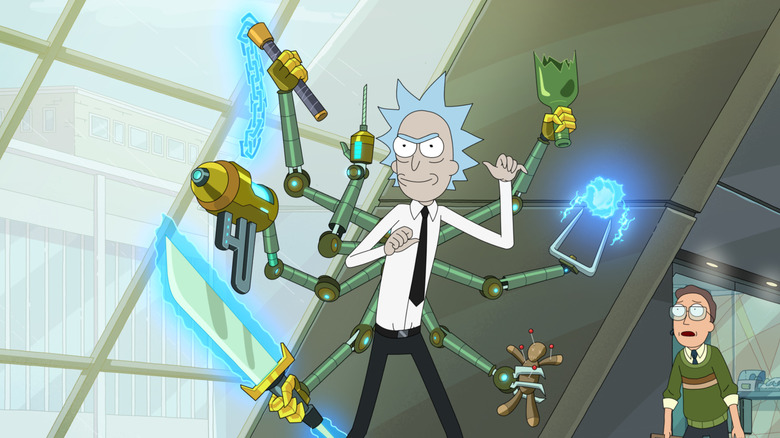 Adult Swim
"Rick and Morty" creators Dan Harmon and Justin Roiland are two very different personalities that form an unlikely creative partnership. Harmon developed a reputation for being controlling and outspoken on the set of his live-action sitcom, "Community." Roiland, on the other hand, is notoriously laid back. Rather than clashing, their styles compliment one another and provide a balanced creative environment for their voice actors.
The animated sci-fi series "Rick and Morty" follows an intergalactic renegade scientist and his teenage grandson as they travel through alternate dimensions. As the series progresses, the rest of the family joins them on their misadventures. Much to Rick's chagrin, this includes his son-in-law Jerry, voiced by Chris Parnell.
Harmon and Roiland have both been more hands-off in recent years, according to Parnell. Roiland directed the pilot episode, but has since deferred to other talent to direct the series. "These days, usually, they're not in the booth," Parnell told Syfy. "Justin might be, [but] Dan very, very rarely is."
Although neither creator is credited with directing any episodes of "Rick and Morty" beyond the pilot, there were a few episodes that they each decided to take charge of. Harmon does sometimes take the reins on-set, according to Parnell, and when he does he holds them tightly.
"On the occasions when Dan has directed, he takes a lot of time with it. He often has a very specific idea of what he wants from the scene and wants from my performance. It's a different thing, it's nice. I like to be directed, and it's nice when people have a specific idea and they know what they're doing."
When Roiland takes the lead creatively, his approach differs from Harmon's in one huge way.
Roiland is a little more freewheeling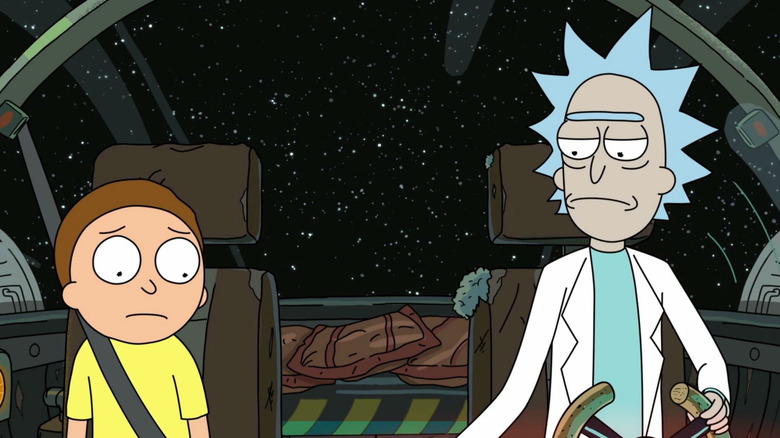 Adult Swim
Roiland voices both Rick and Morty, while Harmon has only voiced minor characters like Birdperson. Since Roiland spends more time in the studio than Harmon, this gives him more oversight into the production of "Rick and Morty." He is also present to direct the actors more often. Parnell described Roiland as "not surprising, a little more freewheeling" than Harmon. Still, Roiland's approach is not totally different from his co-creator's. "He also has a pretty specific idea of what he wants out of a line, what he wants out of a scene, and what they envisioned when they wrote it," Parnell explained.
This is not to say that either of the creators are excessively controlling. "I think they write it with my voice in mind and trust me to bring different colors to it, different aspects to it, even than what they might have thought that I would when they wrote it," Parnell said.
The co-creators of "Rick and Morty" established an incredible premise with their co-written pilot. From there, they hired writers and directors that understood not only their own comedic voices, but the actors' as well. They trust the team that they've put together for the show, as Parnell suggests. Maybe this is why Harmon doesn't supervise many of the recording sessions — he trusts his actors. This creative direction will keep "Rick and Morty" funny even as Harmon and Roiland become progressively more hands-off in the years to come.