Justin Roiland Sees The Irony In All Of Those Rick And Morty Brand Deals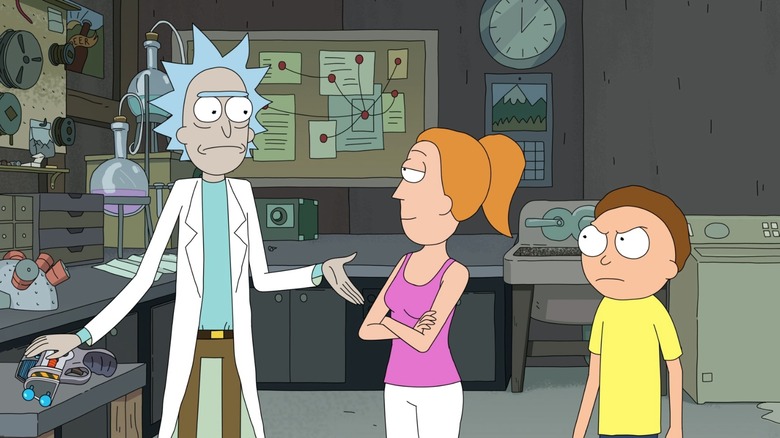 Adult Swim
TV show brand deals: they're usually corny, often unimaginative, and almost always impossible for viewers to witness while maintaining suspension of disbelief. Nothing ruins a dramatic moment like a character suddenly stopping to compliment a car's upholstery, and nothing makes a lovable show more annoying than seeing its characters hawking wares on commercials 10 times a day.
But if there's one way a series can integrate brand deals with its existing universe without alienating viewers, it's by going fully meta with it. Dan Harmon took this approach with "Community" years ago, and now his "Rick and Morty" co-creator Justin Roiland is doing the same with the Adult Swim animated series. Since the show began, its titular characters have popped up all over the place, selling Pringles and PlayStations, and rhapsodizing about the appeal of Carls Jr. burgers and Old Spice deodorant.
A meta twist on branded advertising
Only, there's a clear self-aware edge to these commercials: they make fun of their own premise and the money-hungry machinations of capitalism, with Rick (Roiland) often counting money or reading off a visible script. "When I'm writing those commercials, I try to just poke fun at the concept of advertising and I try to stay true to the show's tone and the characters," Roiland told Collider last year. The series co-creator, writer, and star says that he writes these commercials himself, but is not actually in the room when brand deals are being made.
Roiland says his main goal when writing ads set within the "Rick and Morty" universe is to "keep Rick cynical." It's one he pulls off, as the character comes across as disinterested in the products at hand, but very interested in the cash they'll bring in. "Rick is the type of person that would see right through any f****** advertisement and who these big corporations are, the whole corporations weighing in on socio-political stuff," Roiland tells Collider.
Meanwhile, Morty is at times made into a pawn in the consumerist machine — sometimes literally. In the show's Pringles ad, for example, he starts excitedly talking about the idea of stacking different types of Pringles to create distinctive flavor combinations, only for Rick to tear off his face and reveal he's actually a Pringles-branded robot. The Super Bowl commercial escalates quickly, with Rick and Summer (Spencer Grammer) soon overwhelmed by Pringles-obsessed Morty machines.
Rick's cynicism keeps it fresh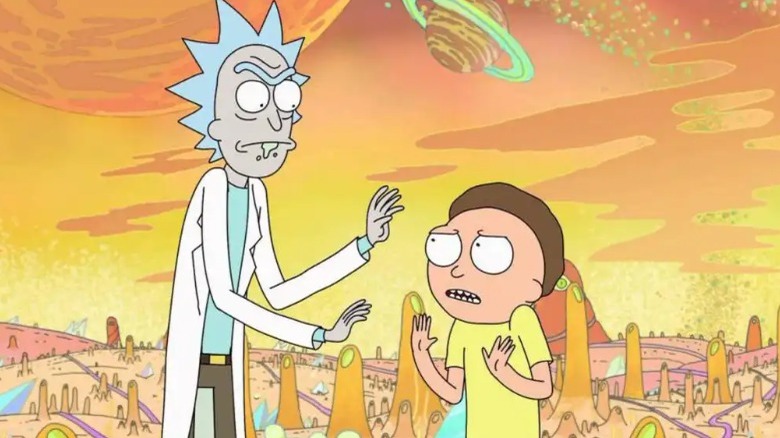 Adult Swim
Roiland admits that it's not always easy to stay true to the voice of the series while delivering the type of advertising companies want. "It's a bit of a tightrope act, especially when you're submitting to the ad agency," he says. "They're showing it to the client and you're going to get notes from both, and trying to maintain that level of cynicism and staying true to the characters while also getting those notes implemented." The writer, who wrote commercials before he began working in Hollywood, says navigating that tightrope can be "a nightmare in some cases."
Still, he's found ways to make the commercials and crossovers authentically hilarious, like when Rick wakes up Morty by bursting into his room with a bullhorn, followed by a lineup of sauce-drooling anthropomorphized burgers. "What made that work for me was, it's like, 'Oh, Rick's in on the take and he's also torturing Morty with it.' There's something really funny about that," Roiland tells Collider. He's absolutely right. Product placement and branded ad deals will always be an annoying part of television, but it's also a system as old as the format itself, and "Rick and Morty" makes it more bearable by making it feel new–and funny–again.
"Rick and Morty" season 6 is now airing, with new episodes on Adult Swim every Monday.