Matthew McConaughey's Contact Role Seemed Hand-Crafted For Him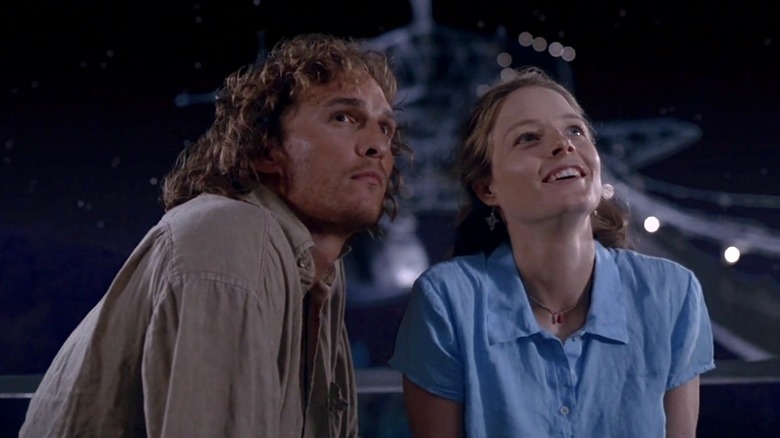 Warner Bros.
Science and religion make for strange bedfellows, but in "Contact," we see two characters who personify them in bed together, anyway. One of them is Jodie Foster's atheistic protagonist, Dr. Ellie Arroway. The other is Matthew McConaughey's unconventional "man of the cloth, without the cloth," Palmer Joss, who got his "master's in divinity" before dropping out of the seminary to do humanitarian work. Ellie and Palmer meet in Puerto Rico, go star-gazing, and quickly wind up between the sheets, enabling McConaughey to do what his "Interstellar" co-star Matt Damon once teased him for and appear shirtless after three scenes.
By 1997, the John Grisham adaptation "A Time to Kill" had established McConaughey as an up-and-coming leading man, but Palmer Joss is a character he identified with to such an extent that he was willing to take on a supporting role in "Contact." In Vulture's oral history of the film for its 25th anniversary, McConaughey — the onetime rom-com poster boy — outlined how he initially eschewed the obvious movie star route and gravitated toward more meaningful roles in "Contact" and Steven Spielberg's "Amistad":
"I went on a little spiritual walkabout for 22 days with myself in Peru. I've always been a believer. I had spent time in my life considering being a monk. I came back, and that's when I made the decisions to do 'Amistad' and 'Contact.' Instead of choosing the lead male role in movies that were being offered to me, I really wanted to choose, What stories do I feel like are worthy and necessary to be shared? I felt it was a philanthropic choice, I dare to say. The fact that it proposed this paradox between science and religion, between science and belief, between science and faith, was a subject that I'd been interested in all my life."
'The search for truth'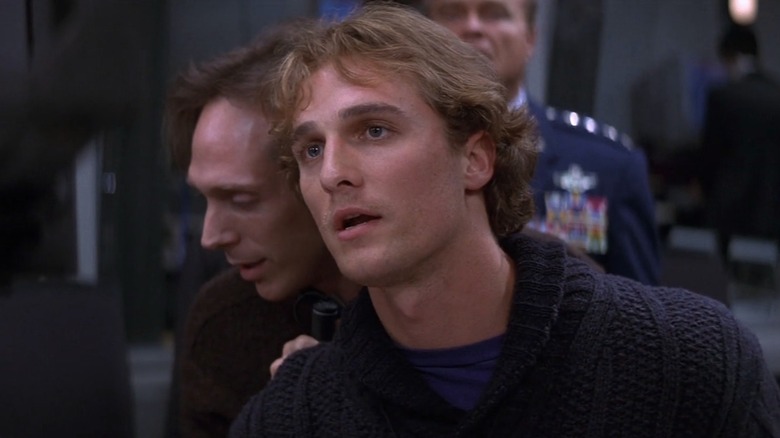 Warner Bros.
In "Amistad," McConaughey plays a lawyer defending a group of Africans who revolted aboard a slave ship, only to find themselves accused of piracy. So it's easy to see, from his perspective as an actor, how that role might have held a "philanthropic" angle. "Contact," meanwhile, juxtaposes his character's belief in God with Ellie Arroway's belief in intelligent life beyond Earth, which one of her fellow scientists ridicules with the Spielberg movie reference, "Ellie! Still waiting for E.T. to call?"
In real life, McConaughey had written papers about science and religion in college, believing that "science is the practical pursuit of God." Onscreen, Palmer Joss describes it as "the search for truth," which religion comes at in a spiritual way. Needless to say, McConaughey came prepared for his role in "Contact," where science and religion become an ongoing conversation throughout the movie between Ellie and Palmer:
"I remember showing up to my first meeting with [director Robert] Zemeckis with a lot of journals that I had written on the subject, and school papers that I had written. I came in just like a school boy: 'I've been writing this, and I am the Palmer Joss character in this story from my own belief perspective. This subject fascinates me, and I want to be a part of it.'"
While McConaughey's choice of roles in the years following "Contact" might have left something to be desired, the perfect acting storm of his Oscar-winning role in "Dallas Buyer's Club" and Emmy-nominated role in "True Detective" (which Foster will soon star in, too) helped revive his career. The "McConaissance" of 2010s was a comeback for him to the kind of deeper roles he was drawn to early in his filmography, "Contact" being one of them.