TV, Interrupted: Rutherford Falls Deserves A New Place To Call Home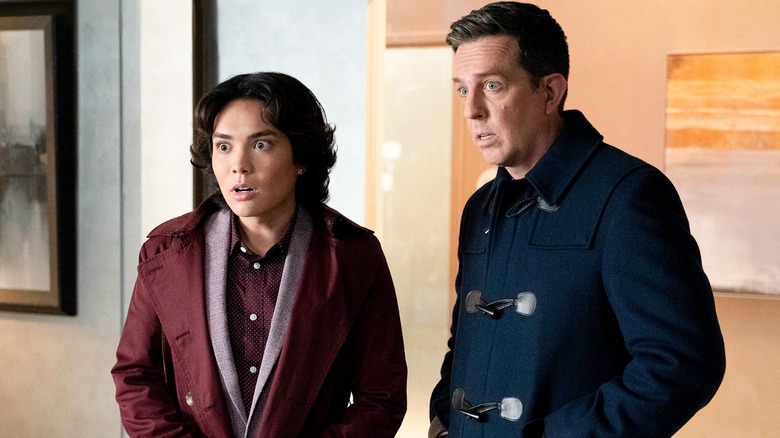 Peacock
(Welcome to TV, Interrupted, a series where the /Film team remembers, eulogizes, and makes a case for the revival of TV shows we loved that were canceled far too soon.) 
Often, the shows we cover here at TV, Interrupted have been off the air for quite a while. We're here for the Hannibals, the Wonderfalls, and even the Carnivàles. But every now and again, a fresh cancellation feels too acutely unfair to ignore, and some shows are worth celebrating — and pitching to new networks — before the dust has even settled. "Rutherford Falls" is one of these rare cases. News of the Peacock series' premature demise just broke on Friday, and while its cast and crew are still sharing their own statements about its ending, I'm already falling back into a rewatch of one of the most underrated comfort watches of the past few years.
"Rutherford Falls" is a small-town sitcom in the vein of "Parks and Recreation" (it shares a co-creator with that series), but it also centers Indigenous culture at every possible turn. The series follows Reagan (Jana Schmieding), a Minishonka Native American woman who juggles her personal life — including a long-time friendship with best bud Nathan (Ed Helms) — with her work at a local cultural center.
Meanwhile, Nathan has his own history geek calling, as he runs the Rutherford Falls heritage museum that celebrates his own ancestor, the town's white settler founder. The show follows the pair and their friends and colleagues through crisis, calamity, and some great sophomore season rebirth as they navigate the dual, always-rocky terrains of public service and cultural identity.
Why Rutherford Falls is great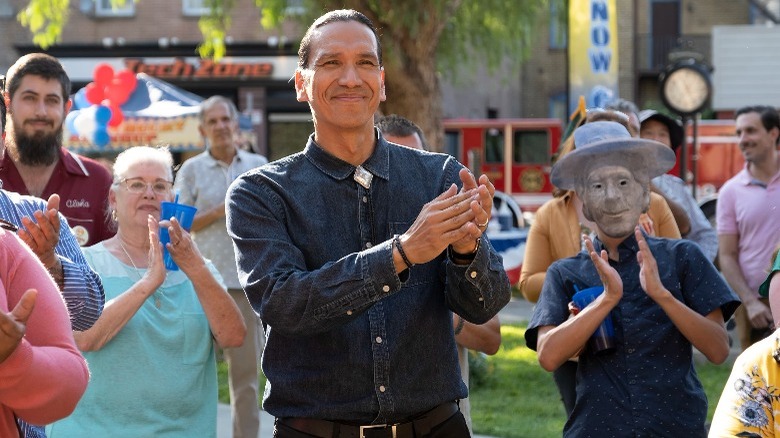 Peacock
The Minishonka tribe may not be real, but the comedy and emotional truth of the Native viewpoints presented in "Rutherford Falls" is certainly authentic. The show boasts a writers' room worth of talented Indigenous screenwriters, and its plots reflect refreshing and vital viewpoints that are rarely seen on TV. There are countless small-town sitcoms out there, but how many of them bring heart and humor to topics like "Pretendians," questionable historical monuments, and the wildly offensive misrepresentation of Native people in pop culture?
Exactly none. While "Reservation Dogs" is another Native-made show doing awesome work, it's more of a surreal dramedy, and before these two shows premiered in 2021 there were virtually none like them in existence. "Rutherford Falls" breaks new ground and is downright entertaining while it does: the show's second season has a rare 100% critical score on Rotten Tomatoes. Ed Helms co-created the show with Mike Schur ("Brooklyn Nine-Nine," "The Good Place") and Navajo filmmaker Sierra Teller Ornelas, and together the three have made a comedy that's not just unique, but also warm. By its second season, it evolves into prime comfort watch material, and each successive episode is funnier than the last.
While "Rutherford Falls" centers perspectives that rarely get the spotlight in Hollywood, it's also worth checking out for reasons that go far beyond its one-of-a-kind premise and cultural importance. Namely, the show has a stacked and hilarious cast. Michael Greyeyes puts in a phenomenal performance as driven casino CEO Terry, while Jesse Leigh steals every scene they're in as Nathan's high school-aged assistant Bobbie. "Schitt's Creek" actor Dustin Milligan and "Reservoir Dogs" spirit guide Dallas Goldtooth are among the winning supporting ensemble as Reagan's two love interests. Frustratingly, "Rutherford Falls" was clearly hitting its prime just before its cancellation.
Why Rutherford Falls was canceled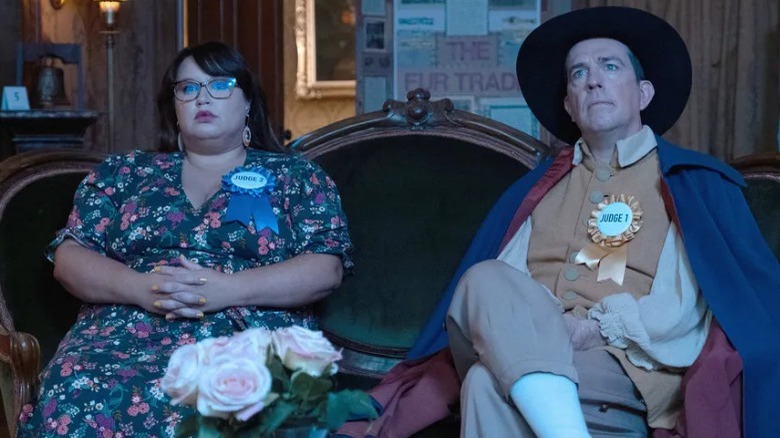 Peacock
On Friday, TVLine broke the news that "Rutherford Falls" was canceled. While the outlet didn't share a reason for the cancellation, Deadline pointed out that it was the second Peacock show by Mike Schur to get the axe this summer, after his "Field of Dreams" reboot was scrapped a month before it was set to begin production. This pattern likely has less to do with Schur himself and more to do with Peacock's overall struggles within the crowded streaming service lineup.
Reports indicated that demand for Peacock was unsustainably low last year, when the NBCUniversal service was just over a year old. Now, two years after launch, it has just slashed its premium prices, another sign that its viewership may not be robust enough to offset the cost of all of its originals. There's a good chance "Rutherford Falls" won't be the last series to be cut short this year; several other originals including "Girls5eva," "Queer as Folk," "MacGruber," and "The Resort" are still awaiting news of cancellation or renewal. Peacock simply doesn't have the audience (and therefore the money) that bigger streamers do, and its original programming lineup is seemingly being pared down in response.
While "Rutherford Falls" doesn't have a future at Peacock, that doesn't mean it doesn't have a future elsewhere. Another streamer, channel, or platform could still choose to pick up the show for a third season. We'll get into that below.
Unfinished Business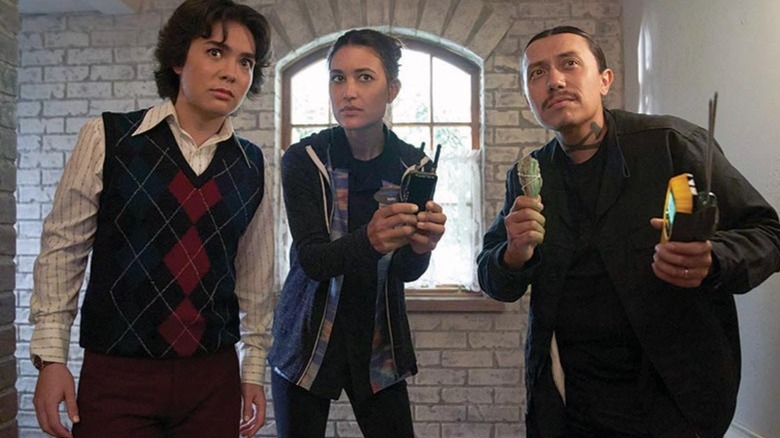 Peacock
If "Rutherford Falls" does close the book on its story after season 2, it'll be with several unwritten endings. For one, in an eleventh hour twist, Bobbie was elected mayor despite enduring a smear campaign conducted by their opponent, Feather (Kaniehtiio Horn). But the race ended up putting Bobbie (and by proximity, likely Nathan) at odds with Terry, as Bobbie publicly threw Terry's son under the bus to save face.
Meanwhile, the series also ended with not just one but two love triangles. After finding out he impregnated the former mayor, Deirdre (Dana L. Wilson), Nathan spent the season trying to win her affection. She finally decided to give their relationship a go, but her decision came right after he finally hooked up with Ms. Fish (Beth Stelling), who's had a desperate crush on him for two seasons. To make matters worse, Ms. Fish is Deirdre's doula.
Reagan ended the season caught between two romantic options as well, and her decision is a lot harder than Nathan's (pick Deirdre, dude). On the one hand, her cute podcaster ex, Josh (Milligan, aka Ted from "Schitt's Creek"), is back in town and still seems into her. On the other, she's quickly built a comfortable life with Nelson (Goldtooth), the museum curator she hit it off with after hiring him at the cultural center.
Reagan also has ambitious new plans for the community, declaring her intention to use her land allotment to build a space for Native singles. Meanwhile, Terry is getting into the cannabis business after he and Reagan shared a super-productive high. There are a half-dozen plotlines "Rutherford Falls" could explore in season 3, and I'd be eager to see them all. Although, honestly, I'd pay any streamer extra to see what Bobbie's inevitably wild mayoral reign would look like.
Will Rutherford Falls ever return?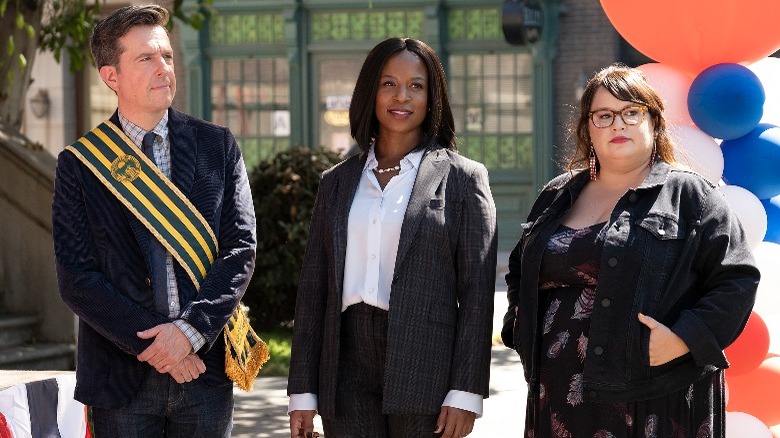 Peacock
The short answer: it very well could. "Rutherford Falls" is a good show that any streamer or network would be lucky to have, and the team behind it doesn't seem ready to give up on it either.
Hot on the heels of the cancellation news, Ornelas shared a powerful statement about the past, present, and future of the show on with Deadline. Here's part of her statement, which can be read in full here:
It's been a true joy to make these two seasons of Rutherford Falls. Mike Schur, Ed Helms and I set out to make something new, real, and smart — but also dumb — that made you cry and think, but also laugh when Reagan got kicked in the face or Nathan was stuffed into a coffin. Borrowing a line from Terry Thomas, played by the ridiculously talented Michael Greyeyes, before our show, "Native representation [was], for the most part, a hate crime." Which is why it's been an honor to introduce the best of Indian Country to the masses.
"We love these characters, the world we created, and the impact it has had," Ornelas concluded, before promising that the show "will be exploring other platforms where, hopefully, the folks of Rutherford Falls can call home." Schmieding also spoke up about the show's future, sharing words of thanks on Twitter as well as the simple message: "I've been surviving this pandemic with the #RutherfordFalls folks. We're resilient af. Bet on us."
We will, because "Rutherford Falls" is a show worth betting on. Hopefully, we'll get to visit again soon.