Rutherford Falls Has Been Canceled At Peacock, But There's Still Hope For Season 3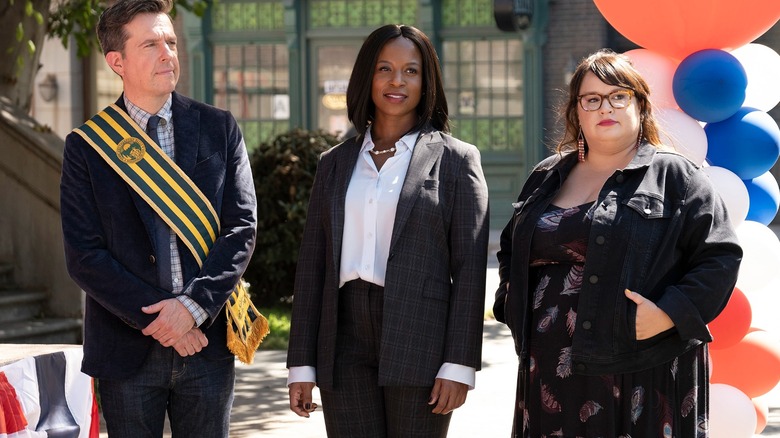 Peacock
"Rutherford Falls" has been cancelled. The Native American-led sitcom set in a fictional small town has aired two seasons at Peacock, but today TVLine reports it won't get a third. This is frankly heartbreaking news for anyone who was following the sweet, clever comedy, which is one of only a small handful of American TV shows ever made by and about Native American people. But all hope isn't lost, as series co-creator Sierra Teller Ornelas has shared her intention to find a new home for the series if possible.
The series was made by Ornelas, a Navajo writer and filmmaker, along with star Ed Helms and "Parks and Recreation" and "The Good Place" creator Michael Schur. Unfortunately, though, "Rutherford Falls" never seemed to have the visibility of Schur's other shows, and remained a hidden gem for its two-year run. 
Helms and Jana Schmieding lead the cast as two long-time best friends, Nathan and Reagan, who are both involved in local historical preservation. While Nathan runs a heritage museum celebrating his forefathers, Reagan works hard to shed light on the fictional Minishonka Nation's culture. Like "Parks and Recreation," the show focused on issues of small-town civic engagement and the personal lives of its characters, but it also brought a voice and a sense of humor to issues that directly impact Indigenous Americans.
The supporting cast for "Rutherford Falls" includes Dustin Milligan ("Schitt's Creek"), Dallas Goldtooth ("Reservation Dogs"), Dana Wilson ("Dexter"), and Kaniehtiio Horn ("Letterkenny"), along with wonderful, scene-stealing performances from esteemed actor Michael Greyeyes ("Wild Indian") and relative newcomer Jesse Leigh ("Heathers"). While Greyeyes' performance as casino CEO Terry Thomas was both intense by design (his season 1 monologue is among the show's highlights) and slyly funny, Leigh was downright hilarious as Nathan's brutally honest Gen Z assistant.
Ornelas hopes to find the show a new home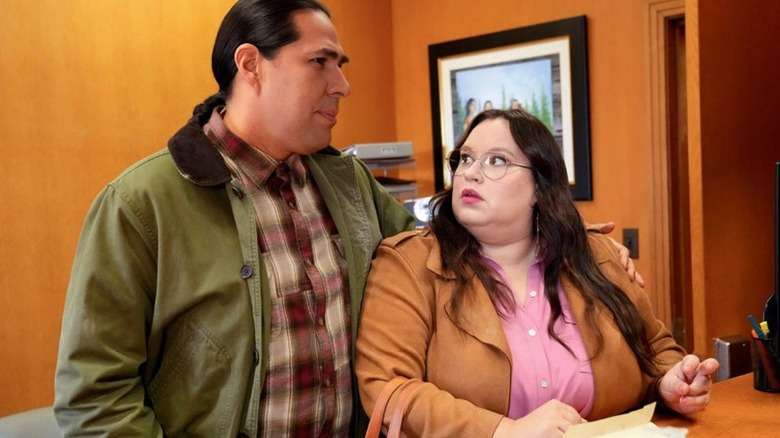 Peacock
"Rutherford Falls" was getting into its groove in season 2, and it's a shame that, unless it ends up with a miracle save from another network or streamer, its ongoing plotlines won't be resolved. Season 2 ended with Bobbie newly elected mayor, Nathan in a love triangle between his baby mama and her doula (who is also his inexplicable superfan), and Reagan planning a new project that would meet the needs of single people on the Mineshonka reservation.
Ornelas shared a statement about the cancelation on Twitter, and a longer statement via Deadline:
It's been a true joy to make these two seasons of "Rutherford Falls." Mike Schur, Ed Helms and I set out to make something new, real, and smart—but also dumb—that made you cry and think, but also laugh when Reagan got kicked in the face or Nathan was stuffed into a coffin. Borrowing a line from Terry Thomas, played by the ridiculously talented Michael Greyeyes, before our show, "Native representation [was], for the most part, a hate crime." Which is why it's been an honor to introduce the best of Indian Country to the masses.

We remain overwhelmed by the critical response, garnering a 100% Rotten Tomatoes score in our second season, and while we're sad that our time at Peacock has come to an end we are immensely grateful to them for picking us up and showcasing the talents of comedy legend Ed Helms and breakout stars like Jana Schmieding, Jesse Leigh, Dana Wilson, Dallas Goldtooth, Kaniehtiio Horn, and many others. We love these characters, the world we created, and the impact it has had, and will be exploring other platforms where, hopefully, the folks of Rutherford Falls can call home.
Both seasons of "Rutherford Falls" can be streamed on Peacock.