The Daily Stream: Small-Town Sitcom Rutherford Falls Is Well Worth A Visit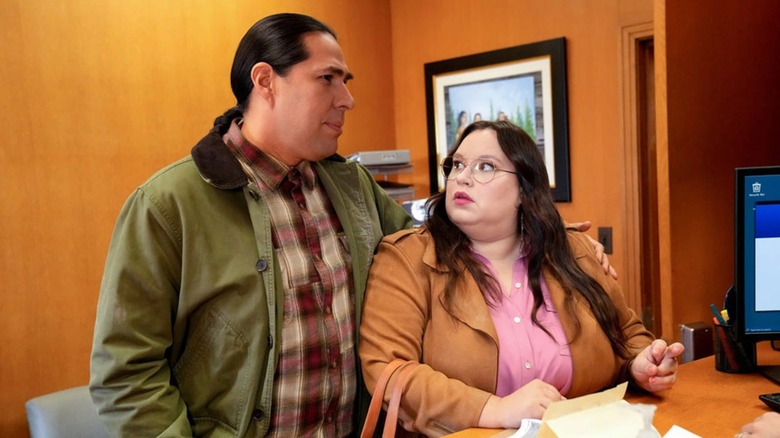 Peacock
(Welcome to The Daily Stream, an ongoing series in which the /Film team shares what they've been watching, why it's worth checking out, and where you can stream it.)
The Series: "Rutherford Falls"
Where You Can Stream It: Peacock
The Pitch: "Rutherford Falls" is set in a small New York town, where a Native American woman named Reagan (Jana Schmieding) and the descendant of a prominent white settler, Nathan (Ed Helms), are long-time best friends who both run local museums. While history-loving Nathan struggles to find his place in the town's present day, Reagan and her boss Terry (Michael Greyeyes) want to make the future better for the (fictional) Minishonka tribe to which they both belong. While it was initially about the pair trying to strike a balance between their sometimes-competing values, the show's second season smartly centers Reagan as its protagonist, while Nathan's ambitious young non-binary assistant, Bobbie (Jessie Leigh), runs for mayor.
"Rutherford Falls" starts off as a mild but enjoyable sitcom about local government a la "Parks and Recreation," but steadily finds its unique voice and humor as it grows across its eighteen episodes. It hasn't received a third season pick-up yet, so it's worth checking out sooner rather than later if you want to support its odds of getting renewed. "Rutherford Falls" somehow regularly manages to make the ins and outs of small town civic engagement seem fun, but it also finds time for romance, light drama, and some truly hilarious social commentary.
Why It's Essential Viewing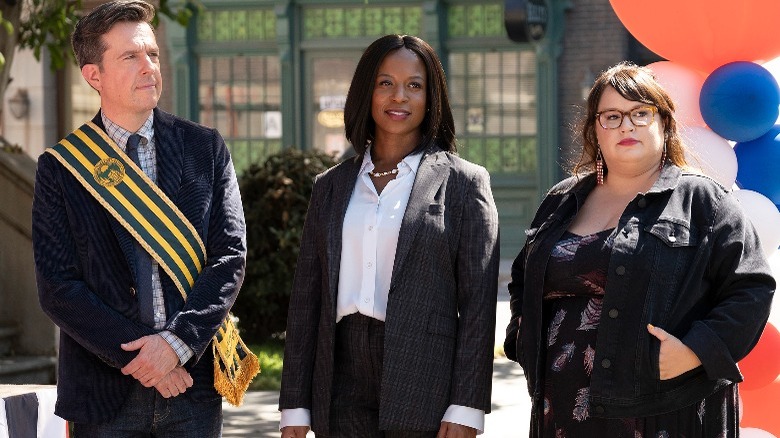 In the history of television, there have only ever been a handful of TV shows made by and about Native Americans, and almost all of them (see also: "Reservation Dogs," "Dark Winds") are airing right now. "Rutherford Falls" is an underrated streaming treasure for a lot of reasons, but in particular, it's a rare gift to see a series focus on telling authentic stories about Indigenous characters that aren't steeped in the painful, overused tropes that have been the norm in Hollywood for decades.
Series co-creator and Navajo filmmaker Sierra Teller Ornelas explained how vital an Indigenous sitcom is to Today, saying:
"In our lives as Native storytellers, often complex things will happen to us and they'll be coupled with comedy. It's in our saddest moments that my uncle would crack a joke or my mom would say something super sarcastic. Those two elements feel coupled in my life. Once Native people are in on the joke, it's a really wonderful experience for any viewer coming into the show.
And "Rutherford Falls" is very funny: whether Gen Z cool kid Bobbie is referencing the show "Scandal" as if it's ancient history or Reagan's friends are luring Nathan out of hiding with unseasoned chicken, the series is chock-full of clever and silly punchlines. It's sharp, but never mean: there's a great bit about the book "White Fragility" that I'll think about every time I see a racial inequality reading list for the rest of my life. The show also addresses specific issues facing Native communities with a witty, thoughtful sense of humor. It tackles everything from the "Pretendian" phenomenon to the maze of bureaucracy involved in securing land assignments to the surreal on-set consultant industry, where Reagan and Terry witness the making of a ridiculously inaccurate series-in-a-series called "Adirondack."
A true hidden gem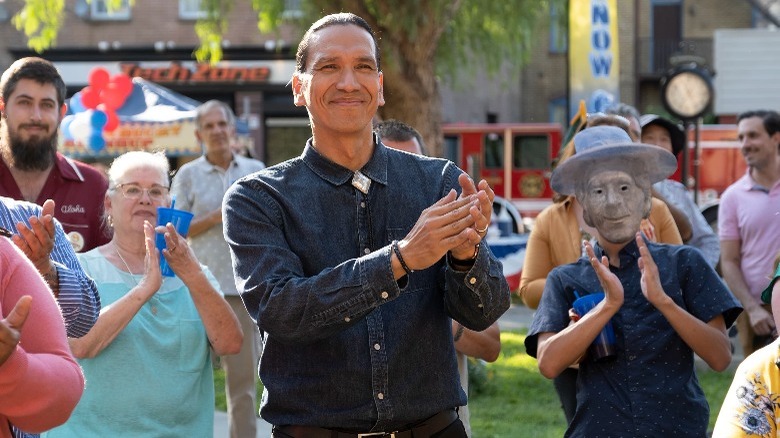 Peacock
The cast of "Rutherford Falls" is also phenomenal. Greyeyes has been a versatile, underrated actor for years, but it's a joy to witness him playing a comedic (yet often intense) character with as much depth and nuance as the casino CEO and family man Terry Thomas has. A season 1 episode centering his character features an astonishing mic drop of a monologue from the actor, one that will stick with viewers long after the credits roll.
The whole cast brings their A-game here, from Schmieding's endearing exasperation to Helms' sweet "I'm listening-and-learning" schtick to Leigh's effortless charisma and wild Zoomer energy. The show is co-created by Helms and "Parks & Recreation" and "Brooklyn Nine-Nine" co-creator Mike Schur, and you can see the latter's signature in both the lovable ensemble and the show's determination to steadily evolve its characters, refusing to stay static or cling to archetypes.
These folks are all tremendously easy to root for, just as the show itself is easy to burn through and be left wanting more. "Rutherford Falls" is a true hidden gem: a delightful, unique comfort watch that gets better with each new episode. If you visit "Rutherford Falls," stop in and stay a while — and pick me up something corny from the gift shop when you do.