Why Rutherford Falls Changed Up Its Season 2 Villain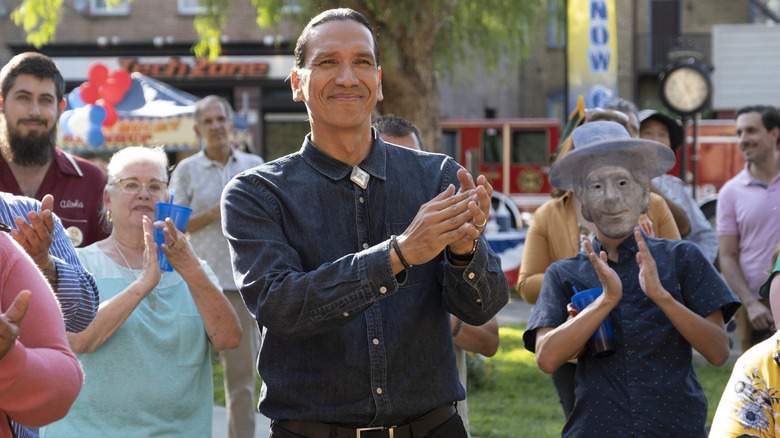 Peacock
With the release of its second season, Peacock's critically-acclaimed comedy series "Rutherford Falls" is changing things up. Sure, its lead, Nathan (Ed Helms), is still the well-meaning yet painfully misguided white liberal we met in season 1, but he's actively working on not making everything about him. Meanwhile, co-lead Reagan (Jana Schmieding) has gotten her new Minishonka cultural center properly up and going with the aid of Running Thunder Casino and its owner, Terry Thomas (Michael Greyeyes), who's no longer the de facto antagonist on the show.
For as much as he served as an antagonist in season 1, it wouldn't be fair to call Terry a villain. He's only ever been guilty of trying to pass himself off as a hip suburban dad (a crime unto itself, admittedly), and trying to do right by the Minishonka Nation by playing the dirty game that is capitalism. "Rutherford Falls" showrunner and co-creator Sierra Teller Ornelas argued as much during an interview with Variety, noting, "Up until this year, the villains of the show have been systemic. It's been corporations, governments, larger bodies."
Season 2 does, however, present a worthy antagonist in the form of Feather Day (Kaniehtiio Horn), a respected gym owner and steadfast critic of Terry's casino, whose decision to run for mayor creates a problem for both Terry and Reagan (seeing as her cultural center depends greatly on the casino's support). Given the show's lack of a real villain so far, Ornelas admitted, "[It] excited us to have a true, formidable villain this season through Feather Day."
Terry Thomas meets his match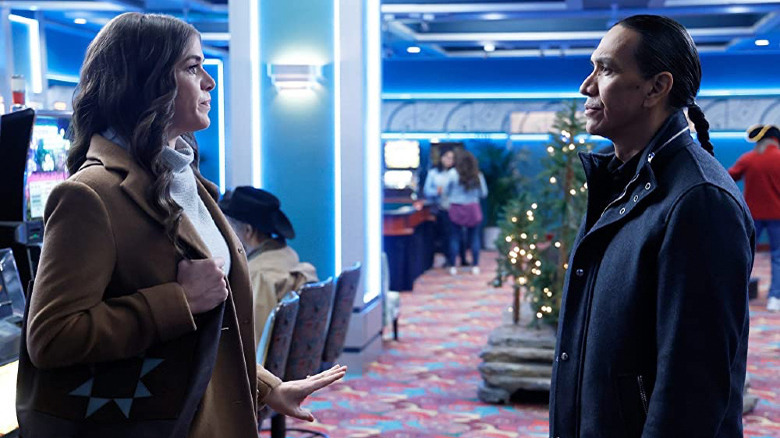 Peacock
When we meet Terry in "Rutherford Falls" season 1, there isn't really anybody who can shake him. Reagan, bless her, is too much of an emotional mess to intimidate him, and Mayor Deirdre Chisenhall (Dana L. Wilson) can only go toe-to-toe with the savvy businessman. "I always thought, if anyone was gonna take down Terry Thomas, who would make Terry Thomas nervous? It would be an Indian woman," Ornelas told Variety, laughing as she did. She added:
"It was really interesting to have a character who was unapologetically confident and willing to win, but at the same time is a mom, has layers, and is not a cartoon. Kaniehtiio [Horn] has such great comedic timing, and she was like, 'This is the first time I got to be funny, like broad, network-comedy-funny, with other Native people.'"
Horn was right about that. For all its growing pains in season 1, most of which stemmed from and paralleled Nathan's own struggle to de-center himself from his hometown's business, "Rutherford Falls" has given its Native American actors the chance to really flex their comedy muscles in a way that few other sitcoms have. Michael Greyeyes, in particular, has proven just as adept at being funny as he has at being dramatic and serious in his past roles, and seeing Terry get thrown for a loop by Feather Day in season 2 is all the more enjoyable for it.
"Rutherford Falls" season 2 is now streaming on Peacock.