The Kids From Cobra Kai On Water Slide Races, Dojo Hopping, And The OG Cast [Interview]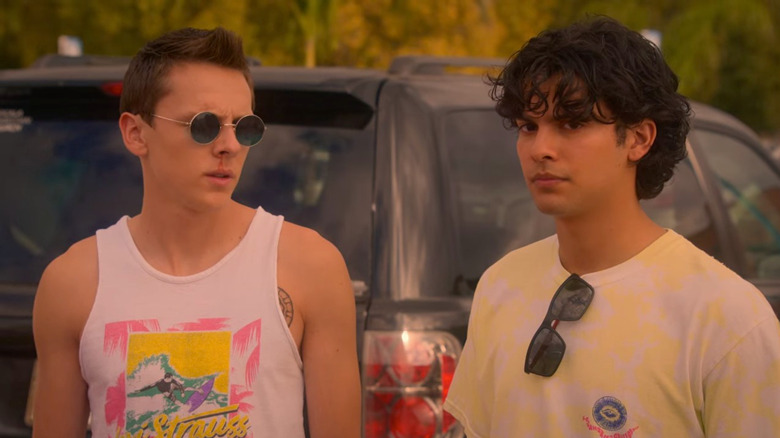 Netflix
Major spoilers ahead for "Cobra Kai" season 5.
The Netflix series "Cobra Kai" has let us catch up with "The Karate Kid" franchise characters like Daniel LaRusso, Johnny Lawrence, John Kreese, Chozen, and Terry Silver. But it also gives us a whole new generation of students who are taking up the rivalry mantles of their sensei in various dojos.
/Film participated in a "Cobra Kai" season 5 roundtable discussion with some of the cast members, including Peyton List (Tory), Mary Mouser (Samantha), Xolo Maridueña (Miguel), Jacob Bertrand (Hawk), Gianni DeCenzo (Demetri), Oona O'Brien (Devon), Dallas Dupree Young (Kenny), and Griffin Santopietro (Anthony). 
The actors spoke about bullying (including who is bearing the brunt of it in season 5), working with the original film cast members, dojo hopping, and changing relationships. Fingers crossed for a sixth season, because this series has shown fans no mercy in the best way possible. 
Who is bullying whom?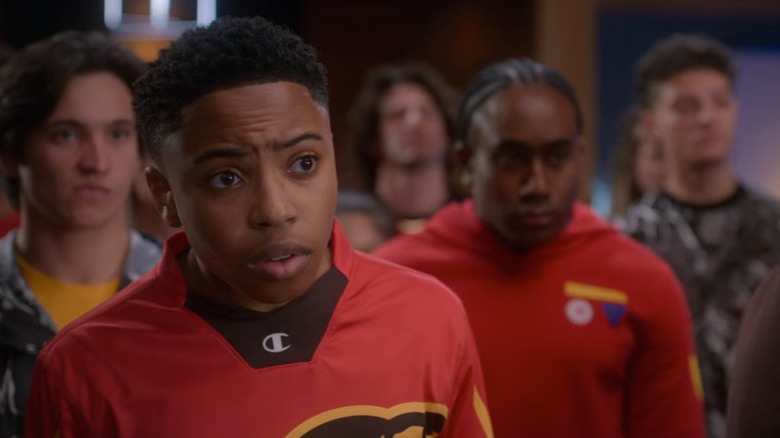 Netflix
So much of the storyline for the younger members of the cast involves bullying, as it did in the movie franchise. It's a concern a lot of kids have in real life, and adding in the karate element makes it even more dangerous. In season 4, Anthony went after Kenny for playing video games in one of the most heartbreaking scenes in the entire series. Once Kenny joined Cobra Kai, though, the balance of power started to shift. Santopietro, who plays Anthony, spoke about the switch:
"I think kind of the biggest change with Dallas and I is that we completely switch when I go from the bully to the victim, and Dallas beats me up all the time now. So I think we have had a lot of fun getting to switch."
While this is true, Young, who plays Kenny, did say that he feels Kenny is misunderstood now. He's also heard from young fans about his storyline:
"The good thing about my character is that a lot of people relate to this, and it is such a difficult topic. A lot of people have come to me, and they've talked about the fact that I have inspired them to stand up to bullying, and not in a physical way, but to go to ... a trusted adult, especially that. 

And they've said I was able to stop my bully. Honestly, that's so special to me, and it means a lot to me, but that's the message that I'm trying to give off with Kenny, is that you can't allow your bully to affect your life. And I do not promote violence, but just tell a trusted adult."
One character that never bullies anyone is Demetri (Gianni DeCenzo), who joked that, "It's very relieving to always be in the right. I enjoy it quite a bit." DeCenzo acknowledged that Demetri has always been the target, but he does have a big moment this season, landing a hit on Kyler (Joe Seo), who has been a jerk to him. 
Sam versus Tory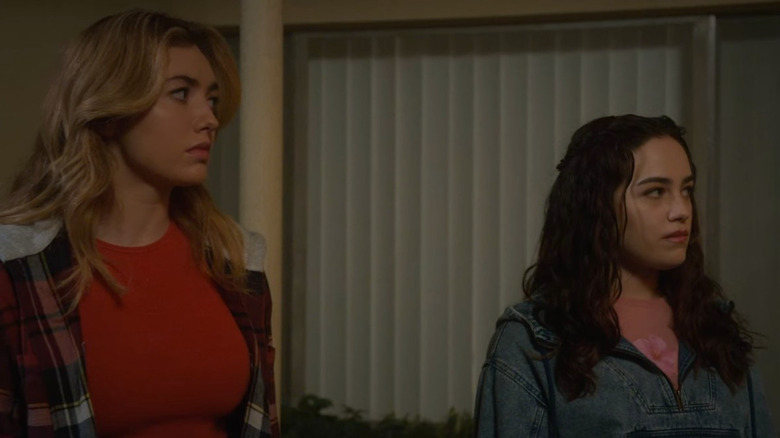 Netflix
The interaction between Tory (Peyton List) and Sam (Mary Mouser) has been fraught, and sometimes you just wish they'd sit down and chat for a bit. Season 5 does bring a bit more understanding between them though. Mouser spoke about actually getting to shoot scenes where they weren't hitting each other:
"I think... as an actor, I very much loved getting to work with Peyton [at] any opportunity. She's super awesome to work with. It's been really fun, though, a lot of the time we haven't gotten to talk with one another. A lot of time, we just are either hurling insults or fists at one another. 

So it's exciting to get to explore a world where I get to talk to Peyton. Not that [it] necessarily makes it any easier for them sometimes. But I think it's fun to get to challenge myself in a different way with her. At this point, the being angry at each other and the kicking and punching has become the norm. It's exciting to get to conceptualize a world where maybe they could sit down and actually have a conversation."
List explained thatTory has been reluctant to have any significant conversations instead of resorting to a physical fight because she's scared of that kind of confrontation. She added:
" ...  when we do have that conversation, I feel like Tory is at her most vulnerable. Her hand is injured, she's at an all time low, and so I think that was a good time for them to have that moment."
Dojo hopping with Devon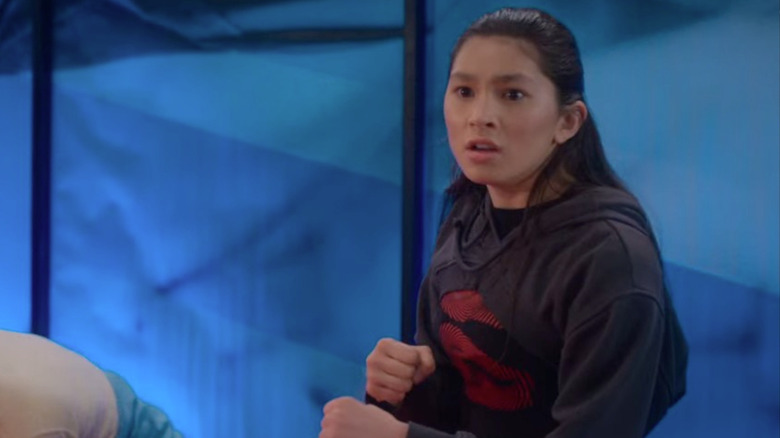 Netflix
Devon (Oona O'Brien) is a powerful fighter who fought for Eagle Fang (which is the best and most illogical dojo name ever), but this season, she's made a big shift to Cobra Kai. It's one of the surprises in the season, and O'Brien spoke about whether or not she saw it coming. 
"Honestly no, I didn't see it coming at first. I read it in the script and I was so surprised. I really thought she was going to stay on the good side, but I think it was a great experience for her. And it was super fun for me because I got to ... spend some more time with the other lovely members of the cast."
O'Brien was also excited to try a different style of fighting from what Devon was learning over at Eagle Fang. She explained:
"It was very different. I think Johnny's Eagle Fang style is aggressive, but definitely not as aggressive as Cobra Kai. So going over there, learning all the different techniques and even how they stand. Their stances are all different in each dojo. So it was a lot to learn and it was really exciting."
She also gets to work with a new sensei this time around, and that could have some major impact in a sixth season if the show is renewed and the dojos compete overseas. 
Poolside sparring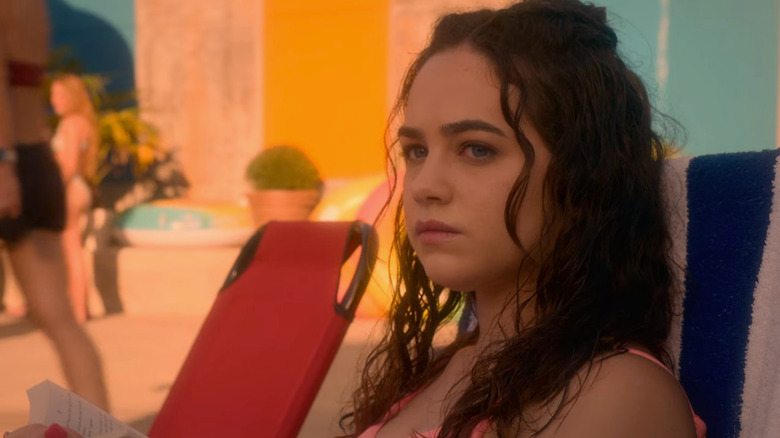 Netflix
One of the big set pieces of season 5 is the brawl at the water park. The actors said it was fun to shoot, but it had to be done fast. Even Anthony, the one kid who hasn't really done much in terms of karate, got to be involved. Santopietro said: 
"It was a lot, but I think ... by the end, it was really fun. And I don't think we would've been able to do that if — everyone was just so good that I feel like people won't, when you're watching it  you're not going to [see] how little time we had, but how great everyone made it look, just how because they're so naturally good."
Young, whose character Kenny gets in a hit on Anthony (which ends up on social media) said of the scene:
"It really was a lot of fun getting the chance to work with ... every person and every character on the show. It was definitely difficult and a lot of intensive work, and we didn't have too much time, but we had each other as our support system."
Peyton List and Jacob Bertrand who plays Hawk had a face-off and a race, but they said it was really hard to keep a straight face while shooting their big pool confrontation. 
List said, "I definitely think there's a part of my brain that I have to turn off in order to not laugh when fighting each other, but it's so much fun." Bertrand added, "It was fun getting to do these super heightened, serious, stare downs as we're about to race down a water slide." Well, it's better than kicking each other in the face, especially when a lot of that happens across the dojos and tournaments. 
Connecting to the past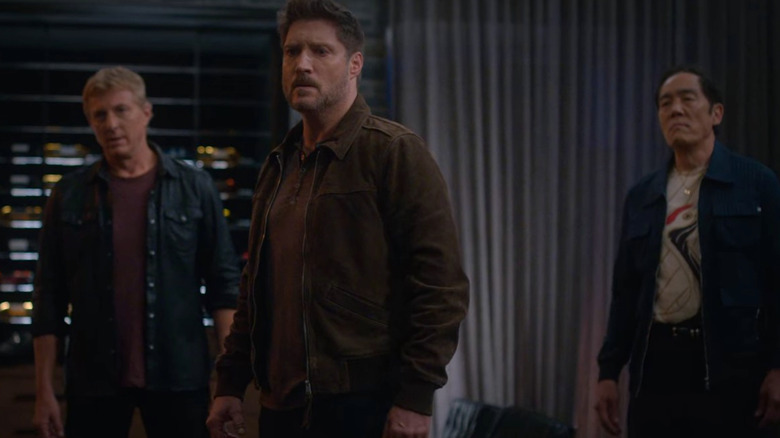 Netflix
The big moment of the fifth season, though, focused on the characters from the films having a huge brawl for it all at the end. Some of the younger members of the cast talked about what it was like to see Daniel, Johnny, Chozen, and Barnes fighting together. Xolo Maridueña said of the fight:
"I don't think we've seen anything yet. I think it's going to get crazy if we got to a season 6. It really will be like [an] end game ... I think we all have the benefit of not really being there during that fight with all the adults. 

Getting to see it on camera for the first time, or getting to see it on the big screen, is really fun. Especially the stuff with Billy [William Zabka]... Billy is always... he brings his character to life like nobody I've ever seen. It's really fun."
Of all the cast, Maridueña and Tanner Buchanan, who plays Johnny's son Robby, have spent the most time with Zabka. Maridueña mentioned that Miguel's trip to Mexico, with Johnny and Robby coming to find him, actually helped "rebuild his confidence, [helped] him get back to karate." 
List praised Yuji Okumoto, who plays Chozen, and what he was like to work with:
"Yuji brought such an energy to this season. The first time I saw him on set, I knew I needed to bring it for my scene with him, because I had no idea what he was on a personal level. He was not talking to anyone. Once I knew he was such a chill, cool guy, I was shocked because he was just so in character and so intense."
Mouser (and the rest of the Miyagi Do and Eagle Fang gang) also had a fun scene in the dojo backyard with Daniel and Chozen, and the actress described it as "this very sweet, fun moment for me of like, 'Oh yeah ... these are the people who knew Mr. Miyagi [the late Noriyuki "Pat" Morita].' So it was a cool, fun little karate moment for me." 
"Cobra Kai" season 5 is currently streaming on Netflix.