Bros Is Billy Eichner's Answer To Some Of Queer Media's Most Common Problems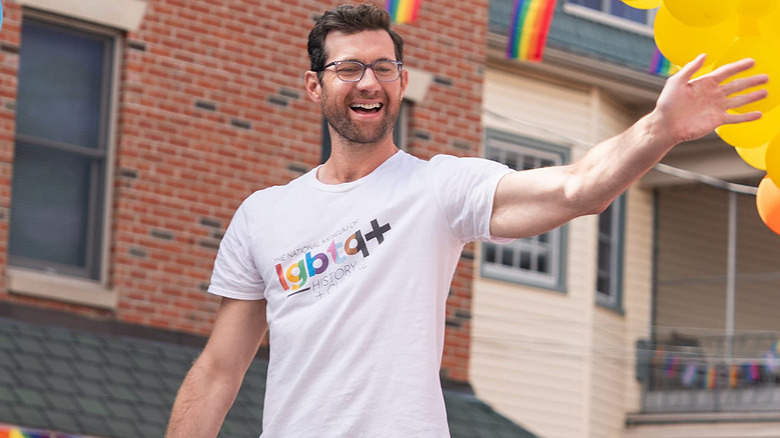 Universal Pictures
Being a "first" for representation in film is both an honor and, more often than not, a clear sign of larger systemic problems. So it is with "Bros," a film that holds the distinction of being the first gay rom-com by a major studio with a primarily LGBTQIA+ main cast. Check that: It's the first movie of that ilk to be given a wide theatrical release, lest anyone accuse me of trying to erase Andrew Ahn's utterly delightful "Fire Island" (which premiered on Hulu earlier this year) from its rightly-earned place in the echelons of queer cinema.
Billy Eichner stars in "Bros" as Bobby, a 40-something live-to-work type podcaster and museum head who's shocked to find himself stumbling into a romance with Aaron (Luke Macfarlane), a macho lawyer and his polar opposite. It's a classic set-up for a mainstream rom-com about a straight couple, the kind Hollywood has been making for as long as it's been around. But when it comes to similar stories about queer romances, the characters tend to skew younger, be 20-to-early-30-somethings like in "Fire Island" or the teens in films like "Crush" and "Anything's Possible."
The fact that all of the examples I just listed only just came out this year is proof enough of how much catching up the movie industry still needs to do when it comes to mainstream LGBTQIA+ cinema. Just as there should absolutely be a place for rom-coms about young queer people with impeccable tastes in fashion, there should also be one for stories about older queer disasters bumbling their way through romance in the modern world of dating apps and social media — something Eichner talked about in an extensive profile with Variety.
'Where are the adults?'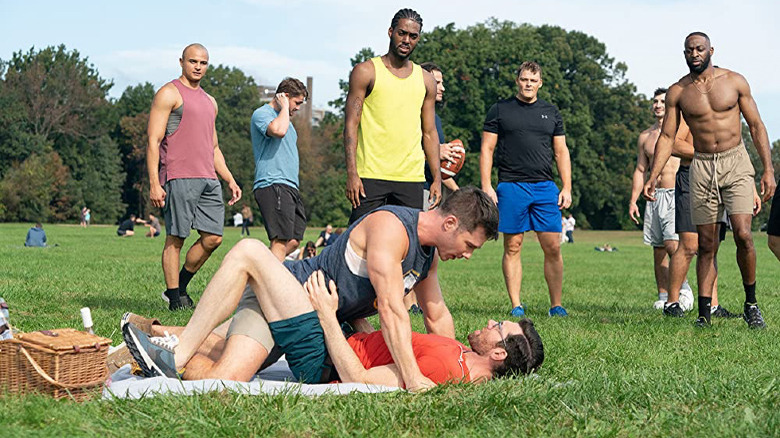 Universal Pictures
It was "Bros" director Nicholas Stoller ("Forgetting Sarah Marshall," "Neighbors") who approached Eichner with the idea for the film, with an eye on having him star. Eichner would also end up co-writing the movie with Stoller, having already formed a rough idea for what it should be in his head. Speaking to Variety, Eichner noted:
"Most of the LGBTQ content today is about gay teenagers who are presented in a very sitcom-ish fashion. We're wearing cutesy little outfits, and we're there to be charming. I don't relate. Where are the adults? I look at this queer programming, and I don't know who these gay men are. They don't look, sound or behave like me and my gay friends."
Eichner, famed for his comedy game show "Billy on the Street" and roles on sitcoms like "Parks and Recreation," reads as a natural fit to play a middle-aged queer mess in a rom-com like "Bros" (that's a compliment, I can assure you). In fact, as he set to work on the film's script, Stoller and "Bros" producer Judd Apatow pushed him to pour more of himself into the movie, just like they have with their own comedies in the past. To quote Apatow on the subject:
"These movies are ways for people to figure something out about themselves. I usually ask people, 'What would need to happen for you to get healthy and figure out all the things that were blocking you in certain areas of your life?'"
Casting queer actors in all the roles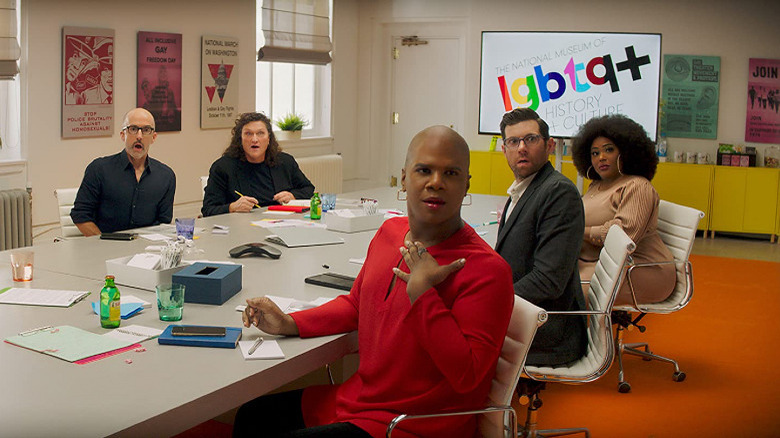 Universal Pictures
Another issue Eichner wanted to address with "Bros" is the limited number of roles for queer actors, especially queer actors of color. This spurred him and his collaborators to fill out the movie's cast with performers from across the LGBTQIA+ spectrum, including Black trans actress Ts Madison, bisexual Dominican-American actor Monica Raymund, gay Asian-American actor Bowen Yang (who also starred in "Fire Island"), and Black gender-nonconforming actor Miss Lawrence. Even the film's crew was filled with queer talent and artists.
Miss Lawrence talked about how this impacted their experience making "Bros," telling Variety:
"Coming from the Deep South as an old Black queen, I never really thought that my gifts and talents would be celebrated by the masses. But walking onto the set of 'Bros,' I was surrounded by the full range of the LGBTQ community — from our designers to our PAs to our cast. And then to have this film backed by Universal, it's a dream come true."
Queer actors also play a lot of the straight characters in "Bros." It's a move Eichner sees as a necessary balancing of the scales, given how much easier and more common it is for straight actors to be cast as queer characters than it is for queer actors to be cast as straight characters once they've made their sexual orientation public. Eichner explained:
"I'm not arguing with the fact that Sean Penn was magnificent in 'Milk,' or that Heath Ledger was heartbreaking in 'Brokeback Mountain.' It's not about saying a straight actor should never play gay. But we need a more equal playing field. It's about correcting a very extreme imbalance."
With a little luck, "Bros" will succeed in doing just that. The film opens in theaters on September 30, 2022.