The Daily Stream: Billy On The Street Is Like A Pre-Pandemic Vacation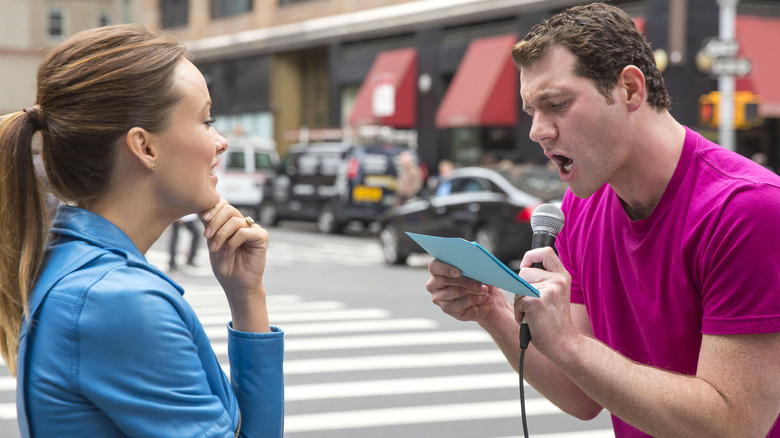 Funny or Die
(Welcome to The Daily Stream, an ongoing series in which the /Film team shares what they've been watching, why it's worth checking out, and where you can stream it.)
The Series: "Billy on the Street"
Where You Can Stream It: HBO Max
The Pitch: Comedian, writer, and actor Billy Eichner runs around the streets of New York City playing a variety of "game shows" with random strangers and a whole host of celebrities. 
If you've ever wanted to hear Lupita Nyong'o try to perform the standup of Andrew Dice Clay to a grumpy old man or watch Jon Hamm and Eichner try to get random people to commit to a threesome with them, then this is the show for you. 
The answers to Eichner's quiz show questions are often based entirely on his opinion, but since most of the time the prize is just a single dollar, it's hard to feel too bad for anyone who loses. Eichner's style of man-on-the-street comedy is a take no prisoners method that involves lots of yelling, running, swearing, and trademark snark. The best part? If you're short on time, you can squeeze a whole 16-minute episode in while you eat your breakfast. 
Why It's Essential Viewing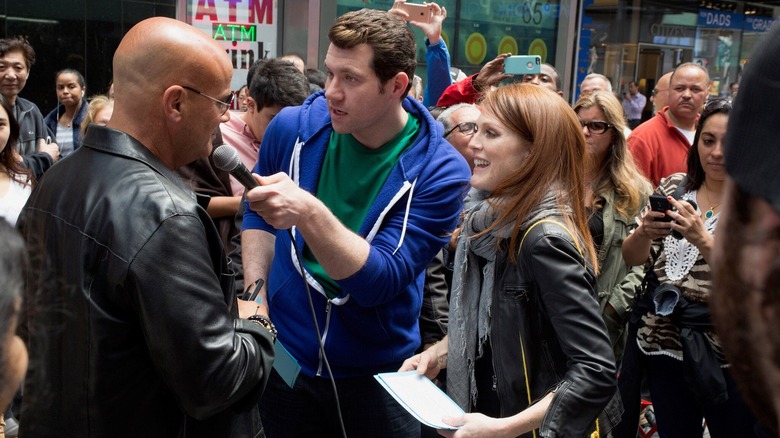 Funny or Die
It's not easy to riff quickly, especially with strangers, but Eichner has both the wit and unstoppable energy to handle even the stickiest of situations. Eichner's style is flamboyantly fierce, and he makes plenty of jokes at the expense of the straight and straight-laced. He's not afraid to curse a stranger out for being rude, will simply walk away from anyone who doesn't provide interesting content, and he throws shade like a parasol. Eichner's plenty willing to be the butt of the joke himself, though, dressing in all kinds of silly costumes in the name of getting a laugh.
Eichner treats everyone with the same irreverent sass, whether they're tourists, New Yorkers, or celebrity guests. In Billy's world, we're all just the same breed of idiot, all beholden to the goddess Meryl Streep. There's something unifying about seeing big celebrities forced to engage in the same ridiculous games as the regular rubes walking to work. He also clearly enjoys making fun of celebrity itself, asking random people on the street if they recognize his celebrity guests. Everything about "Billy on the Street" is a farce, making fun of other "man on the street" shows, Hollywood gossip, game shows, and more. 
Traipsing through the New York streets with Eichner is like going back to another time. It takes me back to the pre-COVID times when strangers were much more willing to get close to one another. There's a lot of hugging, some occasional kissing, and an incredible amount of love and joy. Eichner can be brutal, but he can also be surprisingly warm. "Billy on the Street" might point out the absurdity of the world, but it also highlights the importance of human connection.
God Bless New Yorkers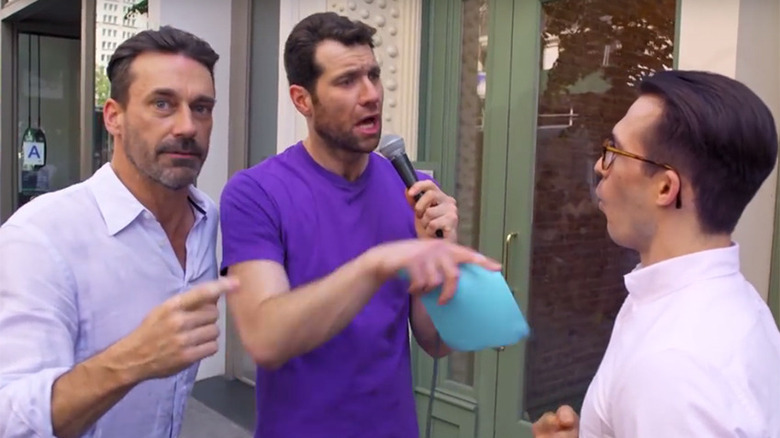 Funny or Die
While Eichner is the host and the glue that holds this silly little series together, it's the people that he interacts with on the streets that are the real stars. The people of the city of New York are known for being a bit more bold and straightforward than people from other parts of the country, and Eichner's experiences definitely highlight that aspect of New Yorkers. Most of the people that he approaches and questions roll with the weirdness of the situation pretty well, and very few have any trouble telling their truth. There's something refreshing about folks who just say what they think, even if quite a few of them tell Eichner to "f*** off" instead of answering his questions. God Bless New York, indeed. 
That willingness for blunt honesty means that sometimes Eichner gets more than he asked for in return. His questions are often tailored to get reactions from people, but even he is occasionally shocked by the answers he receives. Occasionally, people are racist or homophobic, and he has no problem shutting them down, but more often than not they're just sharing random anecdotes, giving insight into the human condition. 
An Ode to Elena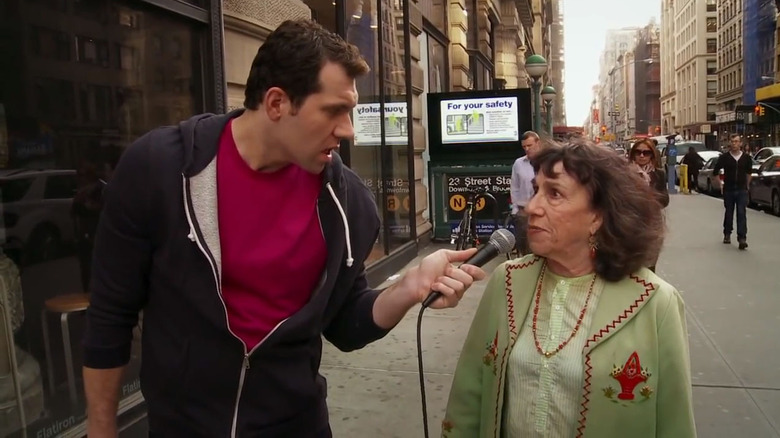 Funny or Die
In the first episode of season 2, Eichner grabs an older woman for a game of "Quizzed in the Face." That woman throws his jokes back in his face with just as much ferocity as Eichner, and thus a magical friendship was born. Elena (whose birth name is Elaine, but she lived in Mexico for many years and now goes by Elena) is a no-nonsense New Yorker with more attitude in her pinky finger than most people have in their entire bodies. 
In an interview with Rolling Stone, Eichner explained the magic behind the series' only repeat non-celebrity contestant:
"Elena is really the quintessential New Yorker to me. I don't think she's aware of how funny she is, which of course makes it funnier. I approached her without any preparation or any premeditated ideas of who she was. To me, she was just another person walking down the street. But from the second Elena started talking to me, she was just hysterically funny. She wouldn't take any of my bullshit — she gave it back to me as hard as I give it to people sometimes. [...] Elena is really what 'Billy on the Street' is all about: She's a lady of a certain age who lives alone in New York, and she really has lived life by her own rules. She's really passionate about what she believes in. We often get into tiffs on the show, but I love it. She really makes me laugh."
Elena's favorite things? Fresh air and parks. Her least favorite? Republicans. Elena is, as Eichner says, the quintessential New Yorker, and her imitation of Daveed Diggs in "Hamilton" is a must-see (she's a big fan). The relationship between Eichner and Elena is the show's greatest gift, and it perfectly summarizes what's so good about "Billy on the Street": on the street, we're all just a bunch of weirdos.