How Cobra Kai's Big Season 5 Fight Became More Deadly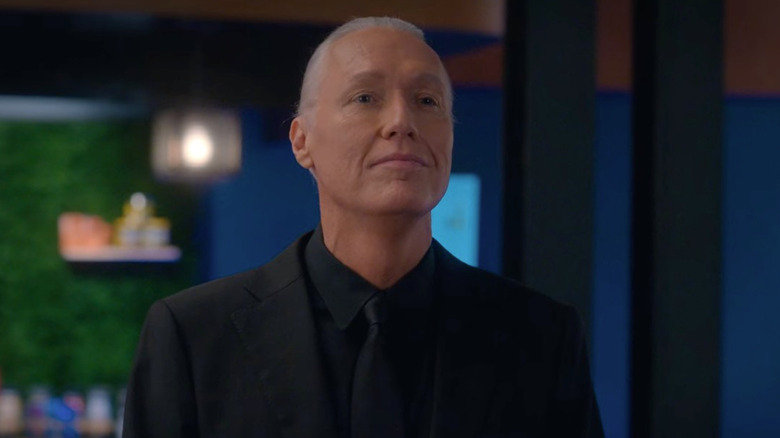 Netflix
Major spoilers ahead for "Cobra Kai" season 5.
Since Terry Silver (Thomas Ian Griffith) first appeared in "Cobra Kai," he's been a thorn in Daniel LaRusso's (Ralph Macchio) side. We first met the character back in the 1989 film "The Karate Kid Part III," where we learned that he helped John Kreese (Martin Kove) start the Cobra Kai dojo. They had been old buddies back in the Vietnam War, and Silver — a very wealthy dumper of toxic waste — tries to help Kreese get the dojo up and running after Daniel and Mr. Miyagi (the late Noriyuki "Pat" Morita) humiliated them at the All-Valley tournament. 
He poses as a friend, manipulates Daniel's training and relationships, and leads him down the path to anger. In "Cobra Kai," he uses every ruthless method he can to ruin Daniel and Johnny (William Zabka) and their dojos. In season 5, he finally gets his comeuppance. It's the first time we've seen Terry Silver anything but cool as a cucumber. 
/Film spoke to Thomas Ian Griffith at a roundtable interview for the new season. He spoke about how the final scene ended up being dangerous, and that he was sort of responsible for it. 
'I'm really good at swords'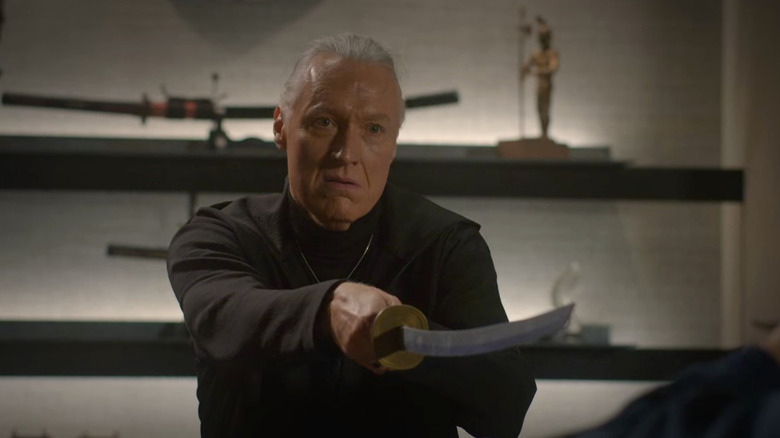 Netflix
The final fight scene with the main characters from the film series is a huge one, and it came about with input from Griffith. He said it all happened while he was sitting on the set during the season 4 All-Valley Tournament scene. 
"They were doing the weapons competition, and I knew they were bringing Chozen (Yuji Okumoto) back for season 5, and obviously were going to choose the villain from 'Karate Kid II 'and the villain of 'Karate Kid III,' and it's like, 'God, I'm excited. I can't wait for them to go at it.'"
It's a team-up none of us knew we needed, but it's one of the best moments in the fifth season. Then the idea formed in his head. 
"I was thinking, 'How are we going to top all these great karate fights?' We've seen a lot of karate, so I walked over to one of the creators and said, 'What, if we did a sword fight, I'm really good at swords.' And they were like, 'Yeah, right.' I said, 'No. I really am.' And Don Lee, the fight choreographer, is a great weapons champion, so he was my backup, and he was like, 'Yeah, we could pull this off.' And then I let it go, I said, Nah, they probably won't do it."
Thomas Ian Griffith has been doing martial arts since his youth, so it's no surprise he's good with swords. 
'The danger factor just went way up'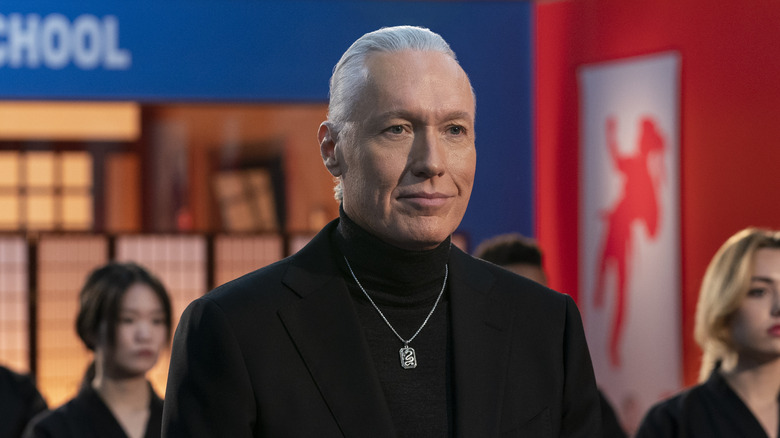 Netflix
When Griffith came in for season 5, he was told that the weapons fight was going to happen, just like he'd suggested. 
"I was like, 'Oh my God, I can't believe this is happening.' But then the thing is, because I'm so used to sparring and martial arts, you're putting a weapon in your hand, and you're in character, so the danger factor just went way up. Then they're putting us in a pool outside when it's freezing cold and you go, 'Oh my God, all these senses are firing.' I'm so excited about this. This is life and death." 
Weapons fights on set are always dangerous, just by virtue of poking a sharp object at another actor. Of course, doing it in character makes it much scarier. You have to keep a part of your brain reserved for fight choreography, and safety, while conveying that you want to kill someone. It's raised the states significantly for "Cobra Kai." There have been some terrible injuries before in the series, but except for Miguel's fall, you always assumed everyone was going to survive. This time, that wasn't a given for the audience. Griffith said: 
"I think it just elevated it for us on set, and I think that translated to what we were able to capture on film. I just think it's unexpected. And it's not, 'Oh, they're not just going to knock each other up.' They could kill each other, which I loved. I think we gave those two great past villains their due when they came together."
"Cobra Kai" season 5 is currently streaming on Netflix.