The 18 Best Curb Your Enthusiasm Episodes, Ranked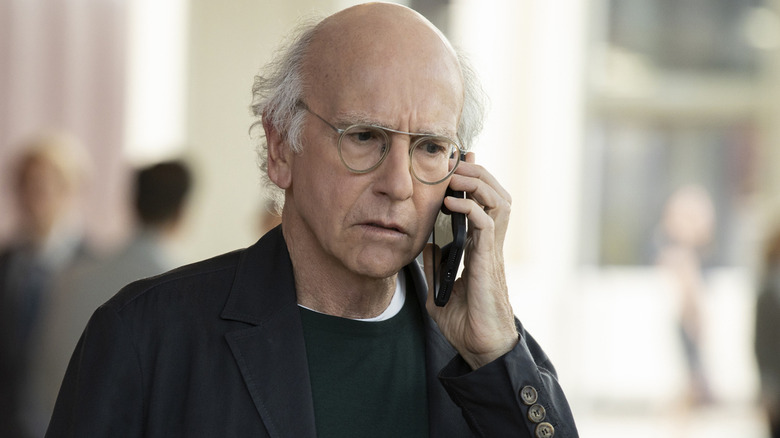 John P. Johnson/HBO
"Curb Your Enthusiasm" is one of the funniest television shows, and anyone with a pulse should watch it. The HBO comedy series follows Larry David portraying a semi-fictionalized version of himself living a wealthy yet mundane life after the success of NBC's "Seinfeld" — a show the real-life Larry David created. The fictional series follows those who have to deal with Larry's habit of making a fuss out of everything — from minor annoyances to everyday social interactions. Its main cast includes Larry's fictional wife, Cheryl David (Cheryl Hines), his best friend, Jeff Greene (Jeff Garlin), and Jeff's wife, Susie (Susie Essman). Although the show's premise sounds simple, it's continued to be a hit with fans, and "Curb Your Enthusiasm" received a season 12 renewal in April 2022.
Larry David is undoubtedly the primary force of the show (who will also be getting his own two-part HBO documentary soon). David brings the unique comedic sensibilities he developed for "Seinfeld," a network television show, to HBO, a cable channel, pushing even more comedic boundaries. The cast of "Curb Your Enthusiasm" is amazing and deserves credit too. Not only do recurring cast members contribute to the show's hilarity, but so do its guest cameos from top celebrities playing semi-fictionalized versions of themselves. Combined with the show's improvised nature, "Curb Your Enthusiasm" has crafted countless laugh-out-loud episodes. Ahead of season 12 of "Curb Your Enthusiasm," let's take a closer look at the 18 best episodes of the series thus far.
18. The Special Section (Season 3, Episode 6)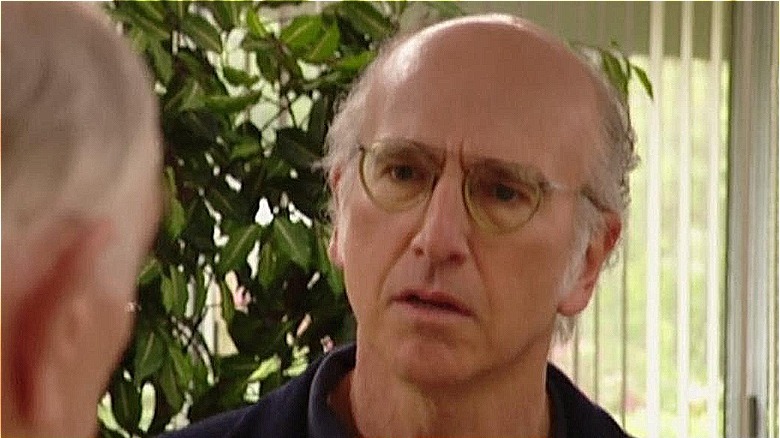 HBO
Larry's mother dies while he's filming a Martin Scorsese movie. He's shocked that nobody broke the news to him until he returns to Los Angeles. Of course, since Larry's not exactly the sentimental type, he uses his mother's death to get out of some social gatherings he doesn't want to attend. But in typical "Curb" fashion, Larry's good times don't last when he learns that because his mother has a tattoo, her remains are in the cemetery's "special" section for criminals. He recruits Jeff, his father Nat (Shelley Berman), and cousin Andy (Richard Kind) to move her body to a proper section.
This episode is pure Larry David: he takes a situation most people would consider tragic and uses it as an excuse to avoid people, but then it blows up in his face. One of the best moments in this episode is when Larry's father, Nat David (Shelley Berman), tells Larry the reason he didn't inform him of his mother's passing was that he didn't want to bother him. With a father like that, it's easy to see why Larry is the way he is. Also, who could forget seeing Larry in a wig and fake mustache hamming it up as a mob boss in a fictional Martin Scorsese movie? The legendary director makes a great cameo here, and Richard Kind is terrific as Larry's cousin Andy.
17. Larry vs. Michael J. Fox (Season 8, Episode 10)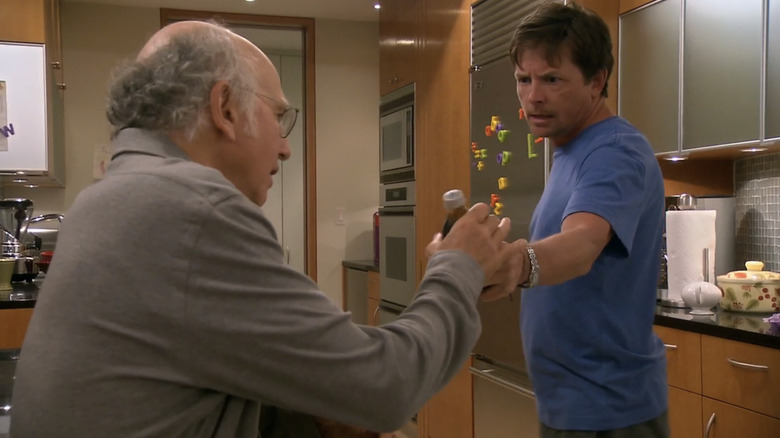 HBO
While living in New York City, Larry meets his girlfriend Jennifer's (Ana Gasteyer) young son, Greg (Eddie Schweighardt). Larry believes Greg is gay because of his love of fashion and splashy personality. Larry buys Greg a sewing machine, which he loves but his mother hates. Jennifer pressures Larry into getting him another gift, fearing her son might become gay. Meanwhile, Larry believes a neighbor in his apartment, Michael J. Fox, is going out of his way to make his life miserable. But Michael claims his actions are because of his Parkinson's disease. To patch things up, Larry agrees to go to a charity event hosted by Michael, only for him to make a huge social faux pas in front of the crowd. (Larry just can't catch a break, can he?) 
This episode is a perfect example of how every time Larry tries to do a good thing, he inadvertently (and hilariously) does something to screw it up. For example, while interacting with Greg, he unintentionally introduces him to the design of a swastika, which the fashion-obsessed young boy admires. When Larry attempts to patch things up with Fox by attending a fundraising event, Larry makes an innocent gesture that others perceive as insensitive. While it can be tempting to feel bad for Larry for getting stuck in awkward situations, it's good to remember that he always makes them worse.
16. Denise Handicap (Season 7, Episode 5)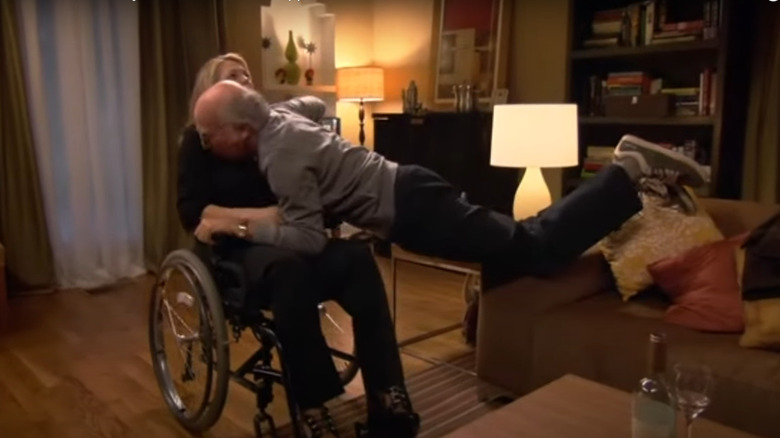 HBO
In "Denise Handicap," Larry becomes romantically involved with Denise (Anita Barone), a woman who is also a wheelchair user. As expected, Larry uses her medical condition to receive benefits for himself — like sympathy from acquaintances and priority restaurant seating. Soon after they start dating, the pair receive an invitation to a private recital featuring Korean violinist Kim Chee-Yun. But when Susie throws Larry's phone into the ocean, he can't get a hold of Denise to make plans for the concert. Since Larry is determined to go, he recruits another woman wheelchair-user to pass off as his girlfriend.
"Denise Handicap" perfectly straddles the line between lighthearted and uncomfortable humor without becoming outright offensive. Yes, Larry exploits a paraplegic woman. But he's punished more than once for his callousness. Also, this episode effectively demonstrates how often Larry's luck careens from good-bad into the great-terrible territory. After Larry makes a racially-charged joke about the couple's adopted baby from China, they rescind their invitation. But they reinvite Larry when they discover he's dating a wheelchair user. Of course, Larry manages to find a way to ruin this amazing opportunity.
15. The Watermelon (Season 11, Episode 4)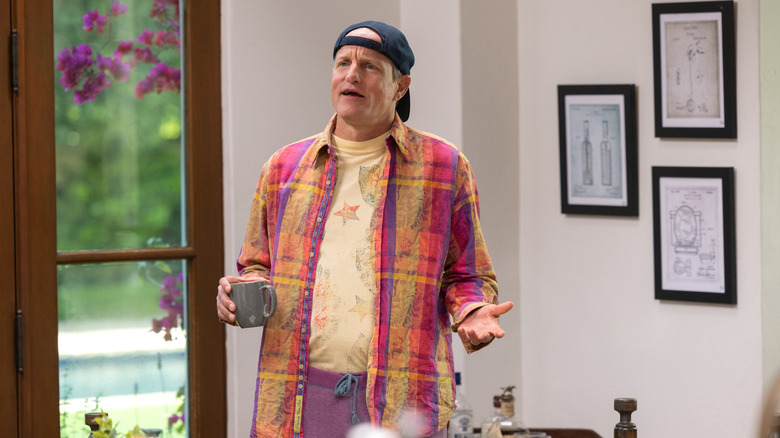 John P. Johnson/HBO
In "The Watermelon," Larry is developing a Netflix show based on his life in his 20s. He meets with Woody Harrelson for a role in it. But when Woody, a vegan, confronts Larry about his coffee creamer, Larry states that he gets it from his farm. A delighted Woody asks him to meet his cow. Meanwhile, Larry gets on the wrong side of Joe (Marc Menchaca), a member of the KKK. When he visits his house to make amends, he notices Joe lives on a farm. He arranges Woody's visit under the pretense that it's Larry's farm. As expected, Woody's pacifist views contrast with Joe's hateful views — so don't expect these two to get along too well.
Eleven seasons is a lot for any television show and usually marks a time far from a program's high point. However, "Curb Your Enthusiasm" has maintained its staying power over a surprisingly long period (and may be getting better). Overall, this season 11 episode of "Curb Your Enthusiasm" proves the series is uproarious as ever. It packs a lot of zany storylines into a single episode yet ensures that every subplot receives a proper amount of attention. Harrelson's earnest cameo makes for a wonderful contrast to Larry's cynical attempts to get out of trouble, especially when it involves a Klansman.
14. Trick or Treat (Season 2, Episode 3)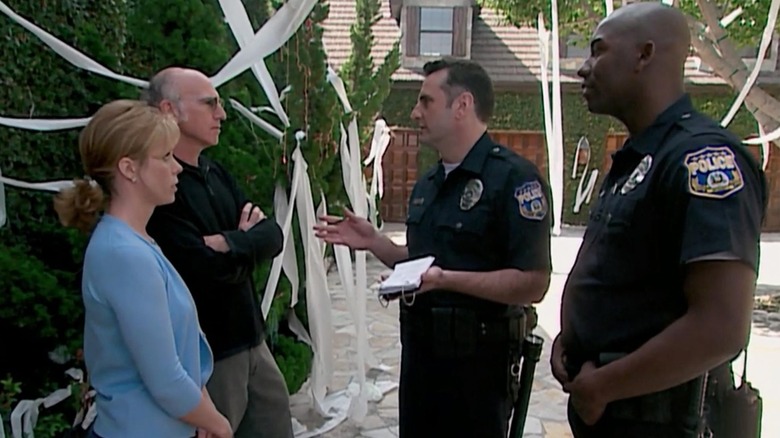 HBO
On Halloween, Larry decides not to give a couple of girls candy because he thinks they're too old to be trick-or-treating (and believes they're not wearing costumes). Larry and Cheryl wake up to find their front yard covered in toilet paper and an expletive directed at Larry sprayed on their door, which he believes is a hate crime. Later, Larry and Cheryl meet with their friends Cliff (Christopher Thornton) and Shelley Cobb (Holly Wortell). Larry jokes about wanting to sleep with Shelley: She thinks it's a proposition and agrees. Then, Larry gets accused of being a self-hating Jew by a man who turns out to be the father of one of the trick-or-treating girls Larry refused to give candy.
Larry's signature pettiness is on full display here, and it's an absolute blast. Maybe the girls were too old to go trick-or-treating. Maybe they should've worn better costumes. But Larry can't let any slight go unpunished. "Curb Your Enthusiasm" has one aspect that makes its humor so addictive — its ability to take a minor detail and turn it into a huge plot element. Case in point: Larry orders a Cobb salad while having dinner with the Cobbs family (who invented the salad) and requests changes, angering Cliff and further driving the episode's conflict.
13. Beloved Aunt (Season 1, Episode 8)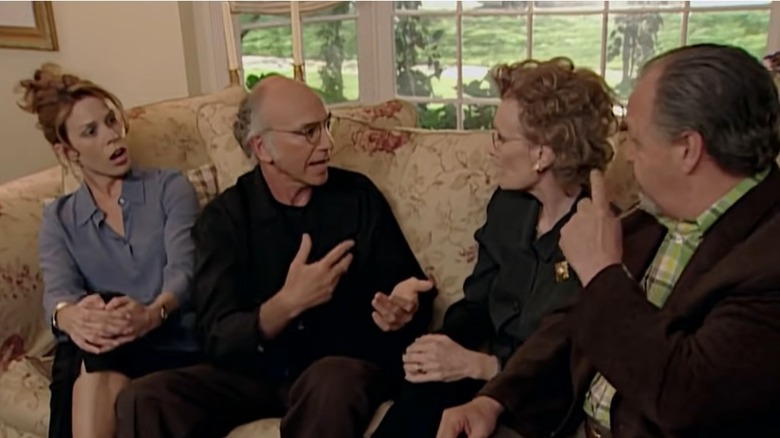 HBO
When Cheryl's parents ask Larry to write the obituary for Cheryl's recently deceased aunt, they're horrified when he misspells "aunt" as...well, a word we can't publish here. But Larry makes things even worse. While Cheryl's sister Becky (Kaitlin Olson) and her boyfriend Craig (Craig Anton) are visiting Los Angeles, Craig confides to Larry that he doesn't want to marry Becky. Larry recommends breaking things off with her when they return home from their trip. However, Craig decides to end the relationship while they're still in L.A. Of course, Larry gets blamed. Upset over Larry ruining her sister's life, Cheryl kicks him out of their house, prompting Larry to go to Jeff's place until Cheryl calms down. As expected, Larry blows it and is kicked out of their home too.
On occasion, Larry may deserve sympathy. But even his innocent actions often get him into trouble. He handles things in over-the-top ways, so we go back to laughing at him again. Adding some terrific contrast to Larry's antics is the appearance of Cheryl's family, who are (mostly) humorless. They're not forgiving someone who accidentally described their deceased aunt with the c-word. Veteran comedy actor Paul Dooley plays Cheryl's uptight father and is a highlight of the episode: he gives Larry an earful for his bumbled mistake.
12. The Car Pool Lane (Season 4, Episode 6)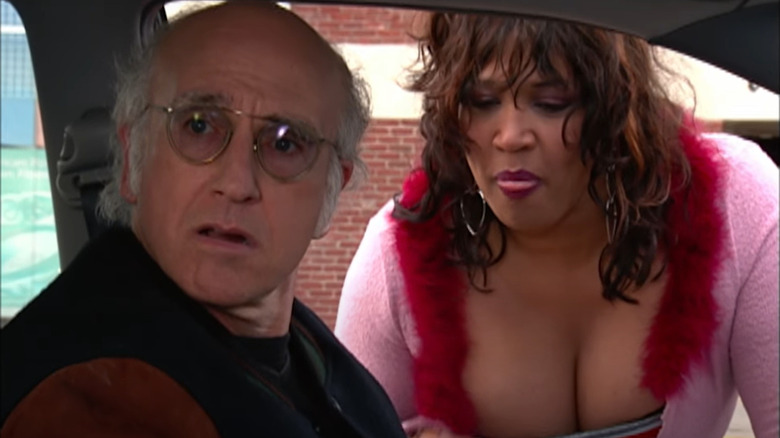 HBO
In "The Car Pool Lane," Larry and Jeff are dying to go to the upcoming Dodger game, but they have no luck securing tickets. Remembering that Marty Funkhouser (Bob Einstein) has two tickets for the game and that his father Leo recently passed away, Larry and Jeff decide to gently coax Marty into giving them his seats. While their attempt to get Marty's seats fails, Cheryl surprises Larry with two tickets for the game. However, Jeff backs out of going, which means Larry won't be able to use the carpool lane to get to the game on time. Larry decides to hire a prostitute (Kym Whitley) as his guest to avoid L.A. traffic. Things only get messier from here on out.
This episode becomes wackier as the story progresses, making it a fan-favorite and classic episode. One of the standout subplots involves Larry's father needing marijuana for his glaucoma: Larry, who knows nothing about drugs, has to go to a drug dealer and purchase some "goods." He makes the transaction as awkward and drawn-out as possible. As a bonus, "The Car Pool Lane" saved a man from serving a prison sentence for a crime he didn't commit and was the subject of a terrific Netflix documentary. You finally did something good, Larry — even if it was an accident.
11. The Black Swan (Season 7, Episode 7)
HBO
As Larry and his friends finish their meal at the golf club, Larry refuses to leave a tip because their bill includes gratuity — a choice he'll later regret. After their needlessly long lunch, they get stuck behind Norm (Paul Mazursky), an incredibly slow golfer. Frustrated with being stuck behind Norm, Larry loses his temper, yells at Norm, and Larry and his friends leave the course. However, Norm passes away from a heart attack shortly after Larry's outburst, so Larry gets partial blame for his death. As if Larry hasn't done enough to ruin his reputation at the golf club, he accidentally kills a black swan that belongs to the club's owner.
An uproariously funny episode, "The Black Swan," wrings a massive amount of humor out of Larry's unintentional killing of others. Larry is an absolute social wrecking ball in this episode, doing everything possible to burn every bridge. By yelling at an older man for playing slowly, getting fed up with a waiter who expects a higher tip, and pressuring his friends into continuing their golf game after killing a black swan, Larry proves he constantly (and hilariously) is the worst person alive. Even when he tries to do the right thing, it's always too little too late.
10. The Bare Midriff (Season 7, Episode 6)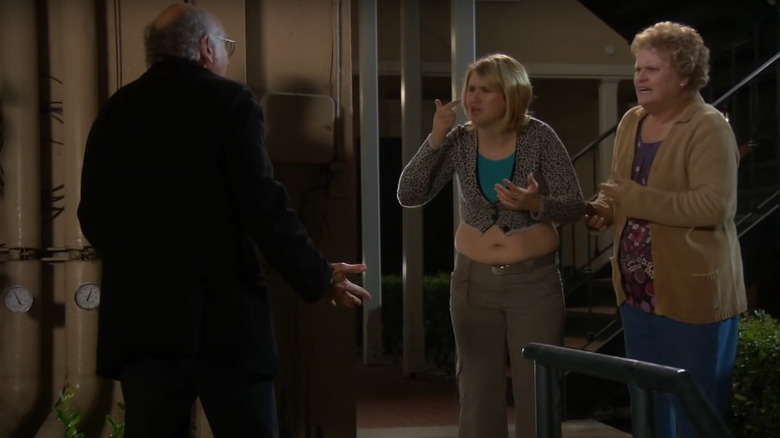 HBO
As Larry and Jerry Seinfeld work on a reunion special for "Seinfeld," they notice that their secretary Maureen (Jillian Bell) often shows up to the office wearing a shirt that reveals her, as they put it, "muffin top." Larry confronts Maureen about her attire, so she quits — much to his delight. However, when Julia Louis-Dreyfus finds out what happened, she demands Larry patch things up, which he begrudgingly agrees to do. While at Maureen's house, Larry goes to the bathroom and accidentally splashes urine on a Jesus painting, causing Maureen's mom (Marianne Muellerleile) to believe the image is crying and, therefore, a miracle.
"The Bare Midriff" is another example of Larry having a problem with someone, but then he mishandles it at every step. There's also a hilarious subplot about Maureen's mom thinking that Larry resembles her deceased husband, which comes into play later when she interrupts an argument between Larry and Richard Lewis with her car. One of the best qualities of "Curb Your Enthusiasm" is its use of narrative irony, wringing jokes out of its plot, and "The Bare Midriff" is a classic illustration of this. At the beginning of the episode, Larry criticizes Maureen for her bare midriff, only for that midriff to save his life when he nearly falls off a building and needs something to hold.
9. The Accidental Text on Purpose (Season 9, Episode 6)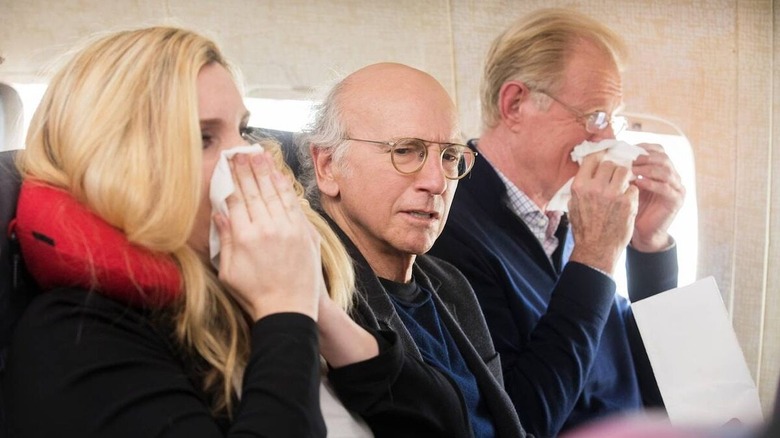 John P. Johnson/HBO
Larry becomes a relationship guru and succeeds! Well, kind of? In "The Accidental Text on Purpose," Larry meets Marty's girlfriend, Marilyn (Elizabeth Perkins), and Richard Lewis' girlfriend, Rhonda (Andrea Savage) at a dinner party. In typical Larry David fashion, he ruins the affair when he makes crude remarks about the taste of the tap water, upsetting his friends' girlfriends. This prompts Larry to create a scheme to help them fix their relationship problems: The Accidental Text on Purpose, in which the texter intentionally writes a text that makes them look good to the textee only to make it look like it's for someone else. His plan works until Larry blows it like he always does.
This episode wanders into "Seinfeld" territory (not that there's anything wrong with that), as it focuses even more on the minutiae of everyday life and relationships. Larry tries to do something nice for his friends, but because his plans involve a fair amount of emotional manipulation, it blows up in his face like a stick of "Looney Tunes" dynamite. Still, laugh-out-loud shenanigans aside. The comedy in this episode has some pointed commentary on the weirdness of everyday life, shining a spotlight on the impact cell phones have on relationships and the bizarre etiquette of texting.
8. Elizabeth, Margaret and Larry (Season 10, Episode 8)
In "Elizabeth, Margaret and Larry," Jon Hamm is about to star in a movie playing a character similar to Larry David, so he decides to shadow Larry for inspiration. In this episode, Larry becomes upset when he discovers that Cheryl's sister Becky is selling the house Larry bought her and will be making a profit from the sale. Larry demands his money from Becky. Instead, the two end up sleeping together and start dating, only for her to dump him when he doesn't visit her after she has a skiing accident. Meanwhile, Jon becomes more like Larry the more time he spends with him, which gets the two of them thrown out of a dinner party, and Jon gets a coffee date with Cheryl.
This episode came out during a season when most shows are well past their expiration date, but "Curb" keeps improving, remaining as fresh as ever in season 10. Hamm is priceless here as he devolves from a talented and professional actor into a Larry David-clone. He does a spectacular job adopting Larry's mannerisms and filterless interactions with everyone, to the point that he starts unnerving everyone he meets. This season 10 episode proves that Larry is a terrible role model — even for someone playing a fictional version of him.
7. The Ugly Section (Season 10, Episode 7)
"The Ugly Section" opens with an old golf buddy of Larry's dying by suicide. However, that fact doesn't stop Larry from courting his friend's widow, who, based on rumors, has magical genitalia. Meanwhile, Larry notices that a restaurant he's been frequenting keeps seating him in a section that he thinks is filled with ugly people. Feeling slighted for such discrimination, Larry sets out to persuade (through blackmail) the maître d' (Nick Kroll) into seating him in the front section where the supposedly attractive people sit. Also, Richard's been playing an unusually good golf game lately, much to Larry's suspicion. Things between Larry and his deceased friend's wife are starting to heat up, but there's a small matter of her dead husband owing him $500 that Larry manages to let ruin his relationship with a beautiful blonde.
While the multiple subplots in each episode are part of what makes "Curb" so great, there are times when the balancing act stumbles: some subplots don't stick the landing and feel out of place. But not with "The Ugly Section." In this episode, every storyline perfectly intertwines, giving viewers several reasons to laugh at Larry's pettiness. Kroll shines as the snobby maître d' who constantly foils Larry's attempts to sit in what he believes is the "attractive" section. Kroll puts on a lofty demeanor with exaggerated pronunciations of the Italian language, making him all the more enjoyable to hate.
If you or anyone you know is having suicidal thoughts, please call the National Suicide Prevention Lifeline by dialing 988 or by calling 1-800-273-TALK (8255)​.
6. The Ski Lift (Season 5, Episode 8)
Larry's friend Richard Lewis needs a kidney transplant but is still waiting for a donor, which prompts Larry to do something nice for a change. But Larry goes about it all wrong. When he discovers the name of a doctor overseeing the list of patients in need of a kidney, Larry breaks a taillight on his car and leaves a note as an excuse to meet with him. When Larry meets with the doctor, he invites him and his daughter on a ski trip with Cheryl, Jeff, and Susie. However, as anyone who's ever seen "Curb" knows, going on vacation with Larry David is a terrible idea.
"The Ski Lift" is yet another hysterical episode showcasing Larry's attempts to help someone out, which results in everyone being upset with him. Larry's always been cagey about his Jewish heritage, so it's an absolute blast seeing him play it up to impress a Jewish doctor. While Larry's heart is in the right place when it comes to helping Richard get a new kidney, one must question whether his brain is in the right place. His plan becomes far too complicated to lead to any good outcome. The moral of the story is: Don't be friends with Larry David.
5. Seinfeld (Season 7, Episode 10)
In "Seinfeld," Larry decides to go ahead with a "Seinfeld" reunion special because he believes it will help him win his ex-wife Cheryl back by giving her a role in it. Things seem to be going according to plan until Larry annoys Mocha Joe (Saverio Guerra), who sells coffee outside the studio, resulting in a hilariously petty misunderstanding. Larry tries to patch things up with Mocha Joe, but this causes him to miss a meeting with Cheryl to discuss the show's script, so she turns to Jason Alexander for help. Meanwhile, Julia Louis-Dreyfus hosts a get-together at her place that leads to her antique coffee table getting ruined, and she blames Larry for it, prompting Larry to go on the hunt for the real culprit.
While season 7's big plotline may have been the "Seinfeld" reunion special, it wouldn't be "Curb" without Larry obsessing over selfish schemes along the way. His attempt to win back Cheryl kind of works until he ruins it in his typical fashion. Of course, let's not downplay the return of Jerry Seinfeld, Julia Louis-Dreyfus, Jason Alexander, and Michael Richards playing their classic "Seinfeld" characters while also having to put up with Larry's eccentricities (to put it gently). Larry's feud with Mocha Joe is a real standout here, perfectly capturing Larry's habit of annoying everyone that knows him.
4. Opening Night (Season 4, Episode 10)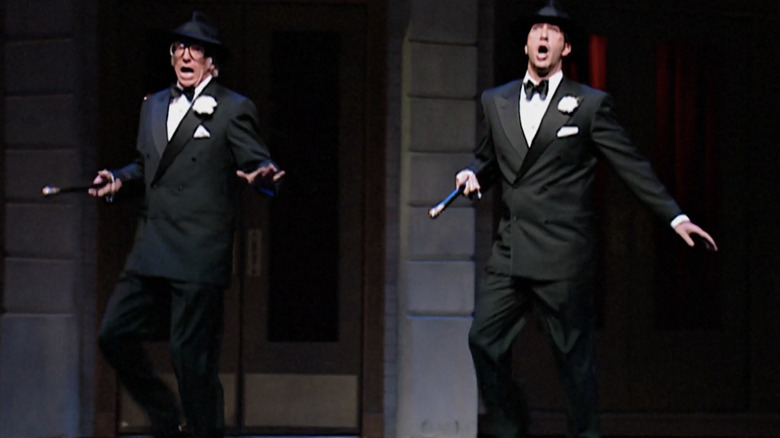 HBO
In "Opening Night," we learn that Larry and Cheryl struck a deal for their tenth wedding anniversary: Cheryl will let Larry sleep with another woman once. Since Larry will be traveling to New York as part of the latest Broadway production of Mel Brooks' "The Producers," Sheryl urges him to take advantage of the deal. Unfortunately, Larry doesn't have a particularly great time in New York City. First, he gets frustrated with tipping hotel staffers exorbitantly. He then gets into a tiff with fellow "Producers" cast member David Schwimmer about a lost watch.
We've seen so many instances of Larry being petty towards people in his hometown of sunny Los Angeles. It's a nice change of pace to see him being annoying to New Yorkers in the "Curb Your Enthusiasm" season 4 finale. This episode also contains a wonderful punchline that fans of "The Producers" will love.
3. Krazee-Eyez Killa (Season 3, Episode 8)
In this episode, Larry becomes friends with Wanda Sykes' fiance, a rapper named Krazee-Eyez Killa (Chris Williams), who shares a private sexual secret with Larry and tells him to keep it in his confidence. Larry doesn't. He shares Killa's secret with Cheryl, who tells Wanda, who then dumps Killa. Meanwhile, because Cheryl threw out a jacket that Larry wore while filming a Martin Scorsese movie, he needs to go out and find an identical one for reshoots. After getting thrown out of a clothing store, Larry turns to Killa for help. But things get even more complicated when Killa finds out that Larry is responsible for Wanda breaking up with him.
David and the other "Curb" writers have a special gift for coming up with countless ways to create multiple subplots that collide with one another. Sykes keeps things lively with her appearance here, and Williams is terrific as her rapper fiance. One of the best scenes in the episode is when Larry meets Krazee-Eyez Killa for the first time. He hilariously offers the rapper feedback on his violent and profane lyrics: it's incredibly humorous watching Larry be initially put off by the graphic song only to then give him some sage wisdom on the repetition of obscenity.
2. Palestinian Chicken (Season 8, Episode 3)
In this season 8 episode, a new Palestinian chicken restaurant has just opened up next to a Jewish delicatessen — much to the anger of Marty, who recently converted to Judaism. When Larry, David, and Marty go to the restaurant, Larry implores Marty to take off his kippah, which results in Marty storming off. Everyone in the restaurant watches their fight and considers Larry heroic. Larry even catches the eye of a gorgeous Palestinian woman. Meanwhile, Larry's bluntness — which so often gets him into trouble — is put to good use when people have him confront others about their flaws, leading to him being called a "social assassin." It still gets him into trouble, though.
Leave it to David to find a way to make light of the Israeli–Palestinian conflict in the form of a chicken restaurant. Larry has never been a particularly devout Jew on the show. Still, it's a gas seeing him renounce his religion so he can eat some good chicken and sleep with a pretty Palestinian lady. Besides being a playful jab at the Israeli–Palestinian conflict, "Palestinian Chicken" is a bit of a wish-fulfillment episode: what if we had the guts to say aloud what most people only think, and we could put that freedom to good use? It's a fascinating superpower that should absolutely not be in the hands of David.
1. The Doll (Season 2, Episode 7)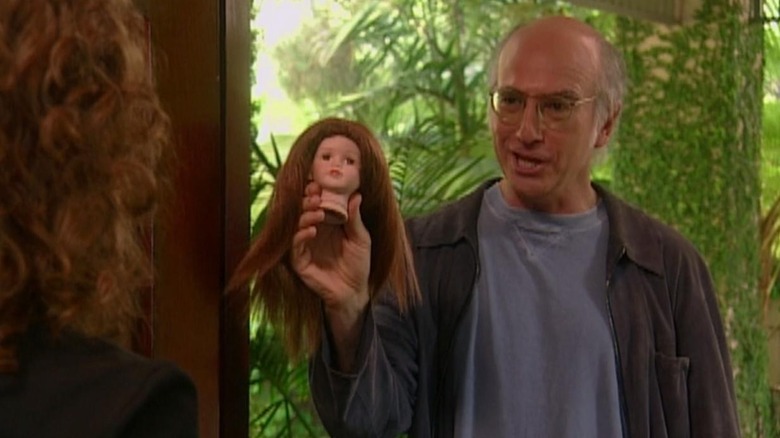 HBO
In "The Doll," Larry David and Julia Louis-Dreyfus create a new show and strike a deal with ABC. To celebrate, studio executive Lane Michaelson (Zach Grenier) and his wife Anne (Rita Wilson) invite them to their home for a screening of their miniseries. While looking for a bathroom, Larry meets the family's young daughter Tara (Bailey Thompson), who introduces him to her expensive doll. Larry cuts the doll's hair. At first, Tara is happy with the new look. But she becomes deeply distressed when she realizes the hair won't grow back, angering her parents. Larry and Jeff then aim to steal a doll's head from one of Jeff's daughter Sammi's (Ashly Holloway) dolls. Things get messier when Sammi discovers that one of her dolls' heads is missing, which means that Larry now has two headless dolls to handle.
Every subplot in this episode comes together perfectly, as Larry David is in peak schmuck mode. Whenever things seem to be going well for Larry, he finds a way to ruin it and take everyone down with him. No matter how much he tries to fix the situation, "The Doll" is the perfect encapsulation of Larry's never-ending plight. The show can sometimes get a little too zany, resulting in gags that stretch logic more than necessary to pull off a joke, but not here. There's not a single gag in this episode that feels forced or uninspired.