Larry David To Get His Own Prett-Ay, Prett-Ay Good Two-Part Documentary At HBO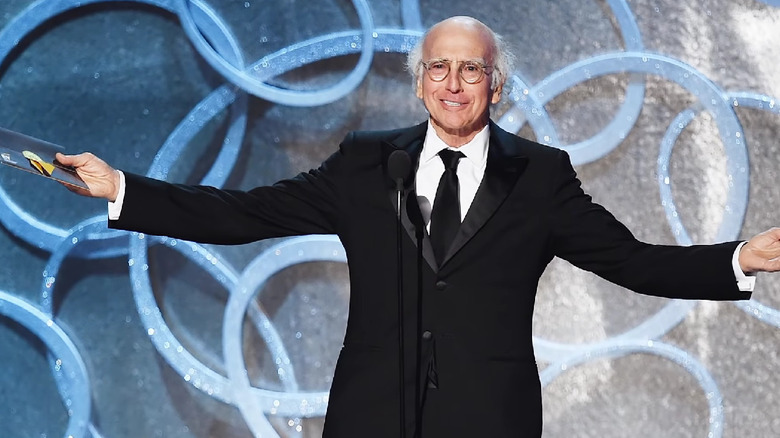 HBO Documentary Films
"I never thought of myself as being funny," Larry David begins. "What do you do when you're talking and people are laughing? You do comedy." David has successfully done comedy since the late 70s, beginning with standup and advancing to the writer's room at ABC's late-night comedy show "Fridays," where he also starred as a cast member. Following a brief stint on "Saturday Night Live," the acerbic multi-hyphenate's career took off further when he tag-teamed with comedian Jerry Seinfeld to create a show about nothing. Since its pilot episode in 1989, "Seinfeld" has secured its legacy as one of the most popular television shows of all time. David's vehicle series "Curb Your Enthusiasm" arrived in the wake of Seinfeld's series conclusion and has enjoyed considerable, sustained success, having just finished its eleventh season. You just can't keep Larry David or his dry wit down.
David's prolific career both in front of and behind the camera is the subject of a new two-part HBO documentary, "The Larry David Story," which debuts on both the primary channel and the HBO Max streaming service on the first of March at 9:00 P.M. EST/PST. The series is directed by David's longtime friend, collaborator, and fellow "Fridays" alum Larry Charles, who served as a writer for the first five seasons of "Seinfeld" and is credited for shaping the character of Cosmo Kramer (played in the show by Michael Richards). Charles has also served as executive producer for "Curb" and directed nineteen of its 110 episodes to date. Also executive producing is documentary producer Mark Herzog, known for the expansive era-based docuseries like "The Seventies" and "1968: The Year That Changed America." HBO has dropped a trailer, check it out below.
"I got lucky, and I'll leave it at that."
The synopsis, from WarnerMedia:
For over three decades, award-winning producer/writer/comedian Larry David has been one of TV's defining talents. Now, this insightful two-part documentary finds the 74-year-old sitting down with friend/director Larry Charles for a peek behind the proverbial curtain, as David gets candid about his personal and professional highs and lows, from his humble beginnings as an unfunny Brooklyn kid to becoming America's favorite misanthrope. In between reflecting on his bumpy road to success – and hit series "Seinfeld" and "Curb Your Enthusiasm" – David shares his thoughts on everything from metaphysics to parenthood. Genuine, hilarious, and eye-opening, "The Larry David Story" shines a new light on the infamous cynic who remains a singular voice in comedy today.
Spread over two parts that audiences will be able to watch back-to-back, titled, "American Jewboy," and "The Jewish Fountainhead," the documentary looks like it'll cover much of David's life before the fame, and give some insight as to exactly who Larry David thinks he is. "I'm a total fraud," he explains in the trailer, "and the 'Curb' outlet for me is this guy I want to be. He's completely honest, just the opposite of who I am." 
It's good to know that David probably wouldn't be the single vote that screws up an election or pick up a sex worker in order to use the carpool lane. Perhaps one of the keys to the lasting appeal of "Curb" has been David's ability to make the worst decisions for the worst reasons, while viewers get to watch the fallout and enjoy a complete lack of character growth. It'll be a treat to tune in to see one of America's grumpiest tenants sound off about life.
"The Larry David Story," arrives at HBO and HBO Max on March 1, 2022.