7 Movies To Watch If You Liked Clerks III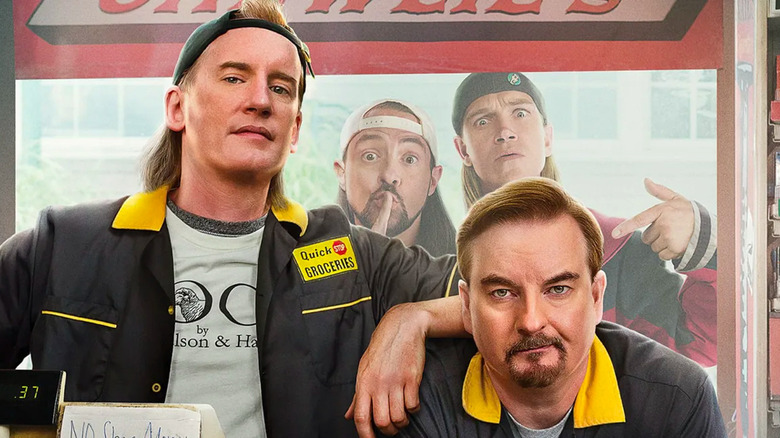 Lionsgate
We may receive a commission on purchases made from links.
Kevin Smith's latest film, "Clerks III," catches up with the characters of Dante (Brian O'Halloran) and Randall (Jeff Anderson) after their brief dalliance with low-level employment at a burger joint in 2006's "Clerks II." At the end of that film, Dante and Randall found themselves directionless after spending their 40s in minimum-wage jobs. Dante left his fiancée, and the pair found themselves in jail with the perpetual stoners Jay and Silent Bob (Jason Mewes and Smith). Dante and Randall found that their way out of their rut was to go back. Using weed money from Jay and Silent Bob, Dante and Randall merely bought the convenience store they felt trapped in back in the original "Clerks." 
It was a happy ending for Dante and Randall, but also a declaration from Smith. Staying put (critics might say stagnating) was, Smith declared, a form of triumph.
In "Clerks III," however, Dante and Randall find themselves — now in their 50s — stagnating again. When Randall suffers a heart attack — very similar to the one Smith himself had in 2018 — he becomes inspired to make his mark before he dies. Randall resolves to make a movie of his own. The movie he makes, in an odd meta-commentary, is the first "Clerks." The bulk of "Clerks III" is devoted to recreating scenes and shooting conditions from Smith's 1994 hit, a film Smith initially made for $27,575. 
If a reader is fond of "Clerks III," they would do well to follow it up with at least one of the following films.
Zack and Miri Make a Porno (2008)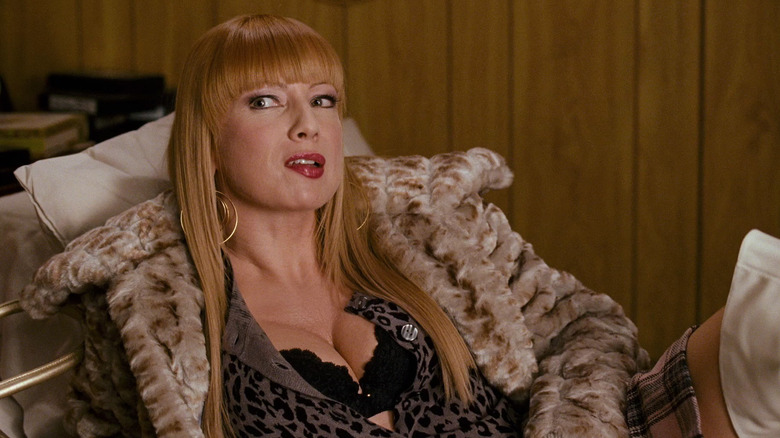 The Weinstein Company
"Clerks III" was not the first time Smith made a fictionalized version of his experiences as an amateur filmmaker. Thanks to Smith's own career as a podcaster, he has gone on record several times with how he made "Clerks," the paltry circumstances of the film's shooting — one of the boom mics was taped to a hockey stick — and how proud he was to put a movie together. Smith's enterprising spirit was given the adult industry treatment in "Zack and Miri Make a Porno," a film about a pair of high school friends and roommates (Elizabeth Banks and Seth Rogen) who figure that porn would be a great way to pay the bills. Operating on the notion that they themselves would want to see their own old high school buddies in flagrante, Zack and Miri figure it would be no big deal to have sex on camera. Of course, through the experience of making the film, the two realize they're in love. 
A lot of the cast of "Clerks III" is also in "Zack and Miri," and a lot of the guerilla filming techniques are mirrored in both. Smith clearly has a nostalgic fondness for shooting his first feature. So much so, that he recreated the experience twice. 
Living in Oblivion (1995)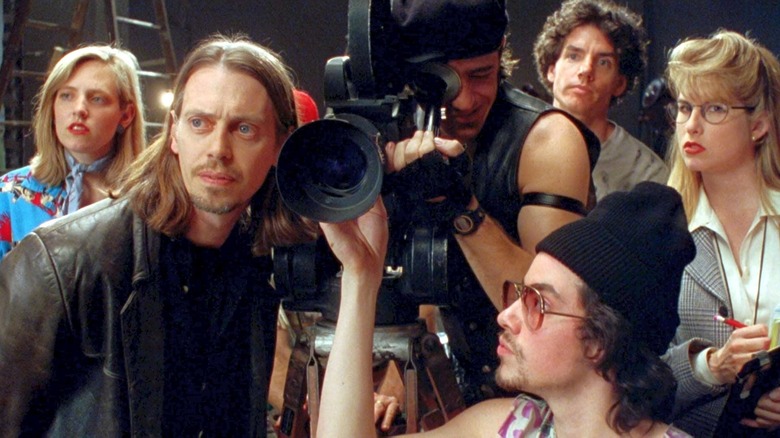 Sony Pictures Classics
Right in the middle of the indie film boom of the 1990s, when a new generation of important artists were bucking the studio system to make more daring, more unusual, expressly non-commercial fare, filmmaker Tom DiCillo was already looking to demystify the experience. DiCillo tells the story of an independent filmmaker (Steve Buscemi) who is attempting to make an unusual and intense family drama in New York. Attempting, because almost everything seems to be going wrong. Actors can't remember their lines and only deliver great performances when the cameras aren't rolling. So-called "big stars" arrive on set and improvise their blocking, messing up the lighting setups. In the film's funniest and most famous sequence, Peter Dinklage — in an early role — confronts his director as to why his film's dream sequence requires his appearance in particular. "Have you ever had a dream with a dwarf in it?" he screams. "Do you know anyone who's had a dream with a dwarf in it? No! I don't even have dreams with dwarves in them!"
"Living in Oblivion" points out that indie filmmaking was not a Bohemian fantasy of sexy, unwashed people following some sort of romantic, artistic purity. It was more about people who were working so hard and who were so exasperated that they rarely had time to wash.
"Living in Oblivion" is available on Prime Video, Peacock, Roku, Tubi, and Kanopy.
The Watermelon Woman (1996)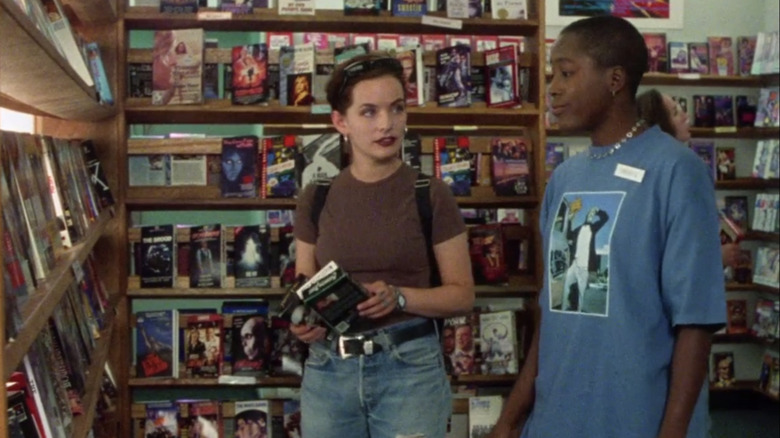 First Run Features
Although the characters in the "Clerks" movies tend to have conversations about sci-fi and pop culture movies, the notion of working in a video store and getting a broader line on the culture at large from an amalgamated cross-section of all VHS-available cinema was a prevalent notion throughout the 1990s. This was certainly one of the theses found in Cheryl Dunye's excellent 1996 queer romance/media study "The Watermelon Woman." Dunye, playing a version of herself, works in a video store and nervous breaks the ice with a dazzling young artist (Guinevere Turner) she is smitten over. Of course, discussions about movies leads to their eventual bonding.
Another connection: "Clerks III," oddly enough, is removing the making of "Clerks" from its real-world context and making it an object of affection for the characters within it. The central conceit of "The Watermelon Woman" is that Dunye, in trying to find famous Black lesbian filmmakers from the early days of cinema, was unable to find any. As such, she created a fictional character — the title character — and credited her with early Hollywood representation. Both films cannily cross the border of fiction. Although some might say Dunye had more of a thesis in mind. 
Summertime (2021)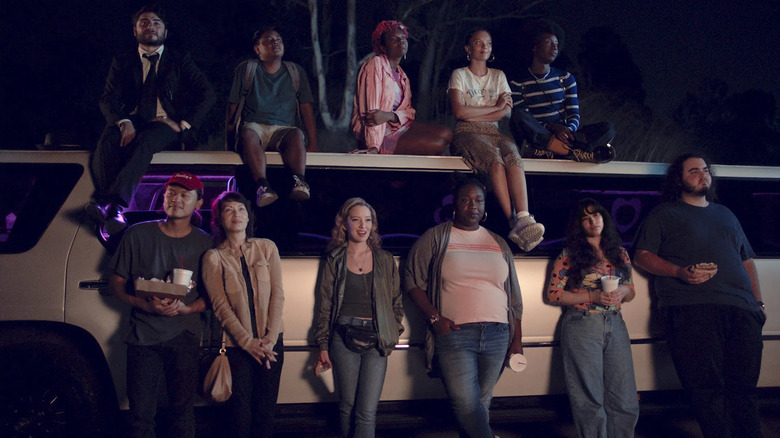 Good Deed Entertainment
Carlos López Estrada's 2021 film "Summertime" was one of the best films of last year. Presented as a series of vignettes, each one penned by a different author, "Summertime" drifts around neighborhoods in Los Angeles, settling on various young artists and workers, pausing to let each of them read a poem. Some poems are about culture. Some are about L.A. One notable poem is about the cathartic power one can feel just by writing a negative Yelp review. Most salient to this list is the poem read in a low-priced Johnny-Burger wherein the crowds become so unruly that the inexperienced manager — just appointed moments before — has something of a breakdown. The frustration of clerks expanded into an operatic art.
The sequence ends with multiple characters piling into a limo and driving up the Hills to look out over the city. It's a sweet, peaceful moment that declares small moments of human connection are enough to temporarily obliterate working-class ennui. In moments, "Summertime" becomes something truly sublime. 
Empire Records (1995)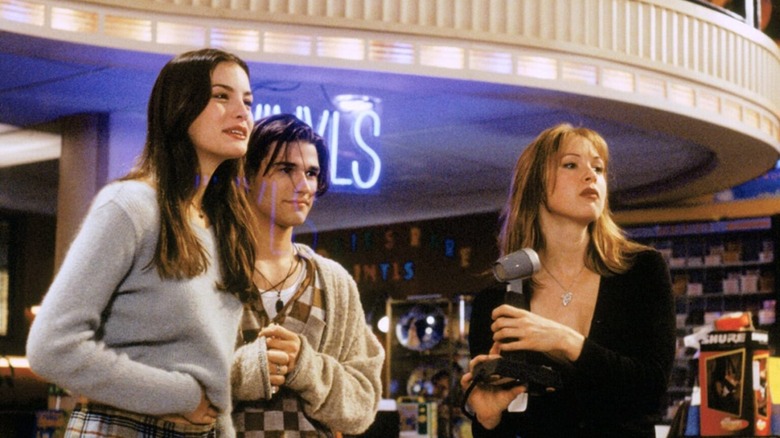 Warner Bros.
When describing Gen-X cinema to Millennials, one typically has to include a definition of "selling out," the cardinal sin of the 1990s. In a world where there were enough corporate jobs to go around, Gen-X became preoccupied with being successful "the right way." Sure, one could get a high-paying job for an advertising company or a corporate music store, but that would be a violation of the artistic purity they sought. Millennials, meanwhile, had so much trouble finding a job that what Gen-X called "selling out," they called "I'm finally making some ****ing money." Watch Lin Manuel Miranda's '90s-set "tick, tick... BOOM!" for these attitudes on display. 
That ethos is also at the center of Allan Moyle's 1995 film "Empire Records," a noticeably lackluster but weirdly alluring hang-out movie about a mid-size record store in New York. The central conceit of "Empire Records" is that one of the store's employees Lucas (Rory Cochrane) has lost $9,000 of his manager's money gambling. Lucas, however, only gambled in an attempt to earn enough money to buy the store from its yuppie owner who very much intends to turn it into a corporate music chain. The bulk of the film is taken up with a general absorption of record store culture, inviting audiences to ponder what might be lost in a corporate buyout. 
While "Clerks" captures the idle disgust of one's average minimum wage worker far better than "Empire Records" could ever hope to, the spirit is the same, and "Empire" does have an undeniably goofy charm. 
American Movie (1999)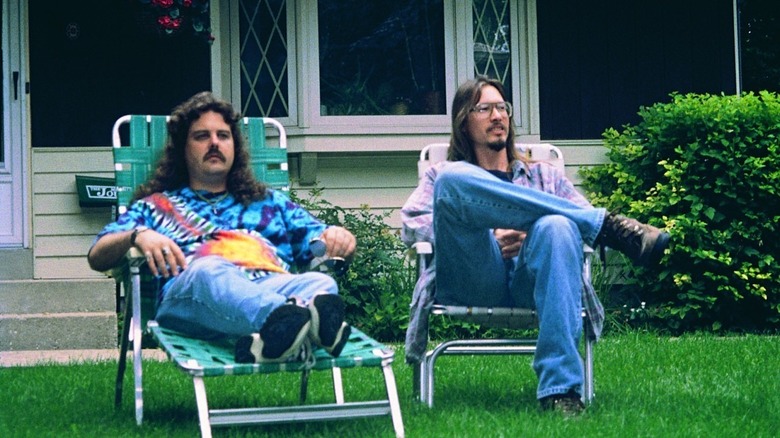 Sony Pictures Classics
Of course, no fictionalized version of guerilla filmmaking will compare to stories of the real thing. Deeply influenced by the likes of George A. Romero and Ingmar Bergman, indie filmmaker Mark Borchardt set out to make his own low-budget horror movie called "Coven" (pronounced to rhyme with "cloven"). "Coven" is intended to be a money-raising stop-gap for Borchardt on his way to making his true dream project, a penetrating drama called "Northwestern." 
Borchardt is a dyed-in-the-wool Wisconsinite, and "American Movies" is perhaps the most Wisconsin Wisconsin that ever Wisconsined. Borchardt assembles a ragtag group of friends and family members to appear in his film, many of whom are utterly mystified as to the way filmmaking works. Even Borchardt doesn't always get it right; the scene wherein he repeatedly rams an actor's head into a board (the board doesn't break like it's supposed to) is painful to watch. And yet, everything in "American Movie" will be relatable to anyone who has ever worked on a low-budget film. Bochardt, a champion, weathers every challenge. 
"American Movie" is available for rent.
Space Cop (2016)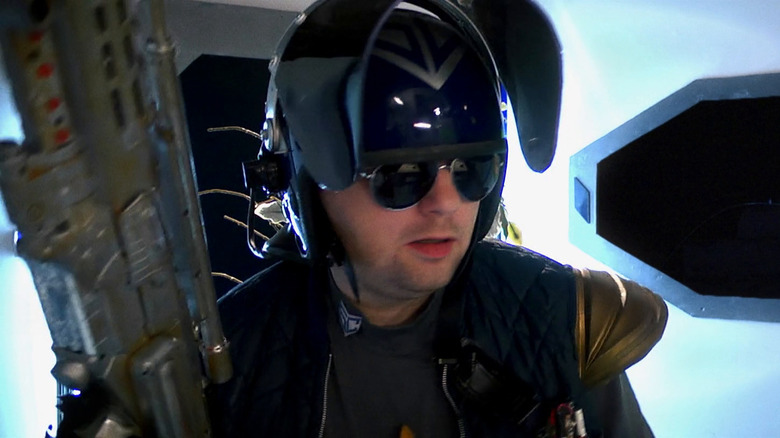 Red Letter Media
If the character from "Clerks III" do nothing but talk about genre movies, kibbitz about the things that annoy them, and eventually gather the wherewithal to make a movie themselves, why not watch that dynamic play itself out in real life over on Red Letter Media? Also based in Wisconsin, the gloriously cynical frauds over at Red Letter Media have built a modest online empire posting YouTube video reviews of "Star Wars" movies, discussions of new releases, and explorations of deeper, stickier, varmint-riddled trenches of the cinematic form. They are hilarious, and their rejection of corporate entertainment makes them a balm for lips chapped by the studio advertising machine.
In 2016, armed with decades of B-movie knowledge, Red Letter Media made a film of their own. It was a broad, silly sci-fi farce called "Space Cop," directed by Jay Bauman and Mike Stoklasa, and starring Rich Evans as the titular cop. Space Cop, operating in the year 2058, accidentally sends himself back in time to 2007 where he is paired with a 1940s detective (Stoklasa) who was cryogenically frozen. This film is full of sloppy, slapstick goofiness and wears its low budget with pride. 
If "Space Cop" can be made, so can your movie. 
"Space Cop" is available on Red Letter Media's website (although it's currently sold out).