Movie Review: Kevin Smith's Zack And Miri Make A Porno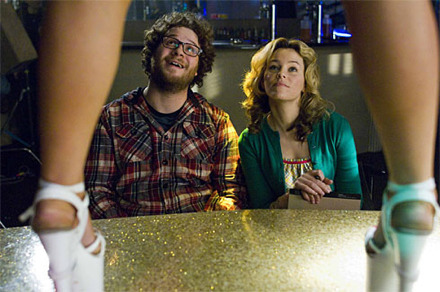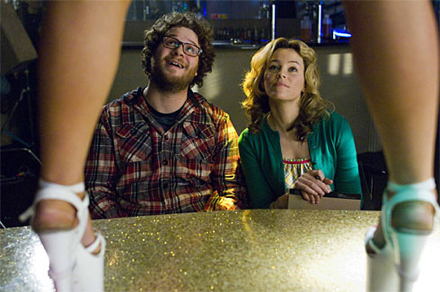 I have a theory that Kevin Smith's Zack and Miri Make a Porno is actually just a chronology of Smith's career so far as a filmmaker. The film starts off much like Clerks, with Seth Rogen trying to wake up for his dreadful job. Minutes later he is walking through the local mall with his roommate and best friend Miri, played by Elizabeth Banks, in a scene that is reminiscent of Mallrats. The high school reunion sequence that follows feels oh so Chasing Amy. And when Zack and Miri must band together with a group of misfits to make a porno, I'm reminded of both Dogma and Jay and Silent Bob Strike Back. And the last 30 minutes of Zack and Miri is more like a conventional romantic comedy, like Jersey Girl.
I got a chance to screen this film a few months ago, before the MPAA appeal hearing had taken place. When I told Smith my theory on the film, he replied "Congrats, sir – you're the first person to say, what to me, is so blatantly obvious.  It's not a movie about porn, really: it's a movie about how we made Clerks." And I think that says everything you really need to know about Zack and Miri.
One of the reoccurring stories found in the teen films from the 80's and 90's is that of the dork or geek who is hopelessly in love with his best friend. She is a cute looking girl, probably out of his league, who has an a**hole jock boyfriend and is completely ignorant to the fact that her sole-mate might actually be her best friend. Usually those 80's teen films end with the realization. You know, the one that usually never happens in real life.
I would like to think that Zack and Miri takes place a decade after that unresolved story. Zack works in a coffee shop, and is currently living with his best friend Miri, whose good looks got her only as far as a job in the local mall. They are struggling to pay the rent. With their electricity turned off, they get an idea from a chance meeting at their High School reunion to raise money by creating a porno. The theory is that at least everyone in their high school class would pay to see it. This leads to without-a-doubt, the funniest Star Wars reference from Smith yet. I'm not sure how they accomplished so much under the guise of parody, but regardless, the entire sequence is hilarious. I wonder what George Lucas must think.
The first 30 minutes of the film is the funniest half-hour Smith has ever written/directed. As a studio executive would say, there are more laughs per a minute in the first third, than probably any of Smith's previous films.  Thank god Smith won the MPAA appeal, as the 14 frame, half a second shot is the equivalent of the hair-gel moment from "There's Something About Mary".
The Office's Craig Robinson completely steals every scene he appears in. And Jason Mewes is more than just a pleasant surprise, delivering one of the biggest laughs of the entire film. Traci Lords and Katie Morgan will make you wonder why more porn actresses haven't crossed over to the Hollywood mainstream. Cinematographer David Klein takes the visuals to the next level. It's hard to believe this is the same guy who shot Clerks?
If there is any downside, it is that the film transitions from laugh out loud comedy to romantic dramedy in the last act, which might be too abrupt for some. But I think that by that point in the story you have come to care about the story of Zack and Miri enough to go through the transitional tone.
Bottom line is that Zack and Miri is the funniest film of 2008, and quite possibly the most fucked up romantic comedy ever to hit the big screen.
/Film Rating: 8 out of 10