Does Clerks 3 Have A Post-Credits Scene?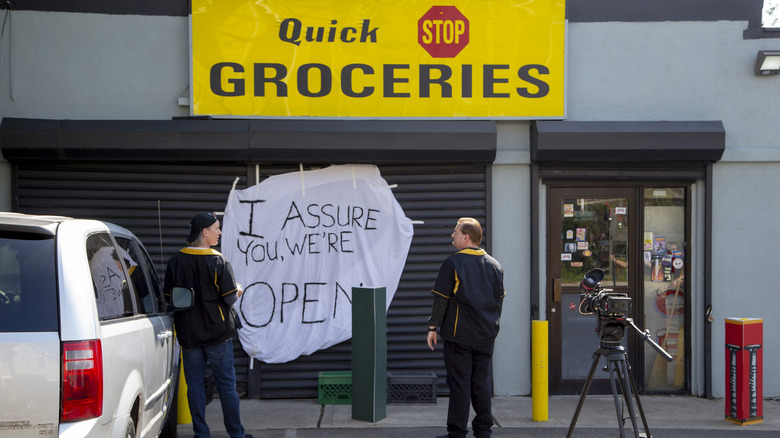 Lionsgate
When you think of post-credits scenes, the first thing that probably comes to mind is the Marvel Cinematic Universe. Since the House of Ideas started putting them at the end of their movies in 2008 to tease whatever they had in store next, many other movies (mostly ones with superheroes in them) have followed suit and they've become trademarks of the genre at this point.
However, post-credits scenes aren't that new. "The Silencers" featured one in 1966. John Hughes utilized them in "Planes, Trains, and Automobiles" and "Ferris Bueller's Day Off." And who can forget Animal's lovely send-off at the end of "The Muppets Movie"? So when it comes to Kevin Smith's "Clerks III," does the New Jersey native follow in the footsteps of some classic comedies that came before him?
Well, the answer to that is a little complicated. To address the question in this article's title directly, no, there is no post-credits scene in "Clerks III." However, something does happen in the credits that might be worth sticking around for if you're a fan of the Quick Stop's star employees.
(There are SPOILERS for "Clerks III" from this point forward. Please proceed with caution.)
As long as you're alive, you can write another chapter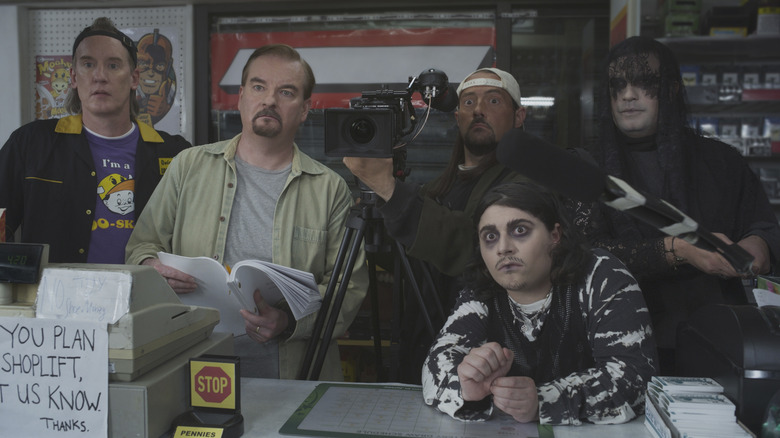 Lionsgate
After Elias hits it big with his Buddy Christ kite NFT and pays off the debt that Dante owed Emma, Randal looks around the store and says, "I wish you were here, man." The hauntingly beautiful "I'm From New Jersey" by John Gorka starts playing as Dante's ghost appears in his usual spot behind the counter next to Randal and gives his best friend a proud look. The movie ends with a pull-out shot of the store to reveal Jay's daughter, Milly (played by Harley Quinn Smith), "going through every gallon of milk, looking for that later date, as if somewhere beyond all the other gallons is a container of milk that won't go bad for at least a decade." (Her grandmother, Grace Smith, played the original milk maid in "Clerks.")
Gorka's song continues over the credits and goes until 1:36:20. Thirty seconds later, Kevin Smith chimes in like it was one of his podcasts to personally thank the audience and generally everyone involved in the "Clerks" journey throughout all three films. He also shared a deleted voiceover that was meant to go over the last shot in the Quick Stop. Similar to "Stand By Me" or "The Sandlot," it reveals what happened to Randal in the future.
From the cradle to the Graves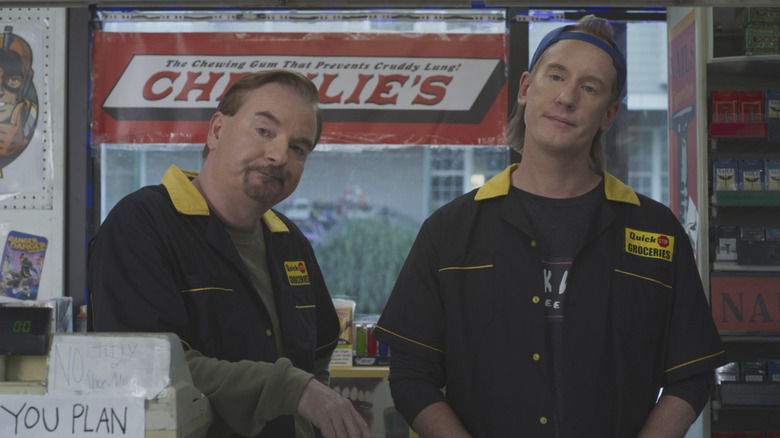 Lionsgate
Smith started by sharing the oft-quoted line from his breakout film: "Man, this job would be great if it wasn't for the f**king customers." Then, if he had kept the voiceover in the movie, he revealed that a character he called The Voice of Smod would say the following over the last shot of the movie:
Randal Graves spent the rest of his life running Quick Stop Groceries whenever he wasn't making movies, with each film financed solely by Crimson Crypto Studios. At a screening of his final film, the Asbury Park Press asked him to sum up a life spent satisfying both the public's demand for cigarettes and soda as well as their appetite for the many movies he made after his celebrated debut "Clerk." 90-year-old Randal Graves replied, "I always thought the jobs would have been great if it weren't for the f**king customers. But as it turns out, these jobs were f**king great because of the customers."
Rather than a post-credits scene, we get a pre-home release director's commentary track in "Clerks III." And while the theatrical ending works as it is, this is still a sweet sentiment from both the fictional and the real-life filmmaker, so it was nice that Smith included that at the end of his "Clerks" trilogy.
"Clerks III" is playing in theaters from Tuesday, September 13, 2022 to Sunday, September 18, 2022 thanks to Fathom Events, but you can catch it on tour this fall with a Q&A featuring Smith himself in a city near you.