Nanny Trailer: Nikyatu Jusu's Sundance Jury Winner Finally Arrives On Prime Video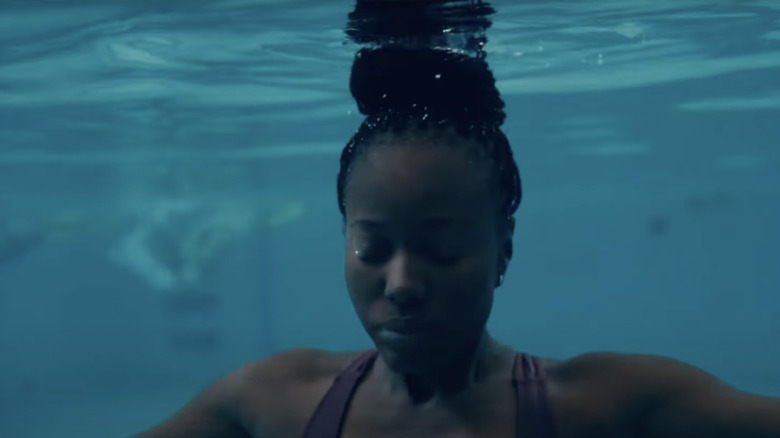 Prime Video
Among the myriad of movies that premiered at this year's Sundance Film Festival, few have been discussed or hyped in the days since their premiere as much as "Nanny." Nikyatu Jusu's directorial debut and the winner of Sundance's prestigious Grand Jury Prize in the U.S. Dramatic Competition drew up critical acclaim upon its premiere, with /Film's Shania Russell saying it "innovates in both lore and form" by "never [shying] away from the power of vibrance."
From the imagery shown in the recently released first trailer, this description doesn't seem so far off. Aisha (Anna Diop) is a young Senegalese immigrant who is trying to begin the U.S. naturalization process. Unfortunately, this means having to leave her young son in the care of her family back home. In order to get the money needed to begin the citizenship proceedings, she takes the titular job for Upper East Side couple Amy (Michelle Monaghan) and Adam (Morgan Spector). While she seems to be getting closer to getting her son to the U.S. and also finding a potential love interest in Malik (Sinqua Wells), a seemingly supernatural force grips Aisha, putting her and her son's futures in danger.
Watch the Nanny trailer
After being acquired by Prime Video and Blumhouse this past March, many questioned what the future looked like for "Nanny," with some fearing that it would get buried underneath other Blumhouse releases of the year. Thankfully, that doesn't appear to be the case. The first trailer for the acclaimed film has been released, announcing that it will be given a theatrical run on November 23, 2022 before heading to Prime Video on December 16. It will also screen at the Toronto International Film Festival on September 12. Check out the official plot synopsis below:
"In this psychological fable of horror, Aisha, a woman who recently emigrated from Senegal, is hired to care for the daughter of an affluent couple living in New York City. Haunted by the absence of the young son she left behind, Aisha hopes her new job will afford her the chance to bring him to the U.S., but becomes increasingly unsettled by the family's volatile home life. As his arrival approaches, a violent presence begins to invade both her dreams and her reality, threatening the American dream she is painstakingly piecing together."