The Best TV Shows And Movies Coming To Hulu In September 2022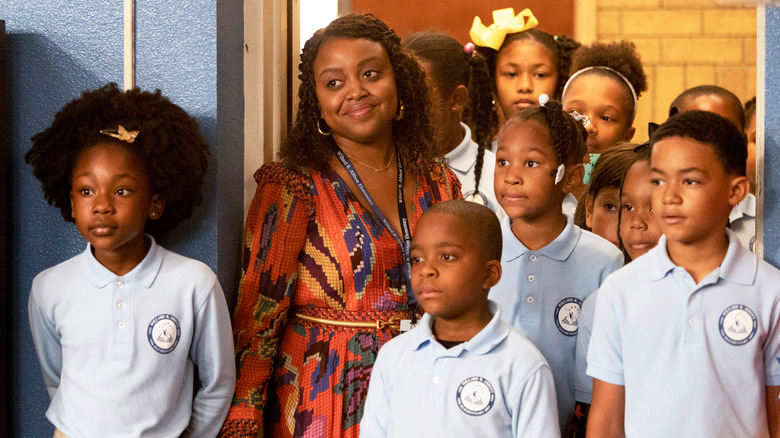 ABC
It's out with the old and in with the new — another month is coming to a close, so it's time for each of our many different streaming services to refresh their libraries by adding new titles and getting rid of others. So far, no one is doing this quite as dramatically as HBO Max, but alas, no one is completely safe from the possibility of removal. Bet let's instead focus on the upside: More titles will be available to stream this month! Meaning lots more TV series and movies to add to your watchlist and hopefully cross off before they inexplicably disappear from the service.
This month, Hulu is whipping out a selection that really runs the gamut. Looking to linger in the comforting space of reality TV? The streamer has everything from Kardashian family drama to foodie-leaning titles like "Best in Dough" and the season premiere of "Hell's Kitchen." In the realm of speculative fiction, September marks the arrival of the fifth season of "The Handmaid's Tale," the bleak dystopian series set in a world where a totalitarian theocracy has taken control of America. And if you need something light to recover from those horrors, then you can always await the return of "Abbott Elementary," the hit sitcom coming back for its sophomore season. As usual, there will be plenty of new titles to choose from, so we've highlighted five that you should definitely set aside time to check out.
Wedding Season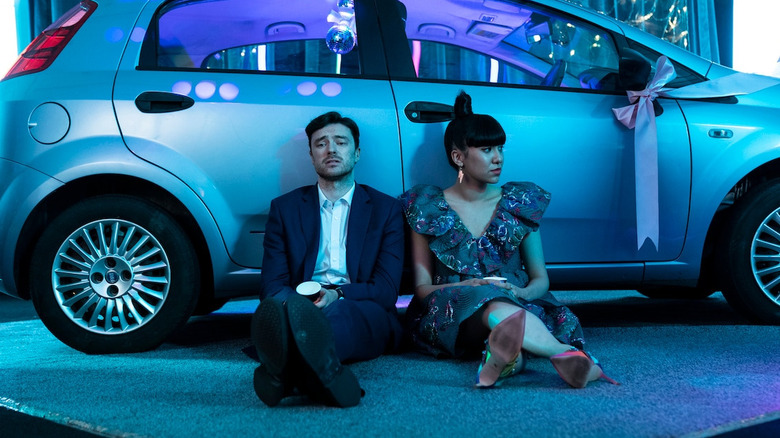 Hulu
One of Hulu's newest additions is a romantic murder mystery comedy about a wedding gone terribly wrong. "Wedding Season" tells the story of Katie (Rose Salazar) and Stefan (Gavin Drea), strangers who fall for each other at a wedding and begin a beautiful affair with all the trappings of a whirlwind romance. Unfortunately, the keyword is affair because Stefan soon discovers that Katie is not only in a relationship, she's engaged and her wedding date is fast approaching. That would probably be the end of that, but when Katie's wedding finally arrives, her husband and his entire family are murdered. The police naturally turn their attention to the man that Katie started an affair with and Stefan begins to fear that Katie is responsible for the murders. So begins their romantic getaway — avoiding capture form the police, desperately trying to prove their innocence and each hoping that their new companion isn't a mass murderer. "Wedding Season" sounds like a binge-worthy eight episode romp that veers into the absurdist comedy realm, with the slight possibility of turning into a "Gone Girl" scenario. What more could you want from a love story?
10 Things I Hate About You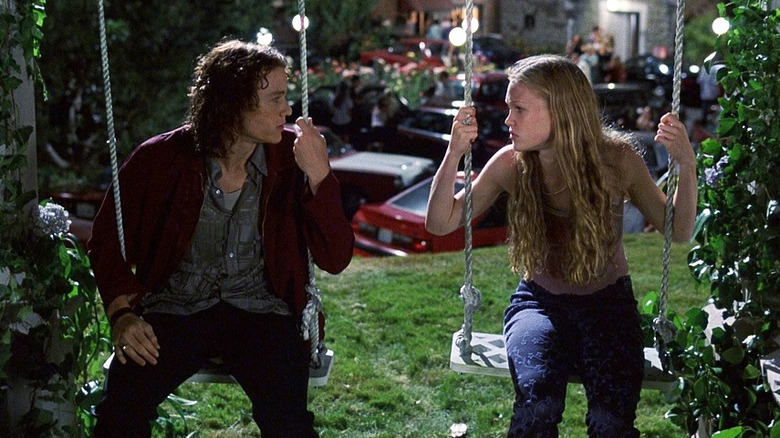 Touchstone Pictures
Over two decades since its release, "10 Things I Hate About You" is a timeless, rewatchable classic. The film gives Shakespeare a teen comedy makeover, loosely stealing the plot of "The Taming of the Shrew" for a story of two Seattle sisters with an overbearing father who refuses to let them date (lest they come home knocked up). His solution? He pits them against each other, declaring that superficial younger sibling Bianca (Larisa Oleynik) can't date unless her antisocial older sister Kat (Julia Stiles) dates first. Contemporary, clever, and very self-aware, "10 Things" has lots to observe about teen dramas and manages to pull it off without sacrificing any of the swoon.
Watching the fiercely independent Kat clash with her mysterious bad boy love interest Patrick (an irresistible Heath Ledger) never gets old. Both of them are fully embodying one of the film's best moments, and taking the "can't take my eyes off of you" quality to the next level. And of the many points in this film's favor is the fact that it's always fun to revisit the work of actors on the cusp of stardom. "10 Things I Hate About You" stars Ledger and Stiles in top form, along with a goofy but likable Joseph Gordon Levitt, Gabrielle Union regularly delivering hilarious lines ,and Alison Janey as a terribly ineffective guidance counselor who writes erotic literature and is named Ms. Perky.
"10 Things" is a classic, and if you haven't seen it yet, then that's an issue that you desperately need to correct. But if (like me) you've seen in a million times, then this is a wonderful opportunity to make that a million and one, because it only ever gets better.
Petite Maman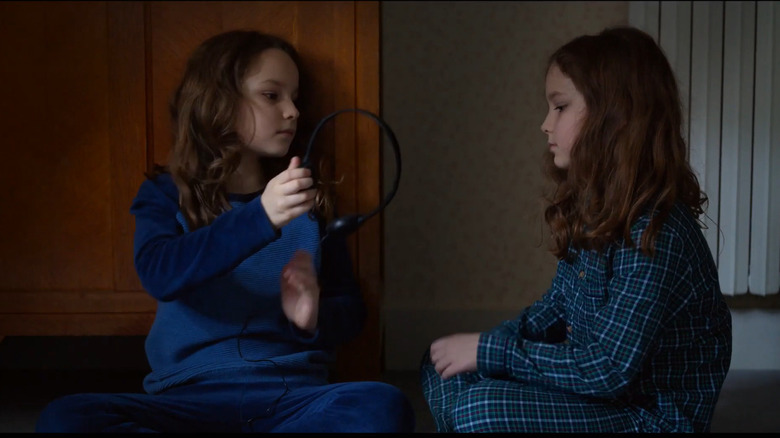 Madman Films
After "Portrait of Lady on Fire" took the world by storm, all eyes were on Céline Sciamma for a followup and the French filmmaker certainly didn't hold back. "Petite Maman" is a tender fairytale that follows an 8-year-old girl exploring the woods of her mother's childhood home. There she encounters a girl around her same age, who looks suspiciously similar and happens to share her mother's name (the young actors who play the girls are twins).
If you're only familiar with the lush, erotic romance of "Portrait," then Sciamma's latest film may feel like a turn in a new direction. But it harkens back to much of Sciamma's earlier work, as an emotional coming-of-age tale in the vein of "Tomboy," now with an understated sci-fi twist. Her emotionally tender storytelling once again cuts deep and earned a a glowing review from /Film's Hoai-Tran Bui who wrote that Sciamma "finds meaning in the loaded silences, complexity in the closed and dusty spaces, and beauty in the withered branches that make up the hut that Nelly and Marion build together. 'Petite Maman' is richer in its simplicity; a lovely slice-of-life tale that knows that loss is so enormous and monumental that we can only linger with it for brief moments."
Ernest & Celestine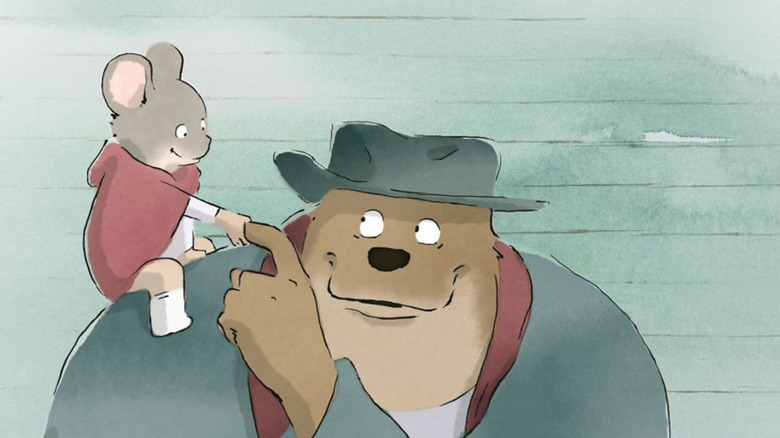 StudioCanal
"Ernest & Celestine" is a buddy-comedy about a friendship between a mouse and the bear that once tried to eat her. It may not be the most intuitive friendship — as their respective communities will frequently remind them — but it's certainty the purest. Both artists and dreamers, these two bohemian animals form an unlikely bond that is questioned by everyone around them but fiercely persists as they pursue new lives. Celestine comes from a civilization of hardworking mice who are terrified of the bears above ground. When we meet her, she's pursuing a career in dentistry but has absolutely no interest, spending all her free time on dreams and sketches. Above ground, Ernest is a bear without food and money. After a twist of fate brings them together, they find a new way to survive.
Put simply: it's wholesome, but they also do crime. This underseen beauty looks like a water color painting come to life, with an art style that directly emulates the children's book it's based on. If the good vibes and stunning visuals are piquing your interest then consider this — the sooner you allow yourself the joy of seeing this movie, the sooner you can watch "Ernest & Celestine 2: A Trip to Gibberitia," the sequel set to arrive later this year.
Abbott Elementary season 2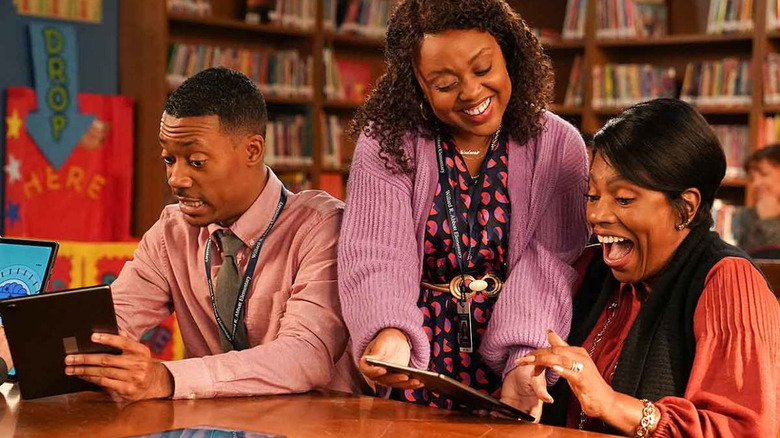 ABC
The gap between seasons of TV always seems to be getting longer, but thankfully, "Abbott Elementary" won't be torturing us with patience any longer than it must. The hit sitcom is set to return with new episodes on ABC at the end of the month, all of which will arrive to Hulu the very next day. Very soon, we'll be thrust back into the world of Abbott where the staff will try their damndest to give their kids the education they deserve while curbing whatever desk-hopping craze happens to strike next.
The series stars Quinta Brunson stars as young teacher Janine Teagues, who has yet to be fully beaten down by the broken public school system and is sprinkling her unwavering optimism all over Abbott. Even though her fellow newbies Jacob (Chris Perfetti) and Gregory (Tyler James Williams) don't always match her energy and veteran teachers Barbara (Sheryl Lee Ralph) and Melissa (Lisa Ann Walter) know better than to trust the system, they all share a passion for their students and with Janine's hopeful demeanor rubbing off in a big way, Abbott is heading towards success.
The selling point of the show isn't just that wholesome vibe and wondrous energy — it's the laughs,. Like "The Office" and "Parks and Rec" before it, the series makes incredible use of its mokumentary style, and finds plenty of situational hilarity in the everyday lives of its ensemble cast.
Movies and TV shows coming to Hulu in September 2022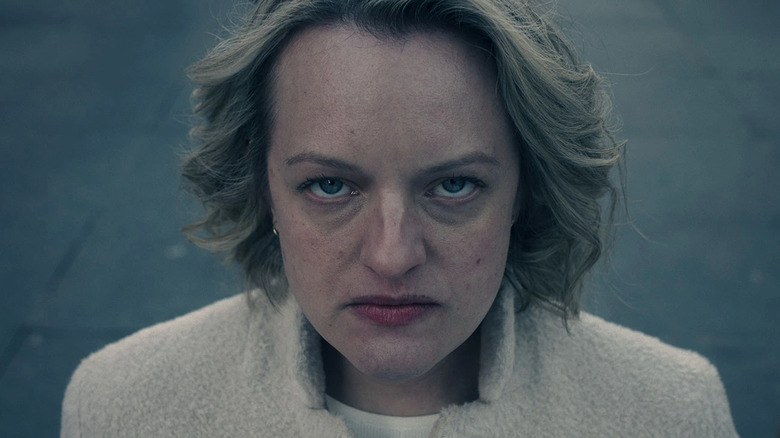 Hulu
September 1
The Mighty Ones: Complete Season 3 (Hulu Original)
A Certain Scientific Railgun: Complete Season 1 (DUBBED) (Funimation)
A Certain Scientific Railgun: Complete Season 2 (DUBBED) (Funimation)
Abby's Ultimate Dance Competition: Complete Season 1 (Lifetime)
Aftermath with William Shatner: Complete Season 1 (FYI)
Aftermath with William Shatner: Complete Season 2 (FYI)
Alone: An Inside Look: Complete Season 1 (History)
America's Book Of Secrets: Complete Seasons 1 & 3 (History)
American Pickers: Complete Seasons 2 – 4 (History)
American Ripper: Complete Season 1 (History)
Ancient Aliens: Complete Season 15 (History)
Ancient Aliens: Complete Season 16 (History)
Ancient Impossible: Complete Season 1 (History)
Ax Men: Complete Seasons 1, 8 & 9 (History)
Behind Bars: Rookie Year: Complete Season 1 (A&E)
Beyond the Headlines: Catching the Craigslist Killer: Complete Season 1 (Lifetime)
Beyond the Headlines: Secrets of a Marine's Wife: Complete Season 1 (Lifetime)
Beyond the Headlines: The Carlina White Story: Complete Season 1 (Lifetime)
Beyond the Headlines: The College Admissions Scandal with Gretchen Carlson: Complete Season 1 (Lifetime)
Beyond the Headlines: The Jennifer Dulos Story: Complete Season 1 (Lifetime)
Beyond The Headlines: The Kamiyah Mobley Story with Robin Roberts: Complete Season 1 (Lifetime)
Beyond the Headlines: The Tiffany Rubin Story: Complete Season 1 (Lifetime)
Beyond The Headlines: The Watts Family Tragedy: Complete Season 1 (Lifetime)
Biography: KISStory: Complete Season 1 (A&E)
Blood-C: Complete Season 1 (DUBBED) (Funimation)
Bloods: Season 2B (Sky)
Born This Way: Complete Season 1 (A&E)
Breaking Their Silence: Inside the Gymnastics Scandal: Complete Season 1 (Crime & Investigation)
The Cars That Built the World: Complete Season 1 (History)
The Cars that Made America: Complete Season 1 (A&E)
Catering Wars: Complete Season 1 (Lifetime)
City Confidential: Complete Season 1 (A&E)
Counting Cars: Complete Season 2 (History)
Court Cam: Complete Season 1 (A&E)
Court Cam: Complete Season 2 (A&E)
Court Cam: Complete Season 3 (A&E)
Crime 360: Complete Season 1 (A&E)
Cultureshock: Complete Season 1 (A&E)
Dance Moms: Complete Season 5 (Lifetime)
Dance Moms Miami: Complete Season 1 (Lifetime)
Dance Moms: Abby's Studio Rescue: Complete Season 1 (Lifetime)
The Day I Picked My Parents: Complete Season 1 (A&E)
Days That Shaped America: Complete Season 1 (History)
Desafio Sobre Fuego: Complete Season 1 (A&E)
Desafio Sobre Fuego: Complete Season 2 (A&E)
Divided States: Complete Season 1 (A&E)
Dog The Bounty Hunter: Complete Season 1 (A&E)
The Engineering That Built the World: Complete Season 1 (A&E)
Escaping Polygamy: Complete Season 1 (A&E)
Extreme Moms: Complete Season 1 (A&E)
Extreme Paranormal: Complete Season 1 (A&E)
Extreme Unboxing: Complete Season 1 (A&E)
The First 48 Presents: Critical Minutes: Complete Season 1 (A&E)
Fit to Fat to Fit: Complete Season 1 (Lifetime)
Fix This Yard: Complete Season 1 (A&E)
Flip This House: Complete Season 2 (A&E)
Flip This House: Complete Season 3 (A&E)
Flip Wars: Complete Season 1 (A&E)
Flipping Vegas: Complete Season 1 (A&E)
Food Porn: Complete Season 1 (FYI)
Forged in Fire: Complete Seasons 1 – 3 (History)
Forged in Fire: Knife or Death S1 (History)
Forged in Fire: Knife or Death S2 (History)
Found: Complete Season 1 (History)
Gangland: Aryan Brotherhood: Complete Season 1 (History)
Gangsters: America's Most Evil: Complete Season 1 (History)
Gene Simmons: Family Jewels: Complete Season 1 (A&E)
Gene Simmons: Family Jewels: Complete Season 2 (A&E)
Gigantes de Mexico: Complete Season 1 (A&E)
Glam Masters: Complete Season 1 (Lifetime)
Going Si-ral: Complete Season 1 (A&E)
Gungrave: Complete Season 1 (DUBBED) (Funimation)
Haunted History: Complete Season 1 (History)
The Haunting Of: Complete Season 1 (LMN)
Hispanic Heroes: Complete Season 1 (History)
Hoarders: Complete Season 4 (A&E)
How Playboy Changed the World: Complete Season 1 (History)
The Hunt for the Zodiac Killer: Complete Season 1 (History)
Hunting Hitler: Complete Seasons 1 – 3 (History)
Hunter x Hunter: Episodes 53-148 (DUBBED) (Viz)
Hunter x Hunter: Episodes 80-148 (SUBBED) (Viz)
I Dated a Psycho: Complete Season 1 (LMN)
I Killed My BFF: Complete Season 1 (Lifetime)
I Love You...But I Lied: Complete Season 1 (LMN)
I Survived . . . Beyond and Back: Complete Season 1 (LMN)
I Survived: Complete Season 1 (LMN)
I Survived: Complete Season 2 (LMN)
Ice Road Truckers: Complete Season 1 (History)
Ice Road Truckers: Complete Season 2 (History)
Jamie & Doug's NYC Date Night: Complete Season 1 (Lifetime)
Jamie and Doug Plus One: Complete Season 1 (Lifetime)
Jep & Jessica: Growing The Dynasty: Complete Season 1 (History)
JFK Declassified: Tracking Oswald: Complete Season 1 (History)
Kingpin: Complete Season 1 (History)
Kocktails with Khloé: Complete Season 1 (FYI)
Late Nite Chef Fight: Complete Season 1 (FYI)
The Machines That Built The World: Complete Season 1 (History)
Making a Model with Yolanda Hadid: Complete Season 1 (Lifetime)
Man vs. Child: Chef Showdown: Complete Season 1 (FYI)
Man vs. Master: Chef Battle: Complete Season 1 (FYI)
Married at First Sight: Complete Seasons 1 – 4 & 7 – 9 (Lifetime)
Married At First Sight: Happily Ever After?: Complete Season 7 (Lifetime)
Married At First Sight: Honeymoon Island: Complete Season 7 (Lifetime)
Married at First Sight: Second Chances: Complete Season 1 (Lifetime)
Married At First Sight: The First Year: Complete Season 1 (Lifetime)
Married At First Sight: The First Year: Complete Season 2 (Lifetime)
Married Life Diaries: Complete Season 1 (Lifetime)
The Men Who Built America: Complete Season 1 (History)
The Men Who Built America: Frontiersmen: Complete Season 1 (History)
Midnight Feast: Complete Season 1 (FYI)
Mobsters: Complete Season 1 (FYI)
MonsterQuest: Complete Season 1 (FYI)
Mountain Men: Complete Seasons 1 – 5 (History)
Mushi-shi: Complete Season 1 (DUBBED) (Funimation)
Obsessed: Complete Season 1 (History)
Ozzy and Jack's World Detour: Complete Season 1 (A&E)
Panic 9-1-1: Complete Seasons 1 & 2 (A&E)
Paranormal Cops: Complete Season 1 (A&E)
Pawn Stars: Complete Seasons 2, 11, 13 & 14 (History)
The Rap Game: Complete Season 1 (Lifetime)
Sell This House: Complete Season 1 (A&E)
Space Dandy: Complete Season 1 (DUBBED) (Funimation)
Steins;Gate: Complete Season 1 (DUBBED) (Funimation)
Storage Wars: Complete Season 12 (A&E)
Swamp People: Complete Season 10 (History)
Taking the Stand S1 (History)
The Titans That Built The World: Complete Season 1 (History)
Tiny House Hunting: Complete Season 1 (FYI)
Tiny House Nation: Complete Season 1 (FYI)
The Toys That Built The World: Complete Season 1 (History)
TRANsitioning: Complete Season 1 (FYI)
Unidos por la Historia: Complete Season 1 (History)
Unidos por la Historia: Complete Season 2 (History)
The UnXplained with William Shatner: Complete Season 3 (History)
Wahlburgers: Complete Season 1 (A&E)
Wahlburgers: Complete Season 2 (A&E)
World Food Championships: Complete Season 1 (FYI)
Zombie House Flipping: Complete Season 1 (FYI)
10 Things I Hate About You (1999)
A Good Old Fashioned Orgy (2011)
A La Mala (2015)
About Last Night (1986)
The American (2010)
American Pie (1999)
American Pie 2 (2001)
American Wedding (2003)
American Reunion (2012)
American Rapstar (2020)
Anaconda (1997)
Anais in Love (2021)
Bad Girls (1994)
Batman Begins (2005)
Big (1988)
Breaking Up (1997)
Chronicle (2012)
Cliffhanger (1993)
Cowboys & Aliens (2011)
The Darjeeling Limited (2007)
The Dark Knight (2008)
Diggers (2006)
Dolphin Tale (2011)
Drive Angry 3D (2011)
The Eyes of Tammy Faye (2021)
Fight Club (1999)
The Fisher King (1991)
Get Smart (2008)
The Good Shepherd (2006)
The Gospel (2005)
He Got Game (1998)
High-rise (2015)
The Hitcher (1986)
Hook (1991)
Hope Floats (1998)
Hostel (2006)
Hostel: Part II (2007)
I Do...Until I Don't (2017)
Jessabelle (2014)
Kazaam (1996)
Law Abiding Citizen (2009)
Little Fockers (2010)
Lost In Space (1998)
The Man With The Iron Fists (2012)
The Mask of Zorro (1998)
Maverick (1994)
Meet The Fockers (2004)
Meet The Parents (2000)
Multiplicity (1996)
Nell (1994)
Nine Months (1995)
Notes on a Scandal (2006)
Open Water (2004)
The People Vs. Larry Flynt (1996)
Philadelphia (1993)
The Pirates! Band Of Misfits (2012)
Robot And Frank (2012)
Roll Bounce (2005)
Short Circuit (1986)
Snow White And The Huntsman (2012)
The Social Network (2010)
Straw Dogs (2011)
Stripes (1981)
Tell It to the Bees (2018)
This Is 40 (2012)
The Three Musketeers (2011)
Tigerland (2000)
True Lies (1994)
Tyler Perry's Madea's Big Happy Family (2011)
Tyler Perry's Madea's Family Reunion (2006)
Unplugging (2021)
Van Helsing (2004)
We Bought a Zoo (2010)
Won't Back Down (2012)
Year One (2009)
Young Guns (1988)
Young Guns II (1990)
September 2
Cuttputlli (2022) (Hulu Original)
A Cat in Paris (2010)
Ernest & Celestine (2012)
Lupin III: The First (2019)
Wasted! The Story of Food Waste (2017)
White Snake (2019)
September 3
Active Measures (2018)
September 4
Stratton (2017)
September 5
You're Not You (2014)
September 6
Petite Maman (2021)
September 7
Grid: Complete Season 1 (SUBBED) (Hulu Original)
Tell Me Lies: Three-Episode Series Premiere (Hulu Original)
The Cove (2009)
Racing Extinction (2015)
September 8
Wedding Season: Complete Season 1 (Hulu Original)
The Zone: Survival Mission: Complete Season 1 (SUBBED) (Hulu Original)
Among the Shadows (2019)
Half Magic (2018)
September 9
Wild Horses (2015)
September 10
Capital One: College Bowl: Season 2 Premiere (NBC)
The Last Victim (2022)
September 11
In Dubious Battle (2016)
Dirty Weekend (2015)
September 12
Monarch: Series Premiere (Fox)
The Grand Seduction (2013)
September 13
Around the Globe in 80 Days (2021)
September 14
The Handmaid's Tale: Two-Episode Season 5 Premiere (Hulu Original)
The Come Up: Series Premiere (Freeform)
Higher Power (2018)
The Last Duel (2021)
September 15
2 Days In New York (2012)
Alan Partridge (2013)
Cosmos (2019)
The Dustwalker (2020)
Freakonomics (2010)
I Give It A Year (2013)
Lost Girls (2022)
Love, Simon (2018)
The Mandela Effect (2019)
Maze Runner: The Death Cure (2018)
Red Dog (2019)
The Rest of Us (2019)
This Mountain Life (2018)
September 16
Atlanta: Fourth and Final Season Premiere (FX)
I Think We're Alone Now (2018)
September 19
Best in Dough: Three-Episode Series Premiere (Hulu Original)
September 20
Reboot: Three-Episode Series Premiere (Hulu Original)
9-1-1: Season 6 Premiere (Fox)
The Cleaning Lady: Season 2 Premiere (Fox)
Boom For Real: The Late Teenage Years Of Jean-Michel Basquiat (2017)
September 21
The Resident: Season 6 Premiere (Fox)
September 22
The Kardashians: Season 2 Premiere (Hulu Original)
Abbott Elementary: Season 2 Premiere (ABC)
Big Sky: Season 3 Premiere (ABC)
The Conners: Season 5 Premiere (ABC)
The Goldbergs: Season 10 Premiere (ABC)
Home Economics: Season 3 Premiere (ABC)
Lego Masters: Season 3 Premiere (Fox)
The Masked Singer: Season 8 Premiere (Fox)
Spy x Family: Complete Season 1 (DUBBED) (Funimation)
September 23
Norman Lear: 100 Years of Music and Laughter (ABC)
September 24
Shark Tank: Season 14 Premiere (ABC)
Dinner in America (2020)
September 26
Chefs vs. Wild: Two-Episode Series Premiere (Hulu Original)
Bob's Burgers: Season 13 Premiere (Fox)
Celebrity Jeopardy!: Series Premiere (ABC)
Celebrity Wheel of Fortune: Season 3 Premiere (ABC)
Family Guy: Season 21 Premiere (Fox)
The Great North: Season 3 Premiere (Fox)
The Rookie: Season 5 Premiere (ABC)
The Simpsons: Season 34 Premiere (Fox)
A Chiara (2021)
September 27
Reasonable Doubt: Two-Episode Series Premiere (Onyx/Hulu Original)
September 28
The D'Amelio Show: Two-Episode Season 2 Premiere (Hulu Original)
Bachelor in Paradise: Season 8 Premiere (ABC)
The Rookie: Feds: Series Premiere (ABC)
September 30
Ramy: Complete Season 3 Premiere (Hulu Original)
Call Me Kat: Season 3 Premiere (Fox)
Hell's Kitchen: Season 21 Premiere (Fox)
Welcome to Flatch: Season 2 Premiere (Fox)