Why Quinta Brunson's Abbott Elementary Is Must-Watch TV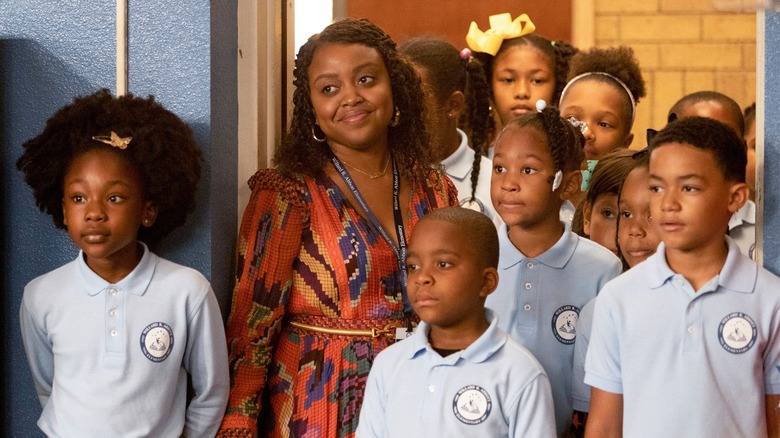 ABC
With only five episodes available so far, ABC's "Abbott Elementary" from Quinta Brunson is already making a hell of a case for 2022's "most likely to succeed." Debuting in the last week of 2021, "Abbott Elementary" started out with a modest viewership rating of 0.6 and roughly 2.79 million viewers, but after 35 days of viewing across ABC's linear and digital platforms, "Abbott Elementary" skyrocketed by 300% for a whopping 2.4 rating and 7.1 million viewers. This is the largest percentage growth from live-plus-same-day numbers to multiple platform numbers after 35 days for any comedy series. The show is a shot in the mockumentary sitcom style (a la "The Office," "Modern Family," and 'Parks and Recreation") set in the underfunded Philadelphia public school system.
On my first day teaching K-8 classes in Cleveland, I walked up six flights of stairs to get to my classroom, only to immediately walk back down when the key I had been given broke off in the lock. Our building was so old it did not have an elevator for ADA compliance, the broken key was a result of years of wear and tear, and when I finally did get into my room, the janitor had left a sign reminding me not to let the students drink the water from the classroom sink. My classroom library was composed of donated and hand-me-down books, my decorations and supplies all stocked from my own pocketbook, and all of the desks were of varying heights and styles as I had been given the leftovers from other rooms. "Abbott Elementary" is hilarious, but it's also the realest show on television.
Quinta Brunson Is Brilliant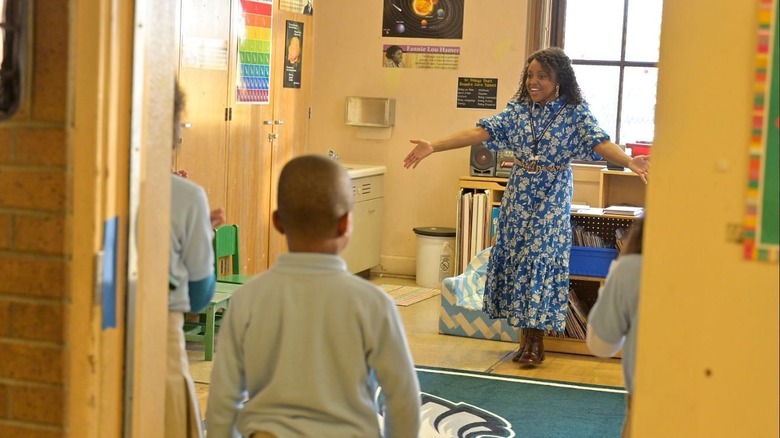 ABC
Show creator Quinta Brunson is one of the most prominent crossover success stories as someone who broke into the industry through online means (Instagram and Buzzfeed) and pivoted to network productions with "A Black Lady Sketch Show," "Magical Girl Friendship Squad," and "Big Mouth." In May of 2021, ABC picked up the previously-titled "Harrity Elementary" single-camera pilot from Brunson, and "Abbott Elementary" was born. Brunson's mom was a teacher and the show is named after her sixth grade teacher. "It's about making people laugh, but also about making them think a little bit more about what teachers have done for people," Brunson said in an interview with LA Times.
What makes the show stand out compared to other workplace comedies of a similar style is the effortless way Brunson weaves political commentary into workplace hijinks. Brunson stars as Janine Teagues, one of the school's newest teachers who has yet to be knocked down by the incredibly broken public school education system. "I'd say the main problem with the school district is, yeah, no money," she says. "Uh, the city says there isn't any, but they're doing a multimillion-dollar renovation to the Eagles' stadium down the street from here." As a teacher who had to drive by the multi-million dollar renovations to the arena where the Cleveland Cavaliers play to teach in a school that has since been permanently closed, "Abbott Elementary" provides the space to laugh to keep from crying.
The Show Is A Gift of Representation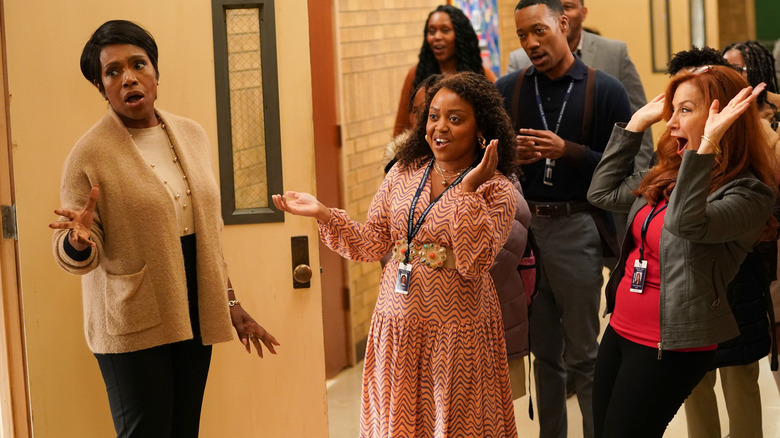 ABC
"Abbott Elementary" is not just a show about educators; it's a show about predominantly Black educators. With the exception of Lisa Ann Walter's no-nonsense second grade teacher Melissa Schemmenti (who reminds me so much of how I was as a teacher I could die) and Chris Perfetti's human personification of a "How To Be a Black Ally" instagram graphic, Jacob Hill, the rest of the cast is composed of Black educators, Black administrators, Black service workers, Black parents, and Black students. Tyler James Williams (of "Everybody Hates Chris," and "Dear White People" fame) plays a temporary sub named Gregory Eddie who rivals Jim Halpert in the "breaking of the fourth wall by staring directly into the camera" department, but also provides a rare look at a Black male educator in a public school system.
During an interview with The Root, Williams noted that he wanted to take on the role as a way to "bring voice to Black, male educators and particularly Black men and encourage, represent, acknowledge and validate the experience of the Black man rearing the next generation — whether it be educationally or just in everyday life." Comedian Janelle James plays principal Ava Coleman, the closest thing that "Abbott Elementary" has to a villain (outside of the systemic issues that shape the world of the school, obviously), and just like Michael Scott, you can't help but love her no matter how ridiculous some of her actions may appear. 
The Show is Hilarious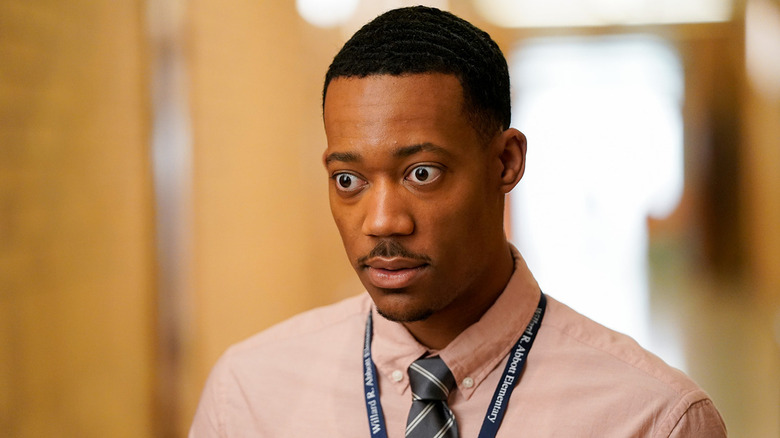 ABC
Even if you're not a teacher or don't have children in the school system, "Abbott Elementary" is still absolutely hilarious. The addictiveness of "Baby Shark" is compared to being like the song "Back That Azz Up" but for kids; Janine turns the pages of an book with taped-in photos of presidents Obama, Trump, and Biden since the school hasn't updated their materials since Bush was in office; a kid writes that their favorite movie is "American Gangster;" and there's always the good ol' awkward conversation with a parent who consistently brings their kid late to school. The comedy is relatable and applicable because as human beings we never stop learning and growing, which means we never really leave school, even if we're not in a brick and mortar building.
Every time Mr. Hill opens his white savior mouth, I can't help but laugh at how he feels like the Gal Gadot celebrity "Imagine" video gained sentience and started teaching in a public school. It's so much fun to hang out with these characters, because as much as this is a show about a school, it's also about a community. Do they all get along 100% of the time? Absolutely not. Do they all have each other's back even if it means checking them on their nonsense with a brilliant one-liner? Absolutely.
Abbott Elementary Came at the Perfect Time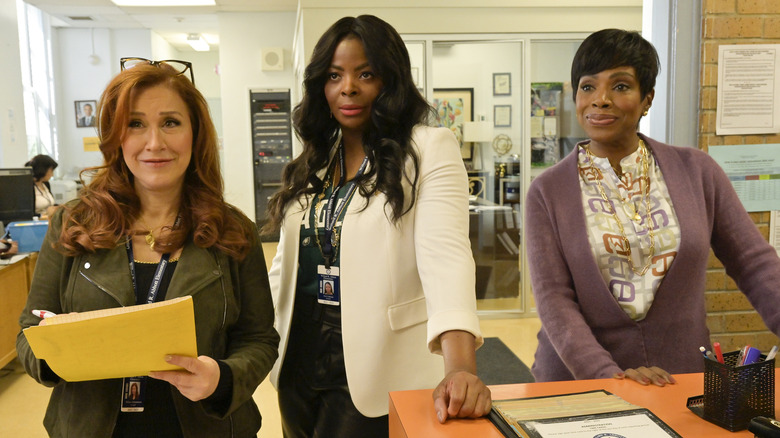 ABC
The United States is currently experiencing a teacher shortage, schools' curricula are under attack in ways we haven't seen in decades, and those still managing to show up every single day are putting their literal lives on the line between the lingering threat of school shootings and the raging pandemic. We do not appreciate teachers in this country, and "Abbott Elementary" knows it. "We are admin, we are social workers, we are therapists, we are second parents — hell, sometimes we're even first," says Sheryl Lee Ralph's Mrs. Barbara Howard. "Why? Huh, it sure ain't the money." While "The Office" was relatable humor for anyone forced to work in the land of cubicles, "Abbott Elementary" is a love letter to the educators that keep our country functioning, our youth educated against all odds, and changing lives.
Brunson has noted in interviews that, "We're not showing on our show that they can do everything ... We're saying give them more," she said of teachers. She wants audiences to feel like they're actually visiting Abbott Elementary, and motivate them to understand that our educators deserve better. Without teachers, we have no society, truly, and it's amazing to see a show finally give educators their long overdue flowers. "Abbott Elementary" came at the perfect time, and hopefully this revitalized love of educators will inspire others to fight for equity in their own school systems.
New episodes of "Abbott Elementary" premiere Tuesdays at 9/8c on ABC. Episodes are also available to stream on Hulu.