Manifest Season 4 Teaser: Adjust Your Tray Tables As The Series Flight Reroutes To Netflix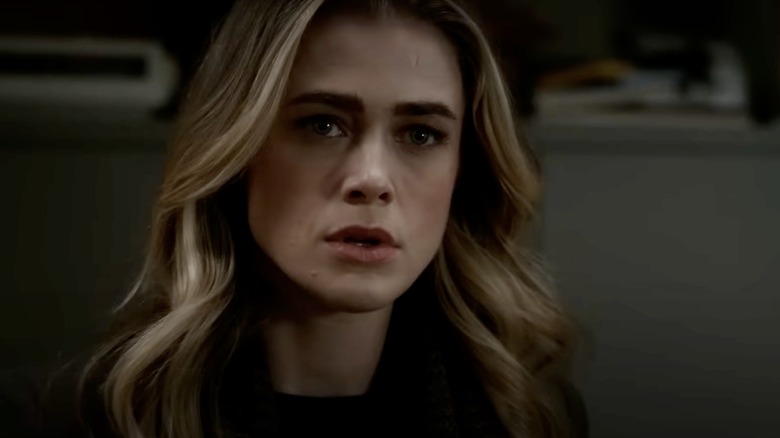 Netflix
The fourth and final season of "Manifest" is flying your way on Netflix, and now the first official teaser for it is here. Appropriately enough, "Manifest" season 4 will premiere on November 4. It's a date we hear often in the teaser and one that should be familiar to anyone who has watched the show, which involves a commercial flight that hits turbulence in the air, only to land and be told that five and half years have passed since it took off and went missing.
"Manifest" started out as a network drama on NBC, where it lasted for three seasons from 2018 to 2021. The show built up a dedicated fan base around it, but as its ratings slipped from over 12 million viewers on average per season to about 5 million, the network unceremoniously canceled it. Netflix at first passed on picking up "Manifest," even while streaming back episodes of it, but the show soon began to find new fans and appear on the Netflix Top 10.
The #SaveManifest campaign finally paid off this time last year with the news that Netflix is renewing "Manifest" for an additional 20 episodes, which will allow series creator Jeff Rake and the cast and crew to give the show's "Lost"-like narrative a proper conclusion. Some of that story is given a quick recap in the teaser, which you can see below.
Manifest season 4 teaser
The teaser reviews some of the "Manifest" basics, with Montego Air Flight 828 being met at the airport by NSA director Robert Vance (Robert Edwards, returning for season 4), who tells the passengers, "You've all been missing for five and a half years. Today is November 4th..."
In the show's timeline, Flight 828 left New York on April 7, 2013 and experienced the world's longest landing delay, touching back down there on November 4, 2018 (a date we see again with a flight status board reading, "Now arriving November 4th.") Two of the passengers on board that plane were siblings Michaela and Ben Stone (Melissa Roxburgh and Josh Dallas), who, together with the show's other characters, find that it isn't always easy to reintegrate into a world that has moved on from their presumed death. 
In June, we saw a "Manifest" season 4 clip with Michaela in her guise as an NYPD detective investigating a construction site. This teaser alludes to the precognitive powers that the passengers develop after they return, which leads some to believe they are receiving "callings" from a divine consciousness.
There's not that much new here; it's more about reestablishing the show's narrative as it finds a new home on Netflix. The teaser makes no mention of it, but as we previously reported and as various other outlets have confirmed, "Manifest" season 4 is expected to be split into two parts, much like the fourth season of Netflix's "Ozark" and "Stranger Things."

"Manifest" is making its final approach with the premiere of season 4 on November 4, 2022.