13 Shows Like Manifest You Can Binge Watch Right Now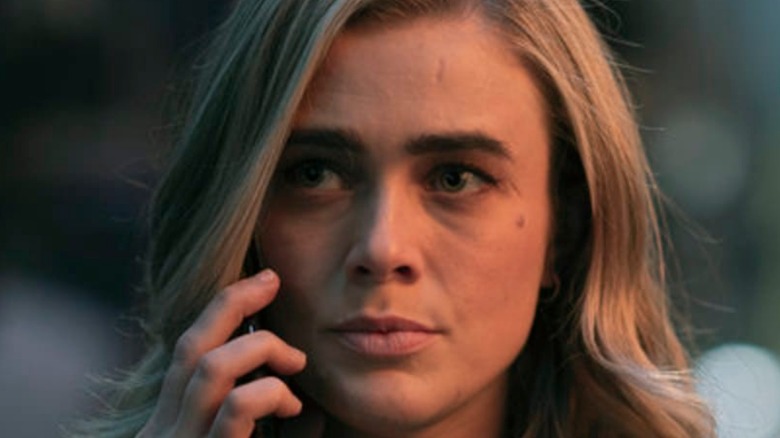 Warner Bros. Television Distribution
"Manifest" struck such a chord with so many people that, when it was cancelled after its 3rd season, viewers fought to bring the show back. As such, fans were elated at the news that Netflix plans to bring the series back for a 4th, and final, season. 
But what is it that makes "Manifest" such a special show? Well, it debuted on NBC in 2018 and became a sensation almost overnight. "Manifest" follows a group of people who board an airplane together; when they land, they're shocked to discover that they have been missing for five years. Not only has time marched on without them, but the "survivors" of Flight 828 find themselves experiencing strange phenomena that drives them to help others. As the main characters struggle to come to terms with their new lives and abilities, they realize that someone — or something — doesn't want them talking about what they've gone through. 
While the premise of "Manifest" is truly novel, its themes are ones we've seen before. A strong female protagonist with a gift for solving crimes, a group of strangers brought together by an unseen force, and people who develop special abilities and suddenly find themselves hunted by dark forces are ideas that have been around for decades. From police procedurals to sci-fi dramas, here are 13 television shows similar to "Manifest" that you can binge watch right now.
Roswell, New Mexico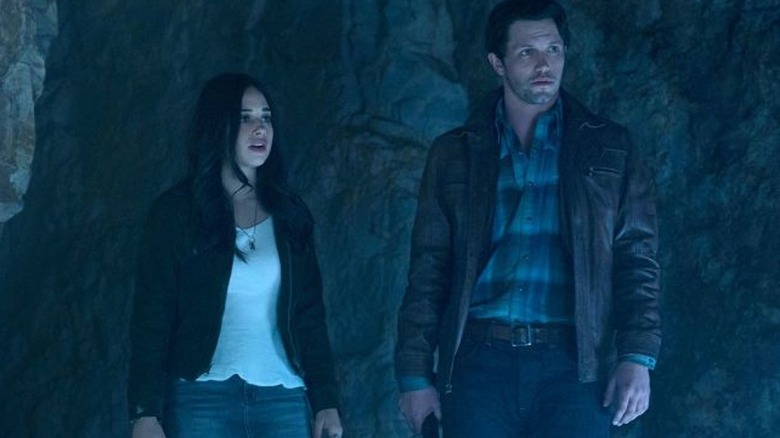 Warner Bros. Television Distribution
A reboot of the WB's "Roswell," which in itself was based on the "Roswell High" book series, "Roswell, New Mexico" is currently in its 3rd season on the CW, with previous seasons available to stream on Netflix. While many reboots are hollow copies of the shows that came before, "Roswell, New Mexico" sets itself apart from the original in many ways. 
In "Roswell," aliens are real, look like everyone else, and live among the townspeople of Roswell, New Mexico. However, they do possess special abilities, including telekinesis, telepathy, and cell regeneration. In the reboot, the cast is more diverse than in the original series, and includes a few characters who are part of the LGBTQ community. The queer inclusion isn't just for show, either — the characters have intimate relationships throughout the series. As with pretty much any show that features aliens, various factions want to hunt them down and study them, experiment on them, or exterminate them. 
Aside from the ridiculously attractive and charismatic cast, which includes Nathan Parsons, Michael Trevino, Tyler Blackburn, and Lily Cowles, "Roswell, New Mexico" boasts storylines that are equal parts science and science fiction, so nothing ever comes off too far-fetched. Leading lady Jeanine Mason's character, Liz Ortecho, is a scientist, so biology and chemistry save the day almost as often as alien superpowers.
Where to binge: Netflix 
Fringe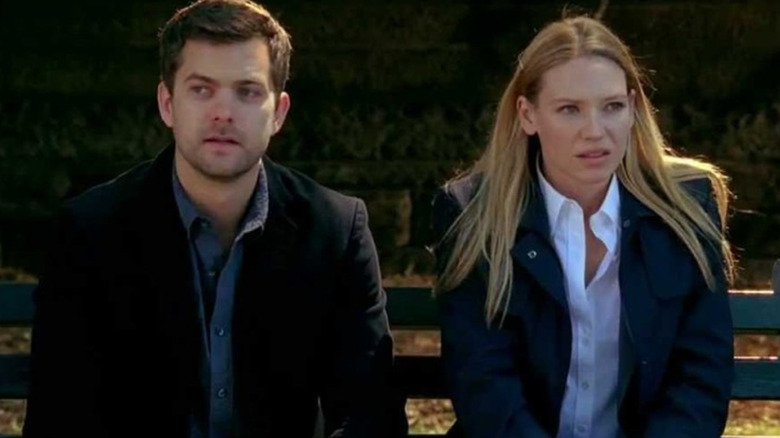 Warner Bros. Television Distribution
Once upon a time, Fox was a powerhouse when it came to science fiction. Home to legendary series like "Alien Nation" and "The X-Files," Fox struck gold again with "Fringe," which aired for five seasons. The primary cast includes Anna Torv, Joshua Jackson, John Noble, and Jasika Nicole, who play individuals working for the FBI's Fringe Division, which uses mad science to solve unexplained, often ghastly, mysteries. The show began as a monster-of-the-week series, but eventually began created its own mythology, which includes parallel universes and alternate timelines. 
As Olivia Dunham, Torv is the series standout. Olivia possesses a multitude of special abilities that become integral to solving many of the cases, and Torv received several Saturn Awards for her work on the series, catapulting her to superstardom. 
While "Fringe" struggled in the ratings during its first season, it eventually gained a cult following. The show also spawned two six-part comic book series, an alternate reality game, and three novels. "Fringe," along with its cast and crew, has won many awards, including Emmys, Saturn Awards, Satellite Awards, and Writers Guild of America trophies.
Where to binge: Amazon Prime
Emergence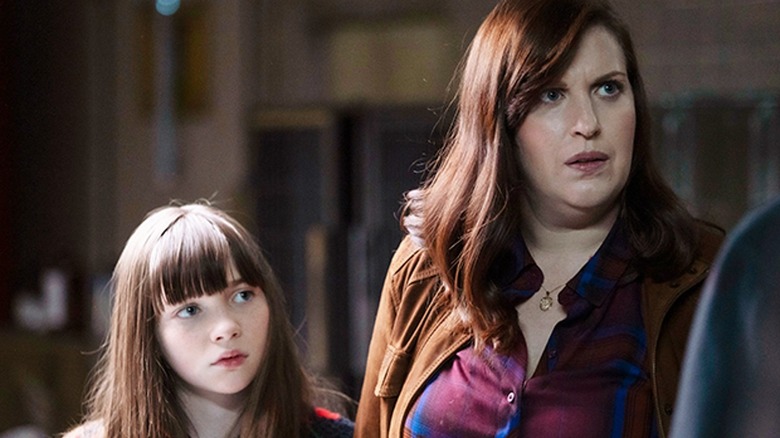 Disney-ABC Domestic Television
Hot on the heels of the success of Netflix's "Stranger Things," ABC's "Emergence" featured a small-town police chief (Allison Tolman) who takes in a young child (Alexa Swinton) who possesses special abilities but, following a mysterious accident, has no memory of who she is. A series of bizarre disruptions, unexplained phenomena, and a cryptic symbol all offer clues to the young girl's identity. 
With a solid cast rounded out by Owain Yeoman, Donald Faison, Clancy Brown, and Robert Bailey Jr., "Emergence" started out as a hit but eventually declined in the ratings, and wasn't renewed for a second season. And yet, the show deftly combined the charm of "Northern Exposure" with the supernatural mystery of "Twin Peaks," making for riveting — if, at times, contrived — television. 
Still, "Emergence" makes for a satisfactory binge, as the show doesn't end on any major cliffhangers. Its loyal viewers did launch an online social media campaign trying to get the series picked up by another channel or streaming platform, but to no avail.
Where to binge: Amazon Prime
Lost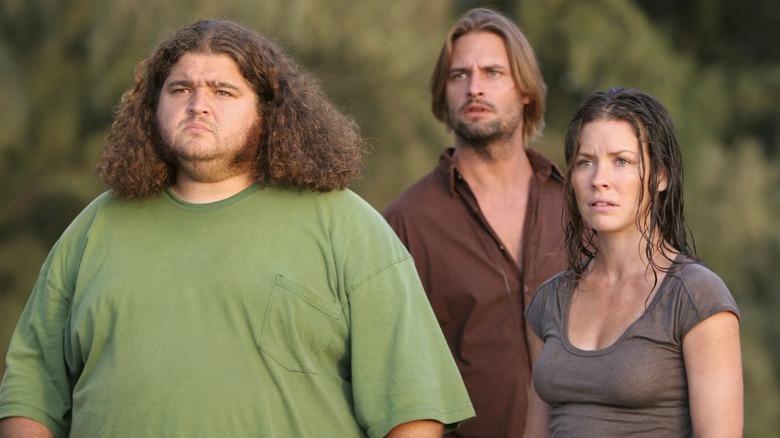 Disney-ABC Domestic Television
When "Manifest" premiered, it was instantly compared to ABC's "Lost," which ran for six seasons from 2004 through 2010. After all, both shows have a lot in common, including a group of phenomenally good-looking strangers whose lives change forever after taking a ride on a plan. In the case of "Lost," that's because the plane crashes on a remote island that's inhabited by a smoke monster and other bizarre entities. 
The non-linear storytelling in "Lost," which was augmented by both flashbacks and flashforwards, was groundbreaking at the time and has been imitated ever since, with varying degrees of success. "Manifest" uses this same technique throughout most of its first season, but gradually moves away from it as the series goes on.
The diverse cast of "Lost" was something else that was also pretty rare at the time, and many of its actors turned in star-making performances, including the likes of Evangeline Lilly, Josh Holloway, and Daniel Dae Kim. This is yet another thing "Lost" has in common with "Manifest," which has made Melissa Roxburgh, Parveen Kaur, and J.R. Ramirez into household names.
Where to binge: Amazon Prime, Hulu
Alias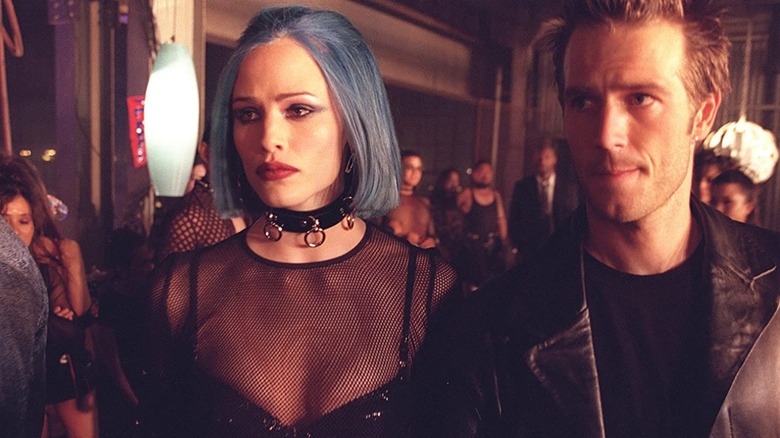 Buena Vista Television
"Alias" is an action-heavy sci-fi television series that was created by J.J. Abrams and launched Jennifer Garner into superstardom. On it, Garner stars as Sydney Bristow, a young woman who is a double agent for the CIA on a mission to take down a criminal organization known as SD-6. The ensemble cast includes several Hollywood heavy-hitters, including Bradley Cooper, Carl Lumbly, Victor Garber, and Lena Olin. 
The first two seasons of "Alias" focus on Sydney's struggle to hide her true identity from her friends and family as she assumes multiple aliases to carry out covert missions. Later seasons revolve more around Sydney's dysfunctional family tree and a recurring search for long-lost artifacts created by a fictitious Renaissance-era figurehead. The series is also known for pulling off one of the most successful and shocking time jumps in modern television. 
Like Michaela on "Manifest," Sydney often has to use her own instincts to help people, and has to learn the hard way how to rely on the people who care about her.
Where to binge: Amazon Prime
Heroes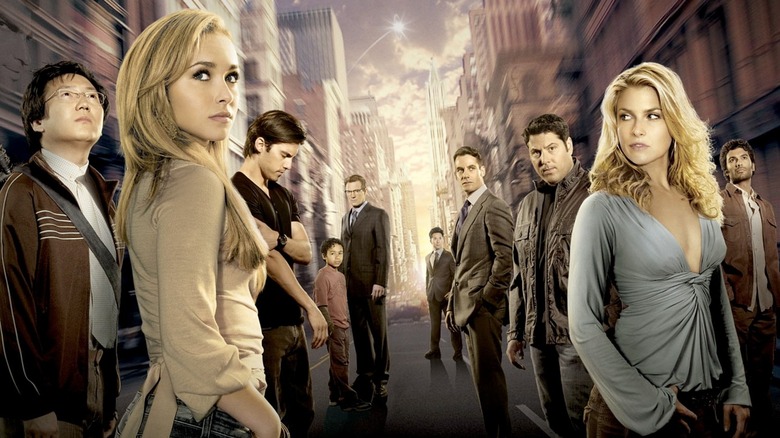 NBCUniversal Television Distribution
The phrase "save the cheerleader, save the world" was on everyone's minds in 2006 when NBC launched "Heroes," a show about ordinary people who suddenly receive superhuman abilities following an eclipse. The show focuses on how the newfound powers affect the characters' lives, as the new heroes eventually find each other and work together in order to prevent catastrophic futures. 
"Heroes" had a remarkable first season, but quickly collapsed under the weight of trying to keep up with –and out-maneuver — its own mythology.  A writer's strike in the middle of the show's run didn't help matters, either. Still, the show ran for four seasons, earning a number of awards and nominations, including Emmys, Golden Globes, and People's Choice Awards. A stellar cast including Jack Coleman, Adrian Pasdar, Hayden Panettiere, Milo Ventimiglia, Kristen Bell, and Zachary Quinto anchored the outrageous storylines and kept viewers hooked until the very end.
"Heroes" would go on to spawn an array of action figures, graphic novels, and original web content that kept the story going. In 2015, a 13-episode miniseries attempted to revive the show, but failed to click with viewers like the first iteration.
Where to binge: Peacock
FlashForward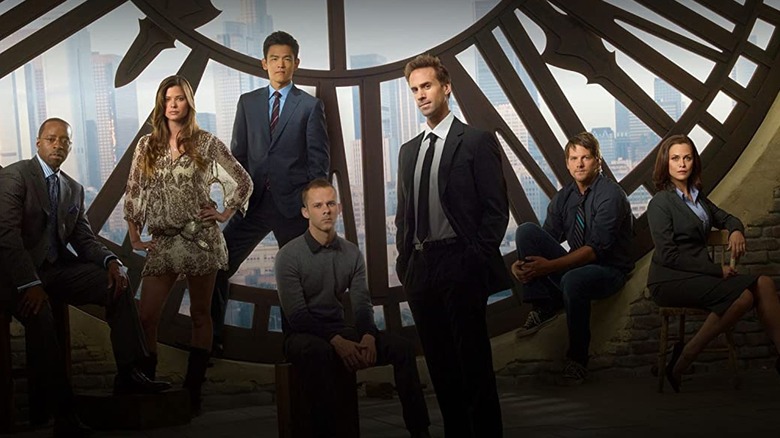 Disney-ABC Domestic Television
One of the most fascinating parts of "Manifest" is the how the show uses flashbacks and flash-forwards to play with time. In 2009, ABC adapted the sci-fi novel "FlashForward," which also utilizes time in a unique way. 
"FlashForward" revolves around the lives of several people after a mysterious event makes everyone on the planet lose consciousness for just over two minutes. During the blackout, people see visions of what their lives will be like in six months. Unfortunately, the series only lasted one season, with a finale that introduced another flashforward event — one that occurs more than 20 years into the future. 
The cast includes several established and future genre veterans, including John Cho, Peyton List, Dominic Monaghan, Sonya Walger, and Courtney B. Vance. The series is a brief but enjoyable watch, as long as you're prepared for that cliffhanger ending.
Where to binge: The ABC app
The 4400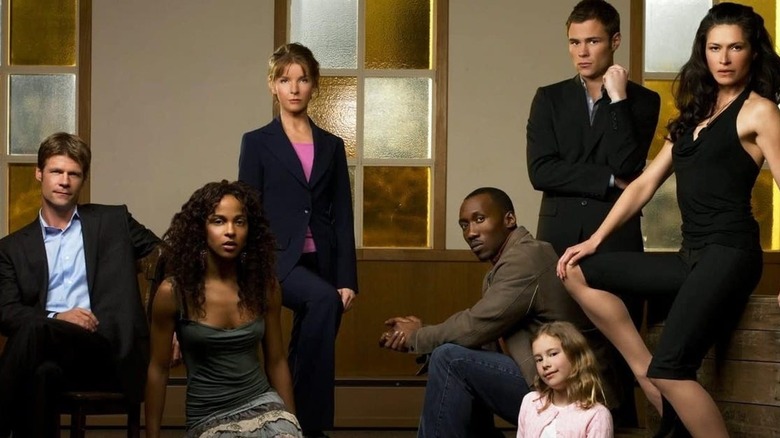 CBS Television Distribution
Much like the passengers of Flight 828 on "Manifest," the group that came to be known as "The 4400" disappeared for a long period of time. On this sci-fi drama, which ran for four seasons, we learn that 4,400 people who vanished in beams of white light have all reappeared at once. Confused and disoriented, they have no memories of what transpired during their time away. A fictional diversion of the Department of Homeland Security, The National Threat Assessment Command, is put in charge of investigating the bewildering phenomenon. 
As in "Manifest," many of the "returnees" of the 4400 have difficulties getting their lives back on track after being gone for so long. Additionally, a small number of the group begin to exhibit paranormal abilities, including telepathy, telekinesis, and precognition. With this development, science and biology take a front seat in the series, providing (mostly) reasonable explanations of what happened to the victims. 
The cast was built around a diverse group of actors, which include Joel Gretch, Jacqueline McKenzie, Laura Allen, Megalyn Echikunwoke, Karina Lombard, and Mahershala Ali. The show was so popular among fans that a reboot is currently in the works at the CW.
Where to binge: Netflix
Blindspot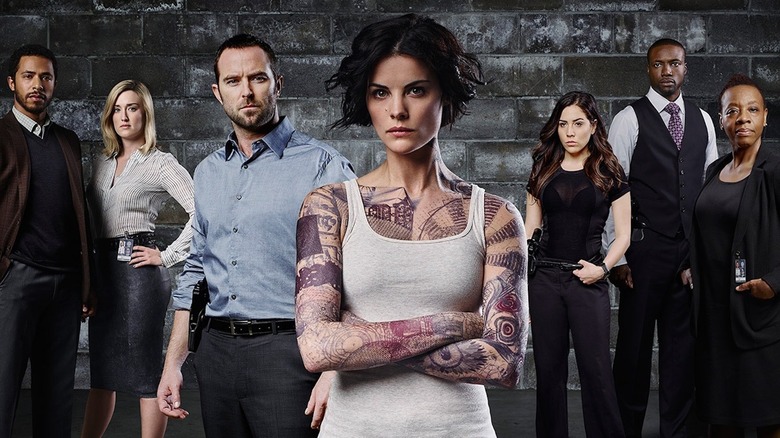 Warner Bros. Television Distribution
Lost time and a clean slate often make for an interesting pairing in police procedurals. While Michaela continues to navigate her life as a police officer who has come back from the dead on "Manifest," "Blindspot" takes a slightly different approach to that idea. The series focuses on a Jane Doe (MCU star Jaimie Alexander) who is found naked inside a travel bag in the middle of Times Square. She has no identity or any recollection of her past, so is taken in by a division of the FBI that slowly discovers that her tattoos contain clues to high-profile crimes they must solve. 
"Blindspot" was one of the biggest hits of 2015, but experienced a steady decline in ratings during each subsequent season. While initially creative in the way that it utilized its original premise, "Blindspot" eventually turned into a criminal-of-the-week series that lost sight of its ongoing story. 
Full of espionage and action, "Blindspot" makes the most of its talented cast, which includes Sullivan Stapleton, Audrey Esparza, Ashley Johnson, and Marianne Jean-Baptiste. However, the show ultimately feels like it ran out of creative gas long before it came to a conclusion in 2020.
Where to binge: Hulu
Orphan Black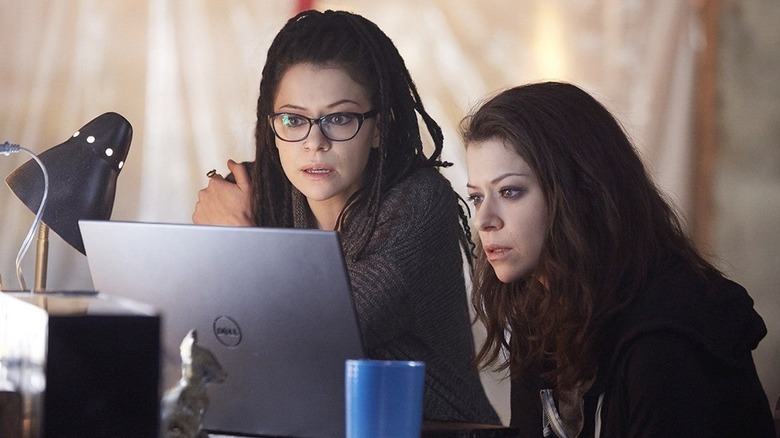 BBC America
One of the best sci-fi series in modern television history, "Orphan Black" tells the story of Sarah Manning (Tatiana Maslany), a grifter who suddenly finds out that she is one of several genetically identical human clones created by a shadowy organization. The series tackles serious topics like the moral and ethical implications of human cloning and its effects on identity, but also blends humor and family drama seamlessly with the science. 
Maslany gives a tour-de-force performance, portraying multiple characters over the course of five seasons. She is joined by other talented actors like Dylan Bruce, Jordan Gavaris, Maria Doyle Kennedy, Evelyne Brochu, and Kevin Hanchard. The cast is diverse as they come, full of both people of color and members of the LGBTQ community. 
The series ended up garnering numerous awards and nominations — Maslany alone won a Primetime Emmy, two Critic's Choice Television Awards, and one TCA Award. Even though the show concluded after five seasons, "Orphan Black" spawned both a comic book and an audiobook series that continue the stories of the "Clone Club."
Where to binge: Amazon Prime
Crossing Jordan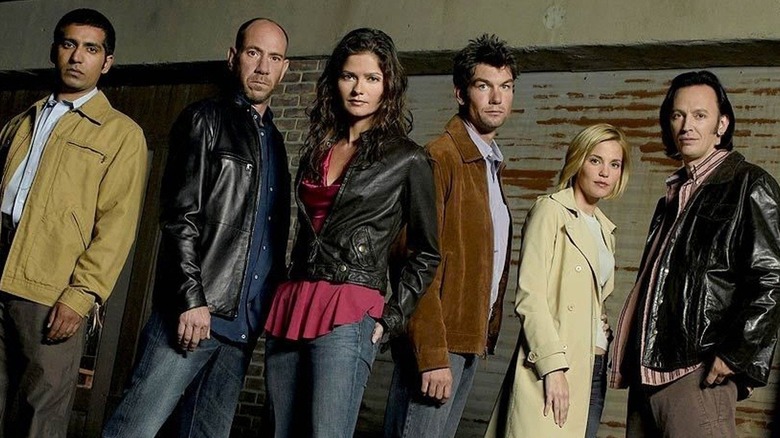 NBCUniversal Television Distribution
"Manifest" is part supernatural and part crime drama, with the passengers of Flight 828 utilizing their newfound abilities to help others and solve mysteries. In NBC's "Crossing Jordan," Dr. Jordan Cavanaugh (Jill Hennessy) is a crime-solving forensic pathologist who uses her keen observation skills and deep intuition to help the police solve murders. 
Though not the most original idea, "Crossing Jordan" was one of the first crime procedurals that featured a strong female character at the center. Hennessy owned the screen every time she appeared and was only bolstered by her gifted co-stars, which include the late Miguel Ferrer, Ravi Kapoor, Lorraine Toussaint, Jerry O'Connell, and Mahershala Ali. It was also one of the first series regular roles for Kathryn Hahn, way before she was Agatha Harkness on "WandaVision." 
While crime procedurals often grow stale, especially after the first couple of seasons, Hennessy's no-nonsense portrayal of the lead character, as well as the well fleshed-out supporting cast, made "Crossing Jordan" must-see TV for six seasons.
Where to binge: The Roku Channel
Sense8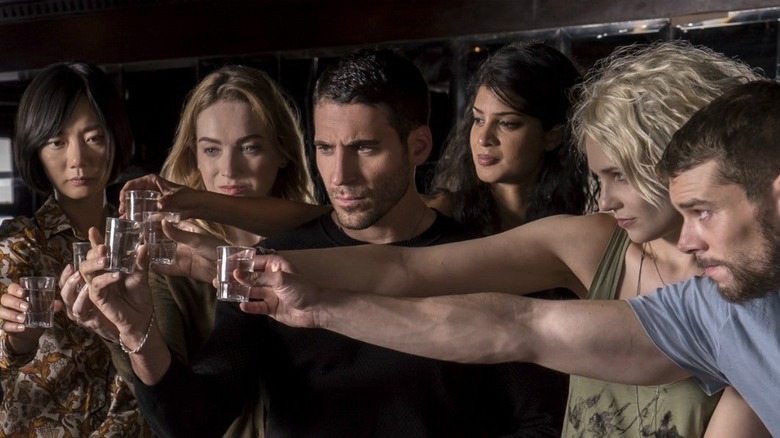 Netflix
In the earliest seasons of "Manifest," the passengers must work together in order to find out what happened and move forward. "Sense8" takes that mantra to the next level by featuring eight strangers from different parts of the world suddenly share a psychic connection that links them mentally and emotionally. The series explores a variety of larger-than-life issues, including identity, sexuality, gender, religion, and politics; however, it always emphasizes empathy, even in the face of all those differences. 
The brainchild of the Wachowski sisters, "Sense8" sparked devotion that was so strong it that it brought the show back from the dead. Unceremoniously cancelled on a cliffhanger after just two seasons, fans took to social media and demanded a proper ending. Against all odds, they got their wish; a finale movie was filmed and released in 2018. 
There are so many wonderful and truly life-changing parts to this series. From the music, to the writing, to the acting, to the lush cinematography — the series was shot on-location in nine cities located across eight countries — "Sense8" is a guilty pleasure worth getting addicted to.
Medium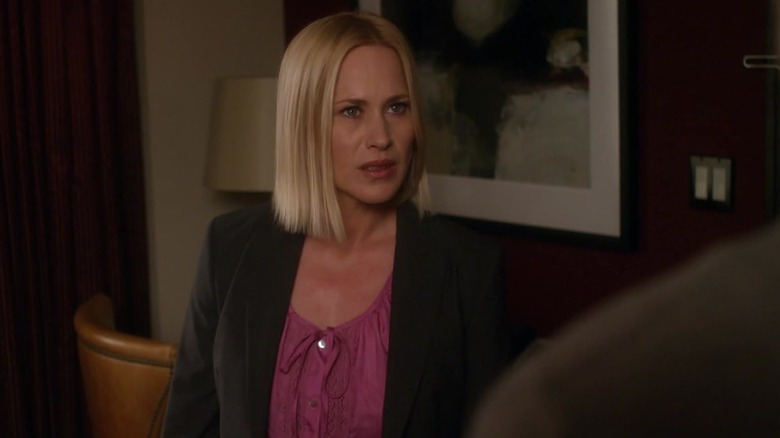 CBS Television Distribution
Although "Manifest" quickly developed a dedicated fanbase, it wasn't enough to save the show from being cancelled — and that would've been it, had Netflix not stepped in to give the show a proper ending. The same courtesy was given to "Medium" in 2009 — it was cancelled at NBC after five seasons, but was ultimately picked up by CBS for two more.
"Medium" is a television series based on the real life of medium Allison DuBois, played by on the show by Patricia Arquette. Allison uses her psychic abilities to help solve crimes while working with law enforcement agencies and the local district attorney's office. While the show has supernatural elements, it's more of a family drama that happens to have a supernatural feel. Allison's home life, including her role as a wife and mother, get just as much screen time as her work solving crimes.  The series also garnered its fair share of award nominations, including an Emmy win for Arquette for outstanding lead actress in a drama series.
Where to binge: Paramount+