Netflix Is Bringing 'Sense8' Back For A Two-Hour Finale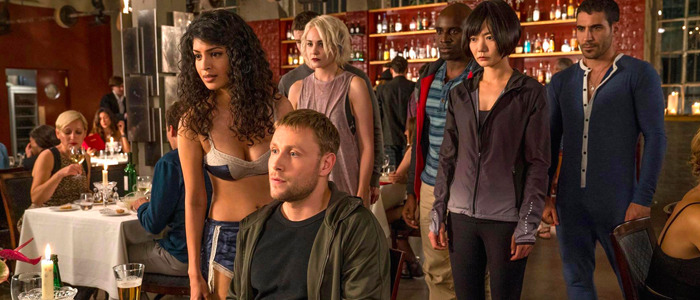 Because Netflix does not release their internal data, we never know what exact numbers make a show a hit on everyone's go-to streaming service. But whatever numbers those numbers are, the science fiction series Sense8 was not hitting them. The series was cancelled earlier this month following the debut of its second season and the show's small but extremely passionate fanbase let their voices be heard. They were not going to let this one go down without a fight.
And now, a glimmer of hope: while the show will not return for a third season, a two-hour special is on the way for 2018, hopefully giving the show the grand finale it warrants and the fans the closure they desire.
Created by Lana Wachowski, Lilly Wachowski, and J. Michael Straczynski, Sense8 follows a group of "sensates," seemingly unrelated people who find themselves bound together by a powerful psychic bond. With its diverse cast and LGBT-friendly storytelling, the series became a rallying point for both audiences looking for something off the beaten path and viewers searching for a show that reflected corners of the world that often don't get showcased in popular entertainment. The cult following was strong with this one.
Today, Lana Wachowski took to the official Sense8 Facebook page and shared a heartfelt letter with the fans. First, she thanked them for their support and wrote about how the cancellation hit her as hard as anyone else. However, the outcry of love from viewers brightened her spirit and led Netflix to approve a limited return for the series. Here's the full letter: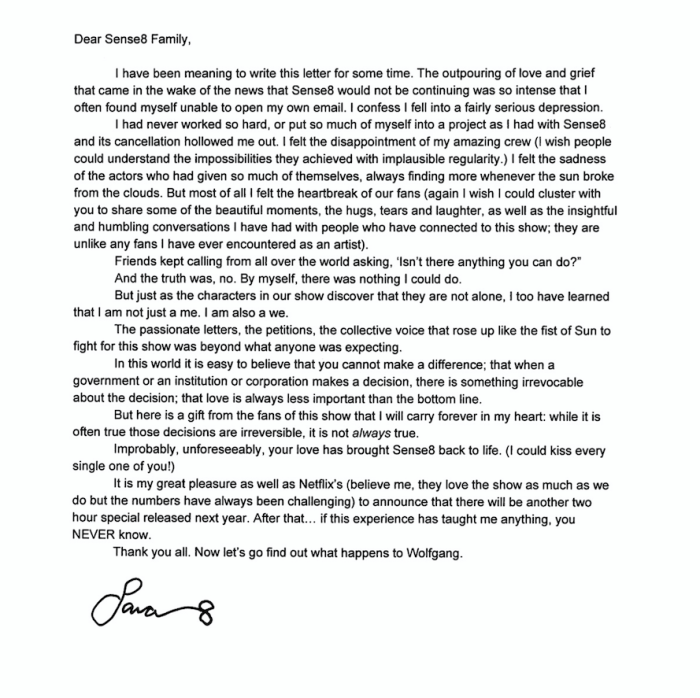 While Wachowski remains optimistic in her closing lines, it's almost certain that this two-hour special will serve as the series finale for Sense8. The show is simply too expensive, and too niche, to live on in its current form. And while this feels like a gift for the fans, it's also a canny business move for Netflix – people are more willing to check out a finished show if they know it has a definitive ending. Sense8 may not be a massive hit, but a completed version will now exist on the streaming service in perpetuity. People will click "play" for years to come.
Here's a brief video announcing the show's return, which notably refers to this special as a "finale":
There are sensates within these walls, too. #WeAreTheGlobalCluster pic.twitter.com/uU3qfY9sM3

— Netflix (@netflix) June 29, 2017
This isn't the first time fan outcry has saved a cancelled show from doom, but these are the kinds of narratives that remind me of how powerful entertainment can truly be. The best shows aren't mere distractions – they are friends and loved ones that we welcome into our homes. I couldn't be happier for all of the Sense8 fans out there.
Naturally, there's no release date for this special yet, but we'll keep you updated.