Confess, Fletch Trailer: Jon Hamm Takes Over The Troublesome Reporter Role From Chevy Chase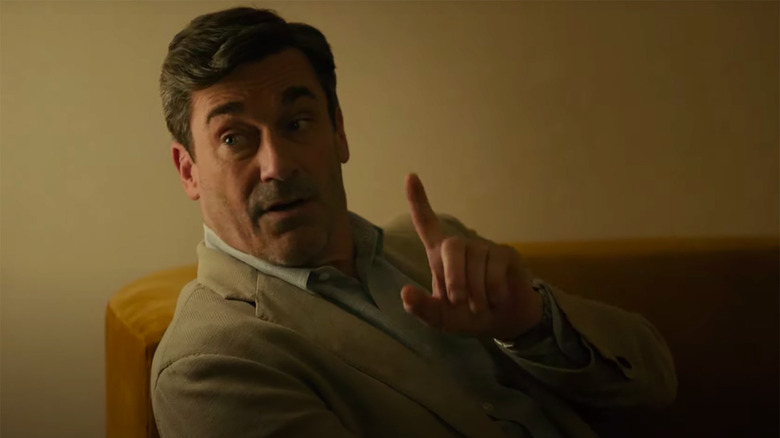 Paramount Pictures
It's been a long time since we've seen Irwin M. "Fletch" Fletcher. After debuting in a self-titled novel by Gregory Mcdonald, which was then turned into a feature film starring Chevy Chase, the charming but troublesome reporter known as Fletch, who frequently found himself in the wrong place at the wrong time, was at the center of nearly a dozen follow-up novels and a feature film sequel. Since then, Kevin Smith had tried for a long time to get a "Fletch" reboot off the ground with no success. But today, Fletch is on his way toward a comeback with "Mad Men" star Jon Hamm taking the titular role in a new mystery full of murder, mishaps, and misunderstandings.
"Confess, Fletch" is based on the 1976 novel of the same name, and it finds the titular journalist accused of murder while trying to track down a stolen piece of expensive art. Of course, Fletch gets caught up in even more trouble and danger as he tries to find the culprits of both crimes, making for a series of amusing missteps, especially with the law. Watch the first trailer for "Confess, Fletch" below to see what we're dealing with here.
Watch the Confess, Fletch trailer
Based on the trailer, "Confess, Fletch" seems like it's trying to capture the spirit of "The Nice Guys," but it's missing a lot of the cleverness that director and writer Shane Black brought to the table. Furthermore, even though Jon Hamm has fantastic comedic chops, this role doesn't seem to fit him very well. I'm not sure if Hamm just doesn't have the right vibe to play a character like Fletch or if the comedic tone doesn't fit with the rest of the movie's style, but something is off. It's clear that director Greg Mottola isn't going for the more broad, frequently slapstick vibe from the original "Fletch" movies, especially with a lack of Fletch donning various outlandish disguises. But what he's landed on instead doesn't seem to be a winning formula, at least based on this trailer. Perhaps that's why it's being released on digital at the same time it hits theaters.
Along with Jon Hamm, the cast of "Confess, Fletch" also includes Roy Wood Jr., Annie Mumolo, Ayden Mayeri, Lorenzo Izzo, Kyle MacLachlan, and Marcia Gay Harden.
Here's the official synopsis for "Confess, Fletch" from Paramount Pictures:
In this delightful comedy romp, Jon Hamm stars as the roguishly charming and endlessly troublesome Fletch, who becomes the prime suspect in a murder case while searching for a stolen art collection. The only way to prove his innocence? Find out which of the long list of suspects is the culprit – from the eccentric art dealer and a missing playboy to a crazy neighbor and Fletch's Italian girlfriend. Crime, in fact, has never been this disorganized.
"Confess, Fletch" arrives in theaters and on digital starting on September 16, 2022.