How Kevin Smith Almost Directed Ben Affleck In A Disney Movie And Why 'Fletch Won' Never Happened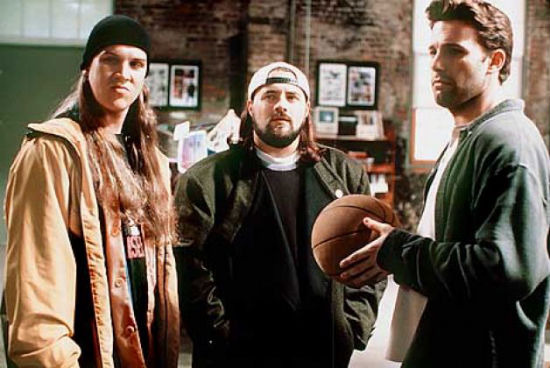 Over the holidays, it's easy to lose track of what's going on on Twitter. Many of us are too busy sitting around with our families, eating big meals or maybe going to the movies. If you fall into that category, you probably missed Kevin Smith's tell-all tweet marathon revealing an interesting story of how Ben Affleck asked him to direct a non-Miramax movie, why Fletch Won never happened, and more. But don't worry. We've got it all embedded for you after the jump.
Here's Kevin Smith's story from his Twitter, embedded in order.
Via @Dispair83 "what ever happened to you doing a FLETCH movie" For 5 years, I tried to make it with Jason Lee as the young Irwin Fletcher.

— KevinSmith (@ThatKevinSmith) December 23, 2012
I adapted an insanely-faithful-to-the-book FLETCH WON script, which tells the story of a young Fletch's first big story at the newspaper.

— KevinSmith (@ThatKevinSmith) December 23, 2012
But Harvey didn't get Jason Lee at all. I'd say "Jason Lee IS Fletch" and he'd say "Lee doesn't have an audience." Even when he was on EARL.

— KevinSmith (@ThatKevinSmith) December 23, 2012
And it all came to a head in 2003, while I was in post-production on JERSEY GIRL – when Ben had been offered the lead in a movie at Disney.

— KevinSmith (@ThatKevinSmith) December 23, 2012
So Ben asks if I wanna direct this movie in which he's gonna be the lead. Exciting: I'd never directed someone else's feature script before.

— KevinSmith (@ThatKevinSmith) December 23, 2012
I read the script and it was fun – but making it with my friend would make it more so, I figured. So with Ben's encouragement, I say "Okay."

— KevinSmith (@ThatKevinSmith) December 23, 2012
This is back when Harvey was running Miramax, which was then owned by Disney. So I figured it'd be no big deal: s'all in the family anyway.

— KevinSmith (@ThatKevinSmith) December 23, 2012
But this was also when the split between Harvey and Disney was brewing – which would come to a head with Fahrenheit 911 a few years later.

— KevinSmith (@ThatKevinSmith) December 23, 2012
So when I tell Harvey "I'm gonna direct a movie for Ben over at Disney" it went over like I'd said "Y'know who rocks? Bob Shaye & New Line."

— KevinSmith (@ThatKevinSmith) December 23, 2012
I had an overall deal w/ Miramax in which they got a first look/crack at anything I wrote and directed. This was directing only, so no prob.

— KevinSmith (@ThatKevinSmith) December 23, 2012
But the thought of a pair of Miramaxkateers working for Michael Eisner didn't sit well. I was told to sit tight while they talked to Disney.

— KevinSmith (@ThatKevinSmith) December 23, 2012
Harvey told Disney it'd be a co-prod, since he had an overall deal with me. Disney declined so I was then instructed to turn the gig down.

— KevinSmith (@ThatKevinSmith) December 23, 2012
I told him my deal allowed me to direct for somebody else. There were lots of guilt-ridden "family" & "us" & "them" terms thrown at me.

— KevinSmith (@ThatKevinSmith) December 23, 2012
I was 100% Miramax in those days. I was in the coolest gang in town and I'd die for my colors. But I wasn't LEAVING; just working with Ben.

— KevinSmith (@ThatKevinSmith) December 23, 2012
So while I'm trying to point out that my deal allowed for me to direct for others, Harvey hits me with a verbal right hook out of nowhere...

— KevinSmith (@ThatKevinSmith) December 23, 2012
Harvey says "Fine: drop that Disney movie and I'll let you make your FLETCH." I was ready to hug him when he added "With BEN as Fletch."

— KevinSmith (@ThatKevinSmith) December 23, 2012
"What about Jason Lee?" I asked. Harvey said that was never going to happen. If I wanted to make FLETCH WON, I had to get Ben to be Fletch.

— KevinSmith (@ThatKevinSmith) December 23, 2012
I argued that Ben was still gonna wanna do the flick at Disney, so I was told to convey a message: Miramax would match Ben's Disney offer.

— KevinSmith (@ThatKevinSmith) December 23, 2012
So for about two weeks in 2003, we almost rushed my FLETCH WON flick into production with bloated, studio-like salaries. All to beat Disney.

— KevinSmith (@ThatKevinSmith) December 23, 2012
Harvey's play was kinda brilliant: he knew the only thing that'd give pause about working elsewhere was working with a friend back home.

— KevinSmith (@ThatKevinSmith) December 23, 2012
Ben read and liked the script. And the money was as big as what he was gonna get for the Disney movie. So suddenly, FLETCH WON was possible.

— KevinSmith (@ThatKevinSmith) December 23, 2012
An office was opened. Preliminary scouting began. And when shit needs to suddenly happen fast in the movie biz, that costs MONEY, son! Lots!

— KevinSmith (@ThatKevinSmith) December 23, 2012
But mercifully, before a $50 million version of FLETCH WON could happen, Ben passed. He said he didn't feel right about flat-leaving Disney.

— KevinSmith (@ThatKevinSmith) December 23, 2012
I didn't go with Ben to Disney. Ben was cool about it: he said he'd never understand my loyalty thing to Harvey but he still respected it.

— KevinSmith (@ThatKevinSmith) December 23, 2012
See, Harvey knew he had me regardless. Being Miramax MEANT something to me – a code I lived by. We were a gang of NY. It was Us vs All Them.

— KevinSmith (@ThatKevinSmith) December 23, 2012
And ironically, I'd never make another movie for Miramax. Harvey & Bob split from Disney a few years later, creating The Weinstein Company.

— KevinSmith (@ThatKevinSmith) December 23, 2012
The next flick I made was CLERKS II. And while I love that film, it never felt right having a Weinstein Company logo at the head of it.

— KevinSmith (@ThatKevinSmith) December 23, 2012
See, that's why it's easy for me to leave the movie biz now: When that era of Miramax died, a big piece of my passion for film died with it.

— KevinSmith (@ThatKevinSmith) December 23, 2012
So now I'm mostly a podcaster. And Ben's a director who may win Best Picture this year... If Harvey doesn't make it a three-peat.

— KevinSmith (@ThatKevinSmith) December 23, 2012
FLETCH wound up at Warner Brothers years later. My only regret is a flick never got made before Fletch creator Greg McDonald passed away.

— KevinSmith (@ThatKevinSmith) December 23, 2012
That Disney movie – the one that caused so much contention and friction? The studio pulled the plug on it mere weeks away from production.

— KevinSmith (@ThatKevinSmith) December 23, 2012
So Ben didn't wind up doing the movie anyway – which was called GHOSTS OF GIRLFRIENDS PAST. It was made years later... starring Jen Garner.

— KevinSmith (@ThatKevinSmith) December 23, 2012
Ah, Hollywood... After nearly 20 yrs buried balls-deep inside you, I've learned only this: You're as easy and as complicated as high school.

— KevinSmith (@ThatKevinSmith) December 23, 2012