Hellraiser Reboot Will Tear Your Soul Apart On Hulu In October, Watch The First Teaser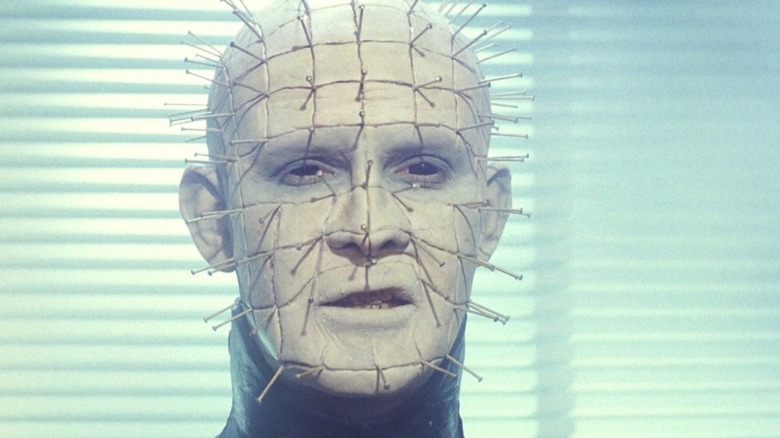 New World Pictures
Thirty-five years after Clive Barker's original horror classic "Hellraiser" crawled under the skin of unsuspecting audiences and refused to come back out, a newly reimagined nightmare is just about ready to be unleashed. The daunting legacy of the original 1987 film needs to introduction, seemingly stacking the odds against any attempt to recreate the gory magic of Pinhead, the Cenobites, and the various grotesqueries that would eventually become hallmarks of the franchise and, dare I say it, the genre at large.
Attempts at rebooting the property have proved unsuccessful over the years, in no small part due to the franchise driving itself into the ground after a series of sillier and sillier sequels all but put "Hellraiser" out of its misery. Now, however, a fresh remake will finally see the light of day under the guidance of "The Night House" director David Bruckner. Having begun production last year, Hulu has finally given us our first tantalizing glimpse of what this new film will offer ... and we do mean a glimpse. Check out the teaser below!
Watch the Hellraiser reboot teaser
Holding back on any actual footage just yet, this "Hellraiser" teaser does exactly what it was meant to do — tease. With the famous franchise iconography peeking through the new title treatment and giving us the briefest of glimpses of the new Pinhead, this will no doubt whip fans into a frenzy anyway, simply by virtue of a franchise film that should actually live up to the standards of the original (as well as a few of its more respectable sequels). By all accounts, this "Hellraiser" remake should help restore the property to its formerly disturbing, uncomfortable, and genuinely horrific heights.
Directed by David Bruckner ("V/H/S," "The Ritual," "The Night House") and co-written by Ben Collins and Luke Piotrowski (with a story by credit by David Goyer), the film that has been previously teased as a "small reimagining" will star Jamie Clayton as the Cenobite Priest known as Pinhead, stepping into the massive shoes left by original star Doug Bradley. The rest of the cast includes Odessa A'zion, and Adam Faison. Drew Starkey, Brandon Flynn, Aoife Hinds, Jason Liles, Yinka Olorunnife, Selina Lo, Zachary Hing, Kit Clarke, Goran Visnjic, and Hiam Abbass.
"Hellraiser" will debut in the United States exclusively on Hulu on October 7, 2022.
In "Hellraiser," a young woman struggling with addiction comes into possession of an ancient puzzle box, unaware that its purpose is to summon the Cenobites, a group of sadistic supernatural beings from another dimension.