Hellraiser's Director Went To Hilarious Lengths To Keep Creative Control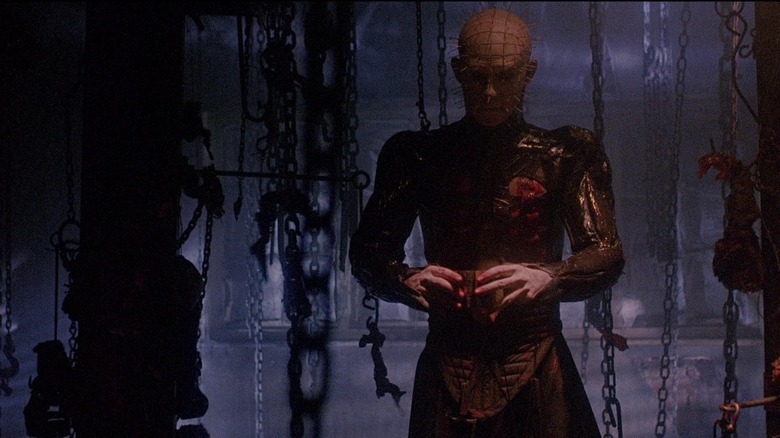 New World Pictures
Horror films were a double-edged sword for movie executives during the 1980s. On the one hand, they were a reliable earner at the box office. Their relatively low budgets meant the profits could be large enough that, as with the "Nightmare on Elm Street" films, they could support an entire independent studio. On the other, backlash from critics, pundits, and moral outrage groups kept "horror" a dirty word in the public consciousness, and institutions like the MPAA would frequently make demands to horror directors working for major American studios to cut their film's content way back, lest they be branded with an X rating.
As a result of studio executives regularly catering to the MPAA and being more concerned with their bottom line than any artistic integrity, directors had to find devious and inventive ways to try and keep creative control over their movies, horror filmmakers especially. Some directors intentionally overshot moments of violence and sex, presenting the powers that be with a wildly excessive version of the film that they secretly had every intention of softening, as William Friedkin did with "Cruising."
"Hellraiser" writer and director Clive Barker came up with a different way of distracting the top brass on his film, concocting a moment during an on-set visit that almost got the executives to leave the movie completely alone.
A movie experience beyond limits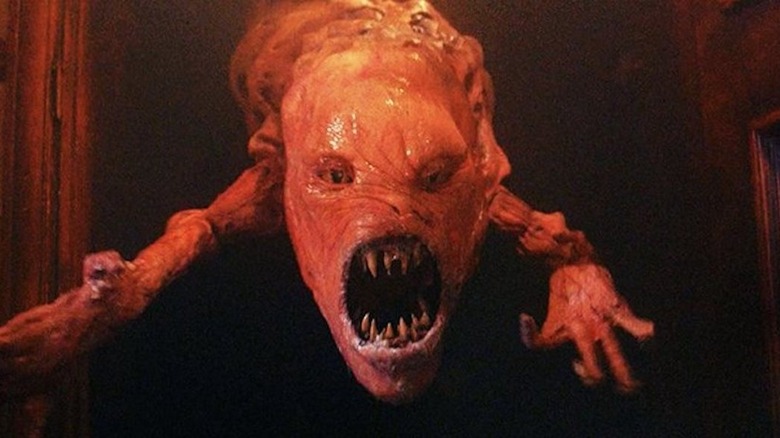 New World Pictures
"Hellraiser" was always intended to be a movie that flew under the general radar. As Clive Barker recalled in 2017, he wanted to find out "the least [he] could spend and expect someone to hire a first-time director" because there had been two prior cinematic adaptations of his work that he considered "abominations" (1985's "Underworld" and 1986's "Rawhead Rex"), leaving him determined to adapt his writing to the screen himself.
Thanks to friend and producer Christopher Figg, Barker realized his novella "The Hellbound Heart" fit the bill as the basis for a low-budget horror film debut, and New World Pictures agreed to fund the film for $900,000 with Barker as director. New World had been started by the infamous exploitation producer Roger Corman in 1970, but by 1986, when "Hellraiser" was being shot, it was under new management and looking to expand.
As a result, flying under the radar would be trickier than Barker had hoped when the company initially "said very plainly [the film] would go straight to video." 
The entire premise of the movie had "a much more twisted sense of sexuality" than most horror films of the era, being primarily about a married woman, Julia (Clare Higgins), who commits murders on behalf of her secret lover, Frank (Sean Chapman), a man who had become "skinless" (portrayed in that incarnation by Oliver Smith) thanks to being captured by Cenobites from Hell and needed fresh victims to reconstitute himself after escaping the Cenobites' clutches. 
The Cenobites themselves, led by the Lead Cenobite (Doug Bradley) who would later become known as Pinhead, were creatures inspired by Barker's experience of S&M clubs. Their flesh was pierced and distorted in various ways as they espoused a religion of "suffering" that was sexually charged.
Barker had such sights to show them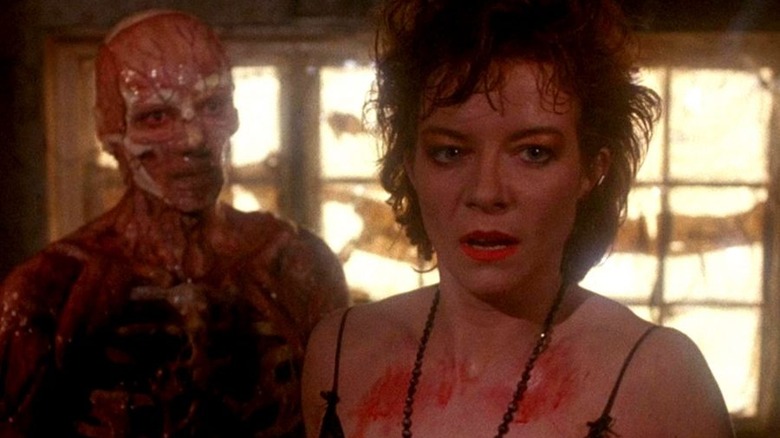 New World Pictures
Needless to say, such material was always going to be challenging to a United States and England still in the throes of Ronald Reagan and Margaret Thatcher. While New World execs "couldn't care less" about the movie as filming began, "about halfway through the six-week shoot, they said: 'We're coming over,'" as Clive Barker remembered. This was bad news disguised within good news, as director of photography Robin Vidgeon explained to Barker that such a move meant "they see something they like and they want to take charge."
Concerned that the New World execs were about to become more involved than they had been previously, Barker and Vidgeon planned a proper reception for their set visit. As Barker recalled, "Three of them came over, all in new Burberry coats. Robin and I had changed the schedule so we were doing something incredibly bloody — one of them may have got their Burberry splashed, and they fled after 15 minutes." 
While Barker didn't specify the exact scene they'd chosen to shoot in front of the execs (it may have been this moment, in which Julia announces "Stop. Hammer time!"), the plan worked like a charm. As Barker said, "I didn't get bothered by them again until later on."
No tears for "Hellraiser's" original cut, please — it's a waste of good suffering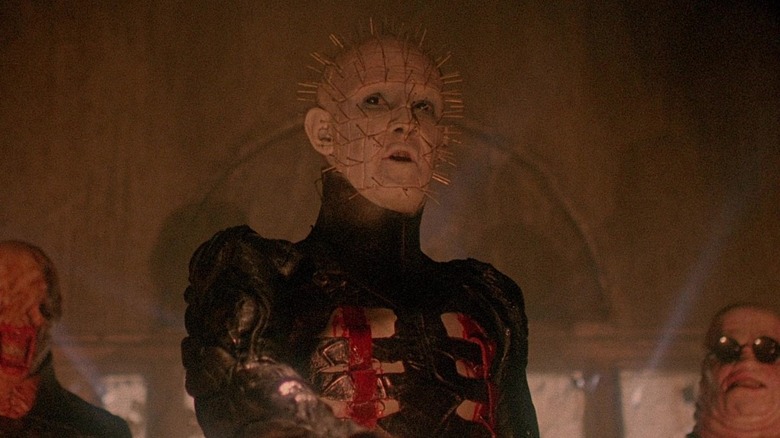 New World Pictures
Although Clive Barker was able to complete principal photography of "Hellraiser" unencumbered, he still eventually found himself having to make some compromises at the insistences of his producer, New World and the MPAA. These compromises began with the title. He wanted to call the movie "Hellbound," but Christopher Figg said it was "too negative." 
Fortunately, Barker liked Figg's suggestion of "Hellraiser," finding it "exactly right" since "it's about something coming at you."
While Barker was forced to take some violence out in order to receive an R from the MPAA, it was New World that had him make the most uncomfortable change to the film. The execs got him "to relocate the story to America, and overdub some of the accents," changes that didn't sit well with Barker "because the original story had been so English."
Demons to some, angels to the filmmakers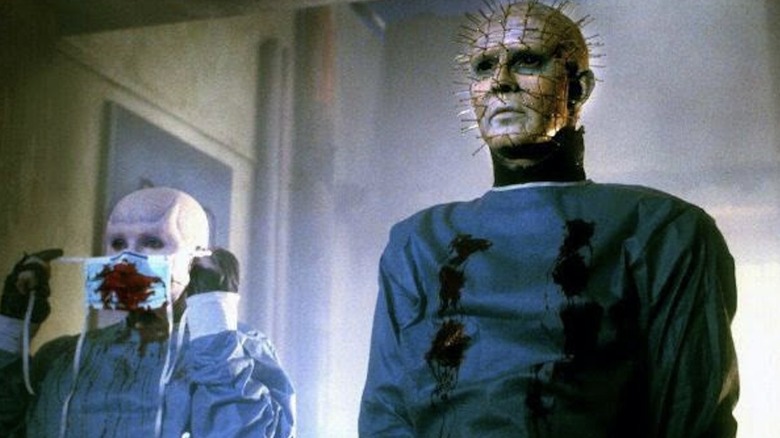 New World Pictures
Despite the dissonance between the very English locations and oddly dubbed actors, "Hellraiser" ended up being a success on just about every level. It birthed a new horror icon in Pinhead, provided a ton of goop for gore nuts, gave general audiences a rich dramatic narrative, and helped Clive Barker's interest in "validating a lifestyle," specifically S&M. The film not only announced Barker as a major creative talent, but kicked off a franchise that has extended to a jaw-dropping 10 sequels and a soon-to-be-released remake.
Ironically, although the New World execs were a group to be deterred by Barker and his crew during shooting, one of them ended up helping the film move from a direct-to-video release to a theatrical one. Production Executive Tony Randel had been sent to the "Hellraiser" set to assess the situation, thanks to his boss' disappointment with the film's dailies. However, as Randel recalled in 2018, he "thought that [the footage] all looked good," leading him to suggest to his employers that they instead "enhance the film." 
Putting more money and support into the movie, Randel not only helped "Hellraiser" but would go on to direct the sequel a year after the first film's release, which ended up receiving Barker's preferred title of "Hellbound."
The movie turned out to be just as bloody as its predecessor had been, so perhaps Randel was inspired by Barker's pranks on the "Hellraiser" set.