Mona Lisa And The Blood Moon: Everything We Know So Far About Ana Lily Amirpour's Next Film Starring Kate Hudson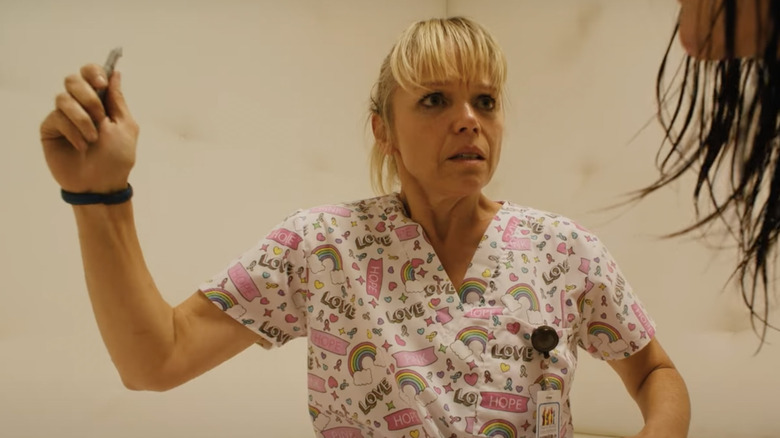 Saban Films
"Mona Lisa and the Blood Moon" is likely a name many cinephiles have heard over the past few years, but don't know a lot about. That's understandable, since Ana Lily Amirpour's third feature was announced back in 2018, but didn't have its world premiere until a few years later. Premiering at the 2021 Venice Film Festival, the title has been floating around on the festival circuit and was acquired by Saban Films this past March.
While the movie is still a bit mysterious, there are some things we can piece together before its release this coming September. The first is that it will, of course, be a bit wild. After all, Amirpour had already solidified herself as a director that dives into the bizarre with "A Girl Walks Home at Night" and "The Bad Batch." The second is that it touts Kate Hudson in a role that is far from the type of character she's played in the past. 
If you're still curious about what this mysterious movie is all about, here's what you need to know.
What Mona Lisa and the Blood Moon will be about, and its exciting cast
In the Home of Mentally Insane Adolescents (it's what the movie calls it, not us), a young woman named Mona Lisa Lee uses her mysterious superpowers to escape. As she wanders the overwhelming streets of New Orleans, she encounters some colorful characters, the most colorful of which is an exotic dancer named Bonnie Belle. While she takes pity on the young girl, she also sees her abilities as a way to make some fast cash. However, the bond between the two grows as the hunt for Mona heightens.
While Kate Hudson is likely the big draw for those unfamiliar with Amirpour's work, she's not the only notable name attached to the project. For starters, she isn't playing the titular Mona: That will be Jeon Jong-seo, who makes her English-language debut in the role after appearing in "Burning" and "Money Heist: Korea – Joint Economic Area." Although her resume isn't lengthy, it certainly is impressive, and hopefully "Mona Lisa and the Blood Moon" will introduce her talent to an all-new audience. Meanwhile, Hudson will play Bonnie, the gold-hearted schemer.
Joining Jeon and Hudson is Craig Robinson ("Brooklyn Nine-Nine"), who plays the disgruntled police detective Harold. Given how Mona is a highly volatile and dangerous escapee with superpowers, it's probably no wonder that he's a bit stressed about the situation. Ed Skrein also stars as Fuzz, a wannabe DJ, while Evan Whitten plays Bonnie's son Charlie.
When and where to watch Mona Lisa and the Blood Moon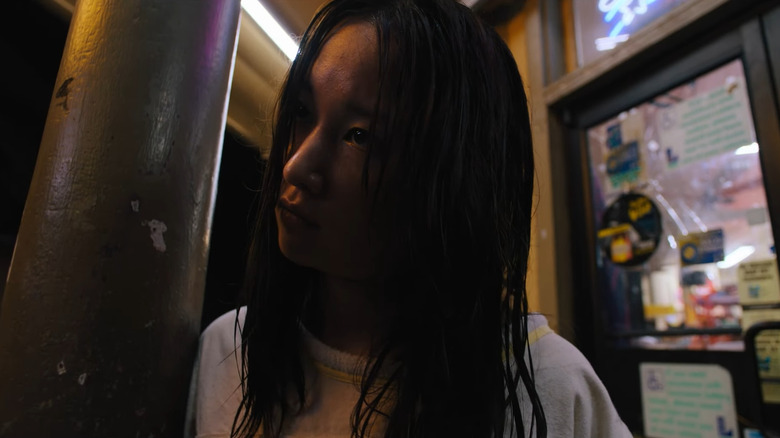 Saban Films
If you missed "Mona Lisa and the Blood Moon" at the different festivals it played at over the past year, you're in luck. You won't have to wait much longer for the movie to hit your preferred way to watch Amirpour's latest film, as it will release worldwide on September 30, 2022. It will receive a limited theatrical run and will also be available to purchase or rent on-demand.
Amirpour isn't a director for everyone. While some enjoy the bizarre ideas and erratic pacing of her movies, others aren't as keen on them. This divisive reaction will likely accompany her newest film once it releases to a general audience, and that's actually a good thing. Whether or not her directing style gels with you, it's hard to deny that she is unique as a director and writer. No matter what she brings to the table, it feels distinctly hers and unlike anything else currently being made. "Mona Lisa and the Blood Moon" will more than likely continue to establish her as a true genre force.