Guillermo Del Toro's Cabinet Of Curiosities First Look: An Anthology Of Halloween Treats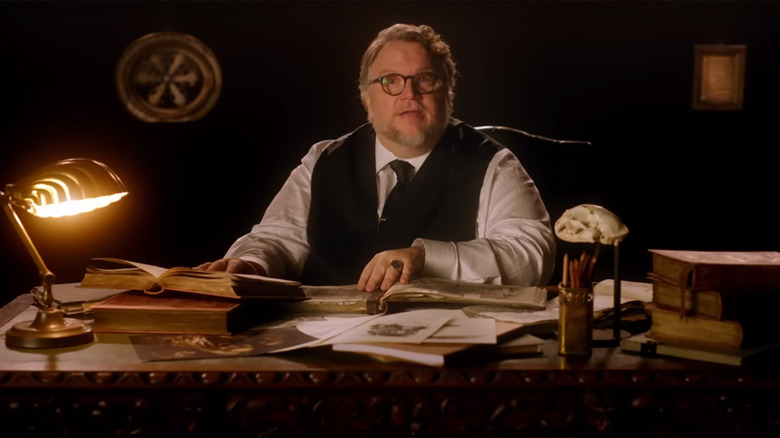 Netflix
Spooky season is right around the corner, and the folks at Netflix have an incredible treat in store. "Guillermo del Toro's Cabinet of Curiosities" will debut on the streamer over the course of four nights leading up to Halloween weekend, delivering chills and thrills curated by one of the modern masters of horror. 
The anthology series features eight episodes, each with their own self-contained story and a different director. Horror anthologies are a time-honored genre tradition going all the way back to "The Twilight Zone" and "Creepshow," so a new one helmed by Guillermo Del Toro feels like a stroke of genius. The director has created some of the most beautiful and brutal fantasy horror flicks of the past few decades, including "The Devil's Backbone," "Pan's Labyrinth," and his Academy Award-winning "The Shape of Water," and two of the eight episodes are new stories directly from his macabre mind, so get excited!
Netflix released a first look that gives a tiny taste of each of the eight stories, including their titles and the directors taking the reins. Grab some popcorn and pumpkin spiced everything and get ready for some serious seasonal fun by checking out the preview below!
The Cabinet of Curiosities first look
The first two episodes of "Cabinet of Curiosities" will debut Tuesday, October 25, 2022. Two episodes will release each day thereafter through Friday, October 28, when the entire collection from the cabinet will be available on Netflix worldwide. Del Toro hand-curated the stories and creatives behind them as executive producer and co-showrunner on the series, and the line-up is incredible. Del Toro will also act as host, a' la the Cryptkeeper or Rod Serling, which should be a lot of fun.
The episodes of "Cabinet of Curiosities" are: "Dreams in the Witch House," directed by Catherine Hardwicke; "Graveyard Rats," directed by Vincenzo Natali; "Lot 36," directed by Guillermo Navarro; "Pickman's Model," directed by Keith Thomas; "The Autopsy," directed by David Prior; "The Murmuring," directed by Jennifer Kent; "The Outside," directed by Ana Lily Amirpour; and "The Viewing," directed by Panos Cosmatos. On top of having an incredible assortment of talent behind the cameras, the cast includes Rupert Grint, Tim Blake Nelson, Ben Barnes, Crispin Glover, F. Murray Abraham, Essie Davis, Kate Micucci, Andrew Lincoln, Eric André, Sofia Boutella, and Peter freakin' Weller. You know, RoboCop! 
The first look is less than two minutes long, but it's enough to get horror fans chomping at the bit. October cannot get here quickly enough!
"Guillermo del Toro's Cabinet of Curiosities" debuts on Netflix on October 25, 2022.